H. G. Webber Antiques and Auctions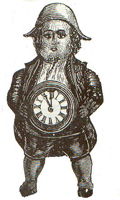 H. G. Webber Antiques and Auctions
In the tradition of founder, HYMAN GEORGE WEBBER and his successor, ROBERT S. WEBBER, H. G WEBBER ANTIQUES & AUCTIONEERS, HARVEY B. S. WEBBER of HAMPTON, NH & LEO J. HURLEY of BOULEVARD ANTIQUES of MELROSE, MA, continue the firms 50 YEAR TRADITION of INTEGRITY & EXCELLENCE at our 18th CENTURY BARN in DOWNTOWN HAMPTON. Our diversity and interesting "eye" has pleased museum curators and beginning collectors alike. ONE OF THE NICEST OLD-FASHIONED ANTIQUE SHOPS IN NEW ENGLAND with a taste for THE FUN, THE FINE, & THE MECHANICAL, ALONG WITH A GREAT SELECTION OF CLOCKS & HARD-TO-FIND UNUSUAL ITEMS to go with our GENERAL LINE OF BETTER QUALITY ANTIQUES, GLASSWARE, RUGS, CHINA, ART, CUSTOM & VICTORIAN FURNISHINGS,. In addition to our store, we exhibit at incl. the Miami Beach Antiques Show, Baltimore Antiques Show, and Mays Brimfield Antiques shows We are members of the NAWCC, NAA, and the NHADA Our auction business has always been based on fresh to the market merchandise along with specialty sales in antiques clocks and timepiecesOur long-term clients are our best customers but we're always looking for new needs to fulfill. We take pride in never forcing a sale. Our motto is "Quality speaks for itself!"
Upcoming Auctions from H. G. Webber Antiques and Auctions
has no upcoming auctions. auctioneer to hear about new auctions.
Bidder Reviews for H. G. Webber Antiques and Auctions

(

32

)