Weekly Auctions of Exceptional Items
H. G. Webber Antiques and Auctions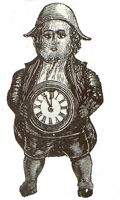 H. G. Webber Antiques and Auctions
319 Followers
In the tradition of founder, HYMAN GEORGE WEBBER and his successor, ROBERT S. WEBBER, H. G WEBBER ANTIQUES & AUCTIONEERS, HARVEY B. S. WEBBER of HAMPTON, NH & LEO J. HURLEY of BOULEVARD ANTIQUES of MELROSE, MA, continue the firms 50 YEAR TRADITION of INTEGRITY & EXCELLENCE at our 18th CENTURY BARN in DOWNTOWN HAMPTON. Our diversity and interesting "eye" has pleased museum curators and beginning collectors alike. ONE OF THE NICEST OLD-FASHIONED ANTIQUE SHOPS IN NEW ENGLAND with a taste for THE FUN, THE FINE, & THE MECHANICAL, ALONG WITH A GREAT SELECTION OF CLOCKS & HARD-TO-FIND UNUSUAL ITEMS to go with our GENERAL LINE OF BETTER QUALITY ANTIQUES, GLASSWARE, RUGS, CHINA, ART, CUSTOM & VICTORIAN FURNISHINGS,. In addition to our store, we exhibit at incl. the Miami Beach Antiques Show, Baltimore Antiques Show, and Mays Brimfield Antiques shows We are members of the NAWCC, NAA, and the NHADA Our auction business has always been based on fresh to the market merchandise along with specialty sales in antiques clocks and timepiecesOur long-term clients are our best customers but we're always looking for new needs to fulfill. We take pride in never forcing a sale. Our motto is "Quality speaks for itself!"
Upcoming Auctions
Reviews
Past Auctions
Record Results
Upcoming Auctions from H. G. Webber Antiques and Auctions
H. G. Webber Antiques and Auctions has no upcoming auctions.

Follow this

auctioneer to hear about new auctions.
Bidder Reviews for H. G. Webber Antiques and Auctions (32)
8 Latest Top ReviewsSee All
Brian
London, United Kingdom
H. G. Webber Antiques and Auctions
The auction hose was very friendly and helpful with the lot I won, and especially with the packaging and international postage. It was a pleasure to deal with them.
Allan
Malden, Massachusetts
Edward
Stormville, New York
Clocks are delicate things..
The care and concern put into packing my most recent antique clock purchase was above and beyond my expectation. The auction house and their chosen shipper did a fantastic job and it arrived home without a hitch! Thank you and looking forward to next time.
Suellen
Indianapolis, Indiana
Excellent
Customer friendly, highly professional, took special care in wrapping items. Easy to work with. Auction offered a wide variety of items. Would recommend doing business with Webber antiques. Good people.
Janet
Select An Airport, New Hampshire
CYNTHIA
Nottingham, New Hampshire
Always a pleasure to do business with them!
Quality items, as discription indicates.
Professionals in the Face of Adversity
My experience was favorable with respect to the auction house, even when LiveAuctioneers dropped the ball and failed to execute my two left bids. One error was caught by the auction house and I was awarded the item, but a second bid was not recognized in time, the item sold in the room, and I lost the item owing to LiveAuctioneer's error. Webber did eveything it could to address the mistake and deserves credit for its honesty and good help. Will bid again, but with additional safeguards, including an email to give them a heads up that I have left bids.
Joseph
Auburndale, Massachusetts
Innovative Technique
Excitement from start to finish.