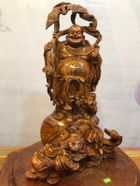 Royal Fine Antiques Asia Inc. has remained a force behind high profile auctions of everything from contemporary paintings and fine jewelry to French furniture and rare books and manuscripts, and always achieves the strongest prices while maintaining high levels of integrity and customer service. Today, the Royal Fine Antiques Asia Inc's permanent collection totals more than 60,000 works in a wide range of media and includes a survey of Western art from the fifteenth century to the present. The Royal Fine Antiques Asia Inc. has particularly strong holdings in: Nineteenth-century French art, particularly prints and rare books Russian art and Soviet nonconformist art from the Dodge Collection American art, especially prints Selections from these holdings, along with focused presentations of European art, art inspired by Japan, ancient Greek and Roman art, Pre-Columbian art, and American illustrations for children's books, are always on view at the Royal Fine Antiques Asia Inc.
Upcoming Auctions from Royal Fine Antiques Asia
Royal Fine Antiques Asia has no upcoming auctions. auctioneer to hear about new auctions.