WE ARE A LEADING ESTATE SALE MANAGEMENT COMPANY THAT PRIDES ITSELF ON OUTSTANDING CUSTOMER SERVICE - ALWAYS KEEPING A KEEN EYE ON THE PULSE OF THE INDUSTRY. WE ARE STEADFAST IN TAILORING YOUR NEEDS ABOVE ALL ELSE. WITH OUR MANY YEARS OF ACCUMULATED KNOWLEDGE AND OUR CONSTANT DEDICATION TO MARKET RESEARCH & TRENDS, YOUR PRIZED POSSESSIONS WILL UNDOUBTEDLY SELL FOR TOP DOLLAR. WE RESPECT YOUR PRIVACY AND ESPECIALLY YOUR TIME, WORKING DILIGENTLY TO ACCOMPLISH HIGH END RESULTS IN A STRESSFREE ENVIRONMENT. WE GET THE JOB DONE AND PROMISE SATISFACTION ALWAYS. WE WANT OUR CLIENTELE TO ALWAYS HAVE A SPECIAL, ONE OF A KIND EXPERIENCE WITH OUR FANTASTIC TEAM BECAUSE WE TRULY VALUE OUR CUSTOMERS . WE LITERALLY HOLD YOUR HAND THROUGHOUT THIS SOMETIME ARDUOUS PROCESS AND ASK FOR YOUR TRUST. HAVING PREVIOUSLY CO-OWNED SEVERAL GALLERIES IN FLORIDA, BLACK HAWK ESTATE SALES COMBINES EXPERTISE IN ART, FURNITURE, HIGH END COLLECTIBLES, SILVER AND ANTIQUES . TODAYS' GENERATION OF COLLECTORS' DEMANDS PRECISION AND OUR GOAL IS TO DELIVER MEMORABLE SERVICE AND TOP TIER SALES WITHIN THE INDUSTRY. BLACK HAWK ESTATE SALES STRIVES FOR EXCELLENCE, COMPASSION, KINDNESS AND SUCCESS. OUR CLIENTELE ARE SOPHISTICATED AND REMARKABLY SUPPORTIVE OF OUR STRATEGIES AND VISION. PLEASE JOIN OUR TEAM AND LETS MAKE THINGS HAPPEN.
Bidder Reviews for Black Hawk Estate Sales

(

3

)
2 Latest Top ReviewsSee All
Item was precisely as described and received without damage
The queen solid cherry headboard I purchased is as lovely in person as it was in the listing (which has not always been my experience when shopping online). The seller's pictures delineated the headboard's wonderful condition as well as its few minor flaws clearly. We did have many issues with LiveAuction's payment system hence the low score for the payment process. The seller, Lizzie, made many calls to LiveAuction to get the "bug in their system" resolved and my invoice's status corrected in order for me to make timely payment. As you can imagine, this headboard was quite heavy and needed to travel through several states. I was reluctant to just ship it on just any carrier. However, before I had completed my shipping research, Lizzie reached out to me with a shipping offer that was quite reasonably priced and didn't require the added expense of insurance. She went above and beyond to send pictures of the headboard prior to shipping to confirm the headboard's condition. Absolutely no one does this for their customers. The shipper also provided excellent service and literally hand delivered the item and placed it in my garage. Communication with Black Hawk Estate Sales and its shipper was excellent through-out the entire process. I would not hesitate to purchase from this seller again.

They were not iron, but aluminum
misrepresented items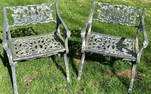 Past Auctions from Black Hawk Estate Sales
Great Neck, NY, US
Auction Ended
Great Neck, NY, US
Auction Ended