Sports Legend Signed Commemorative Car Hoods
Detroit, MI, United States
Done
Sun, Feb 12, 2006 7:00 PM UTC
Sports Legend Signed Commemorative Car Hoods
Sports Legends Signed Three of a Kind Super Bowl Souvenir Car Hoods of the 2006 Cadillac XLR, 2006 Ford Mustang Cobra, 2006 Dodge Viper signed by Detroit Sports Legends at "A Detroit Salute", opening ceremonies to Super Bowl XL. The event celebrated Detroit's automotive heritage and the top forty sports moments in the city's history. The car hoods celebrate both of these Detroit exports. You can have the ultimate Super Bowl souvenir that puts all others to bed. The only 3 in the world! All signatures are authentic. Sure to be the gem in your sports memorabilia collection, your hood will boast signatures from the following sports legends… Ann Ward (Mustang only), Al Kaline, Bill Laimbeer, Chuck Daly, Charles Woodson, Dave Bing, Desmond Howard, Dave Bergman, Dave Rozema, Denny McLain, Emanuel Steward, Greg Kelser, George Gervin, George Blaha, Herman Moore, Joe Schmidt, Jim Northrup, Joey Kocur, John Salley, Jimmy King, Larry Tharpe, Lomas Brown, Larry Lee, Lem Barney, Lloyd Carr, Mickey Redmond, Robert Porcher, Roger Penske, Spencer Haywood, Swin Cash, Scotty Bowman, Thomas Hearns, Vinnie Johnson, Willie Horton, and Wayne Fontes. This is your chance to own true sports history as you bid on one of these signed hoods of these stylish new vehicles. Detroit was the first to put the world on wheels and the only cold weather city to host Super Bowl twice…Super Bowl XVI and most recently Super Bowl XL. Auction proceeds will go to support the Greater Detroit Charitable Foundation. United States bids only.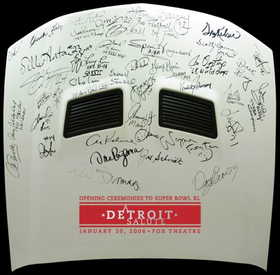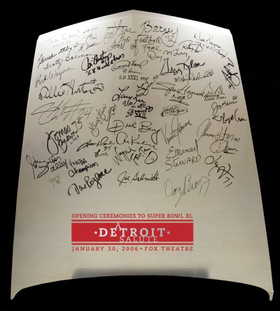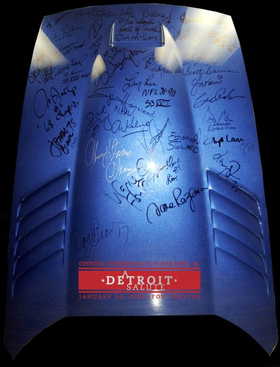 Auction & Auctioneer Information
Contact Auctioneer

DuMouchelles
409 East Jefferson Ave
Detroit, MI 48226
United States

Preview
The hoods can be seen in our front window at 409 E. Jefferson, right across from the Renaissance Center in downtown Detroit. They will be on display all week leading up to the auction.
Terms & Conditions
All property will be offered and sold by DuMouchelle Art Galleries as agent for the Consignor subject to the following terms and conditions: -ALL LOTS ARE SOLD 'AS IS'. A Condition Report of a given lot, if available, may be found on eBay. Condition reports are provided as a courtesy and are based solely on opinion and observation and are not a guarantee of an item's quality, as well as reflect expectations subject to the given age of the given lot. Condition reports carry no guarantee, implied or otherwise, of their correctness. Existence of a condition report for a given lot does not presume that all aspects of a particular lot have been analyzed. While every reasonable effort is made to respond to all requests for condition, due to the volume of requests, DuMouchelles cannot guarantee that all requests will receive a response. - Additional photos for a given lot may become available and will be uploaded to eBay - at DuMouchelles discretion - on the eBay page that corresponds with that lot. Larger, higher resolution versions of the original photo listed with eBay for each item may be available on our website. - Credit Approval: Internet bidders are REQUIRED to provide valid name, address, phone number and email address as well bank references or credit card number (with corresponding expiration date and pin number) to eBay to be approved for bidding. Potential bidders not meeting these criteria will be approved on a case-by-case basis and ONLY after contacting DuMouchelles regarding the status of their pending application. -Payment: eBay generated invoices will be sent out via email following each session of DuMouchelles auction or early the following day. Payment is expected within ten (10) business days from the end of the auction. Accepted forms of payment are certified check, Visa, Master Card, American Express, Discover. -Shipment of Purchased Lots: DuMouchelles is not responsible for the shipment of items. All shipping and related costs are the responsibility of the purchaser. If you are the successful bidder and require an item(s) to be shipped, DuMouchelles can provide you with a list of shipping and moving companies that have no affiliation with our gallery. If hiring a company other than one of those listed below, please advise them that the gallery is not open on Monday. -Packing/Shipment Quotes: Prospective bidders are encouraged to contact their shippers for packing and transport quotes prior to bidding, and should be aware that these costs may include fees for pick-up, materials, packing, insurance and transport. For your convenience, we have listed those companies below. Movers (FOR VERY LARGE ITEMS, FURNITURE) J. Noseda and Son, Inc. 586.563.2273 voice 586.776.0570 fax Art Pack Services, Inc. 248.478.9588 fax 248.478.8946 voice Shipping Companies (large or small items) The UPS Store - Keenan 248.559.1690 voice 248.559.5884 fax store0053@theupsstore.com The UPS Store ? Vince 313.392.6000 voice 313.392.0422 fax store3981@theupsstore.com Packaging Store - Andrew 248.680.0993 voice 248-680-0994 fax mi110packstore@aol.com Pakmail - Jim 248.393.3277 voice pakmailorion@sbcglobal.net Pack and Ship ? Bill Frederick 734.281.0224 voice 734.281.9020 fax 800.551.9820 thepacknshipstore@sbcglobal.net **DuMouchelles does not endorse or recommend any particular business above. Please interview and hire at your own risk. 1. DuMouchelles Art Galleries Co., and the Consignor assume no risk, liability or responsibility for the authenticity of the authorship of any property identified in the catalog. All property is sold ?AS IS? and neither DuMouchelles nor the Consignor make any warranties or representations of any kind or nature with respect to the property, and no statement in the catalog or made at the sale, or in the bill of sale or invoice or elsewhere shall be deemed an assumption of liability or a warrant or representation as to the description, genuineness, attribution, provenance or condition of the property. DuMouchelles and the Consignor make no representation or warranty as to whether the successful bidder acquires any reproduction rights in the property. Prospective bidders should inspect or request the condition of the property before bidding to determine its condition, size and whether or not it has been repaired or restored. 2. A premium of 5% of the successful bid price will be added thereto and is payable by the purchaser as part of the total purchase price on lots in sale. 3. DuMouchelles reserves the right to withdraw all or part of any lot prior to the sale of that lot. 4. Unless otherwise announced by the auctioneer, all bids are per lot as numbered in the catalog. 6. Unless the sale is advertised and announced as a sale without reserves, each lot is offered subject to reserve and the DuMouchelles may implement such reserves by bidding through its representatives on behalf of the Consignor. 7. DuMouchelles reserves the right to reject a bid from any bidder. The highest bidder acknowledged by the auctioneer shall be the purchaser. In the event of any dispute between bidders, the auctioneer shall have sole and final discretion either to determine the purchaser or to re-offer and resell the article in dispute. If any dispute arises after the sale, the sale record of DuMouchelles shall be conclusive in all respects. DuMouchelles will not be responsible for errors or failure to execute bids. 8. If the auctioneer determines that any opening bid is not commensurate with the value of the article offered, he may reject the same and withdraw the article from the sale; and, if having acknowledged an opening bid, he decides that any advance thereafter is not of sufficient amount, he may reject the advance. 9. On the fall of the auctioneer's hammer, title to the offered lot will pass from Consignor to the purchaser, subject to all the conditions set forth herein, and purchaser thereupon a) assumes full risk and responsibility therefore, b) will sign a confirmation of purchase thereof, and c) will thereupon pay the full purchase price therefore or such part as we may require. We reserve the right to impose a late charge of 1 1/2% per month on the total purchase price if payment is not made in accordance with all of the conditions set forth herein. All property must be removed from our premises by the purchaser at their expense not later than 10 business days following its sale and, if it is not so removed, a handling charge of 1% of the purchase price will be payable by the purchaser per month until its removal, with a minimum of 5% for any property not so removed within 60 days after the sale. If any applicable conditions herein are not compiled with by the purchaser in addition to other remedies available to us and the Consignor by law, including without limitation the right to a) hold the purchaser liable for the total purchase price, we at our option may either cancel the sale, retaining as liquidated damages all payments made by the purchaser or b) resell the property at public auction, and the purchaser shall be liable for any deficiency, costs, including handling charges, the expenses of both sales, or commission on both sales at option, payment will not be deemed to have been made in full until we have collected funds represented by checks, or, in the case of bank or cashier's checks, we have confirmed their authenticity. As between DuMouchelles and Consignor, if the successful bidder does not pay for the property, collection procedures shall be the responsibility of Consignor and not DuMouchelles.

Bid Anywhere, Anytime. Download the LiveAuctioneers App.
Available on the App Store
Android App on Google Play