88: Ed Arno New Yorker Mag. Archives Boxlot Of Material
Don't Miss Your Next Treasure.
Set up a search alert to hear when Comic Books & Illustrations items arrive.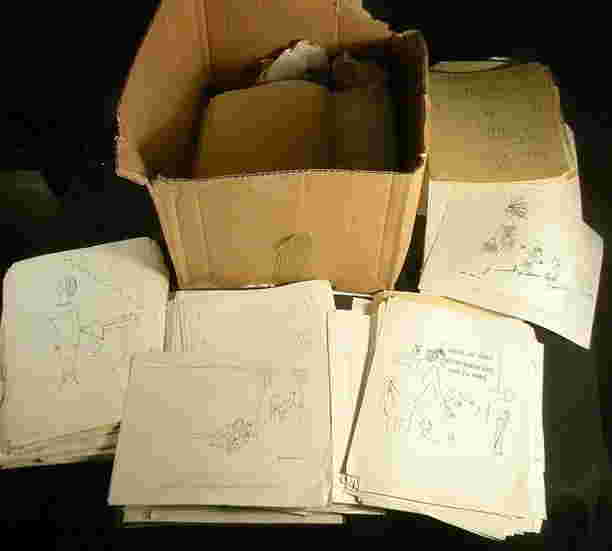 Lot 0088 Details
Description
From the estate archives of famed New York Magazine cartoonist Ed Arno, a big box full of his cartoon drawings, copies of his work, and lots of ephemera, pertaining to his business. A lot of material here. Ed Arno's brisk stabs of surreal wit punctuated the refined columns of The New Yorker for 30 years. Unlike other long-lived cartoonists, whose entire artistic development can be traced within that magazine's back catalogue, entry to the New Yorker pantheon was a late career move for Arno, who lived the first half of his life in Eastern Europe. The writer Brendan Gill described Arno's cartoons as "skittering squiggles", and they were refreshingly free of such pretensions as artistry. They showed scant regard for composition, lacked shading and often contained background lines that had been drawn in using a ruler, giving a schoolboy stamp to the whole thing. This casually uncomfortable style was radically different from that of Arno's hero, Charles Addams, whose carefully fleshed compositions were like mini-masterpieces. In the late 1950s, when Arno was working as an artist for children's books and magazines in Bucharest, he came across a collection of Addams' New Yorker cartoons in a library, thought them wonderful, and instantly recognised a professional goal. He carried the book around with him for years like a talisman, and when he eventually emigrated to America at the age of 49, in 1965, he wasted no time in submitting cartoons to The New Yorker. He was rejected at first because of a coincidence of names. Peter Arno was one of the magazine's most famous cartoonists. Fearing confusing the readers, art editor James Geraghty told Ed, "We can't use two Arnos here." But Ed Arno's wit was recognised and he began contributing ideas for other cartoonists to interpret, including, ironically, Peter Arno. Both names were in fact pseudonyms. Ed Arno adapted his from elements of his real name, Arnold Edelstein, in the Thirties. He was born in Innsbruck in 1916, and brought up in Czernowitz, an Austro-Hungarian area of Romania. At the age of three he revealed his vocation, at least in his parents' eyes, by accurately reproducing the Gothic script of the Bayer aspirin logo. He travelled to Paris to study at the Ecole Paul Colin in 1935, and afterwards found work there in film animation. He had just signed a contract with Pathé Nathan film studios when the Nazis took over Austria and he felt compelled to return to Czernowitz, where he was incarcerated for the next four years with his family in a labour camp. Arno, who spoke five languages, derived ironic satisfaction from the fact that the name Czerno­witz, if translated half in Slavic and half in German, can be interpreted to mean "black joke". Those dark years digging tank traps influenced his own sense of humour, though its expression was gently satirical, rather than bitter. The good thing about prison, he said later, was that he was able to celebrate his birthday properly for the first time. He was a July baby, so his friends had always been on holiday at the time of his birthday, but now he had a captive audience of celebrants. Arno was liberated in 1944 by Soviet forces and, after a spell illustrating propaganda posters to aid the effort defeating Germany, moved to Bucharest, where, as well as his work in children's books, he found work in animation and also submitted cartoons to magazines in Romania and the Soviet Union. After emigrating to the United States in 1965 and settling with his wife Rita on Long Island, he managed to find homes for cartoons in The Saturday Evening Post, Look, Saturday Review and Reader's Digest. His depictions of criminal characters appeared alongside reviews of crime fiction in The New York Times Book Review. After Peter Arno's death in 1968, The New Yorker finally opened its pages to Ed. He made his début in 1969 at the age of 53. An exhibition of his work at about the same time at the Austrian Institute in New York attracted the great Charles Addams to the private view. There could have been no more welcome affirmation of his success. Despite his age, Arno was in the vanguard of a new type of brave and sketchy cartooning that favoured speed and wit over formal draughtsmanship. The drawings were not to be lingered over, but served as express vehicles for gags. Their rough and readiness was refreshing after some other artists' more ponderous work. There was a precedent for this, established as long ago as the Thirties, by James Thurber, who couldn't really draw at all, but whose wit combined effectively with an uncanny facility for making eloquent shapes. "A cartoon should be like a theatre joke," Arno said, "short and very simple. You put people to sleep when you tell a long, detailed joke." Arno cartoons are instantaneous. In one, a prisoner in a cell is watching a television that has bars over the screen. In another, a puzzled dog is looking at a sign on a shop door that says "Some dogs allowed". A voice coming from a saucepan on a hob startles a chef: "This is your bouquet garni speaking". A woman says to a friend, "Frank and I used to work at our marriage. Now we're retired." More art went into Arno's work than may be apparent, as he would sometimes make 15 versions of a cartoon before he was satisfied with it. Arno produced a collection of his work, Ed Arno's Most Wanted (1998), and wrote and illustrated two children's books, The Magic Fish and The Gingerbread Man. His last New Yorker cartoon appeared in October 2001. He appeared in a group photograph of the magazine's cartoonists taken by Arnold Newman in September 1997, wearing a Prussian helmet and pouring a glass of champagne.
Buyer's Premium
18% up to $1,000
18% above $1,000
88: Ed Arno New Yorker Mag. Archives Boxlot Of Material
Estimate $300 - $400
Nov 12, 2011
Shipping, Payment & Auction Policies
Ships from
Kingston, NY, United States