lots of lots
Welcome to the world's largest marketplace for fine art, antiques & collectibles.
6013: Pennslyvania License Plates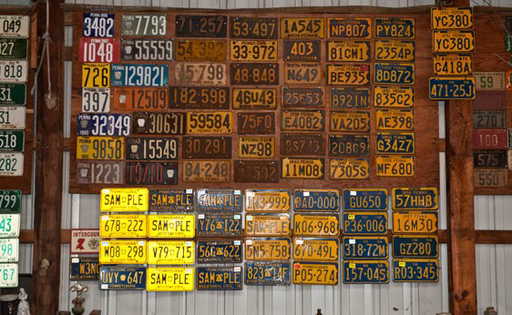 See Sold Price
Don't Miss Your Next Treasure.
Set up a search alert to hear when Auctions America by RM lists new auctions.
Discover Related Items Available Now
Auction ended on November 4th, 2011 UTC
6013: Pennslyvania License Plates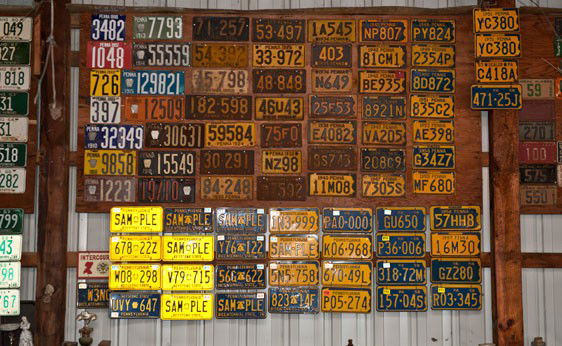 Lot includes a comprehensive collection of license plates from the state of Pennslyvania and includes numerous pre-war early plates.
Shipping
To assist our online buyers, Auctions America has contacted the local PakMail packing shipping company to come in and assist any online bidders with picking up, packaging and shipping their purchased items. Auctions America will release the items at the buyers request to PakMail but the transaction of picking up, packaging and shipping is solely between the buyer and PakMail. The buyer will pay PakMail directly for their services of picking up, packing shipping.
Payment
Bidders who purchase a total of up to 2,000US may charge the amount to their credit card. All other transactions can be paid for by way of certified funds (cash, bank wire transfer, certified check or money order) to Auctions America.
Accepted payment methods
Taxes
All Local Taxes Apply to anyone picking up items from the sale location in Glenview, IL or if shipping within the state of IL. If having the purchases shipped out of state and using the preferred shipping company then a bill of lading will be provided by the shipping company making the purchase tax exempt.
Terms
Terms of Sale: ALL BIDS ARE FINAL AT AUCTION. At auction there is no 'cooling off period'. If you are awarded the final bid, ownership changes hands at the drop of the gavel. You own the merchandise and are responsible for payment in full. No bidder may retract a bid made during the sale for any reason. Buyer's Fee A buyer's fee is an amount charged by the auctioning dealer (Auctions America by RM, Inc., or other affiliated company 'AA') for conducting the auction sale. If your bid price is accepted as the winning bid on any lot, you will be charged a buyer's fee in addition to the accepted bid price. The buyer's fee is part of the purchase price and is subject to sales tax, if applicable. Any terms and conditions posted at the auction premises, or posted on our web site (www.auctionsamerica.com), are incorporated herein by reference. Buyer's premium is 15% on all non-automotive lots (memorabilia and all other categories) and 10% on all automotive lots (cars & motorcycles). Terms of Payment Payment of 10% of the purchase price is due immediately upon the auctioneer's declaration of sale. The balance is due in full on or before 3:00 pm on the first business day following the auction. All payments must be in the form of cash or certified funds unless other arrangements have been approved in advance. Cash payments will be reported according to U.S. Federal government requirements. Should a bidder default on payment in any manner whatsoever, without limiting any recourse AA may have, bidder agrees to pay AA all lost auction fees (which is the maximum published rates for (1) the seller's commission, (2) the buyer's premium, and (3) the entry), this amount is due and payable without relief. Bidder will also be liable to seller for its damages. Bidder hereby authorizes AA to deduct these lost auction fees from bidder's cash deposit, or to charge this amount to bidder?s credit card provided. Bidder agrees not to dispute this charge with the credit card company at any time. Bidder agrees to also pay AA's costs of collection, including attorneys' fees and costs. Conditions of Sale Information contained in the Auctions America auction catalogs and brochures are based on either detailed reports prepared by independent experts or based on information provided by the consignor to the best of their knowledge. Neither Consignor nor Auctions America warrants or represents that the information contained therein is accurate and therefore the Bidder acknowledges that he or she accepts that the information contained in the catalog is a statement of opinion and not a statement of fact and is satisfied with, and assumes full responsibility for the accuracy and content of the catalog and brochure descriptions. All vehicles are sold as is, where is, with no representations or warranties, expressed or implied. CONSIGNOR AND AUCTIONS AMERICA BY RM, INC. DISCLAIM ALL WARRANTIES, EXPRESSED OR IMPLIED AS TO CONDITION, ORIGINALITY, OR AUTHENTICITY, ORIGIN OR PROVENANCE, PREVIOUS USE OR OWNERSHIP, MANUFACTURING OR RESTORATION PROCESSES, YEAR OR AGE, SERIAL NUMBER, MAKE, MODEL, OPTIONS, TOOLS, OR MILEAGE OF ANY VEHICLE OR COMPONENT OF ANY VEHICLE, AND SPECIFICALLY DISCLAIM ANY WARRANTIES OF MERCHANTABILITY OR FITNESS FOR ANY PARTICULAR PURPOSE. Risk or Loss Bidder is responsible of all risk of loss or damage immediately upon purchase of the vehicle or item, which occurs at the time of sale when bidder is declared by the auctioneer to have the successful bid. All vehicles or items purchased must be removed from the auction site at the bidder's expense immediately following the sale. If not removed by the end of the day following the sale, AA will remove the vehicle or item with all costs of moving and storage to be paid by the bidder. Other Terms Vehicles not marked as 'no reserve' (or similar) are subject to a reserve bid set by the Consignor. When a vehicle is sold subject to such a reserve bid the auctioneer may bid on the Consignor's behalf in an amount not to exceed the amount of the reserve bid. Bidder is responsible to pay all city, state or other taxes due for which the buyer does not qualify as exempt. Proof of exemption is bidder's responsibility. All terms of sale posted on the auction premises, printed in sale brochures or forms, publicly announced, or otherwise published are incorporated herein by reference. In the event either party brings action against the other arising from or relating to this bid card or any auction held in connection with, the prevailing party, as determined by the court, shall be entitled to recover its reasonable attorneys' fees and costs. The law of the state in which the auction is held shall govern the provisions of this bid card. Jurisdiction for any action brought shall lie exclusively in a court of competent jurisdiction in the judicial district in which the auction is located. You are responsible for all bids made with this bidder number, whether or not made by you and whether or not authorized by you. If your bidder card is lost or stolen, immediately report to AA as all bids made with this bidder number will be your responsibility. ---------------------------------------- Additional Terms & Conditions for Live Online Bidding The following terms and conditions provide important information related to live online bidding in sales conducted by Auctions America by RM. These terms are in addition to Auctions America by RM?s Terms & Conditions of Purchase and are not intended in any way to replace them. By participating in this sale, you acknowledge that you are bound by Auctions America by RM's Terms & Conditions of Purchase and also to these Additional Terms and Conditions for Live Online Bidding. Bidding The online bidder agrees that they are 19 years of age or older in order. A live auction is by its nature fast moving and bidding may progress very quickly. Auctions America by RM encourages that online bids be submitted as promptly as possible to ensure that online bidders are not at any disadvantage when bidding against bidders in the room and on the telephones. The procedure for placing bids is therefore a one-step process; as soon as the ?Bid? button is clicked, a bid is submitted. By bidding online, you accept and agree that bids submitted in this way are final and that you will not under any circumstances be permitted to amend or retract your bid. If a successful bid is sent to Auctions America by RM from your computer, you irrevocably agree to pay the full purchase price, including buyer's premium and all applicable taxes and other applicable charges. Bids other than Internet bids will be displayed on the Internet bidder's computer screen as 'Floor' bids. 'Floor' bids include those bids taken from the live auction room, telephones, and absentee bidders. If an online bid and a 'Floor' bid are placed simultaneously, the 'Floor' bid will take precedence. In the event that there are two identical auto (absentee) bids placed, the earliest bid received will take precedence. The next bidding increment is shown on your screen for your convenience. The auctioneer has discretion to vary bidding increments for bidders in the room and on the telephones, but internet bidders will not be able to place a bid in an amount other than a whole bidding increment. All bidding for this sale will be in U.S. Dollars, and online bidders may not be able to see the currency conversion board that may be displayed in the auction room. The record of sale, kept by Auctions America by RM, will be taken as absolute and final in all disputes. In the event of a discrepancy between any online records or messages provided to you and the record of sale kept by Auctions America by RM, the record of sale will govern. Online buyers are responsible for making themselves aware of all saleroom notices and announcements. Auctions America by RM reserves the right to refuse or revoke permission to bid online and to remove online bidding privileges during the sale. Payment Successful bidders will be notified within 48 hours of the close of the sale and invoiced after the sale. Pickup, Packing & Shipping It is the responsbility of the buyer to arrange for picking up of, packing & shipping of lots by Tuesday, Nov 8. Auctions America by RM will have a local onsite packing & shipping company available. It is the responsibility of the buyer to pay for the picking up of, packing & shipping costs directly to the shipping company. Technical Considerations Auctions America by RM offers live online bidding as a convenience to our clients. Auctions America by RM is not responsible for any errors or failures to execute bids placed on the internet, including, without limitation, errors or failures caused by (i) a loss of connection to the internet or to the online bidding software by either Auctions America by RM or the client; (ii) a breakdown or problems with the online bidding software; or (iii) a breakdown or problems with a client?s internet connection or computer. Auctions America by RM will not be responsible for any failure to execute an online bid or for any errors or omissions in connection therewith. Live online bidding will be recorded. ------------------------------------- Accuracy Although every effort is made to ensure the accuracy of the information contained on this website, such information is provided by the seller and may not be verified by Auctions America by RM prior to the sale time. Any additional information or corrections known at sale time will be announced by the auctioneer. Please note that although every effort is made to provide complete and accurate information regarding each lot offered, buyers are advised to rely upon their own inspections as all sales are made on an "as is, where is basis?. Auctions America by RM accepts no responsibility for the condition of any items offered. -------------------------------------------------- Deletions Due to factors beyond the control of Auctions America by RM, it is possible that one or more lots described on this website or in the brochure may not be present for sale. Bidders are advised to check shortly before sale time for updated information.
Discover Items You'll Love

Bid Anywhere, Anytime. Download the LiveAuctioneers App.
Available on the App Store
Android App on Google Play