lots of lots
Welcome to the world's largest marketplace for fine art, antiques & collectibles.
1306: "H. Amie" Signed Original Watercolor on paper. La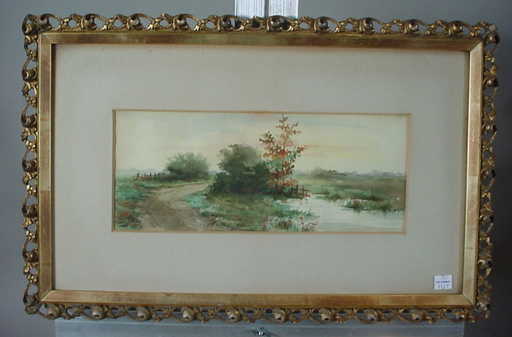 See Sold Price
Don't Miss Your Next Treasure.
Set up a search alert to hear when TW Conroy, LLC lists new auctions.
Discover Related Items Available Now
Auction ended on May 28th, 2005 UTC
1306: "H. Amie" Signed Original Watercolor on paper. La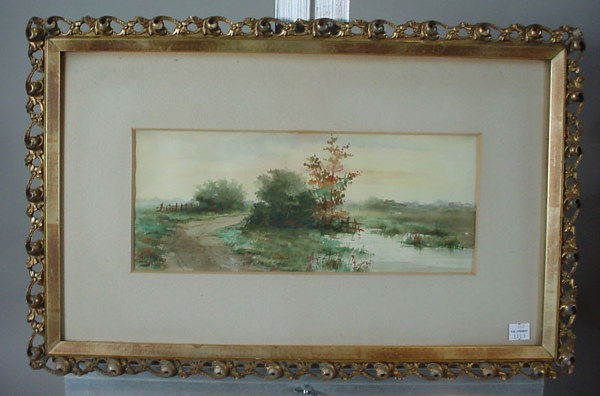 "H. Amie" Signed Original Watercolor on paper. Landscape with laneway. Matted and framed under glass in original gilded gesso frame. ca. 1900. 13 1/2"h x 5 1/2"w
Shipping
Buyer Pays Shipping Cost
Payment
img srchttp:pics.ebaystatic.comawpicspaypalimgEcheck.gif altCredit or debit card through PayPal
Accepted payment methods
Terms
Terms of Sale TW Conroy LLC (P) 315-638-6434 (F) 315-638-7039 36 Oswego Street, Baldwinsville, NY 13027 All bidders are responsible for reading and understanding these Terms of Sale, as well as any supplemental notices. 1. General Each lot in this catalogue is offered for sale subject to the terms set out below, as changed or supplemented by provisions a) written in other places within these Terms of Sale, b) in written supplements to this Catalogue or other materials prepared by us and c) as stated by the auctioneer or posted in writing at the auction, prior to a bid being accepted for a lot. No other communications by any employee of TW Conroy is intended to be binding, and such communications are made for informational purposes only. By bidding at the auction the buyer and all bidders agree to be bound by these terms or those changed and supplemented, whether bidding in person, through a representative, by phone, by internet or other absentee bid. Upon the announcement by the auctioneer, the successful bidder becomes the buyer and is immediately responsible for the amount of the successful bid, the buyer's premium, applicable taxes, and other charges provided for in the Terms of Sale. 2. Buyer's Premium, Purchase Price, Taxes, and Billing Buyer's Premium/Purchase Price: The buyer's premium on property purchased on eBay Live Auctions will be in the amount of 20% of the successful high bid regardless of payment method. All bidding at auction and all purchases will be in U.S. Dollars. Taxes: Applicable taxes shall include New York sales tax, use tax, excise tax, and other taxes or levies. Only valid resale certificates are accepted as proof of exemption from New York sales tax by U.S. dealers. No New York sales tax is charged for purchases shipped out of state. Billing: All successful bidders will be sent invoices by mail or e-mail on the week after the auction. Upon the fall of the auctioneer's hammer, the successful bidder becomes the buyer and owner of the property and is responsible for the property, the amount of the successful bid, the buyer's premium, applicable taxes, and other charges provided for in the Terms of Sale in U.S. Dollars, payable immediately. 3. Methods of Payment and Fees Acceptable Payments: Cash, Check, Wire Transfers, PayPal, Visa, MasterCard, Discover and American Express. All payments are due immediately upon receipt of invoice. We reserve the right to hold all goods paid for by check until payment has cleared. If payment is not received within 10 (ten) days from the day we mail the invoice, we will have no choice but to place an NPB on the Buyer's account. If payment is not received within twenty (20) days of sale, the TW Conroy LLC reserves the right to impose from the date of sale a late charge of 1 1/2% a month of the total purchase price and deny all future credit. 4. Condition of Item All items are served "as is, where is". Size is approximate. Unless otherwise noted, items are in good as found condition with normal wear reflecting the age of the piece. 5. The auctioneer has the sole and exclusive power, discretion, and authority to regulate the bidding and its increments. 6. Internet Bids The user of eBay Live Auctions and Live Auctioneers indemnifies and holds TW Conroy LLC and its consignors harmless against any claim arising out of or resulting from your use of the eBay Live Auctions and Live Auctioneers site, including all losses, damages, liabilities, and all fees (including attorney's fees), costs, and expenses incurred in connection with any claim. Under no circumstances, including, but not limited to, negligence, shall TW Conroy LLC and its consignors be liable for lost profits or any special, incidental, or consequential damages that result from the use of, or the inability to use, this site. 7. Auctioneer's Determination Final A lot will be sold to the highest bidder as determined in the sole and exclusive judgment of the auctioneer. The auctioneer will also have the sole and exclusive power and authority to a) resolve any disputes between bidders, b) determine whether to pass or re-offer a lot for sale, c) reject or challenge any bid or advance in the bidding, d) exclude any bidder from the premises and e) otherwise regulate the bidders, the bidding and its increments. 8. Estimates The estimates provided in this catalogue are our opinion of the price that a willing buyer would pay for the property at auction. These estimates are opinion, based, where possible, on prices paid for comparable items sold in the past. They are neither a representation nor a prediction of the actual selling price that will be realized at auction which may be substantially different from these estimates. We shall not be liable in any way for such a difference. 9. Withdrawal of Property from Sale TW Conroy LLC reserves the right to withdraw property from the sale for any reason and with no liability whatsoever for such withdrawal. 10. Rescission by the Auction House In the event TW Conroy LLC receives notice of an adverse claim with respect to purchased Property, TW Conroy LLC shall have the right (but not the obligation), in its sole and absolute discretion, to rescind the sale to the buyer, upon written notice to the buyer. Upon such notice, the buyer will promptly return the purchased property to the TW Conroy's premises in the same condition as when purchased. TW Conroy LLC will then promptly refund the purchase price, including the buyer's premium and applicable taxes paid. Buyer will have no further recourse against TW Conroy LLC or the consignor. TW Conroy LLC and the consignor shall not be liable for any damages of any nature suffered by the buyer. 11. Payment, Collection, and Shipping Responsibilities of Buyer Buyer Obligations: On the fall of the auctioneer's hammer, title to the property immediately transfers to the successful bidder who, in turn, becomes the buyer of the Property. The buyer assumes full risk and responsibility for the purchased Property, including all costs and expenses of handling, shipping, insurance, taxes, export, and otherwise, and is liable for the full purchase price, plus the buyer's premium, applicable taxes and any other associated expenses. Collection of Property and Storage Charges: The buyer will pay for the purchased Property immediately and remove it from the premises of TW Conroy LLC. If the purchased Property is not removed within thirty (30) days of the sale, the buyer will thereafter be assessed a $20 per lot storage charge per day. TW Conroy may, at its discretion, remove the purchased Property to public storage at the buyer's risk and expense. All associated charges will be added to the total invoice and must be paid in full before the Property will be released. Packing and Shipping: The buyer is responsible for the shipment of all purchased Property. As a convenience to the buyer, TW Conroy, if requested, will offer suggestions of local shipping companies. Suggestions: The UPS Store at 201 E. Jefferson St., Syracuse, NY 13202, phone 315.477.1010 or fax 315.477.1011 (they will pick-up your item(s) at our gallery), Frank Guido (hand deliver right to your home) 315.423.9810 or fg0088@aol.com, Vintage Transport at www.vintagetransport.com or shipanythinganywhere.com. If you have any shipping preference for any reason, please make sure your shipper carries insurance. We are not responsible for any damage or loss that occurs while your objects are in another's care. We will also not be responsible for any damage or loss that occurs if you choose a shipping method that we have advised against and we will require a waiver from you acknowledging this. All international customs, duties, and other tariffs are the responsibility of the Buyer. TW Conroy LLC will declare the selling price as the value in all cases. 12. Buyer Default Remedies: If any of the Terms of Sale are not fully complied with by the buyer, the buyer will be in default without need of notice by TW Conroy LLC. The buyer shall be liable to TW Conroy LLC and the consignor for the total purchase price, including all premiums, charges, and expenses specified in the Terms of Sale. Interest shall accrue at the rate of 18% per annum commencing with the date of the auction. In addition to other remedies available to TW Conroy LLC by law may, at its option, a) cancel the sale of the lot(s) on which the buyer defaulted and of any other lots sold to the defaulting buyer at the same or any other auction(s) and retain as liquidated damages all payments made by the buyer, b) resell the purchased Property, whether at public auction or private sale, or c) pursue any combination of a) and b) above. In event of default, the buyer will be responsible to TW Conroy LLC and the consignor for any deficiency, any and all costs and expenses, including reasonable attorneys' fees, collection fees and expenses, late charges, and other damages 13. Governing Law and Forum for Disputes The laws of New York shall govern the auctions of TW Conroy LLC. Any disputes that may arise in connection with the auction and/or any auction purchase, and all of the terms and conditions set forth herein above, shall be governed by and construed in accordance with New York law. Any one who participates in the auction and/or makes auction purchases agrees to submit to the jurisdiction of the courts of the State of New York with respect to any dispute arising in connection with the auction and/or any auction purchases. In the event that TW Conroy LLC needs to bring an action to enforce the terms and conditions herein and/or to collect any sum due and owing to it TW Conroy LLC shall be entitled in addition to collect its reasonable attorney's fees, collection agency fees, and cost of suit. 14. Limitations of Liability TW Conroy LLC acts only as the agent for the consignor and in no event will be liable for any breach or default by the consignor. 15. Severability and Waiver If any provision of portion of these Terms of Sale shall be deemed unlawful, void, or unenforceable under applicable law, that provision or portion shall be stricken and severed from the remaining provisions, which shall remain in full force and effect. Failure to enforce any of the provisions in these Terms of Sale shall not be deemed a waiver of the right to enforce any other provisions of these Terms of Sale. 16. No Assignment Unless TW Conroy LLC consents in writing, buyers may not assign their rights or any of their obligations related to an auction or other sale by TW Conroy LLC.
Discover Items You'll Love

Bid Anywhere, Anytime. Download the LiveAuctioneers App.
Available on the App Store
Android App on Google Play