Weekly Auctions of Exceptional Items
www.liveauctioneers.com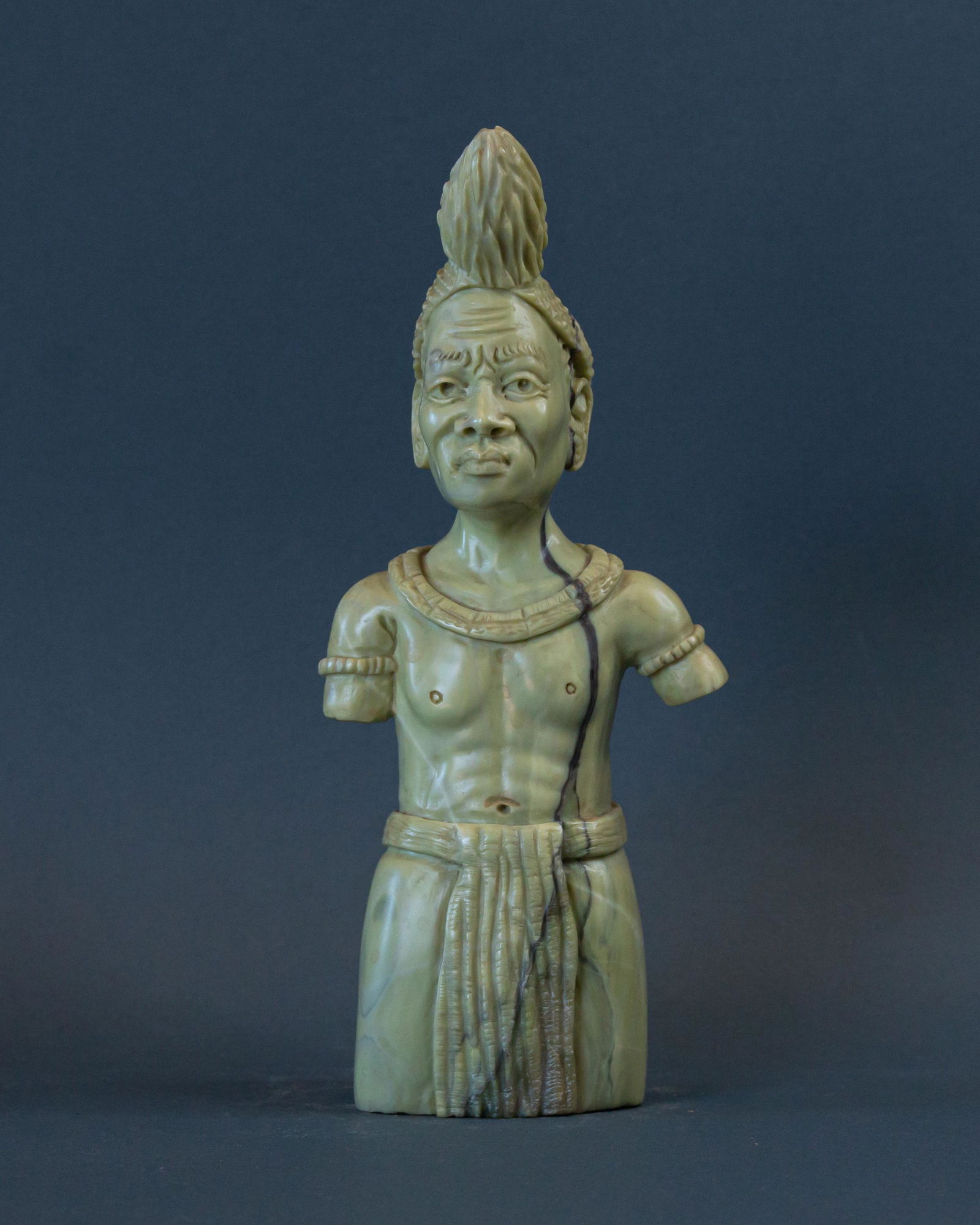 0017: African Figurine of Traditional Zulu Witch Doctor
Est.

$300

-

$1,000
•
Starting Price

$300
Rana - Rana African Art & NFT Collection
Fri, Jul 30, 2021 8:00 AM EDT
Buyer's Premium 5%
Lot 0017 Details
Description
3 of 3 Venues de. Milo genre
Southern East, Kwazulu Natal, South Africa. ( Indigenous to)

Carved with exquisite detailing and expression in the venus de. Milo genre set.


History
The Zulu were a major clan in what is now Northern KwaZulu-Natal,
established by Zulu kaMalandela around 1709.
Many large Nguni groups and clans
(also known as the isizwe people) inhabited the region at the time.
As part of the Bantu migrations, Nguni communities had migrated down Africa's east coast for decades.

Additional Information
Stone sculptures by the Shona were discovered in the 1940s and are well-known.
Shona sculpture originated in the eleventh century and peaked in the thirteenth
and fourteenth centuries before falling out of favor until their rediscovery in the mid-twentieth century.

While the majority of the sculptures are of birds or humans made of sedimentary stone (such as soapstone),
others are made of harder stone such as serpentinite and the rarer verdict.
Zimbabwean artists started carving stone sculptures for sale to European art collectors in the 1950s.
The sculptures quickly became famous, and art museums all over the world purchased and displayed them.

Shona sculpture is also the name given to a new Zimbabwean movement of stone carving sculpture.
Modern Shona sculpture is a continuation of a tradition that started as an evolving artistic trend in the mid-nineteenth century.
Frank McEwen's efforts resulted in the creation of the National Gallery of Zimbabwe,
and his ability to give the Shona people a voice through art resulted in the first generation of internationally recognized Shona artists.

Butter jade is popular in South Africa and is used in the Shona Sculpture movement,
but it is rarely found elsewhere. It was formed 50 million years ago and was given its distinctive darker streaks
and lines by layers of fossilized algae as the rock formed.

Provenance
Acquired by A Motiram early 1990's(Mpumalanga, Republic of South Africa).
Commissioned by Lidwala African Art Gallery to Joes African Art & Collectables, revised as Rana & Rana African Art.

Founding member Joe's African Art & Collectibles
E R Amarathlal ( Curator, African Art Centre
Foundation 1995 to 2005)
Rana Brothers 2018 – date

Comparisons/Referencing

Works Cited Percy Zvomuya. "In Praise of African Art: How Shona Sculpting Emerged. " The Mail & Guardian, 4 June 2021, mg.co.za/friday/2021-06-04-in-praise-of-african-art-how-shona-sculpting-emerged/.

Department of the Arts of Africa, Oceania, and the Americas. "Great Zimbabwe (11th – 15th Century). " In Heilbrunn Timeline of Art History. New York: The Metropolitan Museum of Art, 2000 –.(October 2001)

Huffman, Thomas N. "The Soapstone Birds from Great Zimbabwe. " African Arts, vol. 18, no. 3, 1985, pp. 68 – 100.






Material
Shona Stone/Butter Jade

Artist
Glenton Khasi

Artist : Living / Deceased
De - 1997

Est Age
late 20th century

Dimensions (millimeters)
H220 x L100 x D75

Weight (kg)
2kg

Export Price ($)
190

Certificate of Authenticity (Y/N)
Y

NFT Included ( Hedera Hashgraph - HTS )
NFT - Non-fungible token. The first ever African Art NFT.
A NFT is a certificate, digitized on digital ledger technology.
By utilizing the power of the 2nd tier Hedera Hashgraph, NFTs enforce
artwork validity.

Contacts
Rana and Rana African Art
27647508514
LiveAuctioneers Support
info@liveauctioneers.com