Weekly Auctions of Exceptional Items
www.liveauctioneers.com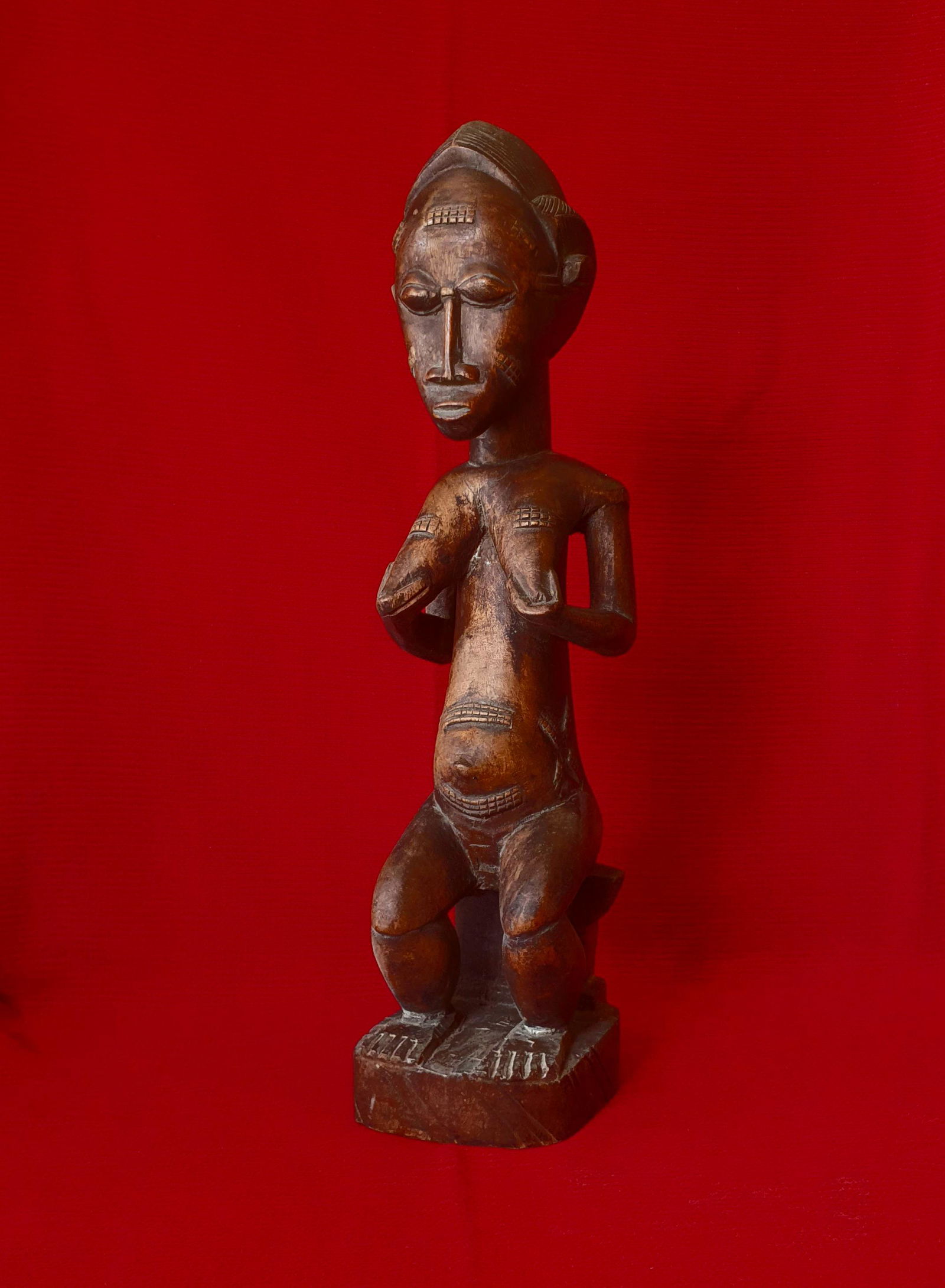 0392: BAULE FIGURE, FEMALE, (pair with number 393)
Est.

$10,000

-

$50,000
•
Starting Price

$10,000
Rana - Rana African Art & NFT Collection
Fri, Jul 30, 2021 8:00 AM EDT
Buyer's Premium 5%
Lot 0392 Details
Description


History
CATALOG NOTE:
Within the vast corpus of Baulé statuary, this effigy stands out owing to the motion's extraordinary rarity and the sculpture's remarkable plastic qualities, which beautifully express the Baulé nation's ideals of beauty.
The arms tighten around the hands, concealing the end of the breasts, while the spread fingers direct the gaze to the beautiful head. The chin and face are stretched on an inclined plane, accentuating the presence of the large eyes, which are further accentuated by the neatly hemmed eyelids. Scarification is maintained to a minimal and limited to the identifying marks, emphasizing the gesture's perfect balance and tranquility of expression. Additionally, the scarification's excellent quality is emphasized. A unique statue of usu asia, a depiction dictated by the soothsayer of a "genius of the bush" dressed as a beautiful human (woman) and used during divination sessions, may be distinguished by its patina, which was formed by repeated gifts of palm wine, yam foufou, and chicken blood (kaolin) According to René Rasmussen (1951), "lacquered artifacts are generally older than other objects, since lacquer, which is composed of oil, blood, and dirt, has preserved the wood better." Lacquered items are lacquered objects. The very wonderful patina on this item, which is somewhat crusty and unlacquered, reflects the object's former owners' continuous devotion. As a result, she is most likely symbolizing an Afterlife bride, blolo bla, with the gesture conveying her motherly or foster motherly traits.
When a female gentile is exposed, she is often wrapped with a loin cloth to provide some kind of protection.
Themes depict the different patterns found in geometric checkerboard keloids on the bust, which generally extend from the chest to the umbilical and/or surround the entire torso and, in some cases, the limbs. As shown by the checkered pattern, these checkered keloid scarifications were carved on the skins of primarily adolescents.
Dress appropriately for the wearer's age and culture. The statue has a brown patina and is surrounded with white accretions.
This effigy, with its magnificent proportions and exaltation of perfectly mastered beauty, exemplifies the attitude of the most powerful Komyen diviners, who commissioned the most expressive sculptures to be presented in public in order to grab their audience's attention and demonstrate their powers. It expresses itself in the harmony of the face with idealized features, as well as the delicacy of the man-made signals of beauty, most notably the exquisitely intricate headpiece and the many scarifications whose lines contribute to the composition's rhythm.
Berjonneau and Sonnery (1987, p. 207, no. 186) describe a virtually identical Baulé figure that was shown at the Dapper Museum in 1988 as part of the exhibition Unpublished Masterpieces of Black Africa.
This statistic was obtained in the Sakassou region (and was later owned by the Rana Family). Susan Vogel found the "Nzipi workshop" in 1994, and Bernard de Grunne dubbed it the "workshop of the Sakassou masters" in 2001. According to de Grunne (2001: 69), the Baule culture was a significant political and artistic center in Sakassou during the 18th century, inspired by Akan-Baule who arrived in the region at the time (2001: 69). Sakassou became the site of their most powerful chiefdom. This royal court is said to have sparked the creation of huge figurative statue factories in order to achieve legitimacy among the surrounding proto-Baule populace through the use of the wholly indigenous religious and cultural practice of honoring spouses in the afterlife through sculpture.
"The Baule style is an expression of the energy contained in order, as are products intended for use by depressed or preoccupied persons," Susan Vogel argues (idem, p. 28). The beautiful, somewhat crusty, occasionally glossy patina on the figure attests to the remarkable care with which its previous owners treated it, and it enables us to identify this significant object as a representation of a deceased spouse (bolo bla).

There are only a few matched pairs of this quality available, and these two pieces (number 392 and 393) are exceptional; it is extremely rare to come across matched pairs of this quality depicting a young couple; the male has a smooth face and plated beard, which are traditionally associated with young men.

Male Statues de Baule are a kind of sculpture. Females are supposed to display their genitals, while males are expected to cover their breasts with their outstretched hands, which reflects their respect and the Baule People's Teachings.


Provenance
Provenance
Transmitted by descent
Rana Collection: Private collection, Mr Motiram acquired ca. 1970
Founding member Joe's African Art & Collectables, revised as Rana & Rana African Art.
E R Amarathlal ( Curator, African Art Center Foundation 1995 to 2005 )
Rana Brothers 2018 – date

Comparisons/Referencing

Vogel, Susan Mullin. "Baule: African Art Western Eyes." African Arts, vol. 30, no. 4, 1997, pp. 64–95.
Vogel, Susan Mullin. "People of Wood: Baule Figure Sculpture." Art Journal, vol. 33, no. 1, 1973, pp. 23–26.
Blackmun, Barbara Winston. African Arts, vol. 13, no. 4, 1980, pp. 23–26.
Murphy, Maureen. "L'art De La Polémique: Africa95 Et 'Seven Stories about Modern Art in Africa.'" Cahiers D'Études Africaines, vol. 56, no. 223, 2016, pp. 663–678.
Chauveau, Jean-Pierre. "La Part Baule: Effectif De Population Et Domination Ethnique: Une Perspective Historique (The Baule Share. Total Population and Ethnic Domination: An Historical Perspective)." Cahiers D'Études Africaines, vol. 27, no. 105/106, 1987, pp. 123–165.
Material
Wood

Artist
Rana Collection

Est Age
late 19th century / mid 20th century

Dimensions (millimeters)
H160 x L60 x D60

Weight (kg)
1kg

Export Price ($)
1000

Certificate of Authenticity (Y/N)
Y

NFT Included ( Hedera Hashgraph - HTS )
NFT - Non-fungible token.
The first ever African Sculpture NFT Art.
A NFT COA will be included with purchase.
By utilizing the power of blockchain 3.0 & Hedera Hashgraph, this art piece will be accompanied with a NFT.
NFTs enforce artwork validity, authenticity & ownership of the artwork.
Condition
Condition of Sale <br>No exceptions are made; each piece is sold in the condition in which it is discovered at the time of the auction. <br>The condition report is provided primarily to assist you in evaluating the lot's condition. <br>Any reference to condition in the condition report for the lot does not mean that the seller has provided an exhaustive description of the condition. <br>The images accompany the condition report for the lot. <br>The Rana African Collection has contributed several artifacts to this auction. <br>We have taken every attempt to keep the exceptionally high quality of the photographs on display, albeit certain images from the collection have been lowered in quality. <br>It is conceivable that the information displayed online does not accurately reflect the lot's current condition. Photographs on the internet, in particular, may be dangerous. <br>depict colors and tones that differ from the actual hues and tints of the lot, as viewed through the eye The <br> <br>While the lot's condition report may make particular reference to faults, it is critical to remember that the condition report is not a guarantee of the lot's condition. <br> <br>There may be more problems in the lot not noted in the condition report or listed in the online listing. <br> <br>photographs encompassing the full set As a result, the condition report may not contain all defects, restorations, modifications, or adaptations. <br> <br>Rana African Art Collection, sometimes referred to in this forum as the Seller, is not a conservator or restorer of African art, but rather a collector of African art. <br> <br>The Rana art Collection's condition report is a genuine statement of E R Amarathlal, the Rana art Collection's curator. <br> <br> <br> <br>As a result, the condition report for the Rana African Art Collection is not a substitute for performing your own examination. <br> <br>advice on the property's status from a certified expert <br> <br>We are pleased to provide you with an overview of the status of the property referred to in this letter. As a result of our inability to <br> <br>Kindly consult a competent conservator or restorer of your choice prior to making any decisions. <br> <br>more capable of delivering an exhaustive and professional report Prospective purchasers should conduct their own due diligence on each lot to ensure that they are completely satisfied with their purchase. <br> <br>respect to the condition and must be informed that any comment made by E R's Rana African Art Collection is qualified. <br> <br>Amarathlal's statement is merely a personal and qualified assessment of the situation. <br>
Contacts
Rana and Rana African Art
27647508514
LiveAuctioneers Support
info@liveauctioneers.com