lots of lots
Welcome to the world's largest marketplace for fine art, antiques & collectibles.
1004: Goebel Hummel Kiss Me Girl Baby Figurine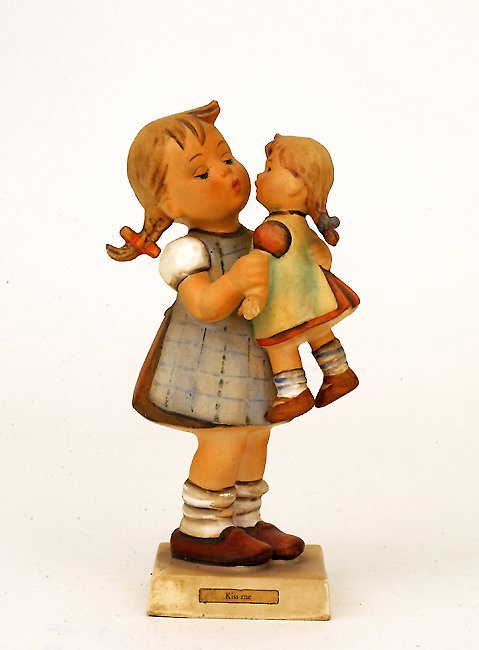 See Sold Price
Don't Miss Your Next Treasure.
Set up a search alert to hear when Hummel Figurines items arrive.
Auction ended on June 11th, 2005 UTC
1004: Goebel Hummel Kiss Me Girl Baby Figurine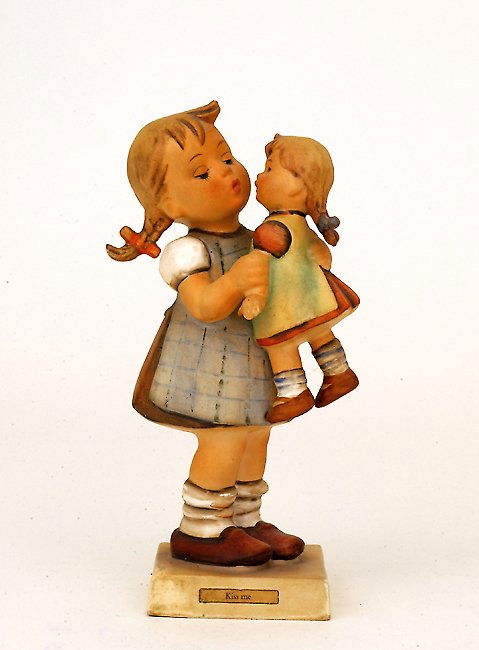 Goebel Hummel Girl & Baby ""Kiss Me""
It is 6.25 inches tall, and 3 inches wide.
It is in good condition with no repairs, chips, nor cracks.
Please Click Here To See More Photos
Shipping
Buyer Pays Shipping Cost
Payment
Contact For Payment Details
Accepted payment methods
Terms
TENGA HOUSE CONDITION OF SALE Any buyer to Tengahouse Live Auctions must accept the following Terms & Conditions to participate in Tengahouse' Live Auctions. Buyer acknowledges that by accepting these Terms and Conditions, you are opting in to receive emails and notifications about this sale and by placing a bid during a Tengahouse Live Auction that such bid constitutes acceptance of the following terms: 1. Buyer's Premium: A buyer's premium shall be added to each purchase to reach the total sales price. The buyer's premium on property purchased will be in the amount equal to 7% of the final bid price. The buyer's premium is subject to change upon posting notice by Tengahouse. 2. Total Sales Price: The total sales price of an item includes (i) the hammer price of the item (ii) the buyer's premium (iii) applicable sales and other taxes due on account of the sale, (iv) packing, shipping transportation and insurance charges, and customs fees and charges and duties, if applicable, and (v) any other amount due from the Buyer as provided in the Seller's E-commerce Policies posted on the Item Detail Page. Buyer may be charged California sales tax and/or any local tax on the total purchase price. Any buyer with a valid California resale permit must provide a resale certificate with resale number and signature to comply with tax exempt sale requirements. 3. Online Bidding: By registering to bid through Tengahouse's Live Auction service you agree to accept Tengahouse' policies of bid history disclosure, including the policy that live online bidder's increments are not reported when bidding against an absentee bid until the absentee bid is surpassed. Please register to bid well in advance of the start time. Neither Tengahouse's nor its suppliers or affiliates will be held responsible for errors or failure to execute bid(s). Absentee bids must be submitted electronically during the preview period on http://www.ebayliveauctions.com, or http://www.eBay.com. 4. Methods of Payments: Shipping, insurance and price must be paid in advance. A purchaser may utilize one or more of the following methods of payment: cash, traveler's checks, cashier's or certified checks, money order, personal checks. Tengahouse reserves the right to hold items purchased by check until the check has cleared. Tengahouse will charge a fee of $35 for any dishonored check. Purchasers may also chose to pay by paypal, Visa, Mastercard, and American Express. Tengahouse will charge a fee of $25 for any unreasonable and groundless chargeback claim filed. 5. Payment Due: Buyer shall communicate with Tengahouse within three (3) days of the completion of the auction. Complete payment is due upon receipt of notification of a successful bid and shall be received by the Tengahouse no later than 10 days following the auction. Title shall pass to the Buyer once payment in full has been made. All shipping charges will be borne by the Buyer unless otherwise negotiated with Tengahouse. Any risk of loss during shipment will be borne by the Buyer following delivery of the purchased item to the designated common carrier. 6. Shipment: Tengahouse may, in its discretion and at a purchaser's request, package and ship items as directed by the purchaser. In such event, purchaser agrees that (a) all such packaging, handling and shipping is at the sole risk of the purchaser and that Tengahouse shall have no liability for any loss or damage to such items, and (b) purchaser shall pay in advance, all packaging expenses, including labor, materials and postage and carrier fees, and all insurance charges. Allow four to six weeks for shipping. 7. Storage of Item: All merchandise purchased must be paid for and removed from the premises within 15 days of the date of sale. Tengahouse may impose, and the purchaser agrees to pay, a monthly storage charge ranges from $1 to $50 depending on the size of the item. Tengahouse shall have no liability for any damage to the property left on its premises after 15 days of the date of the sale. At the option of Tengahouse, the merchandise may be transferred to and stored at a bonded warehouse and the purchaser agrees to pay all transfer and storage expenses. Tengahouse may impose and the purchaser agrees to pay, a monthly interest charge of 1% of the purchase price of any lot or item not paid by the purchaser within forty-five (45) days of the date of sale. 8. Winning Bid: The highest bidder shall be the buyer and if any dispute arises between two or more bidders, the auction coordinator shall decide the buyer, or to re-offer and resell the article in dispute. If any dispute arises after the sale, Tengahouse's sale record will be conclusive. Although Tengahouse will execute order or absentee bids, as a convenience to clients who are not present at auctions, Tengahouse is not responsible for any errors or omissions in connection therewith. 9. Record of Sale: The record of sale, posted on Tengahouse Live Auctions, will be taken as absolute and final in all disputes. 10. Reserve Price: Some lots are offered subject to a reserve. A reserve is a confidential minimum price below which such a lot will not be sold. Tengahouse will act to protect the reserve by bidding through the auctioneer. The auctioneer may open the bidding on any lot below the reserve by placing a bid on behalf of the Seller and may continue to bid on behalf of the Seller up to the amount of the reserve. This may be done by placing consecutive bids or by placing bids in response to other bidders. After a lot has been auctioned, but has failed to sell because it has not reached the reserve, Tengahouse, at its discretion, may reveal the reserve the prospective post-sale purchasers. Consignors shall not be permitted to bid on their own items. 11. Estimates: Catalogue descriptions of each lot generally include an estimated range of prices, within which Tengahouse estimates the lot may sell. These estimates are made before the sale and are sometimes revised before the sale. Pre-sale estimates do not include the buyer's premium or applicable state/local taxes and other expenses. 12. Inquiries: All inquiries regarding lots must be sent directly to the Tengahouse via email and received 24 hours prior to the start of the auction. 13. Copyrights: The copyright in the text of the catalogue, our websites http://www.8tiger.com and http://www.2ezr.com, photographs, and illustrations of lots contained in the catalogue and websites belong to us. No one is allowed to reproduce or permit anyone else to reproduce such text, photographs, or illustrations without our prior written consent. 14. Withdrawal Prior to Sale: Tengahouse reserves the right to withdraw any property before the sale and shall have no liability whatsoever for such withdrawal. If the auctioneer decides that any opening bid is not commensurate with the article offered, he may reject the same and withdraw the article from the sale, and if, having acknowledged an opening bid, he decides that any advance thereafter is insufficient, the auctioneer may, in his sole discretion, reject the advance. 15. Guarantee Terms: We stand behind all of the items that we sell. That is to say, if you purchase an item from us and are unhappy with it for any reason, return it for a 100% refund of the amount you originally paid. The purchasers must (1) notify Tengahouse via email, (2) return the item within 10 days of receipt, (3) return the item in the same condition as when purchased, (4) pay the shipping and insurance of the return, ebay's listing fee, commission incurred, and any costs associated with the sale. After the 10 days period all items are considered "as is", without recourse. All sale are final after the 10 days period. Absolutely no sales will be cancelled due to condition issues whether or not they are expressed in a condition report after the 10 days period. The foregoing guarantee is only valid to the original buyer. All items in the catalog are sold as described by Tengahouse. The description and condition reports are only an opinion of Tengahouse. No statement regarding condition, kind, value or quality of a lot shall be construed to be an expressed or implied warranty, representation or assumption of liability by Tengahouse. Discrepancies of description shall be decided by mutually agreed upon experts whose determination must be in writing and is at the expense of the Buyer. Items are ascribed to given artists, age, and origins only upon exercise of Tengahouse's best judgment or that of an outside expert. No unqualified statement as to authorship is made. Tengahouse suggests that the prospective bidder seek the advice of his own expert before bidding on any particular lot. Tengahouse makes no representation or warranty as to whether the purchaser acquires any copyrights, including, but not limited to, any reproduction rights in the property. Tengahouse, its employees, or agents, do not guarantee the genuineness, authenticity, condition, or description of any catalogued lot. 16. Breach: If the purchaser breaches any of its obligations under these Conditions of Sale, including its obligation to pay in full the purchase price of all items for which it was the highest successful bidder, Tengahouse may exercise all of its rights and remedies under the law including, without limitation, (a) right to hold purchaser liable for the total purchase price (2) reasonable attorney's fee connected therein (3) cancel the sale and applying any payments made by the purchaser to the damages caused by the purchaser's breach, and/or (4) offering at public auction, without reserve, any lot or item for which the purchaser has failed to pay in full the purchase price, holding the purchaser liable including but not limited to any deficiency, costs, handling chargers, expenses and commission for both sales, and any and all incidental damages. 17. Liability: In no event will the liability of Tengahouse to any purchaser with respect to any item exceed the purchase price actually paid by such purchaser for such item. 18. Entire Agreement; Waiver. This Agreement, including the Tengahouse User Agreement and all exhibits and other documents incorporated by reference, set forth the entire understanding and agreement of the parties and supersedes any and all other written or oral agreements or understandings between the parties as to the subject matter of this Agreement. In the event of an inconsistency between this Agreement and any other document, which is part of this Agreement, the terms of this Agreement shall govern. From time to time during the term of this Agreement, Tengahouse may amend this Agreement (including any incorporated documents) by posting the amended terms on the Tengahouse Site, emailing notice of the amendment to the Buyer, or otherwise communicating such amendment to the Buyer. Each amendment will be effective immediately after it is initially posted on the Tengahouse Site, emailed to the Buyer, or otherwise communicated to the Buyer. (It used to read 30 days after the change was posted.) The waiver of a breach of any provision of this Agreement will not operate or be interpreted as a waiver of any other or subsequent breach. The laws of the State of California shall govern all transactions.
Discover Items You'll Love

Bid Anywhere, Anytime. Download the LiveAuctioneers App.
Available on the App Store
Android App on Google Play