Weekly Auctions of Exceptional Items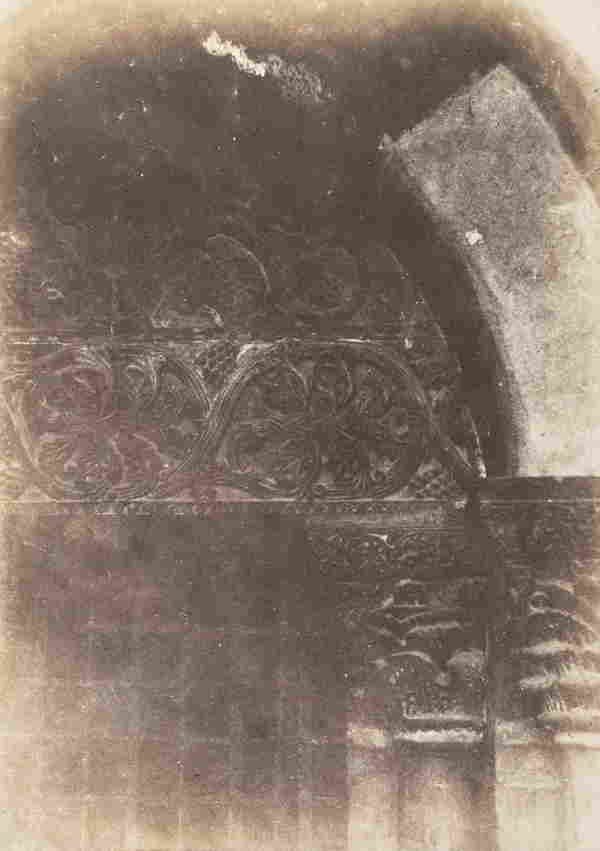 Lot 3038 Details
Description
AUGUST SALZMANN. Architectural Detail of Arch, 1853. 12.9x9.3" salted paper print, mounted on 24x17.8" heavy paper. Printed 1854. Printed on mount recto: Aug. Salzmann Phot. / Imp. Photog. De Blanquart-Evrard A Lille / Jerusalem / Saint Sepulcre.

A classic early Salzmann view of architectural detail from one of the earliest photographic expeditions to Jerusalem.

Ridiculed by fellow scholars for contending that many architectural fragments examined on an 1850 expedition to Jerusalem dated from the period of David and Solomon, Felicien Caignart de Saulcy was further accused of having provided fanciful and inaccurate site drawings to support his thesis. Auguste Salzmann, an artist and archaeologist, entered this scholarly fray late in 1853, setting off for Jerusalem to study and photograph the disputed monuments; after four months' work, he returned to Paris with at least 150 negatives. For Salzmann, the conclusive power of his photographs was self-evident; simple examination of the visual evidence they provided proved de Saulcy correct. With obvious satisfaction, de Saulcy wrote of having been vindicated by "a most able draftsman, in truth, and one whose good faith would be difficult to question, . . . the sun."

In contrast to the more generalized architectural views produced by other exploratory photographers in the Middle East, Salzmann's photographs often depict planar masonry surfaces or isolated architectural details. Although guided in his understanding of light and texture by his artistic training, Salzmann chose his subjects and vantage points to fulfill a scholarly, scientific mission; the results are often appealing to the modern eye for their minimalism and for their divergence from artistic convention.

Salzmann's photographs of Jerusalem were printed in 1854 for private distribution and published for commercial sale two years later under the title "Jerusalem: Etude et reproduction photographique des monuments de la ville sainte depuis l'epoque judaique jusqu'a nos jours."

Credit: https://www.metmuseum.org/art/collection/search/283150

Louis Desire Blanquart-Evrard was a cloth merchant from Lille, France who learned the calotype process from his druggist, a student of the inventor of the calotype, William Henry Fox Talbot. In 1847 Blanquart-Evrard became the first to publish the procedure for the calotype negative/positive paper process in France. He specialized in printing and issuing portfolios of photographs by other photographers, but perhaps his most significant contribution was the introduction in 1850 of the albumen paper print process, the primary printing medium until gelatin papers superseded it in the late 1800s. Once a painter on ivory and porcelain, Blanquart-Evrard sent examples of his experiments with negative/positive paper processes to the Great Exhibition at the Crystal Palace in London in 1851. A note attached to a frame explained: "These prints were obtained by a new process which makes it possible to produce two or three hundred prints from the same negative the same day in rainy weather." That same year Blanquart-Evrard started a printing company, the Imprimerie Photographique, to mass-produce photographic prints by other photographers, including John Beasly Greene, Charles Marville and Henri Le Secq. He later founded the successful and influential Blanquart-Evrard Printing Company for the same purpose.

Credit: https://www.getty.edu/art/collection/artists/1992/louis-desire-blanquart-evrard-french-1802-1872/
Condition
Very good. Minor wear, mostly to mount.
Buyer's Premium
28% up to

$100,000.00

20% up to

$1,000,000.00

18% above

$1,000,000.00
AUGUSTE SALZMANN JERUSALEM Salt print 1850s
Starting Price

$2,000
3 bidders watching this item
Get pre-approved to bid live.
Register For Auction
Shipping, Payment & Auction Policies
$90.00

Flat-Rate Shipping to Contiguous US
Ships from
Tucson, AZ, United States
Free Local Pick-Up
Tucson, AZ, United States
Tue, Jun 15, 2021 12:00 PM EDT
www.liveauctioneers.com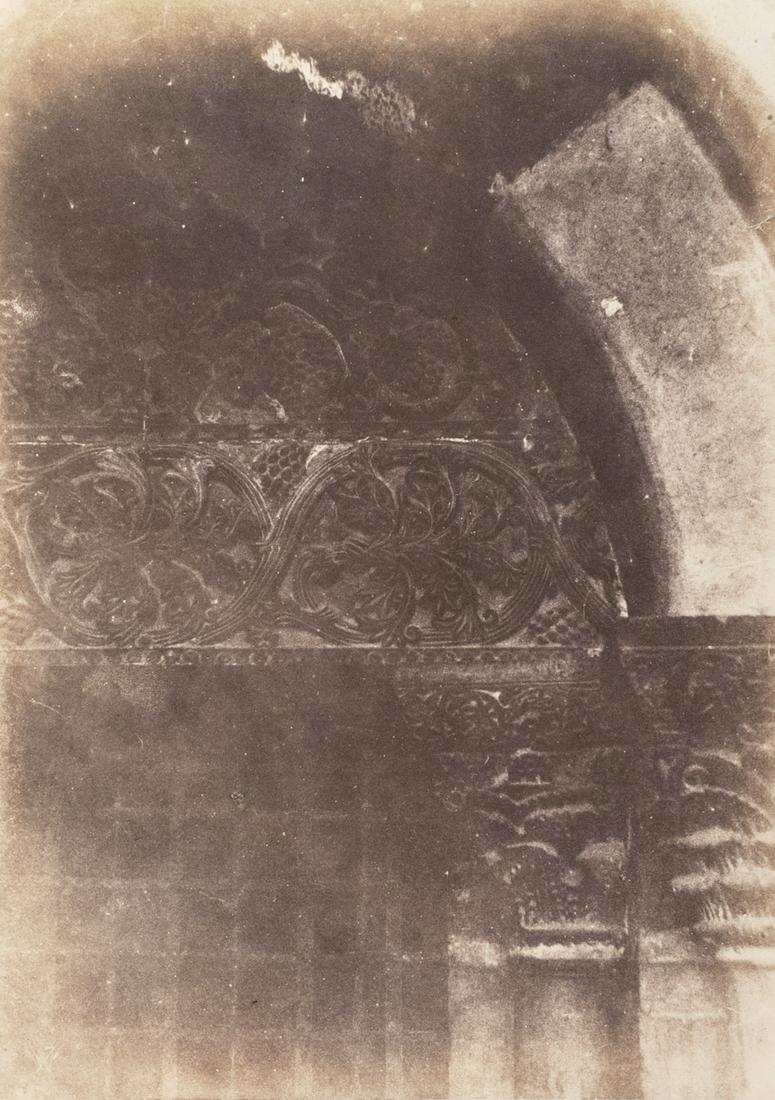 3038: AUGUSTE SALZMANN JERUSALEM Salt print 1850s
Current Bid:
$2,000
•
0 Bids
Est.

$3,000

-

$4,000
•
Starting Price

$2,000
BEAUTIFUL PHOTOGRAPHS from 19th-21st Century
Tue, Jun 15, 2021 12:00 PM
Buyer's Premium 28%
Lot 3038 Details
Description
AUGUST SALZMANN. Architectural Detail of Arch, 1853. 12.9x9.3" salted paper print, mounted on 24x17.8" heavy paper. Printed 1854. Printed on mount recto: Aug. Salzmann Phot. / Imp. Photog. De Blanquart-Evrard A Lille / Jerusalem / Saint Sepulcre.

A classic early Salzmann view of architectural detail from one of the earliest photographic expeditions to Jerusalem.

Ridiculed by fellow scholars for contending that many architectural fragments examined on an 1850 expedition to Jerusalem dated from the period of David and Solomon, Felicien Caignart de Saulcy was further accused of having provided fanciful and inaccurate site drawings to support his thesis. Auguste Salzmann, an artist and archaeologist, entered this scholarly fray late in 1853, setting off for Jerusalem to study and photograph the disputed monuments; after four months' work, he returned to Paris with at least 150 negatives. For Salzmann, the conclusive power of his photographs was self-evident; simple examination of the visual evidence they provided proved de Saulcy correct. With obvious satisfaction, de Saulcy wrote of having been vindicated by "a most able draftsman, in truth, and one whose good faith would be difficult to question, . . . the sun."

In contrast to the more generalized architectural views produced by other exploratory photographers in the Middle East, Salzmann's photographs often depict planar masonry surfaces or isolated architectural details. Although guided in his understanding of light and texture by his artistic training, Salzmann chose his subjects and vantage points to fulfill a scholarly, scientific mission; the results are often appealing to the modern eye for their minimalism and for their divergence from artistic convention.

Salzmann's photographs of Jerusalem were printed in 1854 for private distribution and published for commercial sale two years later under the title "Jerusalem: Etude et reproduction photographique des monuments de la ville sainte depuis l'epoque judaique jusqu'a nos jours."

Credit: https://www.metmuseum.org/art/collection/search/283150

Louis Desire Blanquart-Evrard was a cloth merchant from Lille, France who learned the calotype process from his druggist, a student of the inventor of the calotype, William Henry Fox Talbot. In 1847 Blanquart-Evrard became the first to publish the procedure for the calotype negative/positive paper process in France. He specialized in printing and issuing portfolios of photographs by other photographers, but perhaps his most significant contribution was the introduction in 1850 of the albumen paper print process, the primary printing medium until gelatin papers superseded it in the late 1800s. Once a painter on ivory and porcelain, Blanquart-Evrard sent examples of his experiments with negative/positive paper processes to the Great Exhibition at the Crystal Palace in London in 1851. A note attached to a frame explained: "These prints were obtained by a new process which makes it possible to produce two or three hundred prints from the same negative the same day in rainy weather." That same year Blanquart-Evrard started a printing company, the Imprimerie Photographique, to mass-produce photographic prints by other photographers, including John Beasly Greene, Charles Marville and Henri Le Secq. He later founded the successful and influential Blanquart-Evrard Printing Company for the same purpose.

Credit: https://www.getty.edu/art/collection/artists/1992/louis-desire-blanquart-evrard-french-1802-1872/
Condition
Very good. Minor wear, mostly to mount.
Contacts
Andrew Smith Gallery Photography Auctions LLC
505-984-1234
439 N 6th Ave, Suite 179
Tucson, AZ 85705
USA
LiveAuctioneers Support
info@liveauctioneers.com