lots of lots
Welcome to the world's largest marketplace for fine art, antiques & collectibles.
308: Elm Burl Effigy Bowl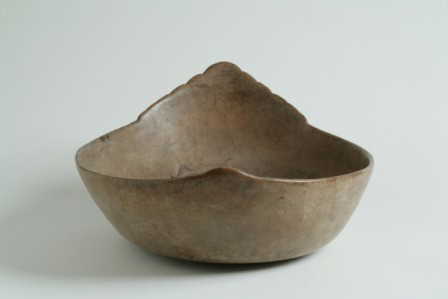 See Sold Price
Don't Miss Your Next Treasure.
Set up a search alert to hear when Elm Home & Garden items arrive.
Auction ended on January 17th, 2012 UTC
308: Elm Burl Effigy Bowl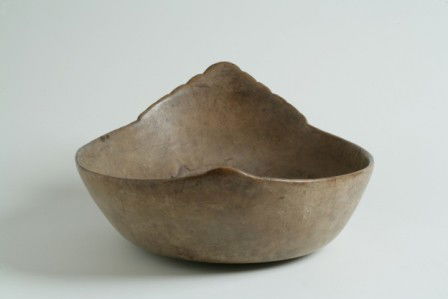 Elm Burl Effigy Bowl
Eastern Great Lakes Woodlands, first half 18th century (or possibly earlier)

In the canon of Eastern Woodlands bowls this example stands high in terms of sheer elegance and quiet beauty. It is truly sublime. The highly castellated back with repeating scallops recedes from the bowl as it rises, which is quite unusual. With the introduction of the opposing crest, the origin of this bowl is likely Northeastern-central New York or Southern Ontario, which would suggest Iroquois or Ojibwa manufacture.

Though the nature of the carving is not fully understood, the castellation is interpreted as being avian in nature. However, it is possible that the rounded steps may refer to the backside of the underwater panther.

A bowl of similar proportions and line is illustrated though not discussed in Charles C. Willoughby's article, ""Wooden Bowls Of The Algonquin Indians,"" American Anthropologist, N. S., 10, 1908, p. 426. That bowl, however, does not have the opposing crest and appears to have fewer scallops.

This elegant 17th century ovoid bowl is distinguished by a large, scalloped edged, triangular form incorporated into one end of the rim. This element represents the stylized anthropomorphic torso of a Manitou Spirit figure. The smaller form on the opposite side of the rim refers to a tail. Bowls with anthropomorphic or animal bodies have precedents in ceramics made hundreds of years earlier in the lower Woodlands and Great Lakes regions.

In considering the shapes of these vessels we must remember that they are works of art that were meant to be used at feasts and these rim extensions had a functional use as handles to make them easier to hold.

-Evan M. Maurer, Director Emeritus, The Minneapolis Institute of Arts, December 2011 L. 14 in., W. 11 3/8 in., H. 5 7/8 in.

Provenance: Donald Ellis;
Private Collection

The Peter Brams Collection

Estimate: $30,000-50,000

The Peter Brams Collection of Important Woodlands Indian Art
Shipping
Buyer Pays Shipping Cost
Payment
Contact For Payment Details
Accepted payment methods
Session 2: The Peter Brams Collection
bThe Peter Brams Collection of Important Woodlands Indian Artbbr bJanuary 17, 2012 at 10am ET.bbr bLots: 301 to 435bbrbr Please note in the catalogue lot numbers are listed 1 to 135.
Session 1 - Various Owners
bImportant Americana, Paintings, Furniture and Decorative Artsbbr bJanuary 17, 2012 at 10am ET.bbr bLots: 1 to 278b
The Peter Brams Collection
I have a secret. I have had a long-term love affair with burl bowls and ladles; I am crazy about the stuff and have spent most of my life seeking items for my own collection, and treasure every piece as if it were a fine jewel.brbrSo, I can say with genuine gratitude and pride that it is a great honor for Keno Auctions to present and offer The Peter Brams Collection of Important Woodlands Indian Art. My love of Native American works, and burl in particular, goes back to when I was a young child. Growing up in Mohawk, NY, with my brother, Leslie, at the age of eleven, we discovered a small cache of bowls and ladles that were made by Woodland Indians - the thrill of it There were three experiences that had a tremendous effect on me regarding my introduction to carved wooden bowls and ladles, and I would like to share them with you.brbrbrThe Sleeper : One day, in 1970, we attended a garage sale near my boyhood home, and peeking out of a box just brought up from the cellar was a horse head - Leslie and I were practically overcome by excitement. As I examined the object I noticed the ears and eyes were delineated but the horse was actually the top of a burl ladle, with a wonderful patina and well worn surface; it was 15. I calmly snapped up the unrecognized treasure and once out of sight from the seller, we proceeded to do cartwheels on the lawnbrbrbrThe Sage: A year later, I met the revered collector and dealer Devere Card in Hamilton, NY, who was setting up the first exhibition of burl ever mounted in the United States. My parents began to regularly drop us off at Devere's home and we were allowed to run up the stairs to the inner sanctum - the -Burl Room-, where he kept his personal collection. I marveled over the organic yet contemporary aesthetic of the forms: the lushness and primal fecundity of a bowl and the well worn surface of its interior. The delicate carving of an effigy ladle, its paddle worn from centuries of use fascinated me. When I learned that these pieces were not only utilitarian but they had deep spiritual meaning to the Native Americans, I was hooked.brbrbrThe Failed Experiment: One day my father sawed a knotty wood burl off the side of a tree and I quickly grabbed the piece and started to hollow it out with a chisel and hammer. Leslie and I filled it with charcoal briquettes, much like the Indians might have done, but to keep the coals fiery hot we cheated and fanned them with a hairdryer. Dozens of hours were spent laboring over that bowl and we ended up with a thick walled, homely vessel. Today, that very bowl sits behind my desk. The experience humbled me, and made me appreciate how challenging it must have been for the Woodland Indians to create these beautiful, powerful sculptural yet functional objects, some using only stone tools. They were Masters of their craft.brbrbrThe artistry required to produce burl bowls, ladles and objects was passed down for centuries, through generations of Woodland Indians. The quality of the objects created was far superior to that of the European settlers that came to America from the 17th through 19th centuries and their great sculptural beauty transcends time and aesthetic. Great art should trigger a visceral reaction. Great objects have an inner light that draws you in and envelopes you. Peter Bram's collection of Woodlands Indian Art speaks to me on many, many levels in an astounding way. Thank you, Peter, for sharing the passion that you so fervently have for Woodlands Indian Art. Your love for and dedication to this art form has helped build a collection that is simply unprecedented in terms of quality, rarity, condition and provenance.brbrbr-Leigh Keno, December 2011brbrKeno Auction would like to thank Steven S. Powers for his assistance in cataloging the Peter Brams Collection.brbrbrbLESS IS MOREbbrbrThe Peter Brams Collection of Important Woodlands Indian Art is the most extensive and comprehensive collection of its type in private or public hands. With an obsessive focus on Woodlands sculpture, which are primarily bowls and ladles, Mr. Brams has greatly aided in expanding the understanding of this important material by assembling such an immense collection. Mr. Brams, born in New Hampshire, but long a native of New York, has been collecting his whole life. brbr brbrFor the past 40 years, Brams has been through many collecting cycles, often the next overlapping with the previous; a true evolution. In the 1980s Brams collected contemporary fine art including Basquiat, Gilbert George, Carl Andre, then in the early 1990s Outsider Art, including James Castle, Sam Doyle, which led him to the American Folk Art of Bill Traylor, William Edmundson, Edgar McKillup, George Morgan, Moses Ogden, and numerous unknown artists and craftsmen. It was the best of American Folk Art that led him to Woodlands sculpture. In hindsight, it can be seen that in each step Brams was constantly editing and refining, seeking the essential elements that compose great sculpture: assured form, quality of execution, and surface, which is the Woodlands aesthetic at its core.brbrbrFor those who have been lucky enough to work with a collector as obsessive and curious as Brams, you will understand that to view a congregation of material like this together in one place was a privileged one. Though many Native American and Folk Art dealers are familiar with Woodlands burl bowls and effigy ladles, their experience in handing them are almost always isolated instances. Only a handful of people had the opportunity to view the Brams Collection en masse in his apartment. Though the experience of seeing such quality and depth within a few hundred square feet was aesthetically intoxicating, it was also mentally overwhelming. It was the best opportunity for a crash or extended course in Woodlands sculpture. To be able to see firsthand how representational forms transformed into reductive or abstracted versions of the same on ladles and bowls was a unique experience.brbrbrWoodlands art separates itself from other North American indigenous works by imposing the less is more philosophy. In contrast, the art of the Northwest Coast is powerful, often loaded with color, calling for attention. Woodlands art is understated and intimate, inviting the viewer in to see and to touch.brbrbrbrWOODLANDS BOWLSbrbrThey have dainty wooden bowles of maple, of highe price amongst them; and these are dispersed by bartering one with the other, Thomas Morton, circa 1625. Wooden carved effigy bowls are important and profound carvings of the Woodlands culture. Their marriage of utilitarian form with ceremony is arguably unsurpassed by any culture. The carvings are intimate and understated, yet powerful and bold without any contrivance. The carved effigies exude tremendous confidence and potential energy.brbrbrBefore any formal aspects of these objects may be effectively discussed, a single underlying concept must be recognized...wood is sacred, Gaylord Torrence writes in Art of the Red Earth People: The Mesquakie of Iowa, 1989. Robert Hobbs continues from the same, They regard trees, for example, as their grandparents. And bowls are formed of burls, which appear on tree trunks in enlarged growths that resemble the swelling caused by a human fetus. Since a tree's swelling burl is a metaphor for fecundity, these bowls serve also as an image of hope in the sacred feasts where they are used. Though Torrence and Hobbs refer specifically to the Mesquakie of the Sauk and Fox, these thoughts can suitably be applied to the beliefs of all Woodlands people.brbrbrEffigy bowls were not common utilitarian receptacles for food but reserved for ceremonial feasts or medical rituals. They were created with such thought and purpose that today we can understand just a fraction of their original import. The Woodlands people were master bowl makers. Not only were their effigy bowls superb examples of indigenous art, but their vessels for everyday food preparation, serving and individual use, were often remarkable works masterfully conceived and thoughtfully executed in hardwood burls of ash, elm and maple. Their understanding of form following function led them to ingenious and refined design; think of the classic Iroquoian double handled bowl. They appreciated surface and the complexity that use and age lent to these vessels and these objects were passed down from generation to generation; wood was sacred. brbrbrbWOODLANDS LADLESbbrbrThe end of the ladles handle is often surmounted with the figure of an animal or bird....These figures were often carved with surpassing skill, the proportions, and attitude of the animal being accurately preserved and studied, Lewis Henry Morgan, 1851.brbrbrEffigy ladles of the Woodlands Indians are remarkably refined utilitarian objects carved with platforms that display dynamic small-scale sculpture. A ladle is the personal eating implement for an individual. Larger examples were for the tribe to be used during feasts and ceremonies. Since, one was expected to bring his or her own spoon and dish to each meal, a small eating bowl and ladle or effigy ladle was part of every Woodlands person. The effigy carved upon one's ladle was personally meaningful and representative of its owner. Effigies were often totemistic of one's clan, illustrating the bear, wolf, turtle, etc. Effigies, either abstracted or fantastical, were often carved in response to one's dreams or illness. One would consult and discuss their dreams or visions with a medicine man and a design and type of wood would be decided upon.brbrbrOverwhelmingly, the perching bird is the most common figure found on effigy ladles. Others animals include the beaver, otter, bear, wolf, panther, Manitou, as well as mythological creatures. Human effigy ladles are quite scarce and tend to be early. Principle to the Woodlands aesthetic, the carvings look to capture the essence of the subject, reducing the carvings to a particular detail (e.g. an eye) or to
Terms
Conditions of Sale Participation in this auction is subject to and governed by the following contractual terms. Each prospective buyer is deemed to have reviewed, understood and accepted these conditions of sale and participation in the auction in any manner (in person, by telephone, by written bid or on-line) will constitute an acceptance of these conditions of sale by the participant. BEFORE THE SALE Condition Every item offered for sale will be sold subject to the actual condition of the property at the time of the sale (generally referred to as "as is"). Prospective buyers are permitted and strongly encouraged to thoroughly examine any property before the auction with the understanding that there is no representation or warranty of any kind concerning the condition or any of the physical aspects of any items offered for sale. Catalogue descriptions or verbal statements are offered as opinion and shall not constitute a representation or warranty or assumption of liability of any nature whatsoever. Registration before Bidding Prospective buyers who wish to bid in the saleroom can register online in advance of the sale, or can come to the saleroom approximately 30 minutes before the start of the sale to register in person. A prospective buyer must complete and sign a registration form and provide identification (possibly including a check acceptance form) before bidding. Absentee Bidding Reasonable efforts will be used to carry out written bids delivered to us before the sale for the convenience of prospective purchasers who are not present at the auction in person, by an agent or by telephone. If written bids for identical amounts are submitted for the same lot and are the highest bids on this lot at the auction, the property will be sold to the person whose written bid was received and accepted first. Execution of written bids is a free service undertaken subject to other commitments at the time of the sale and there shall be no liability for failing to execute any written bid or for errors and omissions in connection with any written bid. Telephone Bidding Telephone bids will be accepted on lots with a low estimate of more than $2,500, no later than twenty-four (24) hours prior to the commencement of the sale and only if capacity allows. Arrangements to bid in languages other than English must be made well in advance of the sale. We will use reasonable efforts to contact prospective purchasers to enable them to participate in the bidding by telephone as a free service, however there will be no liability for any failure or for any errors or omissions in connection with telephone bidding. Online Bidding Please register for online bidding at LiveAuctioneers. Reasonable efforts will be exerted to place on-line bids in the saleroom. However there will be no liability for any failure or error in the placement of such bids. AT THE SALE Terms of Bidding The auctioneer has the absolute and sole discretion to refuse any bid and to advance the bidding in any manner. The auctioneer also has the right to withdraw any lot, and in the case of error and dispute (whether during or after the sale) to determine the successful bidder, to continue the bidding, to cancel the sale or to reoffer and resell the property. The highest bidder acknowledged by the auctioneer will be the purchaser. In the case of a tie bid, the winning bidder will be determined at the sole discretion of the auctioneer. In the event of a dispute between bidders, the auctioneer has final discretion to determine the successful bidder or to reoffer the lot in dispute. If any dispute arises after the sale, the sale record of the auctioneer is conclusive. Participation in the auction may be disallowed for any reason. A bid is an offer to purchase and by making a successful bid, a bidder is accepting personal liability to pay the purchase price, plus the buyer's premium, all applicable taxes and all other applicable charges. Bidding Increments The auctioneer will commence the bidding at any level and in increments considered appropriate. Bids will be sought in increments selected by the auctioneer who will have the absolute discretion to select any increments for any lot (and the discretion to vary the increments in the course of the bidding for any lot). However, generally speaking, the increments will depend upon the low estimate for the lot. Thus for example, for lots having a low estimate below $1,000, bids will be sought at increments of $50. The normal pattern for bidding increments will be as follows: Low Estimate Increments 999 $50s $1,000 - 1,999 $100s $2,000 - 4,999 $250s $5,000 - 9,999 $500s $10,000 - 29,999 $1,000s $30,000 - 49,999 $2,500s $50,000 - 99,999 $10,000s $100,000 at auctioneer's discretion These increments may vary during the course of the auction at the discretion of the auctioneer. Estimates Pre-sale estimates are provided to encourage competitive bidding. These estimates may not be relied upon as any predictions of the selling price and may not be considered to be any opinion or representation regarding the value of the property. Keno Auctions shall not be responsible or liable for any difference between a pre-sale estimate and the actual selling price for any lot. Reserves Unless otherwise indicated, all lots are offered subject to a reserve, which is a confidential minimum price set by the seller below which the lot will be not be sold. The reserve will not exceed a given low pre-sale estimate at the time of the auction. Regardless of whether there is a reserve, the auctioneer may reject any bid and withdraw any lot for any reason. In order comply with the seller's reserve on any lot, the auctioneer may open bidding by placing a bid on behalf of the seller. The auctioneer may bid further on behalf of the seller (i.e. a bid "from the book" held by the auctioneer) up to the amount of the reserve by placing consecutive bids or by placing bids in response to other bidders. If a lot is not sold, the auctioneer will announce that fact (normally by stating that the lot has been "unsold" or "passed"). Property of Keno Auctions / Guarantees Should Keno Auctions own any lot in whole or in part or have a financial interest in any lot equivalent to an ownership interest, the catalogue will clearly identify any such property as the Property of Keno Auctions. From time to time, a lot may be offered for which a guaranteed minimum price or an advance secured by the consigned property has been given to the seller. Such property will be identified in the catalogue with the symbol * next to the lot number. AFTER THE SALE Successful Bids Keno Auctions is not able to notify successful absentee bidders. While invoices are sent out by mail after the auction we do not accept responsibility for notifying you of the result of your bid. Buyers are requested to contact us by telephone or in person as soon as possible after the sale to obtain details of the outcome of their bids to avoid incurring unnecessary handling charges. Buyer's Premium A buyer's premium will be added to the hammer price of each lot and is payable as part of the total purchase price (comprising the hammer price, buyer's premium and any applicable taxes). The buyerís premium is 24% of the hammer price. Sales Tax Unless exempted by applicable law, all purchases are subject to the 8.875% sales tax of the City and State of New York. Any buyer claiming exemption from sales tax must have the appropriate documentation on file with Keno Auctions prior to the release of the property. Payment Buyers are expected to pay the full amount due (comprising the hammer price, the buyer's premium and any applicable taxes) within 7 days. Please note that Keno Auctions will not accept payments for purchased lots from any party other than the registered buyer. Lots purchased may be paid for in the following ways: (i) bank checks (ii) checks (iii) cash (up to $7,500) (iv) money orders (up to $7,500) (v) travelers checks (up to $7,500) (vi) Pay Pal (up to $10,000) Bank checks and personal checks should be made payable to Keno Auctions. Checks must be drawn on a US bank and payable in US dollars. In order to process your payment efficiently, please quote sale number, invoice number and client number with all transactions. Buyers not known to us who wish to write a check must complete a bidder registration form and check acceptance form no later than two business days preceding the auction. Remedies for Non Payment If a buyer fails to make payment in full in good cleared funds, Keno Auctions shall be entitled in its absolute discretion to exercise anyone or more of the following rights or remedies (in addition to asserting any other rights or remedies available by law): (i) to charge interest at a rate of 1.5% per month; (ii) to charge $50 for any dishonored check; (iii) to hold the defaulting buyer liable for the total amount due and to commence legal proceedings for its recovery together with interest, legal fees and costs to the fullest extent permitted under applicable law; (iv) to cancel the sale; (v) to resell the property publicly or privately on any terms; (vi) to pay the seller an amount up to the net proceeds payable in respect of the amount bid by the defaulting buyer; (vii) where several amount are owed by the buyer in respect of different purchases, to apply any amount paid to discharge any amount owed in respect of any particular transaction, whether or not the buyer so directs; (viii) to reject at any future auction any bids made by or on behalf of the buyer or to obtain a deposit from the buyer before accepting any bids; (ix) to exercise all the rights and remedies of a person holding security over any property in our possession owned by the buyer, whether by way of pledge, security interest or in any other way, to the fullest extent permitted by the law of the place where such property is located and in this regard the buyer will be deemed to have granted such security to Keno Auctions which may retain such property as collateral security for such buyer's obligations; (x) to take such other action as may be deemed necessary or appropriate. If the property is resold as described above, the defaulting buyer shall be liable for payment of any deficiency between the total amount originally due and the price obtained upon resale as well as all costs, expenses, damages, legal fees and commissions and premiums of whatever kind associated with both sales or otherwise arising from the default. If any amount is paid to the seller as described above, the buyer acknowledges that Keno Auctions shall have all the rights of the seller, however arising, to pursue the buyer for such amount. Collection of Purchases We shall be entitled to retain items sold until all amounts due to us have been received in full in good cleared funds or until the buyer has satisfied such other terms as we, in our sole discretion, shall require. Packing, Handling, and Shipping The removal of purchased property is entirely the responsibility of the buyer. Accordingly, packing, handling and shipping arrangements for any purchased lot is at the entire risk and cost of the buyer. Where we may suggest other handlers, packers or carriers if so requested, we do not accept responsibility or liability for their acts or omissions. Failure to Collect Purchases Where purchases are not collected from the auction premises, whether or not payment has been made, Keno Auctions will remove and store such property in any manner and by any means that it deems appropriate. Keno Auctions will not be responsible or liable for any damage caused as a direct or indirect result of the removal and storage of such property. In the event that the property is removed from the auction premises by Keno Auctions, the buyer will be charged for 120% of the actual packing and shipping cost incurred in transporting the property and a daily storage charge of 1.5% of the purchase price of the property (commencing on the day following the completion of the auction). At the option of Keno Auctions the property may be transferred to and stored at a bonded warehouse and the buyer agrees to pay all the transfer and storage expenses and accepts all risks of loss or damage. Keno Auctions will only release the items after payment in full has been made of transportation, administration, handling, insurance any other costs incurred, together with all other amounts due to us and payment has cleared. Warranty Except as specifically described in this particular condition, Keno Auctions makes no representation or warranty of any kind as to the accuracy of any description of any lot and any information regarding any subject including quality, authenticity, medium, size, date, importance, rarity, provenance or historical relevance. Any statements made in the catalogue or at the sale or in any invoice or in any other writing shall not be deemed or constitute any warranty, representation, statement of fact or assumption of liability. Notwithstanding the foregoing, Keno Auctions will warrant the accuracy of any statement or information set forth in BOLD type in the catalogue description of the lot, unless clearly and conspicuously modified prior to the bidding on the applicable lot. This warranty regarding the information in bold type shall exist for a period of five (5) years from the date of the auction and is given solely to and strictly for the benefit of the original purchaser of record at the auction. It may not be transferred to any third party. Furthermore, the exclusive remedy of the original buyer in the event of any inaccuracy not otherwise excluded herein shall be a refund of the hammer price and buyer's premium actually paid by the buyer for the lot at the time of the sale. Keno Auctions and its consignor shall not be liable for any incidental or consequential damages incurred or claimed under this warranty. The warranty does not apply if: (i) a written claim supported by a written report by a recognized expert in the applicable field is not delivered by the original buyer to Keno Auctions before the expiration of five (5) years from the date of the sale; or (ii) the catalogue description was consistent with the opinion(s) of generally accepted scholar(s) and/or expert(s) at the date of the sale; or (iii) the only method of establishing any inaccuracy in the warranted information is by means or processes not generally available or accepted at the time of the auction sale or by means and processes at the time of the auction sale that could have caused damage to the lot or could have caused loss of value to the lot; or (iv) there has been no material loss in value of the lot from its value had it been in accordance with its description in the Bold type; or (v) the property is not returned to Keno Auctions in the same condition as on the date of the auction sale. Governing Law These Conditions of Sale and the rights and obligations of all participants hereunder, shall be governed by and construed and enforced in accordance with the laws of the State of New York. The buyer and any agent for the buyer shall be deemed to have consented to the jurisdiction of the state courts of, and the federal courts sitting in, the State of New York.
Discover Items You'll Love

Bid Anywhere, Anytime. Download the LiveAuctioneers App.
Available on the App Store
Android App on Google Play