1949 Snowberger-Offy Indianapolis "500" Roadster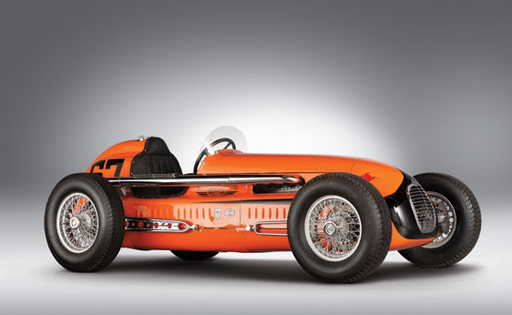 See Sold Price
Don't Miss Your Next Treasure.
Set up a search alert to hear when Militaria & War Memorabilia items arrive.
Auction ended on February 25th, 2012 UTC
1949 Snowberger-Offy Indianapolis "500" Roadster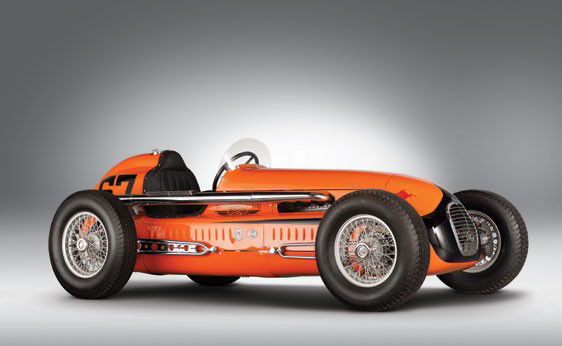 OFFERED WITHOUT RESERVE

Chassis #: N/A

Est. 350 bhp, 270 cu. in. Meyer-Drake Offenhauser DOHC inline four-cylinder engine, Hilborn fuel-injection, two-speed manual transmission, solid front axle with transverse leaf spring, live rear axle with torsion bar suspension, and four-wheel hydraulic disc brakes. Wheelbase: 97"

• Russell Snowberger chassis with legendary Meyer-Drake "Offy" power
• Restored and handsome in Automobile Shippers livery; updated history
• Driven by George Lynch during two Indianapolis "500" qualifying attempts

Please note that the original catalogue description of this car contained several historical inaccuracies, which have since been further researched and corrected with the assistance of highly respected Indianapolis 500 historians. The corrected description and history of this car is posted below.

Among the many builders of Indianapolis "500" cars, the names Frank Kurtis, A.J. Watson and Quinn Epperly stand out, primarily for their work during the glorious era of the 1950s through the mid-1960s. Over the years, however, many other talented and resourceful builders have turned their hands to the craft. One of these was Russell Snowberger.

A Maryland native, Snowberger drove his first race in 1921 at the Harrington, Delaware fairgrounds. He was a consistent winner at local tracks during the 1920s and in 1928 first started at Indianapolis. His heyday came during the so-called "junk formula" years, when Indy rules were skewed toward production engines. Snowberger usually used Studebaker President eight-cylinder engines in chassis of his own construction. He placed in the top 10 for five years running. He competed with AAA and at Indy intermittently through 1947. His last race was the 1949 Pikes Peak Hill Climb, but he continued to build and prepare cars for others. He retired from active participation in 1960.

Louis Rassey, the owner of a gas station and later a machine shop, was a racing aficionado who leapt headlong into the sport after World War II using Snowberger chassis and Meyer-Drake Offenhauser power. The "Offy," as it became known, was developed by Fred Offenhauser and Harry Miller, but lasting fame came after World War II when further refinements by Lou Meyer and Dale Drake made it unbeatable. Until the late-1960s, it remained the engine of choice for most teams, and Johnny Rutherford scored the final Indianapolis 500 win for the venerable "Offy," which soldiered on in decreasing numbers until its final entry in 1983.

Eugene Casaroll's highly successful Automobile Shippers company, the springboard to his famous, limited-production Dual-Ghia automobiles of the late-1950s, sponsored Rassey's entries at the Indianapolis 500 from 1946 through 1950. Race-numbered 31, Rassey's Snowberger-Offy was driven by Henry Banks in the 1946 Indianapolis 500, qualifying 21st and completing 32 laps before a pinion shaft broke. The car returned in 1947, still numbered 31 but this time driven by "Shorty" Cantlon, whose 121.462 mph qualifying speed put him fifth on the grid. Unfortunately, he crashed after 40 laps. In 1949, racing under number 26, driver George Lynch qualified eighth but crashed.

The car offered here from the Milhous Collection is confirmed as car number 36, entered by Louis Rassey as part of his two-car effort in the 1950 Indianapolis 500 and sponsored by Eugene Casaroll's Automobile Shippers. A 1950-dated photograph of the car within the Indianapolis Motor Speedway photographic archives clearly shows the car numbered 36 and finished in the distinctive orange and black Automobile Shippers livery. At least since the 1980s, the history of this car has been confused with that of its stable-mate, the other Louis Rassey-entered, Automobile Shippers-sponsored Snowberger-Offy, which was race numbered 67 and driven during the 1950 Indianapolis 500 by one-legged driver Bill Schindler, who challenged race leader and eventual winner Johnnie Parsons for the lead 11 times until mechanical failure forced Schindler's number 67 car out on lap 111.

Driven by George Lynch, the car offered here did not manage to qualify for the rain-shortened race in 1950. Following Indianapolis, this Snowberger-Offy was extensively campaigned on the USAC circuit with a roster of colorful drivers whose names will be familiar to most fans of era, including "Spider" Webb, Bill Schindler, Johnny Fredricks, George Hammond, Fred Agabashian and of course George Lynch, who piloted the car three additional times that year after Indianapolis. Its best finish for 1950 was during September at Pikes Peak, where Hammond finished in fourth.

The car was again entered into the 1951 Indianapolis 500, returning as race number 36 with Lynch once again driving. This time, however, the car was now simply called a "Rassey" with Louis Rassey listed as the race entrant. At this point, there is no mention of the Automobile Shippers company as Rassey's sponsor, and their logo is not displayed on the car in period images that we have recently received. George Lynch did not complete his qualifying run, and this car therefore did not make the "show" in 1951.

After 1951, Rassey converted to the use of the by-then dominant Kurtis-Kraft roadster chassis for Indianapolis. This Snowberger-Offy was eventually converted to V-8 power and disappeared from view until the late-1970s, when it was eventually discovered by Jim Etter, a well-known racing enthusiast with many years of experience in open-wheel race cars. Mr. Etter recalled that when he found the car, the V-8 engine which had replaced the original "Offy" from its Indianapolis days was no longer with the car. He then sold the car to noted collector, enthusiast and restorer Vic Yerardi of Weston, Massachusetts, who sourced an "Offy" and restored the car, with it now finished in black with extensive brightwork.

In 1982, noted collector Jerry J. Moore of Texas purchased the car from Mr. Yerardi and commissioned its second restoration performed by Bob Smith Coachworks of Gainesville, Texas. During the process, the car was refinished in the 1950 Automobile Shippers livery, and instead of its period number 36, the race number 67 was applied, as well as a Saint Christopher medallion similar to that adorning the other Rassey car, the one driven by Bill Schindler in 1950 at Indianapolis. In addition, the car's former Halibrand magnesium racing wheels were replaced by the present wire-spoke wheels.

According to a recent inspection of the car, its paint finish is noted to remain very good, and the cockpit is upholstered in black, nicely contrasted by an attractive engine-turned dash. It is simply immaculate from nose to tail, and the brightwork is stunning, encompassing the suspension and controls as well as the exhaust and intake, with the legendary "Offy" engine and its ancillary components extremely clean. Having enjoyed pride of place in the lobby of the Milhous Collection for years, it remains both a fitting tribute to the heroic era of American motorsports and a great example of the ingenuity and competitive spirit displayed annually at Indianapolis. As such, it wonderfully exemplifies America's rich racing legacy.


Addendum:

Please note this vehicle will be sold on a Bill of Sale only.

Please note the printed catalog description for Lot 803 incorrectly describes this car as the original number 67 car, which raced at the 1950 Indianapolis 500 with Bill Schindler. Subsequent research and period images have confirmed that the car on offer is in fact the Louis Rassey, number 36, Snowberger-Offy car, which attempted to qualify at Indianapolis in 1950 and 1951 with George Lynch driving. For a complete, updated catalog description, please visit the RM website.
Discover Items You'll Love