1506: The Bannerman Family collection of glass negative
Don't Miss Your Next Treasure.
Set up a search alert to hear when Lyon & Turnbull lists new auctions.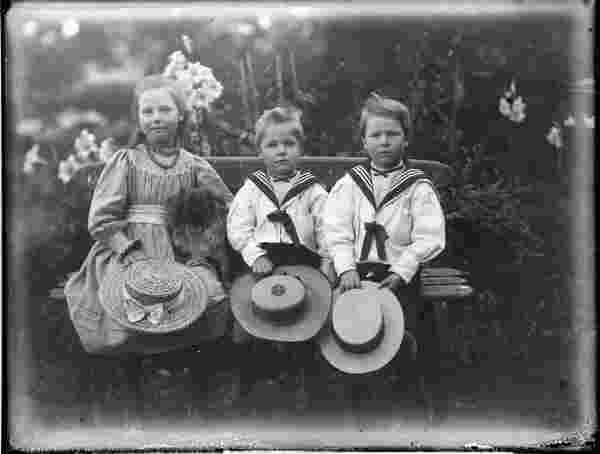 Lot 1506 Details
Description
The Bannerman Family collection of glass negatives.
This is a very interesting collection of material produced between 1873 and 1875 by Sir Alexander Bannerman, 9th Baronet [1823-1877], of Crimonmogate. Many of the large plates have his monogram, "AB photo" and the dates for these years inscribed in the emulsion. Standing near Crimond, eight miles south of Fraserburgh in Aberdeenshire, Crimonmogate house was designed in 1825 by Archibald Simpson [1790-1847]. It is one of his finest designs and uses the local granite to create a house with beautifully detailed masonry and a monumental classical portico. Sir Alexander's photographs record the major alterations to the house that took place in 1874-5 when a great mansard roof was placed on top of Simpson's design and there are a few very rare images of the interior of the house, some possibly before the alterations. While the work was underway Sir Alexander and his family decamped to Italy and there is an interesting group of Italian negatives in the collection, takes on this trip.Sir Alexander married Arabella-Diana, daughter of George Sackville-West, 5th Earl De la Warr in 1860 and they had a daughter, Ethel Mary Elizabeth. Arabella died in 1869 and her grave at Lonmay Church is one of the negatives in the collection. Sir Alexander then married Katherine Ashburnham [1841-1885], daughter of the 4th Earl of Ashburnham in 1874, an event which may have encouraged him to enlarge Crimonmogate. Her father was a great collector of books and manuscripts and his collections were sold the British and Italian governments for large sums in 1883-4. But it was the marriage of his daughter Ethel to Charles Noel Carnegie [1854-1941], eldest son of the Earl of Southesk in 1891 that changed the family's prospects. Lord Carnegie's father, Sir James Carnegie had regained the Southesk title in 1855 after a reversal of the 1716 Act of attainder against the 5th Earl and Charles became 10th Earl in 1905. Ethel died in 1947. Like his father Charles was a keen sailor and he inherited the family yacht, The Gem but later had a more advanced auxiliary yacht Kittiwake, possibly built in 1894 (that is the date of the blueprint with the collection of plans). There are many negatives of both yachts and their crews in the collection and one group of particular interest was made while sailing along the Albanian coast. This includes numerous images of local people, shepherds and Janissaries wearing traditional dress. The particular photographer is unknown but it may have been Ethel, Lady Southesk. Her mother Katherine Ashburnham is believed by the family to have been an accomplished photographer and artist and she may have taken other negatives in the collection. Katherine's mother was a daughter of George Baillie of Jerviswood and sister of the Earl of Haddington and this explains the group of negatives of Tyningham and Mellerstain in the collection.The collection comprises 600-700 glass negatives, the majority either self-coated wet-collodian or proprietary plates, purchased in bulk. There are a few 10 x 8" plates but most are Whole Plate (8.5 x 6.5") and there are small groups of smaller plates. A stereo camera has been used, but of the sliding plate type, allowing two images to be made, one after the other. In commercial hands this would have been used to create two almost identical images for stereo viewing but here the opportunity has been taken to create two different images on the same wet plate. Another professional camera also appears to have been used, employing a long glass plate, about 5 x 10", that could also be slid into four positions. Once again a professional would have created four images of the same subject and used the single glass plate to contact print four identical images in one go, that could be cut down and mounted on card. Sir James chose instead to create four different images with the one plate, saving on time in coating four different plates.Perhaps the most interesting and largest group of material is the portraits, taken in a purpose built or converted space that resembles a lean-to greenhouse. The early negatives show a single minded purpose in using the space for photography but as time goes on, more and more plant pots creep into the views and eventually they crown around the feet of the sitters. Sir James or his wife created amateur backdrops with scenes of mountains or with a boathouse but at some point professional props and backdrops were purchased and these make increasing appearances in the images. It would seem however that the painted backdrops gave way eventually to a single large curtain, hung straight or draped, in front of which professional props were arranged. In a further development furniture from the house begins to appear and on one occasion a boldly patterned tablecloth, visible in a large interior view, is used in a portrait. Sir James was his own favourite sitter, closely followed by his wife and he creates some bizarre tableau involving heaps of straw and a favourite gun. This develops further, with a group of negatives, possibly taken by Ethel or another member of the family, showing elaborate tableau with multiple sitters, all wearing what is most probably Norwegian national costume. Certainly the family had some attachment to Norway, having cruised the fiords and there is a draught screen in one of the interior views, that includes a number of images of people in Norwegian national dress. Sir James was also keen to continue a longstanding tradition on great estates, that of recording the various members of staff. In this case it appears to be the outdoor staff and there are a number of very fine images of gamekeepers and others, posed in front of rustic walls with the accoutrements of their professional activity hanging on or propped against the wall. On some occasions Sir James invited his staff to pose in the lean-too studio and in the case of the gardener, there are two images - one taken outdoors and the other in the lean-to. In the latter he looks decidedly like a fish out of water but retains a great sense of dignity. These are probably the most sensitive portraits in the entire collection.View of a garden terrace on a riverbank AB 1873Tyningham House, AB 1873A country house with a large tree, AB 1873Pines of Rome? AB 1874Venice AB 1874Rialto Bridge, Venice AB 1874Bridge of Sighs, Venice AB 1874Venetian Canal AB 1874 [broken and damaged emulsion]Rome? Or Florence? AB 1874Road through an olive grove? AB photo 1874Building AB photo 1874Thun, Switzerland? AB 1874Thun Switzerland? AB 1874Naples? AB 1874Naples? AB 1874Crimondmogate House, AB 1874A view from a balcony, AB 1874A riverbank scene, AB 1874Harbour scene, AB 1874.Highland landscape with a weir AB 1874Tyningham House, AB 1875Mellerstain House from the lake, AB 1875Mellerstain Mausoleum, AB 1875A lodge at Mellerstain, AB 1875Mellerstain House, entrance front, AB 1875The terrace and sundial at [Newbattle?], AB 1875Brechin Castle, distant view, AB 1875Brechin Castle, close view, AB 1875 Houses on a riverbank with craggy outcrops behind, AB 1875Canal scene, Venice ABBay of Naples? Part panorama [AB?]Bay of Naples? Part panorama [AB?]Haddo House, AB photoGrimsthrpe House, Lincolnshire, [2 negatives, by AB?]A view on a riverbank [Eildon Hills?]A stone stile [Eildon Hills?]A castle on a riverbank, AB photoA suite of six negatives of the terraced garden at Drummond Castle showing very full planting. These pre-date another photograph of the gardens by Valentine now in the library at St. Andrew's University.Includes;1. A view towards the house and tower with the sundial of 1630 by John Mylne III at the left.2. View towards the house with a statue of the Medici faun[?] standing in the centre of a pond.3. A view of the avenue with sparsely planted terrace and fountain in foreground.4. A view showing an ornamental pond with a nude figure of Pan[?] standing at its centre, with radiating beds. Also a four-arch bridge with crenellations.5. View from the terrace showing the gardens radiating from the sun dial.6. Possibly the gardens at Drummond showing radiating beds and a dolphin fountain.Crimonmogat owned by William Abernethy in 1766 - estate plan marked'A Plan of the Lands of Crimonmogat whereof William Abernethie Esq. is Proprietor, made out from an accurate survey taken Anno 1776 by To: Sangster' c. 1032 x 2850 cmsPencil pen and Indian ink with watercolour washes on numerous joined sheets laid paper. Laid down on canvas with top and bottom rails.

Buyer's Premium
19.5% up to £50,000.00
12% above £50,000.00
1506: The Bannerman Family collection of glass negative
Estimate £800 - £1,200
Jul 12, 2005
Shipping, Payment & Auction Policies