Rhinohorn Horns (Diceros bicornis), Black Rhinoceros
See Sold Price
Don't Miss Your Next Treasure.
Set up a search alert to hear when Auktionshaus Gut Bernstorf lists new auctions.
Auction ended on February 25th, 2012 UTC
Rhinohorn Horns (Diceros bicornis), Black Rhinoceros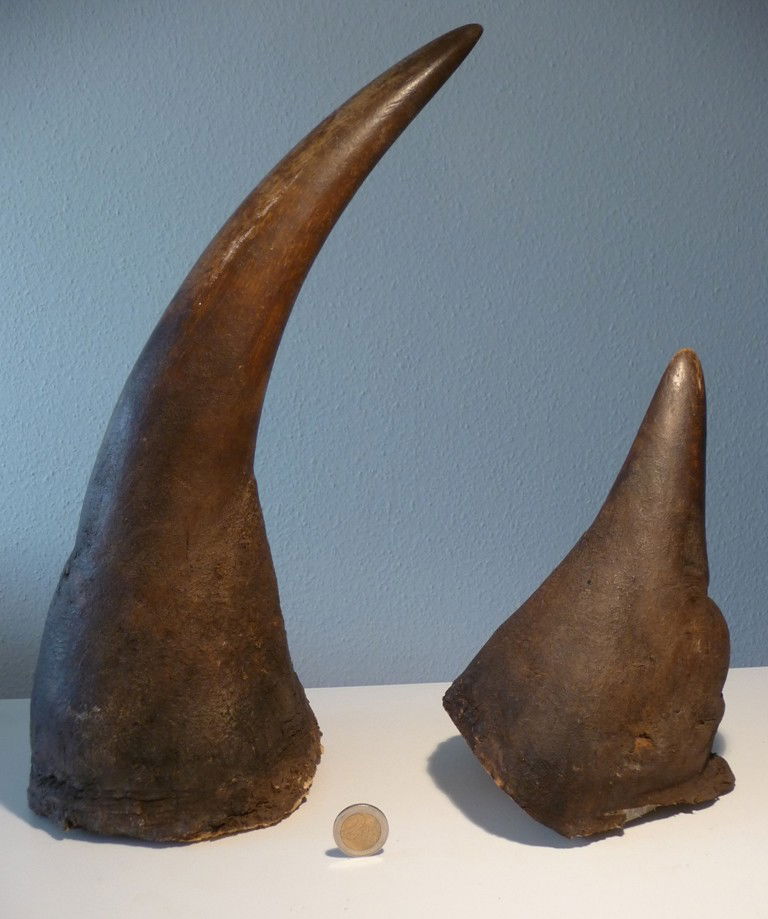 Rhinohorn - double horn (Diceros bicornis). Horn pair of black rhinoceros (black rhino). The horns are from the years before 1955 are not assembled and are in good condition. Length of the large horn: approx 49.5 cm, weight approx 3.0. Length of the associated small horn about 23.0 cm, weight: 1.45 kg. The horns are in a good to very good condition. The core of the large rhinoceros and to a lesser extent, the liability of small traces of an attachment to mass, with the trophies which were probably attached to a substrate or a skull specimen. This adversely affects the appearance of the horns is not. Comes with a CITES (Council Regulation (EC) No. 338/97 and Commission Regulation 1808/2001) issued by the State Agency for Nature and Environment, Schleswig Holstein. This CITES contains the full exemption from the prohibition on marketing. It is an obligation of the bidder / buyer to check and follwo the current guidelines and legislation for the purchase, sale and export of rhinoceros horns/products.
Nashorn Doppelhorn (Diceros bicornis). Horn-Paar des Spitzmaulnashorns (Schwarzes Nashorn). Die Hörner stammen aus den Jahren vor 1955, sind unmontiert und befinden sich in einem guten Zustand. Länge des großen Horns: ca. 49,5cm, Gewicht ca. 3,0kg. Länge des dazugehörigen kleinen Hornes ca. 23,0cm, Gewicht: ca. 1,45kg. Die Hörner befinden sich in einem guten bis sehr guten Zustand. Dem Kern des großen Nashorns und in geringerem Umfang auch dem des kleinen haften Spuren einer Befestigungsmasse an, mit welchem die Trophäen wohl auf einem Untergrund oder einem Schädelpräparat befestigt waren. Dies beeinträchtigt die Optik der Hörner jedoch nicht. Es liegt eine CITES (EG-Bescheinigung nach Verordnung 338/97 und 1808/2001), ausgestellt vom Landesamt für Natur und Umwelt, Schlesiwig Holstein. Diese CITES beeinhaltet die uneingeschränkte Ausnahme vom Vermarktungsverbot. Es ist eine Obliegenheit des Bieters/Käufers, die aktuell gültigen Richtlinien und die Gesetzeslage zum Erwerb, Handel und für den Export von Nashorn zu prüfen und zu beachten.
Rhino double corne (Diceros bicornis). Paire Corne de rhinocéros noir (le rhinocéros noir). Les cornes sont des années avant 1955 ne sont pas assemblés et sont en bon état. Longueur de la grande corne: environ 49,5 cm, poids env 3.0. Longueur de la corne associée petite d'environ 23,0 cm, poids: 1,45 kg. Les cornes sont dans un bon à très bon état. Le noyau du rhinocéros grande et dans une moindre mesure, la responsabilité de petites traces d'une pièce jointe à la messe, avec les trophées qui ont probablement été attachées à un substrat ou un spécimen du crâne. Cela affecte négativement l'apparence des cornes n'est pas. Il s'agit d'un CITES (Certificat CE du règlement 338/97 et 1808/2001) délivrée par l'Agence nationale pour la Nature et l'Environnement, Schlesiwig Holstein. Ce magnifique CITES tenir le exonération totale de l'interdiction de commercialisation. Il s'agit d'une obligation du soumissionnaire / l'acheteur d'examiner les lignes directrices actuelles et la législation pour l'achat, la vente et l'exportation de rhinocéros et observée.
Рог носорога двойной (Diceros bicornis). Рога пару черных носорогов (черный носорог).Рога от года до 1955 года не собраны и находятся в хорошем состоянии. Длина большого рога: примерно 49,5 см, вес около 3,0. Длина связанных рожок около 23,0 см, вес: 1.45 кг. Рога находятся в хорошем и очень хорошем состоянии. Ядро большой носорог и в меньшей степени, ответственность малых следов привязанности к массе, с трофеями, которые, вероятно, прикреплены к подложке или череп образца. Это негативно влияет на внешний вид рогов нет. Это СИТЕС (Сертификат ЕС к Правилам 338/97 и 1808/2001), выданный Государственным агентством охраны природы и окружающей среды, Schlesiwig Гольштейн. Это потрясающий СИТЕС провести полное освобождение от запрета на маркетинг. Это обязательство претендента / покупателя изучить существующие принципы и законодательство по покупке, продаже и экспорте носорога и наблюдается.
犀角双(Diceros二角)。对黑犀牛的角(黑犀牛)。角是从多年在1955年之前都不会组装,并在良好的条件。大喇叭的长度:约49.5厘米,重量约3.0。长度约23.0厘米,体重相关的小喇叭:1.45千克。牛角是在良好的条件非常好。核心的大犀牛和程度较轻,大规模的附件的小痕迹的责任,这可能是连接到基板或头骨标本的奖杯,。这种不利影响角的外观是没有的。这是一个CITES(EC证书规例"338/97和1808/2001年)由自然和环境的国家机构,Schlesiwig荷斯坦发出。这个惊人的濒危物种公约"举行的禁止营销的全部豁免。这是一个投标人/买方的义务,检查购买,出售和出口犀牛目前的指导方针和立法,并观察。
الكركدن القرن مزدوجة (Diceros ذو قرنين). زوج من قرن وحيد القرن الأسود (وحيد القرن الأسود). قرون هي من السنوات قبل أن يتم تجميعها عام 1955 وليس في حالة جيدة. طول القرن كبير: حوالي 49.5 سم، الوزن 3.0 تقريبا. طول القرن الصغيرة المرتبطة بها حوالي 23،0 سم، الوزن: 1.45 كجم. قرون هي في وضع جيد لحالة جيدة للغاية. جوهر وحيد القرن واسعة وإلى حد أقل، مسؤولية آثار صغيرة من مرفق إلى كتلة، مع الجوائز التي كانت تعلق على الأرجح إلى ركيزة أو عينة الجمجمة. هذا يؤثر سلبا على مظهر من القرون ليست كذلك. بل هو (شهادة المفوضية الأوروبية في لائحة 338/97 و 1808/2001) CITES صادر عن الوكالة الحكومية لحماية الطبيعة والبيئة، Schlesiwig هولشتاين. هذا مذهل سايتس الاستمرار على الإعفاء الكامل من الحظر على التسويق. فمن واجب من العارض / المشتري لدراسة المبادئ التوجيهية والتشريعات الحالية لبيع وشراء وتصدير وحيد القرن،
Condition
Good to very good condition.
For security reasons, a preview of this lot number is only possible after prior written notification and upon agreement.
Aus Sicherheitsgründen ist eine Vorbesichtigung dieser Losnummer nur nach vorheriger schriftlicher Anmeldung und Vereinbarung möglich.
لأسباب أمنية، ومعاينة هذا العدد الكثير لا تكون ممكنة إلا بعد إشعار خطي مسبق والاتفاق.
出于安全原因,这个批号的预览是唯一可能的事先书面通知后和协议。
По соображениям безопасности, является предварительный просмотр этого номера партии возможно только после предварительного письменного уведомления и согласия.
Buyer's Premium
22% up to

€50,000.00

22% above

€50,000.00
Discover Items You'll Love