Weekly Auctions of Exceptional Items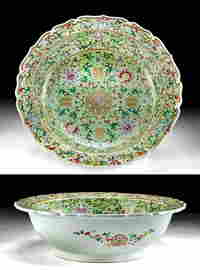 19th C. Chinese Qing Porcelain Bowl, ex-General Chen Qi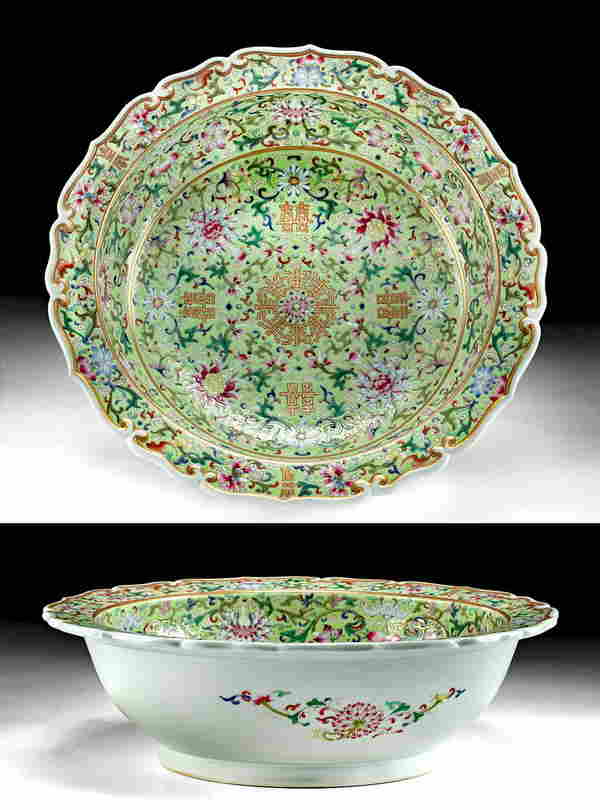 Item Details
Description
East Asia, China, Qing Dynasty, ca. 19th to early 20th century CE. A well-preserved porcelain bowl with a scalloped rim and lovely painted motifs. The vessel rests on a ring base with a blue stamp seal containing the character for QianLong Reign Period of Great Qing (1735-1796). The exterior sides are painted with a scrolling vine with a lotus, a chrysanthemum, and a peony flower on a white ground. The wide rim and basin interior are decorated with gilt, a pale green ground, and a centralized flower medallion surrounded by gilt characters, as well as four additional characters that symbolize happiness from all directions. The interior walls also contain stylized bats, another symbol of good luck and happiness. This bowl is covered with auspicious symbols and has a lovely array of hues, creating a spectacular composition! Size: 11.25" Diameter x 3.375" H (28.6 cm x 8.6 cm)

This piece comes from the important collection of General Chen Qi (1912-2000) who styled himself as "Cangquan" and "Yuquanshanren" - an artist, calligrapher, businessman, and art collector. Born in Fujian on March 8, 1912 to a merchant family, Chen Qi was introduced to traditional culture and literacy by his grandfather beginning in 1916. He was well-versed in enlightenment readings such as Three Character Classic, Thousand Poems, Book of Filial Piety, and Confucian classics, etc. In addition, he studied Tang Kai (one of the traditional Chinese calligraphy scripts that originated during the Tang Dynasty).

Chen Qi went to Japan in 1932 and enrolled in the reputable Imperial Japanese Army Academy, a famous military school founded in 1868. The Imperial Japanese Army Academy was dedicated to Militaristic Spiritual Education and trained an impressive number of senior generals.
In 1935, the National Revolutionary Army appointed Chen Qi to teach in Republic of China Military Academy (also called Huangpu Military Academy). In time he was named Deputy Director of Training and earned the rank of Major General. Despite working in the military during a turbulent period, Chen Qi was still inspired by Confucianism and his traditional cultural education. He continued to study painting and collected arts and antiques from various Chinese Dynasties. After arriving at Taiwan, Chen Qi was appointed military official of the Indonesian embassy in 1955, where he developed a close relationships with Pu Xinyu, Zhang Daqian, Huang Junbi, Xu Fuguan, Hu Shi, and Yu Youren, etc.

Chen Qi left his position in Indonesia in 1965 and during the 1980s would travel frequently to mainland China. He made numerous generous contributions to nonprofit programs and organizations in his homeland, fostering efforts to build schools, improve water conservation, and develop the newspaper industry. During his golden years, he embraced his artistic interests and studied calligraphy.

This piece has been searched against the Art Loss Register database and has been cleared. The Art Loss Register maintains the world's largest database of stolen art, collectibles, and antiques.

Provenance: private Morrison, Colorado, USA collection; ex-General Chen Qi (1912-2000) collection, acquired by 1990s

All items legal to buy/sell under U.S. Statute covering cultural patrimony Code 2600, CHAPTER 14, and are guaranteed to be as described or your money back.

A Certificate of Authenticity will accompany all winning bids.

PLEASE NOTE: Due to recent increases of shipments being seized by Australian & German customs (even for items with pre-UNESCO provenance), we will no longer ship most antiquities and ancient Chinese art to Australia & Germany. For categories of items that are acceptable to ship to Australia or Germany, please contact us directly or work with your local customs brokerage firm.

Display stands not described as included/custom in the item description are for photography purposes only and will not be included with the item upon shipping.

#163372
Condition
Age commensurate and minor surface wear with scratches and pitting. Old inventory label on base. Overall excellent condition with vibrant colors!
19th C. Chinese Qing Porcelain Bowl, ex-General Chen Qi
Estimate
$7,000
-
$10,500
Get pre-approved to bid live.
Shipping, Payment & Auction Policies
Ships from Louisville, CO, United States
www.liveauctioneers.com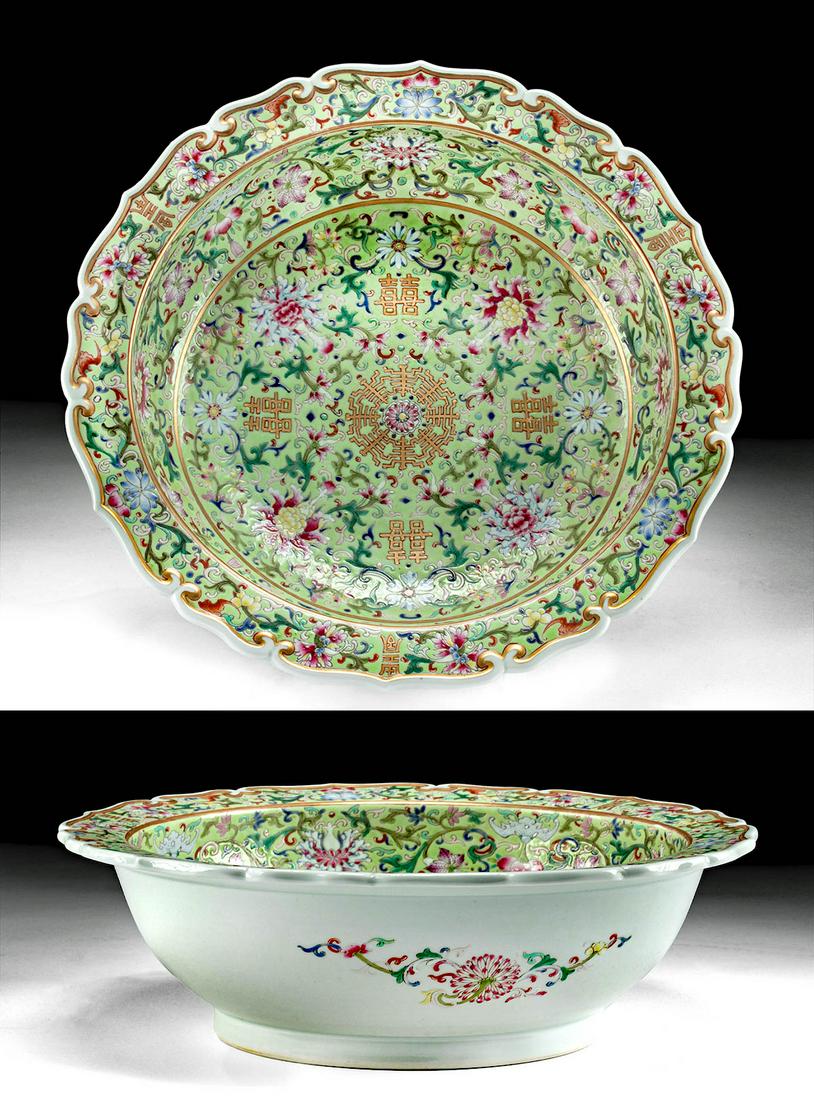 0001: 19th C. Chinese Qing Porcelain Bowl, ex-General Chen Qi
Est.

$7,000

-

$10,500
•
Starting Price

$3,500
Museum-Deaccession | Asian & Pre-Columbian
Aug 10, 2021 12:00 PM EDT
Buyer's Premium 24.5%
Lot 0001 Details
Description
East Asia, China, Qing Dynasty, ca. 19th to early 20th century CE. A well-preserved porcelain bowl with a scalloped rim and lovely painted motifs. The vessel rests on a ring base with a blue stamp seal containing the character for QianLong Reign Period of Great Qing (1735-1796). The exterior sides are painted with a scrolling vine with a lotus, a chrysanthemum, and a peony flower on a white ground. The wide rim and basin interior are decorated with gilt, a pale green ground, and a centralized flower medallion surrounded by gilt characters, as well as four additional characters that symbolize happiness from all directions. The interior walls also contain stylized bats, another symbol of good luck and happiness. This bowl is covered with auspicious symbols and has a lovely array of hues, creating a spectacular composition! Size: 11.25" Diameter x 3.375" H (28.6 cm x 8.6 cm)

This piece comes from the important collection of General Chen Qi (1912-2000) who styled himself as "Cangquan" and "Yuquanshanren" - an artist, calligrapher, businessman, and art collector. Born in Fujian on March 8, 1912 to a merchant family, Chen Qi was introduced to traditional culture and literacy by his grandfather beginning in 1916. He was well-versed in enlightenment readings such as Three Character Classic, Thousand Poems, Book of Filial Piety, and Confucian classics, etc. In addition, he studied Tang Kai (one of the traditional Chinese calligraphy scripts that originated during the Tang Dynasty).

Chen Qi went to Japan in 1932 and enrolled in the reputable Imperial Japanese Army Academy, a famous military school founded in 1868. The Imperial Japanese Army Academy was dedicated to Militaristic Spiritual Education and trained an impressive number of senior generals.
In 1935, the National Revolutionary Army appointed Chen Qi to teach in Republic of China Military Academy (also called Huangpu Military Academy). In time he was named Deputy Director of Training and earned the rank of Major General. Despite working in the military during a turbulent period, Chen Qi was still inspired by Confucianism and his traditional cultural education. He continued to study painting and collected arts and antiques from various Chinese Dynasties. After arriving at Taiwan, Chen Qi was appointed military official of the Indonesian embassy in 1955, where he developed a close relationships with Pu Xinyu, Zhang Daqian, Huang Junbi, Xu Fuguan, Hu Shi, and Yu Youren, etc.

Chen Qi left his position in Indonesia in 1965 and during the 1980s would travel frequently to mainland China. He made numerous generous contributions to nonprofit programs and organizations in his homeland, fostering efforts to build schools, improve water conservation, and develop the newspaper industry. During his golden years, he embraced his artistic interests and studied calligraphy.

This piece has been searched against the Art Loss Register database and has been cleared. The Art Loss Register maintains the world's largest database of stolen art, collectibles, and antiques.

Provenance: private Morrison, Colorado, USA collection; ex-General Chen Qi (1912-2000) collection, acquired by 1990s

All items legal to buy/sell under U.S. Statute covering cultural patrimony Code 2600, CHAPTER 14, and are guaranteed to be as described or your money back.

A Certificate of Authenticity will accompany all winning bids.

PLEASE NOTE: Due to recent increases of shipments being seized by Australian & German customs (even for items with pre-UNESCO provenance), we will no longer ship most antiquities and ancient Chinese art to Australia & Germany. For categories of items that are acceptable to ship to Australia or Germany, please contact us directly or work with your local customs brokerage firm.

Display stands not described as included/custom in the item description are for photography purposes only and will not be included with the item upon shipping.

#163372
Condition
Age commensurate and minor surface wear with scratches and pitting. Old inventory label on base. Overall excellent condition with vibrant colors!
Contacts
Artemis Gallery
720.890.7700
686 S. Taylor Avenue Suite 106
LiveAuctioneers Support
info@liveauctioneers.com