1640: Rare Walther Factory Engraved PPK Pistol and Hols
See Sold Price
Don't Miss Your Next Treasure.
Set up a search alert to hear when Rock Island Auction lists new auctions.
Auction ended on April 21st, 2012 UTC
1640: Rare Walther Factory Engraved PPK Pistol and Hols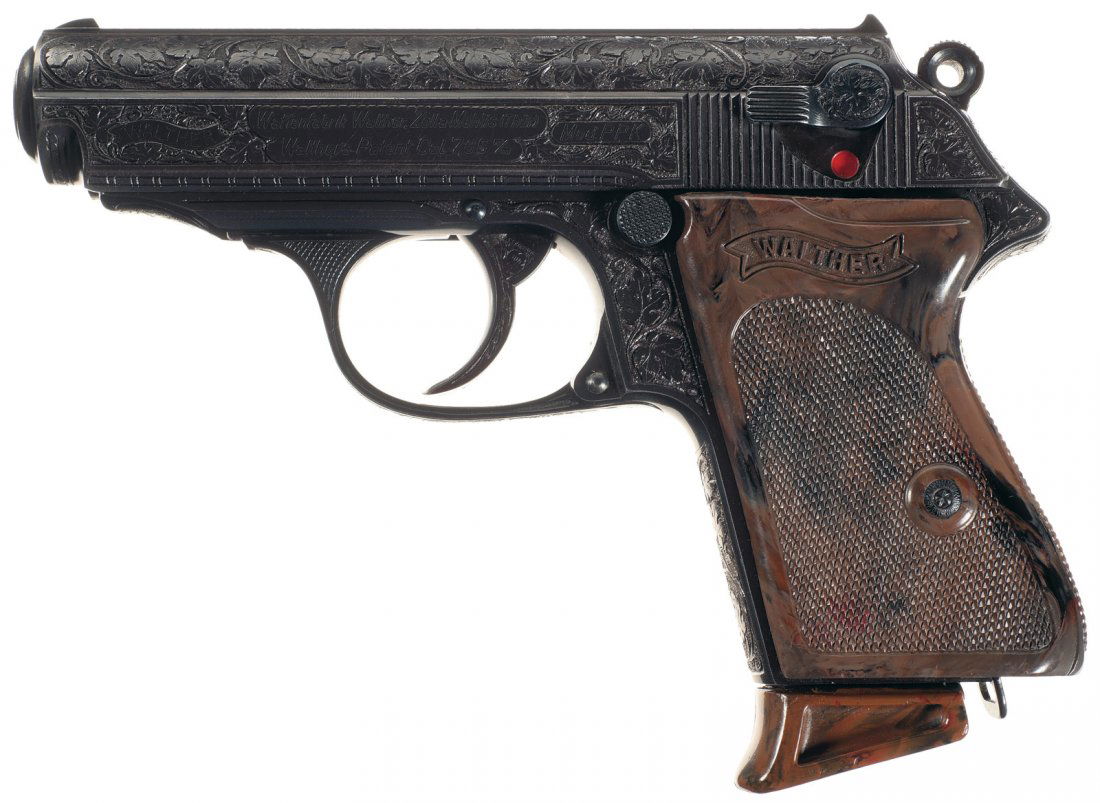 This is an exceptional example of an original Walther Factory Engraved PPK pistol that is accompanied by notarized family documents stating that this pistol was surrendered to PFC Howard H. Williams, by a high ranking German officer, after one of the fierce and bloody battles during the March/April 1945 timeframe when the 157th Infantry Regiment was fighting it's way through Nazi Germany. These documents also indicate that PFC Williams was in one of the first units to enter "Dachau" one of the worst of the Nazi concentration camps. PFC Howard Williams was a native Iowan and lived in the Cedar Rapids area both before and after the war. His wartime enlistment record indicates he entered the U.S. Army in Jul 1944, served as a light mortar crewman and was honorably discharged in Feb 1946. During his service time he was awarded two bronze stars and one Purple Heart. The Walther pistol is beautifully engraved in a very desirable/scarce floral and vine pattern (vs. the traditional oak leaf and acorn pattern) that covers 98% of the metal surfaces of the pistol. The floral and vine pattern is highlighted by a deep relief/undercut or chiseled engraving with a very diminutive stippled background pattern. Similar non-traditional patterns of engraving are noted on several of the Walther pistols, shown in "Walther Vol II Engraved and Presentation Pistols by Rankin, on pages 10, 41 and 57. It has a 60 degree safety lever, with standard Walther factory markings on both sides of the slide and frame with the right side also carrying a Nazi "Eagle/N" proof mark on the chamber area of the barrel and slide directly below the ejection port. That along with the "k" suffix indicate that this pistol was produced after April 1940 probably in mid to late 1941. It is fitted with a one-piece set of checkered brown/mottled plastic grips with the Walter banners on each side with a Walther magazine with the brown plastic finger extension. Accompanying this pistol is the original WWII brown pebble grain, leather holster. Inside the flap of the holster it is stamped "bdr/43" over and "Eagle/WaA86" Waffenamt proof and a box of original FN manufactured ammunition. Also accompanying is a copy of a letter that PFC Howard sent home during the war (which also notes a small shotgun, he captured, which is also listed for sale in this auction), along with copies of pages from the "Bowie Blade" a wartime newspaper that was published by Camp Bowie, Tx that chronicled some of the accomplishments of the 157th Infantry regiment. Specifically listing the battle for Aschaffenburg, in Bavarian Germany in early April 1945, (which the family indicated may have been the time when the pistol was actually surrendered to PFC Williams), as well as copies of local newspaper articles detailing one of PFC Williams heroic events, where he "threw-back" a German hand grenade to save himself and his men.
BBL: 3 inch round
Stock:
Gauge: 7.65 mm
Finish: blue
Grips: brown plastic checkered
Serial Number: 230028K

Condition
Excellent with 95% plus of the slightly faded original Walther factory blue finish with minor edge and high spot wear from handling the pistol over the years. The engraving and factory markings are clear and sharp overall, with the engraving meticulously laid out. The grips are also in excellent condition with nice sharp checkering and factory markings overall with just a very, very minor hint of an age crack starting at the grip screw bushing on both sides and just a hint of warpage on the lower front edges of the grips. The back is free of any cracks which is very rare. The holster is in very fine condition with excellent brown, pebble-grain pattern overall with nice tight stitching. The only wear is along the edges of the magazine pouch, which has also flattened out, but which could be easily restored. As noted above the various documents and Xeroxed copies are clear. An exceptional WWII Factory Engraved Walther pistol with documented history from a local Iowa native.

Discover Items You'll Love