105: Ramusio Giovanni Battista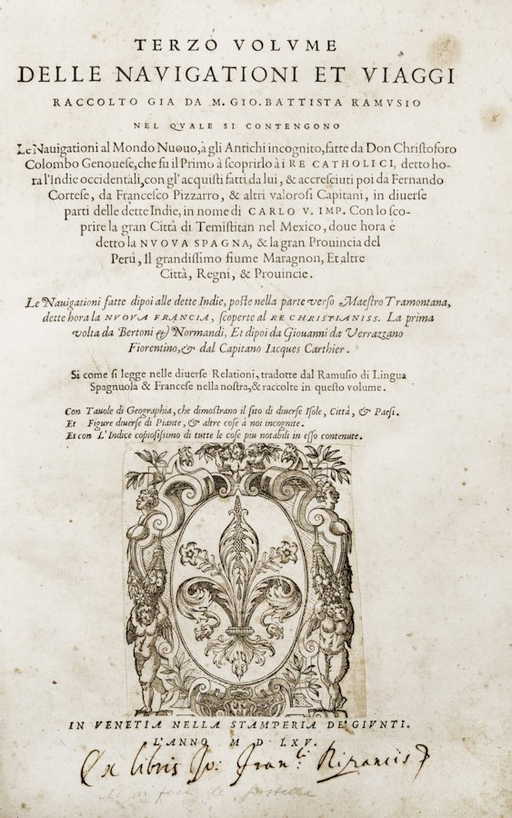 See Sold Price
Don't Miss Your Next Treasure.
Set up a search alert to hear when Gonnelli Casa D' Aste lists new auctions.
Auction ended on April 27th, 2012 UTC
105: Ramusio Giovanni Battista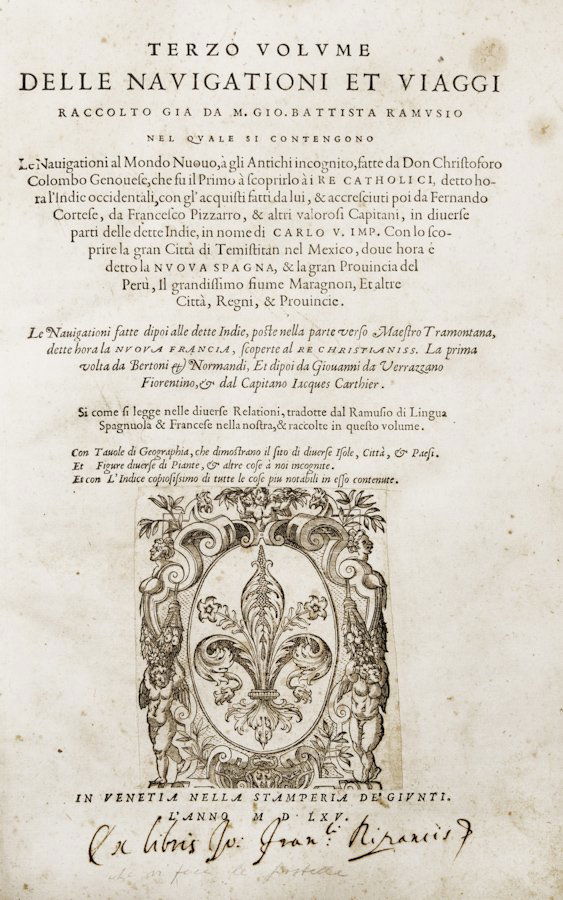 Ramusio Giovanni Battista, Delle navigationi et viaggi [volumi primo-terzo] raccolto gia da m. Gio. Battista Ramusio, & con molti & vaghi discorsi, da lui in molti luoghi dichiarato & illustrato. In Venetia: nella stamperia de Giunti, 1563, 1559, 1565.

3 volumi in-folio (mm 315x215). I, 1563: Carte [4], 34, [3 tavole incise], 394 (senza l'ultima bianca); II, 1559: Carte [4], 3-28, 155, [1], con 2 xilografie nel testo; III, 1565: Carte [6], 34, 456, con numerose xilografie nel testo e 7 tavole incluse nella numerazione. Qualche macchia sparsa, lievi tracce di muffa nelle prime carte del volume II, i frontespizi dei volumi I e III con la marca dello stampatore tagliata ed incollata di nuovo. Legatura antica in pergamena per i volumi I e III e legatura moderna simile in pergamena per il volume II. Ex libris manoscritto al frontespizio dei volumi I e III e timbro antico al frontespizio del volume II. Esemplare di particolare interesse, postillato e corretto dal Conte Giovani Francesco Ripanti, noto mecenate settecentesco e attivo intellettuale di questa nobile famiglia di Jesi. Le postille, correzioni e aggiunte di Jesi hanno sempre un senso cristiano, sono concentrate al volume III (dedicato all'America) e costituiscono un punto di censura ai riti pagani degli indiani e agli errori di interpretazione dei «Cronistas de Indias». E non solo, oltre l'interesse di far diventare i testi di Cortes o Lopez de Gomara politicamente corretti, Ripante individualiza errori testuali, aggiorna riferimenti e accomoda il testo allo spirito italiano italiano del Settecento. «Terza edizione» del primo volume e prima edizione del secondo e del terzo. Hill: «One of the earliest and most important collections of Voyages and Travels [...] Opened up a new era in the literary of Voyages and Navigation». Penrose, Travel and Discovery in the Renaissance, 1420-1620, p. 306:  «Ramusio, who truly earned the sobriquet of the Italian Hakluyt, was preminent as an editor; he handled his material with great skill and produced a collection of unique value»; Adams R-136 (vol. I); Alden & Landis 563/22, 606/87, 556/38; Palau, 248023.

ENGLISH TRANSLATION:
3 volumes, folio (mm 315x215). I, 1563: Pages [4], 34, [3 engraved illustrations], 394 (without the last blank); II, 1559: Pages [4], 3-28, 155, [1], with 2 xylographs in the text; III, 1565: Pages [6], 34, 456, with numerous xylographs in the text and 7 illustrations included in the numeration. Some sparse stains, light traces of mold in the first leaves of volume II, title-pages of volumes I and III with the brand of the printer cut and re-pasted. Antique vellum binding on volumes I and III and similar modern vellum binding on volume II. Handwritten ex libris on the title-page of volumes I and III and antique stamp on the title-page of volume II. Copy of particular interest, annotated and corrected by Conte Giovani Francesco Ripanti, noted Eighteenth Century patron and active intellectual of the notable Jesi family. The annotations, corrections, and additions by Jesi all have a Christian sense and are concentrated in volume III (dedicated to America) and constitute a point of complaint on the pagan rites of the Indians and the misinterpretation of "Cronistas de Indias". Even beyond the interest of making the texts of Corstes or Lopes de Gomara politically correct, Ripante individualizes textual errors, updates references and adjusts the text to be in accordance with the spirit of Eighteenth Century Italy.
Discover Items You'll Love