3: CHRISTOPHER WOOL, Untitled (S 69), 1992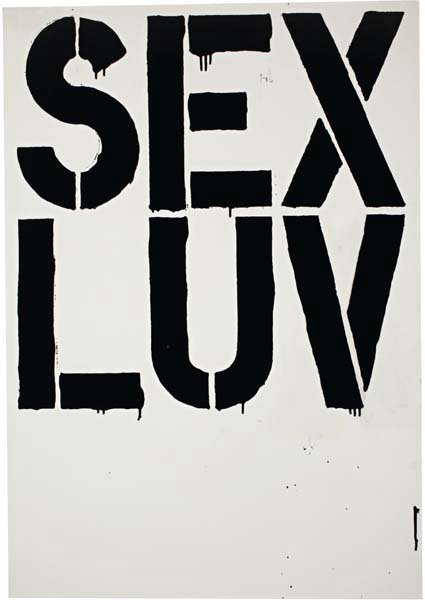 See Sold Price
Don't Miss Your Next Treasure.
Set up a search alert to hear when Art items arrive.
Auction ended on May 10th, 2012 UTC
3: CHRISTOPHER WOOL, Untitled (S 69), 1992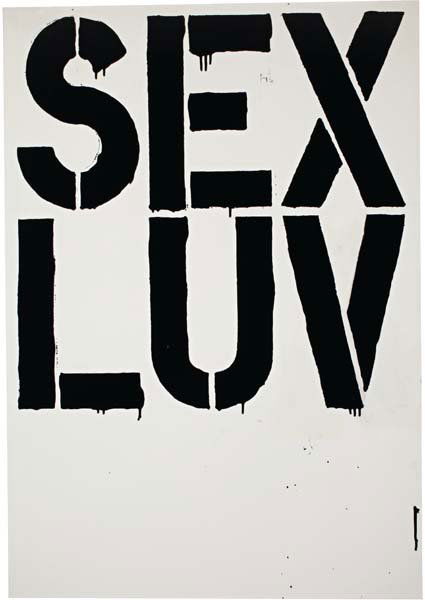 Untitled (S 69), 1992. alkyd on aluminum 43 x 30 in. (109.2 x 76.2 cm) Signed, inscribed, and dated "WOOL, 1992, S 69" on the reverse.

PROVENANCE Luhring Augustine, New York
The problem is: If you take text and image and you put them together, the multiple readings that are possible in either poetry or in something visual are reduced to one specific reading. By putting the two together, you limit the possibilities. Text and image don't always work together in the way music and song lyrics become part of each other. CHRISTOPHER WOOL (Christopher Wool, in "Christopher Wool and Richard Hell", Interview Magazine, May 2008). Since the early 1980's, Christopher Wool has produced artwork that simultaneously stems from his immediate environment and defines it. Inspired by the words "Sex Luv" graffitied in black paint onto the side of a white truck outside of the artist's studio, Wool adopted these spontaneously scrawled words from their everyday context and recontextualized them to occupy a space of definitive urgency. With Untitled (S 69), 1992, black text is painted onto a monochromatic white ground; each letter inherits the official and authoritative allure of a stencil, slightly undermined by drips of paint that have managed to evade the confines of their outlined boarders. A small spatter of paint and a lone drip at the lower right corner of the canvas invite an imagined hurriedness, conveying action over representation. Gazing at Wool's composition, the stylistic and symbolic quality of each vowel and each consonant that unite letters and meaning, SEX LUV exudes an aesthetic evenness and cohesion. The meanings of these words engage with one another and invite complicity as signifiers, denoting a primal and entwined association between a physical and emotional act. However, observed as linguistic symbols, the structural form of the letters and words are rendered in such a way that one form does not overpower the other, in fact, they manage to generate a graphic and stylistic unity, they become somewhat of a symmetrical sign. In this way, Wool manages to underscore the complexity of semantics, complicating perception by conflating signage and artwork, orchestrating the viewer's awareness between looking, understanding, and their implicit constraints. Of course, Wool is not the first artist to explore a visual lexicon of signs through manual and mechanical gestures. Andy Warhol thoroughly absorbed the vernacular of advertisements, undermining the function of logos, advertising formulas and even the contents of commodity packaging, through the appropriation and recontextualizing of this precise cultural production. One can easily draw similarities between one of Warhol's early works, 3-D Vacuum, 1961, and the present lot, Untitled (S 69), 1992; this is not to say that Wool was referencing Warhol, although Wool's practice has been informed by Pop art, instead, these works share common painterly attributes and a keen awareness of environment. As stated by artist Richard Hell in conversation with the artist, "media is our nature." This comment is posited with little irony when presented by artists who have established themselves in New York City; "It used to be that artists thought of nature as their environment. Now media is our environment. It has been for the past 50, 70 years. It's what you see on TV, on the computer, what is in the magazines and newspapers. That's the environment now, rather than woods and hills and oceans. And so that's what you make your art out of." (Richard Hell, in "Christopher Wool and Richard Hell", Interview Magazine, May 2008). Ultimately, Wool, like Warhol, reacts to his immediate surroundings, a landscape comprised of the visual noise of the urban street: magazine stacks, window advertisements, and trademarked logos imbedded into murals and billboard horizons. Publishing series of photographs in the book East Broadway Breakdown, 2002, Wool composed a visual essay with a narrative focused on the urban landscape of his neighborhood. Within this body of photographs, one can clearly detect the artist's role as flâneur, roaming and observing the immediate gesture of the streets as it collides with the graphic and mechanical world; capturing an environment teeming with graffiti and poster-covered walls. The present lot, Untitled (S 69), is a precursor to the text-based work that we have come to epitomize Wool's production. Text is subsumed as a form of abstraction, it has become motif and the painted gesture of text refocuses our attention to its relevance; coded forms that penetrate the everyday in the most unassuming way. Wool's paintings "admit to heritages that are diverse, even eccentric, an admission that imposes self-consciousness prior to the act of painting. Wool's strategy as a painter, then, is to plunge deeply, acting complicity with its essential tension, in order to bring new intensities to the level of visibility. Rather than attempting to secure an autonomous space for painting apart from the vernacular culture of signs, he paints to encounter the culture from within its constraints. "He insistently welcomes the impurities of cultural collision because they increase the potential of each painting's interaction within a political field, however narrow those parameters might prove for art." (Bruce W. Ferguson, "Patterns of Intent", Artforum, No 30, September 1991, p. 96).
Starting Bid
$1,800,000.00
Buyer's Premium
25% up to

$50,000.00

20% up to

$1,000,000.00

12% above

$1,000,000.00
Discover Items You'll Love