lots of lots
Welcome to the world's largest marketplace for fine art, antiques & collectibles.
6: GERMAN PAINTED PORCELAIN PLAQUE depicting a noblewom
See Sold Price
Don't Miss Your Next Treasure.
Set up a search alert to hear when Fairfield Auction, LLC lists new auctions.
Discover Related Items Available Now
Auction ended on May 6th, 2012 UTC
6: GERMAN PAINTED PORCELAIN PLAQUE depicting a noblewom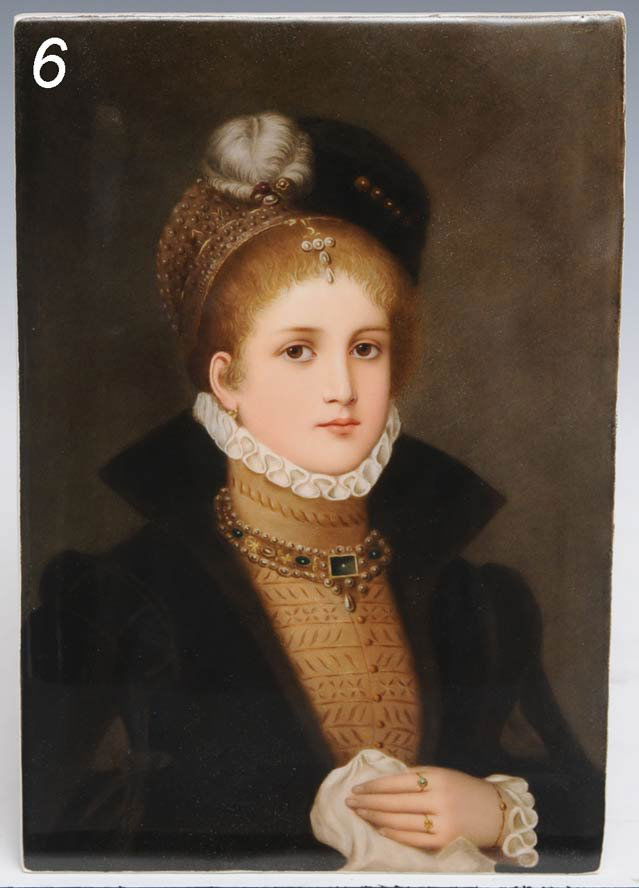 GERMAN PAINTED PORCELAIN PLAQUE depicting a noblewoman, 9 1/4" x 6 1/4", unframed, circa 1900

Shipping Information:
Shipping within the Continental USA (excludes insurance which will be added based on selling price) $25
Shipping
Buyer Pays Shipping. If a shipping price is not indicated in the descriptionshipping box, shipping is through a third party shipper (see recommended shippers). Shipping prices quoted exclude insurance, which will be calculated based on the selling price and are quotes for within the Continental USA only. PACKING AND SHIPPING IS HANDLED IN THE ORDER PAYMENT IS RECEIVED. Shipping of items containing certain plant or animal materials such as ivory, coral, crocodile, whalebone, baleen or tortoise may require a license, certificate (or may be otherwise restricted) for export. All international shipping will be through a 3rd party shipper. Our recommended shippers are for smaller items only: THE UPS STORE (203) 426-4044 store1324theupsstore.com for small items or furniture: ALL POINTS SHIPPING 201-820-3061 , johnallpointsshippingnj.com for furniture or larger items: Antique Transport Co. (national) (888) 434-3922 antiquetransportcs.com PLYCON 631-269-7000 capplycongroup.com VINTAGE TRANSPORT 800-333-0056 (Eastern United States) or 888-882-4442 (Western United States) We may offer in house shipping on smaller items. PLEASE TAKE INTO ACCOUNT OF SIZE AND WEIGHT BEFORE BUYING ITEMS THAT MUST BE SHIPPED. You are NOT required to use our recommended shippers. If you choose another please email a release for the shipper of your choice. Shipping arrangements should be made promptly. We offer storage at no cost for 20 days after the auction. Thereafter a 50 storage fee, plus 5day applies (double for pianos). After 90 days title to property shall be agreed to be abandoned.
Payment
Payment is due by Monday, May 14th in the form of a personal or business check, WE DO NOT TAKE CREDIT CARDS, disputes will be filed for all delinquent bidders promptly. PLEASE SEND PAYMENT TO Fairfield Auction, P.O. Box 783, Newtown, CT 06470. For all international transactions, payment is due by bank wire (Citibank SWIFT Code: CITI US 33, Marketplace Routing Number 221172610, Account: 1255359431) WE DO NOT ACCEPT CREDIT CARDS OR PAYPAL. We will email an invoice within 24 hours of the end of sale. If you don't receive an invoice by Monday 5pm after sale, please contact us. Failure to receive an invoice does excuse late payment. We will report non-paying bidders promptly. Additionally, there is a collections charge of 25 for each invoice not paid within 7 days after the auction. Your registration is consent to this charge. Any invoice 7 days past due will be canceled. THERE ARE NO EXCEPTIONS. If there is a delay buyer should contact gallery promptly.
Accepted payment methods
Taxes
Local Taxes Apply. Out of state buyers are exempt when they take delivery via a federally recognized Common Carrier (they must have a federally issued MC number) which includes USPS, Fed Ex and UPS and most larger blanket shippers, or a CT resale certificate is completed together with evidence of your type of business (such as a business card).
Terms
This is a live auction. Fairfield Auction is an established regional auction house with over $25,000,000 in sales over the past decade. We value the trust put in us by both buyers and sellers. Bids accepted by the liveauctioneers bidding console may or may not be accepted by the auctioneer. THE FINAL BID FOR EACH ITEM SHALL BE ACCEPTED AT THE SOLE DISCRETION OF THE AUCTIONEER. The actual buyer and final bid shall be as recorded by the auctioneer, even if different from that recorded on the LiveAuctioneers system. By registering for this auction bidder agrees that Fairfield Auction shall be held harmless for any and all damages as a result of a clerking error on LiveAuctioneers. Bids on the floor generally take precedence. CONDITION REPORTS We have provided condition reports for the vast majority of lots. If you require further information please make a specific request by email and we will respond by updating the LIVEAUCTIONEERS condition report- so please check there for your response. Requests that are too general won't be answered when a condition report is already online. Requests for "more images" without specific requests won't be honored. We generally provide only overall condition reports on group lots and not individual images. All works on paper should be assumed to have NOT been examined out of the frame. We are not able to make page counts on books- condition for books is overall and only based on a quick inspection. We are not able qualified to make full condition reports on all items, such as musical instruments, vehicles or mechanical antiques so those reports will be cursory. All condition reports are to the best of our ability, but not guaranteed. Any refunds made based on condition problems will be made when the problem is deemed very significant AND reported within 10 days of sale- NO EXCEPTIONS. ALL REQUESTS FOR IMAGES AND CONDITION REPORTS SHOULD BE MADE AT LEAST 48 HOURS AHEAD OF SALE. Our description of a lot as EXCELLENT means we found no damage or unusual wear- it does not mean flawless. A description of VERY GOOD indicates showing general normal wear from use- but no major defects. GOOD is something with considerable wear from use, but still presentable. FAIR is a highly worn and used object showing numerous defects. POOR is a "place holder" object that has serious condition issues. TERMS AND CONDITIONS OF SALE 1. Though all description and commentary are believed to be correct, neither Auctioneer nor Consignor makes any warranties or representations of any kind with respect to merchandise with the exception of the catalog description which shall be honored with respect to age and origin and authorship of art works, and only to the extent that any such errors in the catalog description materially affect the value of such item. Condition reports are made to the best of our ability, but are not guaranteed. THE ABSENCE OF A CONDITION REPORT DOES NOT IMPLY THE LOT IS WITHOUT DEFECTS. Framed art works are not inspected out of frame unless so indicated. Works on paper may have issues not visible if they haven't been inspected out of frame. Buyer shall not rely on the Auctioneer, employees, or advertisements in any part, and must rely only on the catalog description and his own inspection and opinion of all items. CATALOG DESCRIPTIONS MAY BE REVISED UP TO THE TIME OF SALE. No employee is authorized to make any warranties, expressed or implied, on behalf of Fairfield Auction. Warranty is limited to AGE, GENERAL ORIGIN AND AUTHORSHIP OF ARTWORKS. Additional description reflects our best opinion. All sizes and other measurements are approximate. Any and all claims made to Fairfield Auction or consignor regarding age, authenticity, origin, rarity, provenance, size, or other aspects of description must be made within 10 days of the auction date and in writing. IF ITEM IS BEING SHIPPED, IT IS THE BUYERS RESPONSIBILITY TO ASSURE RECEIPT OF ITEM IN TIME TO ACT ON WARRANTY SHOULD THEIR BE AN ISSUE. Our warranty is limited to the selling price and to errors that are substantial to value and not already apparent in images provided. Claims must be made against the final catalog as revised by any addendum or auctioneer announcements. Claims may not be made against advertisements, website descriptions, or the preliminary catalog offered on our website. Items described as "possibly", "probably", "manner of", "style of" or "attributed to" are not guaranteed, but represent our best opinion. No guarantees are made as to condition. 2. The Auctioneer is acting as agent only and is not responsible for acts of its principals. If any dispute arises, the Auctioneer's word is final. 3. Where the Consignor is indebted to or has a monetary guarantee from Fairfield Auction, and in certain other instances, Auctioneer may have an interest in the offered lots and the proceeds there from other than its commissions, and may bid therefore to protect its own interests. Auctioneer reserves the right to withdraw any lots from the sale or cancel a sale at the Auctioneer's discretion at any time until payment is accepted from buyer. BUYER AGREES TO HOLD AUCTIONEER HARMLESS FOR WITHDRAWAL OR CANCELLATION OF SALE. The Auctioneer reserves the right to reject any bid or eject any person from the premises. 5. Loading and packing materials are the responsibility of the buyer. Fairfield Auction may offer assistance, Fairfield Auction and its employees shall not be held liable for any damages or accidents that may result from handling, lifting, moving, loading and packing of purchases. PAYMENT 6. Payment terms for invoices $5,000 and under are approved check. WE DO NOT ACCEPT PAYPAL, CREDIT CARDS, MONEY ORDERS, CASHIERS CHECKS OR CASH (through the mail). For invoices above $5,000, we require payment by bank wire transfer. In either case payment must be paid in full within 5 business days of sale, otherwise Auctioneer may resell merchandise at public or private sale and retain 20% deposit as liquidated damages. Auctioneer may, at his discretion, hold purchases until check clears. 7. A buyer' premium of 18% is added to the price knocked down by the Auctioneer for LiveAuctioneers bidders. If you are the successful bidder on a lot at $100, your invoice will include a buyer's premium of $18 for a total of $118. Sales tax is applied as directed by the state of Connecticut. ABSENTEE / PHONE BIDS /ONLINE BIDS 8. Absentee bids are accepted. Phone bids are accepted at the Auctioneer's discretion. Fairfield Auction shall not be held responsible or liable for bids that are missed or otherwise not executed. 9. Bidders not present are required to register for phone/absentee bidding no later than 3pm the day prior to the auction. Phone bidders will be called from the auction house. No incoming calls are taken for phone bids or condition reports the day of auction. As each item is sold the phone bidders agent will announce the bid price. Failure to immediately object constitutes acknowledgment of the purchase at the announced price. Phone bidders should confirm the hammer price after any successful bid. STORAGE 10. Removal shall be at the expense, liability and risk of the purchaser. All arrangements for removal must be at convenience of Fairfield Auction. We can suggest names and phone numbers of appropriate firms to assist with delivery. If arrangements can't be made within 20 days of sale, items may be removed and stored at the expense and risk of the buyer. After 20 days, a storage fee of $50 per lot plus $5 per day thereafter shall be charged. After 90 days, items shall be deemed abandoned. Auctioneer shall apply any deposit or payment to loss, damages, and expenses incurred in the storage and resale of goods not paid for in full or removed in the time specified and shall retain any balance as liquidated damages. All items sold AS IS, WHERE IS. ALL SALES FINAL. We may offer shipping on some smaller items, but most items must be shipped by a third party. If we can offer shipping we will include that offer with your invoice. We recommend the following third party shippers, for smaller items only: THE UPS STORE (203) 426-4044 store1324@theupsstore.com for small items or furniture: ALL POINTS SHIPPING 201-820-3061 , john@allpointsshippingnj.com for furniture or larger items: Antique Transport Co. (national) (888) 434-3922 antiquetransport@cs.com PLYCON 631-269-7000 cap@plycongroup.com VINTAGE TRANSPORT 800-333-0056 (Eastern United States) or 888-882-4442 (Western United States) INSTRUCTIONS FOR BANK WIRE TRANSFERS Invoices over $5,000 may be paid by bank wire transfer. Buyers may call our offices to make arrangements for wire transfer payments.
Discover Items You'll Love

Bid Anywhere, Anytime. Download the LiveAuctioneers App.
Available on the App Store
Android App on Google Play