lots of lots
Welcome to the world's largest marketplace for fine art, antiques & collectibles.
8: LLADRO FIGURINE - COURTING COUPLE N-25F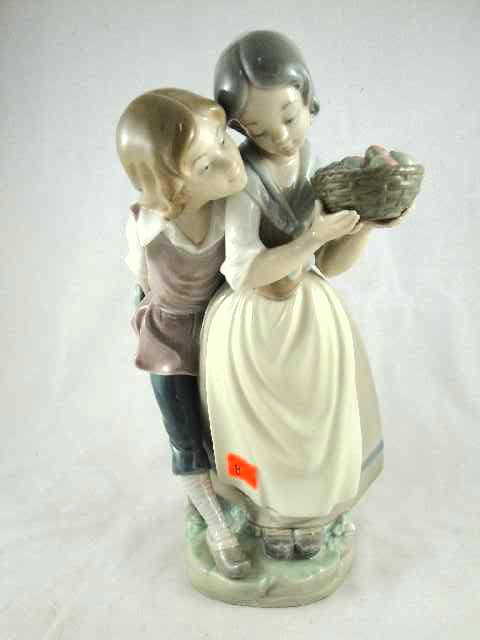 See Sold Price
Don't Miss Your Next Treasure.
Set up a search alert to hear when Lladró Figurines items arrive.
Auction ended on May 19th, 2012 UTC
8: LLADRO FIGURINE - COURTING COUPLE N-25F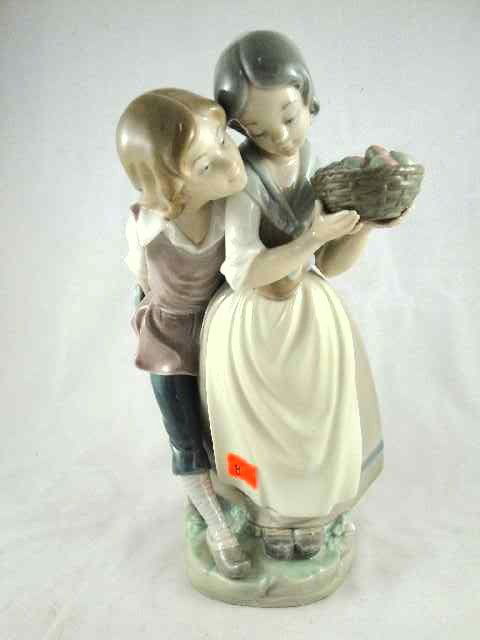 MEASURES 11" - PORTION OF BOW MISSING SEE PIC
Shipping
Shipping will be the responsibility of the winning bidder. For largeextra fragilefurnitureartworkpaintings items we do recommend the following local shippers to safely and economically ship your item. The shippers we do recommend will be helpful in finding the best options for your shipping needs. All companies will pick up your item from our showroom then safely pack and ship them in a timely fashion. 1. UPS STORE Dawn or Mark 700 Colorado Blvd. Denver, CO 80220. 303.320.4757 Store Hours: Mon - Fri 9am to 6pm, Sat Sun 10am to 4pm. 2. Craters Freighters-specialty freight-handling service. 7000 East 47th Ave. Drive Suite 100 Denver, CO 80216 Telephone: 1 (303) 399 8190 1 (800) 736 3335 3. Bax Global 16075 E 32nd Ave Street B Aurora, CO 80011 Tel. 1 720.859.6240. 4.Colorado Navis Pack Ship Centers5715 Fairfax St., Unit B Commerce City , CO 80022 phone 303-209-0927 Once items have been paid for, the UPS Store will pick up your items. Once shipping, handling, materials, insurance payment is made and collected, the UPS Store shipping dept will execute actual shipment.
Payment
Upon the completion of the auction, Aristocrat Auction, Ltd. will prepare the Final Invoice which will include the hammer price for each item sold the buyer's premium any taxes that apply. This invoice will then be emailed to you and you will have 5 days to pay the total due in one of two ways: 1.) Use the Paypal Link provided on the invoice 2.) Call in to the Auction House with your credit card info. In a GREAT EFFORT to decrease the shipping costs, Aristocrat Services Ltd. has contracted with the local UPS Store. Larger items, artwork, paintings furniture will need to be handled by a professional shipper. Please note that small table top type items YOU win Aristocrat Auction, will be prepared packed by our in-house staff packer. A handling fee and supply cost will be added to each shipment. Typically there will be a 4.00 per item handling fee. Shipping will take place via DHL, USPS, etc. to the shipping addresses you provided to us. In the event that an item(s) is to fragile or large for our staff packer to handle, than your item may be taken to a packaging store. You will be notified of this occurrence. Bidders are welcome to make their own shipping arrangements...(if you choose this option, you must notify the auctioneer no later than 12 hours after the end of the auction). Once items have been paid for, our shipping department first determine if the items will be shipped in-house. If they are to be shipped in-house, the shipping dept will prepare your item(s). A second invoice will be sent to collect payment for s.h.i. only. Once this payment is made and collected, our shipping dept will execute actual shipment. If payment is not received within ten calendar days of the auction, Aristocrat Auction (aka ARISTOCRAT SERVICES, LTD.) has the right to either rescind the sale or to apply anyall applicable charges to the credit card number on file. Items will be released for pickup or shipment from Aristocrat Auction once funds have cleared the bank. Bidder agrees that under no circumstances will a charge back be initiated on the credit card used for payment on items purchased from this auction.
Accepted payment methods
Condition Reports
Condition requests sent to the department via e-mail will be responded to by adding information or photographs to the lot listing where appropriate. E-mailed requests will not be responded to by return e-mail. Please allow ample time for your request to be processed. The absence of a condition statement does not imply that the lot is in perfect condition or completely free from wear and tear, imperfections, or the effects of aging. Condition requests can be obtained by telephone at 303.997.9969. Any condition statement given, as a courtesy to a client, is only an opinion and should not be treated as a statement of fact. ARISTOCRAT Auction Services, LLC shall have no responsibility for any error or omission.
Important Note Regarding Live Auctions
Items offered are part of a live auction at ARISTOCRAT Denver Colorado gallery. Items are offered in numerical order and are auctioned at a pace of approximately 90 lots per hour. Absentee bids left on third-party live auctions platforms ARE NOT the same as bids left with the auction house directly. They are executed from a proxy computer terminal in the room against other Internet bidders. Other competitive bids include bidders on the telephone, in the room, other internet bidders, and left bids with the auctioneer. Tie bids may occur between live auctions absentee bidders and other bidders. In the event of a tie bid, the auctioneer has sole discretion to award the lot to the high bidder of his or her choosing--most often the floor bidder. The auctioneer (ARISTOCRAT) at its discretion reserves the right to refuse participation in this auction by any bidder, whether on premises, participating on-line, by telephone, or through absentee bid. ARISTOCRAT Auction reserves the right not to accept bids via internet bidding for lots of high value. Please note registrations may not approved during the course of the sale.
Terms
CONDITIONS OF SALE - PLEASE READ For years, we have worked hard to develop a reputation for honesty and fairness. We have tried to apply this same principle in preparing this particular sale. So that you might know what the limitations are for this sale, we have tried to clearly outline the conditions below, which will specifically indicate how various circumstances will be handled. 1. GUARANTEE - We have attempted to make a consistent effort in cataloging and correctly describing the property to be sold. The catalog descriptions carry a limited guarantee. Please be sure that you know that. It is a guarantee to protect you against major discrepancies that would have a major effect upon the value of the item. Under no circumstances do we guarantee against anything less than a major discrepancies that would have less than a major effect upon value. This limited guarantee covers authenticity. Also we guarantee against fakes, reproductions or major fabrications. As outlined above, our guarantee is limited, however, it is almost unique in a business that operates "Caveat Emptor". This is not a perfect system, however, and it is important to be aware of that. Our intention is to be as fair as possible in our catalog descriptions but it is virtually impossible to adequately describe an antique or collectible item that has been used and shows signs of wear. If you are a discerning, highly particular customer, expecting mint or near mint condition, it is advisable that you not ever submit absentee bids here or at any auction house without seeing the item in person. Since your definition of condition might be far more particular than what any cataloger would have time or space to specify. The entire purpose of our catalog description is to give our readers a general description and idea of what the lot is and we will stand behind that description regarding a major discrepancy only. If the discrepancy is less than a major discrepancy, under no circumstances would any adjustment or refund be made. Should the need arise, the auctioneer reserves the right to make verbal corrections and provide additional information from the block at the time of the sale. Absentee bids will not be executed on items that are found to be other than described in the catalog unless we were able to contact you prior to the lot being sold and advise of this discrepancy. If we are unable to reach you or if time does not permit, we will not execute your bid. Please Note that the only thing we guarantee is what is in print in the catalog and what is announced from the block at the time of sale. Absolutely nothing discussed over the telephone or in person prior to the auction shall be construed as part of the guarantee. Since opinions can differ, particularly in the matter of condition, the auctioneer will be the sole judge in the matter of refunds. This guarantee is limited to the following time duration and limits. Please read: A. TIME LIMIT - For live bidders it is expected that you have examined the items before you purchased them and that as you pick them up, you will re-examine them one last time. If there is a problem regarding condition, it is expected that you would notify us immediately before leaving the auction facility. If you are an absentee bidder then it is your responsibility to examine the lot immediately upon receipt. If a major discrepancy should be discovered, it is your responsibility to contact us immediately. Please note: All guarantees and options for refunds or adjustment become null and void 13 days after the auction. We pay consignors on the 15th day. Once we have paid our consignors we no longer have control for the payment and under no circumstances can we consider any refunds. If you suspect that there is a major discrepancy or problem with authenticity of your lot, it is your responsibility to contact our office before the 13 days are up and let us know that you need some extra time. We can usually make arrangements to extend the guarantee for a few days if you personally advise us. Please note: If you pay late and thus, receive your items late, it does not qualify for special privileges. The guarantee is null and void 13 days after the auction. It is your responsibility to pay for and acquire your purchases in a timely fashion. So if there is a major discrepancy, you have time to notify our office. Please remember that if you call us 15 days after the auction, there is nothing we can do about a major discrepancy except apologize to you. If you want to be considered for an adjustment or refund, it is your responsibility to notify us with 13 days after the auction. B. LIMIT OF RESTITUTION - Under no circumstances will the auctioneer be responsible for lost profits or other financial damages. Refunds requested on the grounds of authenticity must be accompanied by at least a supporting written statement from an authority recognized by the auctioneers. Auctioneer will not be responsible for shipping costs, after auction appraisal fees, testing or any other post auction costs. If it is agreed that an item may be returned, it is the buyer's responsibility to return it in the same condition as received. C. TYPE OF RESTITUTION - An item that qualifies for an adjustment is limited to one of the following options: 1) Major problems, (i.e. fakes, significant alteration, major unannounced restoration, etc.) will result in full money back refund or adjustment in sale price or repair by the auctioneer. The auctioneer shall be the judge as to the final resolve. 2) Less than major problems or discrepancies are not part of the guarantee and no refund or adjustment will be considered for less than major problems. 2. RECEIPT OF GOODS - All goods sold will be tagged and can be claimed upon presentation of paid receipts ONLY. All items to be wrapped will be wrapped by the purchaser. 3. PROTESTED BIDS - In case of a disputed bid, the Auctioneer is the sole determinant as to who is the successful bidder and at his discretion may re-offer and resell the article in dispute. 4. TAX - State of Colorado & the City of Denver Sales Tax is 7.72% and will be collected at time of payment unless a sales tax number is on file or the item is shipped out of state. 5. NOMINAL BIDS - The Auctioneer may reject nominal bids, small opening bids or very nominal advances made with purpose of disparaging an item. If a lot fails to open for 25% to 30% of the low estimate, the item may be passed from the block by the Auctioneer and may not be re-offered until a later sale. 6. ABSENTEE BIDS - Phone, fax or mail bids, will be accepted. Late bids or last minute bids can be confirmed with a Visa, MasterCard or Discover number, in many cases. In such case, the bookkeeper will execute such bids competitively. It is entirely possible to buy items by absentee bid for less than your top bid price. Please note; Absentee bids are a service provided to our customers free of charge. Every effort is made to execute all absentee bids; however, you must know that this is not a perfect system neither here nor at any other auction house. In the event of an error of omission or failure to properly execute absentee bids, the auctioneer shall not be held liable. 7. TERMS - All items are to paid for in American funds at the day of the auction for live attendee's and within 72 hours for Internet Bidder's.. Non-residents who have not established an account with us and wish to pay by check, must do so prior to the beginning of the auction by presenting a current letter of reference from their bank or by providing references which are suitable to the auctioneer. Absentee Bidders - Directly after the auction a bill will be sent to you for the items you purchased and a total amount due. This bill is due upon presentation and must be paid immediately. The auctioneer reserves the right to hold merchandise purchased by personal check until the check has cleared the bank, if the auctioneer deems such action necessary to protect his interest. 8.. RESERVES - Some items in this auction may carry a conservative reserve. Therefore, the auctioneer may bid on behalf of the owner or for the auction house. The purchaser will be the highest bidder acknowledged by the auctioneer. Please note that when a lot carries a reserve, the reserve is usually somewhere below the low estimate in the catalog. Actual reserve figures cannot be divulged, but we will tell you if an item carries a reserve should you ask. 9. WITHDRAWAL - We reserve the right to withdraw any property before sale and shall have no liability whatsoever for such withdrawal. 10. TITLE - A title passes upon the fall of the Auctioneer's hammer. It will then be the responsibility of the buyer to make full payment prior to removing the goods from the premises. It is both the buyer's risk and expense for removal and must be made at the conclusion of the sale unless other arrangements are made with the Aristocrat Auction. Please note any lots we might make arrangements for moving or storing are solely at the risk of the owner and any damage or loss occurring after the fall of the hammer becomes that of the buyer. 11. PHONE BIDS - At the discretion of the auctioneer, phone bidding may be arranged. In order to make arrangements to bid on the telephone at the time a lot is being sold, you must contact our office in advance of the auction. We will make arrangements to call you just prior to the lot being sold so that you may bid over the telephone. There are usually a limited number of phone lines available into the room, so if you wish to bid over the telephone, it is important for you to make your arrangements early. "Cover-me Bids": No absentee bid system is perfect, there will always be some mistakes. Your best bet is to be present at the auction, however, if you can't and you wish to bid by telephone, to help ensure your participation, you might want to consider a "cover-me bid" at the time you make arrangements for phone bidding. A "cover-me bid" allows your phone contact here at Aristocrat Auction to still execute a bid for you even if they can't get through to you on the telephone. Your phone agent is the only person who will have this bid and will only use it to bid in the event that he/she cannot reach you. Assuming you are reached via telephone, they would not use your bid and while you are on the phone you can bid greater or lesser than your "cover-me bid". "Cover-me bid" are not mandatory, you can place one at your discretion, they are simply a safety device in the event you cannot be reached by telephone in time. 12. AGENT RESPONSIBILITY - If you are registering or executing a bid for someone else under your number, please bear in mind that you are responsible for the settlement of that account with us regardless of whether the person you're executing or registering for pays you or not. 13. BUYER'S PREMIUM - Shall be 10% of the final bid price for a bidder/buyer paying in the form of cash/check, 12.5% for a bidder/buyer paying in the form of Master Card/Visa, and 18% for a bidder/buyer from the internet platform, to be paid by the buyer as part of the purchase price. 14. LEGAL DISPUTE - Any legal disputes arising from this auction shall be settled in the court system in the State of Colorado. 15. UNIFORM COMMERCIAL CODE - The Colorado Uniform Commercial Code applies to this auction sale. 16. ACCEPTANCE OF CONDITIONS - Bidding on article(s) indicates your acceptance of all of the above terms.
Discover Items You'll Love

Bid Anywhere, Anytime. Download the LiveAuctioneers App.
Available on the App Store
Android App on Google Play