5: Carl Gustav Carus Pillnitz landscape with ruin. Arou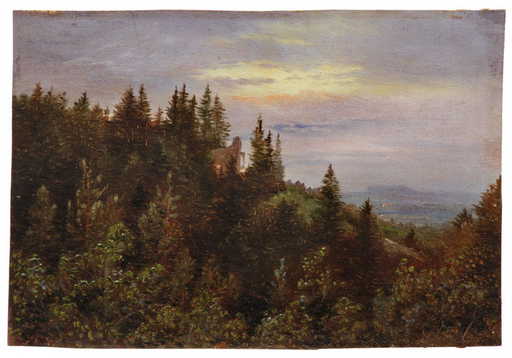 See Sold Price
Don't Miss Your Next Treasure.
Set up a search alert to hear when Carl Gustav Carus Paintings items arrive.
Auction ended on June 9th, 2012 UTC
5: Carl Gustav Carus Pillnitz landscape with ruin. Arou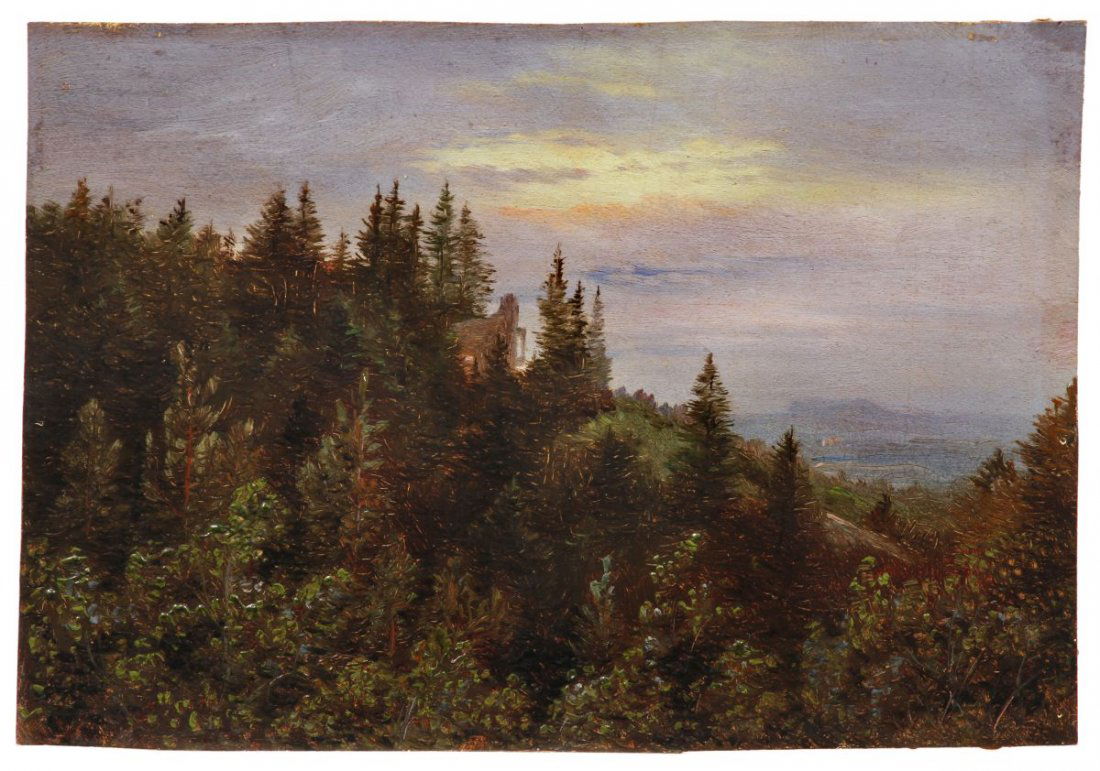 Carl Gustav Carus Pillnitz landscape with ruin. Around 1835. 1835.
Oil painting. Oil on thing artists' board. Unsigned. Verso unexplicitly inscribed / marked by unknown. Framed in an ebonised moulded frame.
Paint in the area of the sky merely visible scratchy; center and center left each a inconsiderable trace of stain. Partially discreet craquelure. On the right edges with minimal yellowing of the finish. The boards' corners with small fixing holes. Board slightly wavy; verso with traces of a former mounting.
Probably catalogue raisonée Prause number 287 (here titled as "Ruin in Pillnitz above the vineyards").

Accompanied by an expertise by Prof. Dr. H. J. Neidhardt, Dresden, dated 20April 2012.

Provenance: privat ownership in Dresden, goddaughter of Margarte Schwerdtner; previous belonging to Margarete Schwerdtner, fosterling / foster child by Caroline Cäcilia Carus.
size: 13,7 x 19,5 cm, Ra. 18,2 x 23,7 cm.

Carl Gustav Carus, Pillnitzer Landschaft mit Ruine. Um 1835.
Öl auf dünner Malpappe. Unsigniert. Verso undeutlich von unbekannter Hand bezeichnet. In einer ebonisierten Profilleiste gerahmt.
Malschicht im Bereich des Himmels kaum sichtbar kratzspurig, Mi. und Mi.li. je eine unscheinbare Verschmutzungslinie. Vereinzelt minimal frühschwundrissig. Im rechten Randbereich mit minimaler Firnisverfärbung.
Malträger in den Ecken sowie an den Rändern mit jeweils einem kleinen Fixierlöchlein versehen. Malträger leicht wellig, die Kanten ungerade geschnitten. Verso mit Resten einer älteren Montierung.
Wohl WVZ Prause 287 (dort betitelt als "Ruine in Pillnitz über den Weinbergen").

Eine ausführliche Expertise von Prof. Dr. H. J. Neidhardt, Dresden, vom 20. April 2012 liegt vor.

Provenienz: Sächsischer Privatbesitz, Patentochter der Margarete Schwerdtner; vormals im Besitz der Margarete Schwerdtner, Pflegetochter der Caroline Cäcilie Carus.

Als königlicher Leibarzt sah sich Carus verpflichtet, stets in unmittelbarer Nähe der sächsischen Königsfamilie zu residieren, weshalb ihn mehrere Sommeraufenthalte nach Pillnitz bei Dresden führten, wo er ab 1832 ein Landhaus besaß. Unweit von diesem an den Pillnitzer Schloßpark grenzenden stimmungsvollen Anwesen erhebt sich gen Nordosten der in die Elbhänge eingebettete Borsberg mit dem etwas kleineren davorliegenden Schloßberg, welcher seit 1785 eine künstliche Ruine in der Ausführung von Johann Daniel Schade trägt. Dieses streng nach den Ausführungen des Gartentheoretikers Christian Cay Lorenz Hirschfeld angelegte künstlich gealterte Bauwerk gehört zu einem im Auftrag des Kurfürsten Friedrich August III. errichteten Gebäudekomplex, der sich weitläufig über den Friedrichsgrund erstreckt und als häufig aufgesuchtes Ziel großer Beliebtheit bei der sächsischen Königsfamilie erfreute.
Um die in dieser Ölstudie festgehaltene Sicht auf die Ruine und die sich weit im Hintergrund erstreckenden Felsen der Sächsischen Schweiz erlangen zu können, mußte sich Carus an dem Hang des vis-à-vis gelegenen Hausbergs positionieren. Ganz der malerischen Auffassung der Dresdner Romantik verhaftet, widmet sich Carus in dieser stimmungsvollen Szene mit akribischer Sorgfalt der Darstellung atmosphärischer Dichte und "der farbigen Erscheinung des bewölkten Himmels […], die ihn lebenslang besonders interessiert hat." (aus: Expertise Prof. Neidhardt).

Literatur:
Prause, Marianne: Carl Gustav Carus, Leben und Werk. Berlin 1968, S. 148/149. Nr. 287.
Gosch, Andreas: Die Künstliche Ruine oberhalb des Friedrichsgrunds in Pillnitz von Johann Daniel Schade, In: Kunstgeschichten Dresden Blog (http://blog.k-dd.de/2009/10/die-kunstliche-ruine-oberhalb-des-friedrichsgrunds-in-pillnitz-von-johann-daniel-schade/)

weiterführend:
Von Sydow, Eckart: Carl Gustav Carus und das Naturbewußtsein der romantischen deutschen Malerei, In: Monatshefte für Kunstwissenschaft, Leipzig 1922, 15. Jg., S. 30-38.
Carl Gustav Carus – Wahrnehmung und Konstruktion. Akten zum interdisziplinären Kolloquium 21. bis 23. Mai 2008 im Residenzschloß, Staatliche Kunstsammlungen Dresden. Dresden 2009.
Maße: 13,7 x 19,5 cm, Ra. 18,2 x 23,7 cm.


Carl Carus
1789 Leipzig – 1869 Dresden
Deutscher Maler, Zeichner, Schriftsteller, Naturwissenschaftler und Mediziner. 1804–11 Studium der Physik, Chemie und Medizin an der Universität in Leipzig. Parallel dazu Unterricht an der Zeichen-Akademie bei Julius Dietz. Zu Vorbildern wurden die Niederländer des 17. Jh. sowie Joh. Ch. Klengel und C. Nathe. 1816 Berufung nach Dresden als Prof. für Geburtshilfe und Leiter einer Entbindungsklinik. Unter dem Einfluß der Dresdner Romantik erste Ausstellungsbeteiligung. 1818 Bekanntschaft mit C. D. Friedrich, der ihn nachhaltig inspirierte. 1819 Reise nach Rügen, 1820 ins Riesengebirge, 1821 in die Schweiz. Bekanntschaft mit Goethe, der ihn sowohl in seiner Universalität des Denkens, sowie in der Themen- und Motivwahl beeinflusste. Während seiner Tätigkeit als Leibarzt 1827 für die königlichen Familie in Dresden, erfolgten weitere Reisen in die Schweiz, Italien, später Frankreich und England, die wie bereits das Dresdner Umland eindrucksvolle Vorlagen für seine stimmungsvollen Landschaften boten.


Discover Items You'll Love