128: Thos Jefferson Miniature by William Russell Birch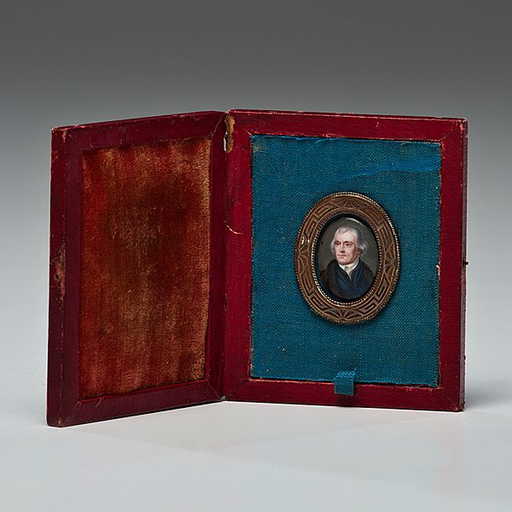 See Sold Price
Don't Miss Your Next Treasure.
Set up a search alert to hear when Cowan's Auctions, Inc. lists new auctions.
Auction ended on June 21st, 2012 UTC
128: Thos Jefferson Miniature by William Russell Birch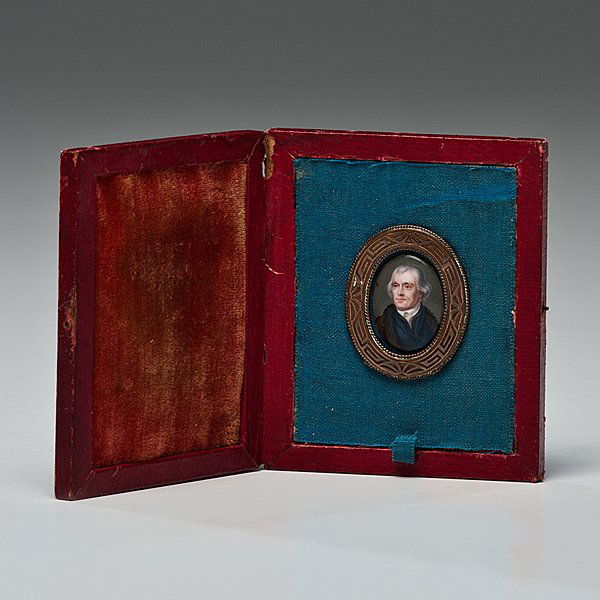 Thomas Jefferson Miniature Portrait by William Russell Birch 

William Russell Birch (English, 1755-1834), enamel on copper portrait of Thomas Jefferson, unsigned, with Jefferson written on verso; 1.5 x 1 in. Frame and case added later. Lot also includes binder with accompanying research and provenance.
 
William Russell Birch, born in Warwick, England on April 9, 1755, was an accomplished artist known for his engravings and enamel portraits. Today, his work is in the collections of major museums. Birch's training and career coincided with the so-called golden era of miniature painting of the eighteenth century. In England, miniature enamel portraits and other objects of pictorial art, stylistically resembling easel painting, became the leading form of enamelwork. Birch spent the first half of his life in England where he developed his artistic talents through study and made important connections with acclaimed artists and craftsmen who helped guide his career.
 
Birch emigrated to America and quickly became a sought after portrait miniaturist among the young Republic's politically and socially prominent citizens. Birch left behind an unpublished autobiography that elucidates a fascinating and prosperous life filled with important social and business relationships and documents his artistic contributions both in England and America. The youngest child of a successful doctor, Birch was exposed to the arts through his father's interests and art collection. He showed artistic inclinations at a young age and by sixteen was apprenticed to a jeweler, Thomas Jefferys in London. Under Jefferys' tutelage Birch learned the demanding crafts of enameling and metalworking. Later, an opportunity arose for him to study with Henry Spicer (1743-1804), a noted miniature painter.
 
In 1775, Birch exhibited his enamel miniatures at the Society of Artists in London. Additionally, he attracted attention with his exhibits at the Royal Academy from 1781 to 1794. Eventually, Birch struck out on his own professionally and began to establish a reputation among the wealthy and influential in London. In his autobiography he credits his friendship with Sir Joshua Reynolds (1723-92) as the catalyst for his early success. Birch viewed Reynolds as his greatest mentor and a true friend. The respect was reciprocated as Reynolds, admiring of Birch's work, enlisted the young artist to copy in enamel many of his own famous portraits. Birch's copies after Reynolds are some of his most notable efforts.
 
Despite his accomplishments in England, Birch, with wife and four children, emigrated to America in 1794, where he stayed, principally in Philadelphia, until his death forty years later. He was among numerous miniaturists from England, France, and Italy who came to America in the late eighteenth century. Birch is given credit for transmitting the art of enamel portrait painting to America. He and other eighteenth-century British miniaturists practiced an enameling technique, which stemmed from the Limoges school. This process of applying thin coats of enamel to a small plate of copper or gold required incredible patience, a proficiency with the chemistry involved and most importantly the ability to capture minute details on a small format. At the time, American artists were not practicing enamel portrait painting. Instead, they preferred to work with watercolor on ivory or watercolor on vellum.
 
In this country, Birch's luminous and richly colored enamels were highly sought after. In his memoirs, Birch alludes to the high regard with which he views his craft. Enamel painting, he wrote, is the Unique art of hightening [sic] and preserving the beauty of tints to futurity, as given in the Works of the most celabrated [sic] Masters of Painting, without a possibility of there [sic] changing. Birch arrived in America with a letter of introduction from Benjamin West (1738-1820), president of the Royal Academy. Commissions for his enamel painting were soon forthcoming and he set about to fulfill these while growing his reputation. While most of these commissions were copies in enamel of large portraits by other painters, it is important to note that Birch also produced original studies created from life, ranging from portraits and landscapes to literary and allegorical subjects. He also continued his interest in engraving and published The City of Philadelphia, in the State of Pennsylvania, North America (1800) and The Country Seats of the United States (1808). The City of Philadelphia was the first series of views of any American city. The prints are a visual record of Philadelphia and its sophisticated inhabitants. This series and The Country Seats are of great historical importance and are among Birch's most significant contributions to American art.
 
In his autobiography, Birch claims that George Washington offered to sit for him, but that he declined the honor and instead preferred to make enamel miniatures after Gilbert Stuart's (1755-1828) portraits of the president. Birch made sixty Washington enamels after Stuart's "Lansdowne" portrait (Stuart's portrait of 1796 is in the Smithsonian Institution). To date, fewer than twenty of these have been located.
 
In October of 1805 Birch visited Thomas Jefferson in Washington and spent a pleasant afternoon with the president talking about the arts. In his memoirs, Birch recounts the circumstances that led to his producing an exquisite portrait enamel of Jefferson. The president gave Birch an engraved portrait of himself as a memento. Birch told Jefferson that the portrait was more of a caricature than a true likeness and asked the president if he might borrow Gilbert Stuart's profile of him (this is Stuart's "Medallion Portrait of 1805, watercolor on paper, in the Fogg Museum), which Jefferson had just shown him. Amused, Jefferson conceded and armed with Stuart's image Birch attempted the engraving once home. Birch made a drawing of the original and enlisted the help of the engraver David Edwin who made a plate from it. This was damaged and eventually Birch used his own drawing after the Stuart original to make his exquisite enamel. (The enamel is in a private collection). Jefferson was already familiar with Birch as he had subscribed to the first edition of The City of Philadelphia and had displayed it in the White House during his presidency. In an 1812 letter from Jefferson to Birch the president thanks the artist for sending him prints and indicates his admiration and respect for Birch's work. Additionally, Birch completed an engraving of Charles Willson Peale's (1741-1827) portrait of Jefferson from 1791 (the original Peale portrait is in the Independence National Historical Park). Birch entered a proof print of the engraving in the 1795 exhibition of the Columbianum. No copy is known to survive.
 
The present Jefferson portrait miniature on offer is attributed to Birch based on style, craftsmanship and, as importantly, on technique (Birch was the only artist of this caliber working in enamel on copper in America at the time). It bears a striking resemblance to Thomas Sully's (1783-1872) portrait of Jefferson (begun in 1821, in the collection of the American Philosophical Society). The present enamel is executed with wonderful precision and detail in the manner associated with Birch. Only an artist with Birch's talent and skill could work on such a small scale with such exactitude. The warm skin tones and rosy cheeks of the president and the rich fur of his coat collar have been masterfully accentuated. The work is a finely rendered likeness of Jefferson and showcases the artist's ability to create brilliantly hued and luminous portraits. See Emily T. Cooperman and Lea Carson Sherk, William Birch, Picturing the American Scene (Philadelphia and Oxford, 2011) and Jean Lambert Brockway, "William Birch: His American Enamel Portraits," Antiques(September 1933), pp. 94-96. 

Condition
Minor scratches to surface and a crack down center of Jefferson's face.
Buyer's Premium
20% up to

$200,000.00

15% above

$200,000.00
Discover Items You'll Love