188: (WITCHCRAFT), WILLIAM STOUGHTON, Three Books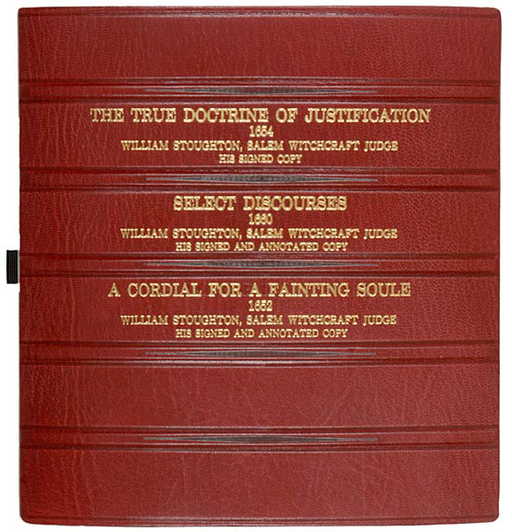 See Sold Price
Don't Miss Your Next Treasure.
Set up a search alert to hear when Early American History Auctions lists new auctions.
Auction ended on October 23rd, 2005 UTC
188: (WITCHCRAFT), WILLIAM STOUGHTON, Three Books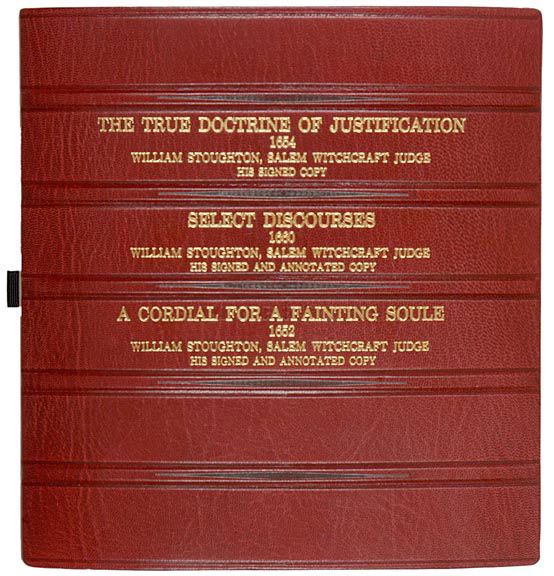 Autographs"Those evil spirits haunt me every day... pray vex me not..."

(WITCHCRAFT), WILLIAM STOUGHTON, Chief Justice in Salem Witch Trials.
Three Period Books Signed and heavily annotated by William Stoughton, Salem Witchcraft Chief Justice, c. 1654-166, produced during a time when "innocent until proven guilty" wasn't the case. The books are Puritan religious texts published in 1654, 1660, and 1662. Housed in modern, 1/3 leather, gilt-stamped presentation case, 8.5" x 8" x 7". Highly associative to the witch trials, as is Stoughton's writing: "Those evil spirits haunt me every day... pray vex me not..." Stoughton's reign over the Salem Witch Trials in 1692 led to the death of twenty "witches."
These 17th century puritan books were each owned and signed by him, and contain his comments and notations--providing insight into the Puritan religious thinking that was inseparable from the witch trials. One of his lengthy flyleaf inscriptions is rife with humorous and serious quotations giving the reader an extraordinary look at this rich and cantankerous bachelor. The books were also later owned and signed by John Danforth, the Nephew of Thomas Danforth, Governor of Massachusetts at the time Stoughton was Lt. Governor. Danforth was younger than Stoughton and it is believed the two had a very close mentor relationship. According to James Blake's book "Annals of the Town of Dorchester", Danforth is buried in Stoughton's tomb.
1. "The True Doctrine of Justification Asserted and Vindicated From the Errours of many and more especially Papists and Socinians", by Anthony Burgess, London, hardbound, in its original leather binding. Below the front fly leaf inscription is the name "J Danforth" in different handwriting in larger script. Danforth's name also appears on the title page. Stoughton wrote, "Will Stoughton E Collegio Novo. Pr 4d." This means that Will Stoughton [purchased] from New College, price 4 pence." The term "Collegio Novo" refers to New College, Oxford, where he pursued his graduate studies in divinity. The abbreviation "pr. 4d" refers to the price he paid "4 old pence" with the "pr." Standing for "price" or the Latin equivalent, "pretio."
2. "Select Discourses", published in London in 1660 by John Smith, covers religious topics such as "superstition," "atheism," "nobility of true religion" and "Christians' conflicts with and conquests over, Satan." Signed on the front fly leaf by W. Stoughton and J Danforth. Danforth also writes his name in full slightly below it in the center. The rear board of this book has separated from the spine. On the rear flyleaf of this book, Stoughton penned a series of literary quotes, paraphrased excerpts and miscellaneous thoughts about poverty, temptations that drive a man to ruin and how to avoid it by penny pinching, thrift and abstinence from wine and women. In part, some of the excerpts read:
"Think no labour, slavory [sic], that brings in penny savory." "Many English women make husbands beggars by high living, idleness, wastefulness [sic], furbelow'd scarves & scolding them from home."
Stoughton writes at the top that he extracted most of these musings from Henry Peacham, author of "Worth a Penny." Stoughton begins his flyleaf tirade with a 16-line excerpt from a Thomas Randolph poem cursing his relentless creditors. In part, the poem Stoughton quotes reads: "Those evil spirits haunt me Every Day & will not let me Eat, Hear, Read or Pray. What damage given to my doors might be, If doors might actions have of battery, Pray vex me not: From you my Sorrows swell; Your Treacherous faith makes me turn Infidel . . ." After quoting this poem, Stoughton jots down his own calculations on how to avoid ruin by saving as little as 12 pence a day. He writes, "If you save and lay up but 12d [pence] a day it comes to more than 109 li [pounds] in three years. If you save in time apparel & mony 2 sh[illings] a day in 21 years it makes 766 pounds." Most interesting is the fact that some pages of "Select Discourses" are dogeared on very telling passages. With some passages that have been marked, it's as if the reader was searching for an explanation of Salem girls writhing on the floor. It is believed that these passages played an important role in the Salem Witch Trials. One passage in particular reads in part, "Those evil spirits are always [sic] turbulent and restless; and though they maintain continually a War with God and his kingdom, yet are they always making disquietings and disturbances in their own kingdom; and the more they contest with God and are deprived of him, the more they are full of horror and tumultuous commotions within." It is interesting to note that many of the Salem witches' death warrants and orders signed by Stoughton speak of possessed witchcraft victims in similar state of tumult and torment.
3. "A Cordial for a Fainting Soule", published in London in the year 1662 as a second edition by John Collings. On the leather inside the front board appear the names "W Stoughton" and "J Danforth." Also on the inside of the cover are scriptural references below the name "Esther Willitt." It is not clear who Willitt was but it is possible that Stoughton, who was the Assistant to Reverend Mather in the Dorchester Church, could have met with Esther to give her religious instruction. During this period, the role of women in the Puritan church was changing. The book also contains extensive margin notations scattered throughout the book's pages by Stoughton. The bottom of the title page of "Select Discourses" has an interesting notation next to the publishing date which reads:
"Anno Nativitatis John Danforth" ("Year of John Danforth's birth") Danforth was a logical second owner of these books. He graduated from Harvard in 1677, was ordained in 1682 and spent his adult life as a pastor of the church in Dorchester from 1682 to 1729.

Also accompanying the books is a detailed history of the books tracing ownership. The binder was put together in preparation for a book on Stoughton. The story within is fascinating and weaves a wicked tale of religion and witchcraft. (3 books and a binder)

From an early age, William Stoughton (1631-1701), was interested in the ministry. At age nineteen, he earned a degree in theology from Harvard College, then returned to England where he received an M.A. from Oxford in April 1652. Stoughton continued his studies at Oxford until he lost his fellowship in 1660. Two years later Stoughton left England for the colonies, finding a job as a preacher in a Dorchester, Massachusetts church. Stoughton entered political life serving as a Deputy President of the colony's temporary government from 1674 to 1676 and from 1680 to 1686. This position put him in charge of the colonial courts of justice. From 1676 to 1679 he also acted as an agent for Massachusetts at the Court of Charles II in England. He was appointed Chief Justice of Massachusetts, a position he continued to hold until shortly before his death. Following the outbreak of witchcraft accusations in Salem, Stoughton was appointed chief justice of the newly formed court of oyer and terminer. Stoughton, possibly because of both his past theological training and lack of legal training , allowed many deviations from normal courtroom procedure during the witchcraft trials. In addition to admitting spectral evidence, the court allowed private conversations between accusers and judges, permitted spectators to interrupt the procedures with personal remarks, forbid defense counsel for the accused, and placed judges in the role of prosecutors and interrogators of witnesses. Although he acted as chief justice in the court of oyer and terminer during the Salem witches trials, Stoughton suffered little political damage. In 1694, he became acting governor when Gov. Phips returned to London to defend his administration against claims of corruption.
Buyer's Premium
22.5% up to

$9,999.00

22.5% above

$9,999.00
Discover Items You'll Love