lots of lots
Welcome to the world's largest marketplace for fine art, antiques & collectibles.
1: TAYLOR J. H.: (1871-1963) English Golfer, Open Champ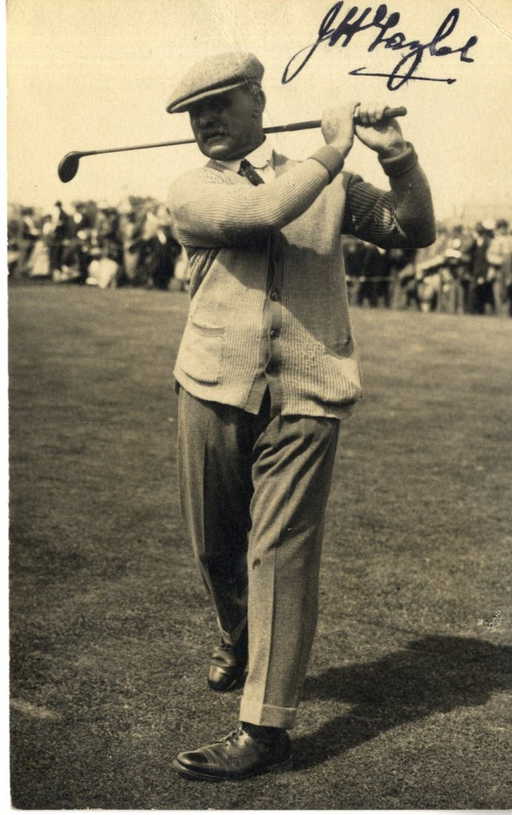 See Sold Price
Don't Miss Your Next Treasure.
Set up a search alert to hear when Pens items arrive.
Discover Related Items Available Now
Auction ended on September 29th, 2012 UTC
1: TAYLOR J. H.: (1871-1963) English Golfer, Open Champ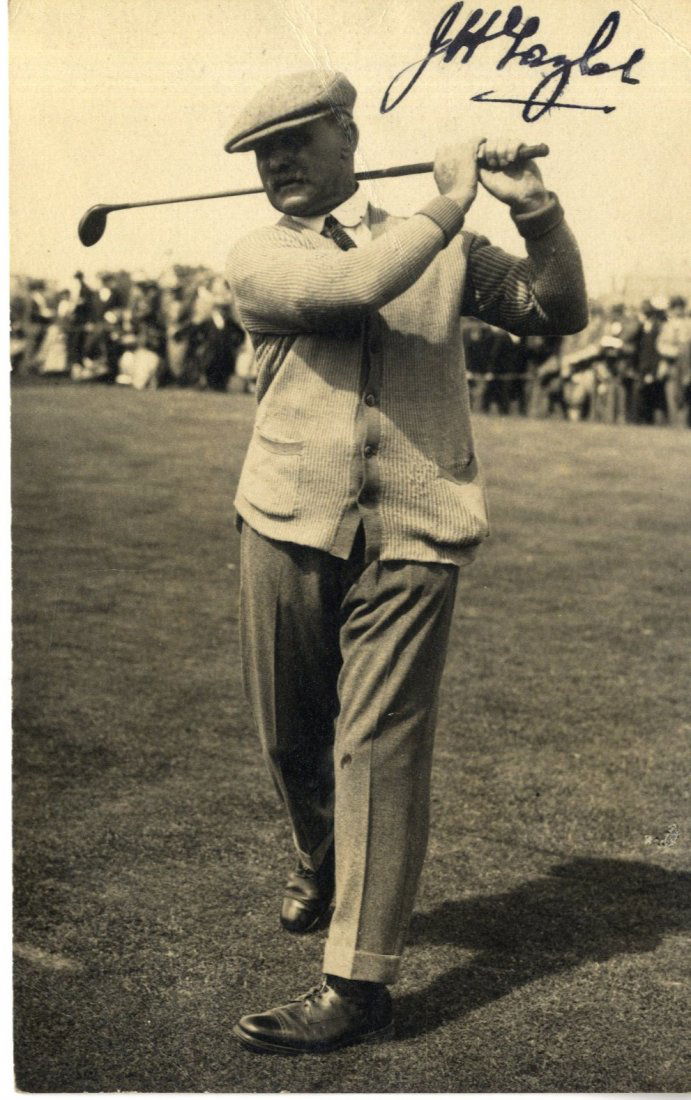 TAYLOR J. H.: (1871-1963) English Golfer, Open Championship winner 1894, 1895, 1900, 1909 & 1913. Vintage signed sepia postcard photograph of Taylor in a full length action pose swinging his golf club. Signed in bold, dark fountain pen ink with his name alone to a light area at the head of the image. One very slight, minor surface crease to the image and a small crease to one corner, otherwise VG £200-300

J.H. TAYLOR (1871-1963) Golfista inglés, ganador de los Open de 1894, 1895, 1900, 1909 y 1913. Postal fotográfica de época, en sepia, firmada por Taylor, que posa ejecutando un swing. Firmada nítidamente con pluma de tinta oscura, con su nombre, en una zona clara en la parte superior de la imagen. Un muy leve pliegue en la superficie de la imagen y un pequeño pliegue en una esquina, sin embargo, MB.
£250 – 400
Shipping
Buyer Pays Shipping Cost
Payment
Contact For Payment Details
Accepted payment methods
Terms
Buyers Terms & Conditions 1. Interpretation 1.1. "Auctioneers" means " International Autograph Auctions Ltd. " 1.2. "Catalogue" means the brochure relating to a sale (including any addendum thereto) and any other related documents and advertisements. 1.3. "Conditions" means these terms and conditions of sale 1.4. "Hammer Price" means the price at which a lot is knocked down by the Auctioneers to the Purchaser. 1.5. "Purchaser" means the person who purchases a lot or lots pursuant to these conditions. 1.6. "Seller" means the person who is selling the lot or lots pursuant to these conditions. 1.7. "VAT" means Value Added Tax. 2. Bidding 2.1. The highest bidder for each lot shall be the Purchaser of that lot. 2.2. No person shall be entitled to retract a bid. The Auctioneers reserve the right of refusing any bid without giving any reason and of altering, adding to, dividing, consolidating or withdrawing any lot or lots for sale. 2.3. The Auctioneers reserve the right to fix a reserve price for any lot at a figure no higher than the lower estimate. 2.4. The Auctioneers reserve the right to bid on behalf of the Seller on lots which are subject to a reserve price. The Seller shall not be entitled to bid where the Auctioneers have reserved such a right. 2.5. In the case of a dispute as to any bid the Auctioneers may immediately determine the dispute or put up the lot again at the last undisputed bid or withdraw the lot. 2.6. The Auctioneers will accept written commission bids free of charge from any person who is unable to attend the sale. Bids will also be accepted by telephone and fax at the sender's risk. 2.7. Lots will not normally be sold at less than two-thirds bottom estimate. 3. Payment 3.1. Each Purchaser shall give in his name and address and proof of identity (if required) to the Auctioneers at a sale and shall if required pay such deposit as the Auctioneers may specify. 3.2. The Purchaser shall pay the Hammer Price together with a premium of 24% on the Hammer Price (this amount includes VAT and must not be shown separately or claimed as input tax). By the making of any bid the Purchaser acknowledges that his attention had been drawn to this fact and that he assents to the Auctioneers receiving the said commission. A 20% premium will be payable by Purchasers outside the European Union (EU). Zero-rated goods such as books will be subject to a premium of 20% whether within or outside the EU unless entered by a VAT registered Seller. 3.3. Items marked with an asterisk * in the Catalogue after the lot number and before the description will be subject to VAT at 20% on the Hammer Price (not chargeable to Purchasers outside of the EU). 3.4. Payments for lots must be made in cash, bankers draft or cheque guaranteed by the bank upon which it is drawn. Lots will not be released against cheques from Purchasers unknown to the Auctioneers until cleared by such Purchaser's bank. Payment is accepted by Visa and Mastercard. A surcharge of 3% plus VAT will be levied to accounts settled by credit cards. Payment is also accepted by most debit cards with no surcharge. 3.5. Overseas clients are requested to settle accounts by USA Dollars or Sterling bank transfer (details upon request), by Sterling cheques only if drawn on major English clearing houses, by Visa or Mastercard (a surcharge of 3% plus VAT [clients outside the EU exempt from VAT] will be levied to accounts settled by this method) or if payment is made on personal accounts in foreign currency the client is requested to add the equivalent of a further £10 to cover bank conversion charges. The Auctioneer reserves the right to claim back from the Purchasers any shortfall due to bank charges or currency fluctuations on that account. 3.6. No lots will be released by the Auctioneers until receipt of payment in full from the Purchaser. 4. Risk 4.1. All lots shall be the sole risk of the Purchaser from the fall of the hammer. 4.2. The Purchaser shall take all lots in the condition in which he finds them. It is the responsibility of all intending Purchasers to satisfy themselves by inspection or otherwise as to the authenticity in the authorship, date, age, period, condition or quality of any lot. 5. Liability 5.1. Neither the Seller of any lot nor the Auctioneers make or give nor has any person in the employment of the Auctioneers any authority to make or give any representation or warranty in relation to any lot and any implied conditions or warranties are excluded. 5.2. All statements contained in the Catalogue as to the authenticity, attribution, genuineness, origin, authorship, date, age, period, condition or quality of any lot are statements of opinion only and are not to be taken as or implying statements or representations of fact. Lots are sold subject to all faults and errors in description or otherwise. 5.3. Notwithstanding the provisions of paragraphs 5.1. and 5.2. of these Conditions in the event of a dispute as to authenticity of any lot(s) the item or items in question should be returned to the Auctioneers within 21 days of receipt by the Purchaser of such lot(s) together with a formal statement by a recognised expert The Auctioneers shall at their option and without admission of liability reimburse the price paid by the Purchaser in respect of such lot(s). This does not constitute an approval service. 5.4. Neither the Auctioneers nor the Seller shall be responsible for any loss, damage or injury occasioned to or sustained by any person on the premises before, during or after a sale save in respect of death or personal injury caused by negligence of the Seller or the Auctioneers. 6. Capacity of Auctioneers For all purposes of a sale the Auctioneers shall be deemed to be the agent of both the Seller and the Purchaser and they shall not be considered responsible for any default on the part of either the Seller or Purchaser. 7. Delivery 7.1. Lots will only be released once payment in full has been received from the Purchaser. 7.2. Lots will be dispatched (upon receipt of payment) by Special Delivery, insured or air mail post and bulky or expensive lots will be sent via a professional freight company unless written instructions to the contrary are received at the sole cost and risk of the Purchaser. 7.3. Postage is subject to VAT at 20% within the EU 7.4. The Auctioneers will provide full customs declarations on the Hammer Price plus the Purchaser's premium and Purchaser's shall be responsible for any customs charges made by the country of import. 7.5. A charge will be made for the packing of deliveries which is subject to VAT at 20% within the EU. 8. Auctioneers Remedies In the event that the Purchaser fails to pay for any lot(s) in full pursuant to these Conditions then the Auctioneers shall be entitled: 8.1. to rescind the sale of the relevant lot(s) 8.2. to resell the lot(s) without further notice either by public or private sale and the deficiency (if any) arising from such second sale together with all charges and expenses relating to the same shall be the responsibility of the defaulting Purchaser and shall be recoverable as and for liquidated damages. 9. Jurisdiction These Conditions shall be governed by English law and the parties submit to the exclusive jurisdiction of the English courts. Online Bidding International Autograph Auctions Ltd. offer an online bidding service for bidders who cannot attend the sale. In completing the bidder registration and providing your credit card details and unless alternative arrangements are agreed with International Autograph Auctions Ltd. you 1. authorise International Autograph Auctions Ltd., if they so wish, to charge the credit card given in part or full payment, including all fees, for items successfully purchased in the auction, and 2. confirm that you are authorised to provide these credit card details to International Autograph Auctions Ltd. and agree that International Autograph Auctions Ltd. are entitled to ship the goods to the card holder name and card holder address provided in fulfilment of the sale.
Discover Items You'll Love

Bid Anywhere, Anytime. Download the LiveAuctioneers App.
Available on the App Store
Android App on Google Play