lots of lots
Welcome to the world's largest marketplace for fine art, antiques & collectibles.
058: Gramophone with wooden horn «Dulcetto»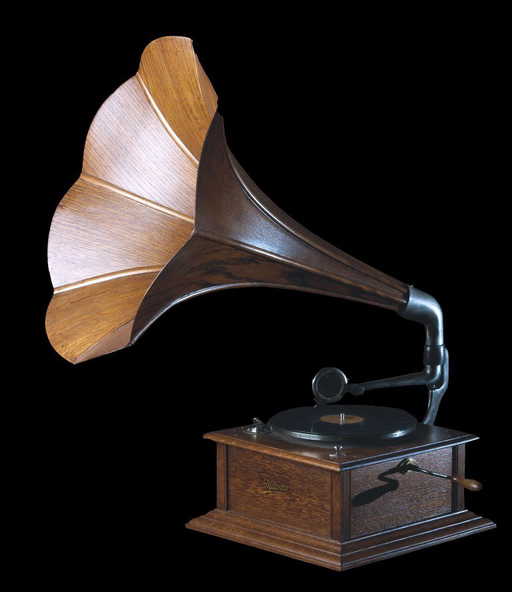 See Sold Price
Don't Miss Your Next Treasure.
Set up a search alert to hear when Gramophones & Phonographs items arrive.
Auction ended on December 8th, 2012 UTC
058: Gramophone with wooden horn «Dulcetto»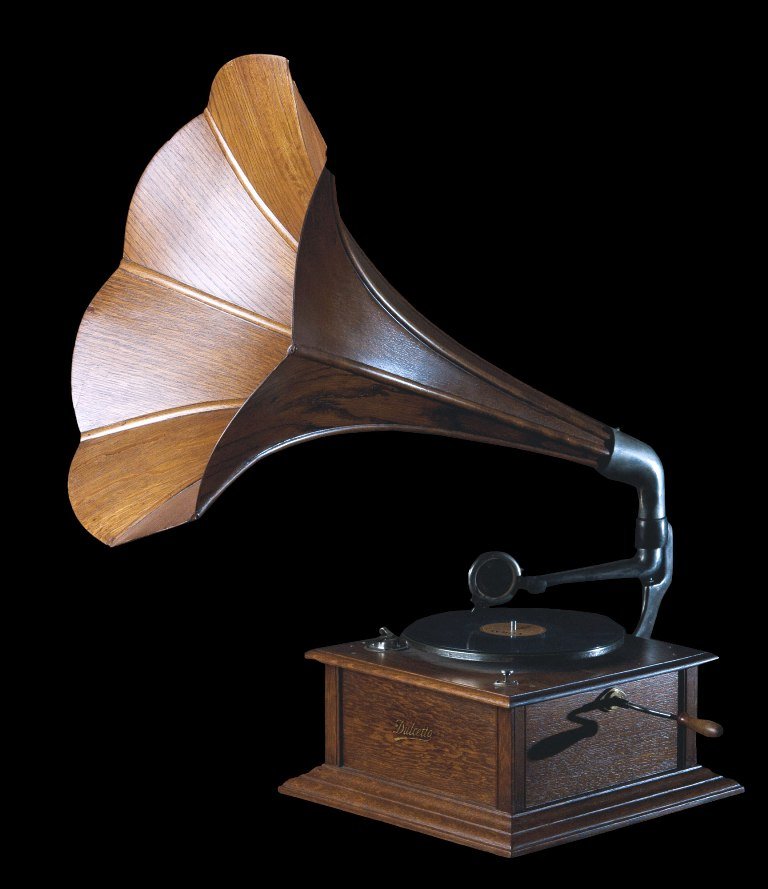 Gramophone with wooden horn «Dulcetto». More exclusive models had a wooden horn, which was introduced to make the reproduction of the music more soft. Museum's quality. 38 x 38 x 82cm. Manufacturer unknown, USA, circa 1910.

Grammophon mit Holztrichter «Dulcetto». Exklusive Modelle wurden mit einem Holztrichter bestückt, weil dadurch die Musik weicher reproduziert werden konnte. Museumsqualität. 38 x 38 x 82cm. Hersteller unbekannt, USA, circa 1910.
Shipping
Buyer Pays Shipping Cost
Payment
Contact For Payment Details
Accepted payment methods
Terms
IMPORTANT INFORMATION FOR BIDDERS & BUYERS Conditions of Business All lots are offered subject to «Auktions- und Liquidationszentrum's (ALZ)» Conditions of Business which you can view here. Buyer's Premium A buyer's premium of 20% is applicable to all lots in this sale for internet bidders and in house bidders. Estimates and Reserves Estimates are published as a guide only and are subject to review. The actual hammer price of a lot may be higher or lower than the range of figures given and there are no predetermined starting prices. Estimates can be subject to revision in which case a sale room notice will be posted. The estimates printed in the auction catalogue are exclusive of buyer's premium and VAT. All lots are subject to reserves. The reserve price is never set higher than the low pre-sale estimate. Examination of Lots (a) ALZ's knowledge of lots is partly dependent on information provided by the Seller and ALZ is unable to exercise exhaustive due diligence on each lot. Each lot is available for examination before sale. Bidders are responsible for carrying out examinations and research before sale to satisfy themselves over the condition of lots and accuracy of descriptions. (b) All oral and/or written information provided to Bidders relating to lots, including descriptions in the catalogue, condition reports or elswhere are statements of ALZ's opinion and not representations of fact. Estimates may not be relied on as a prediction of the selling price or value of the lot and may be revised from time to time at ALZ's absolute discretion. Bidding at Auction (a) ALZ has absolute discretion to refuse admission to the auction. Before sale, Bidders must complete a Registration Form and supply such information and references as ALZ requires. Bidders are personally liable for their bid and are jointly and severally liable with their principal, if bidding as agent (in which case ALZ prior and express consent must be obtained). (b) ALZ advises Bidders to attend the auction, but ALZ will endeavor to execute absentee written bids provided that they are, in ALZ's opinion, received in sufficient time and in legible form. (c) When available, written and telephone bidding is offered as a free service at the Bidder's risk and subject to ALZ's other commitments; ALZ is therefore not liable for failure to execute such bids. Telephone bidding may be recorded. Import, Export and Copyright Restrictions ALZ and the Seller make no representations or warranties as to whether any lot is subject to import, export or copyright restrictions. It is the Buyer's sole responsibility to obtain any copyright clearance or any necessary import, export or other license required by law, including licenses required under the Convention on the International Trade in Endangered Species (CITES). Conduct of the Auction (a) The auctioneer has discretion to refuse bids, withdraw or re-offer lots for sale (including after the fall of the hammer) if (s)he believes that there may be an error or dispute, and may also take such other action as (s)he reasonably deems necessary. (b) The auctioneer will commence and advance the bidding in such increments as (s)he considers appropriate and is entitled to place bids on the Seller's behalf up to the Reserve Price for the lot, where applicable. (c) Subject to Condition 7(a), the contract between the Buyer and the Seller is concluded on the striking of the auctioneer's hammer. (d) Any post-auction sale of lots shall incorporate these Conditions of Business. Payment and Collection (a) Unless otherwise agreed in advance, payment of the Purchase Price is due in US-Dollars immediately after the auction (the "Payment Date"). (b) Title in a lot will not pass to the Buyer until ALZ has received the Purchase Price. ALZ will generally not release a lot to a Buyer before payment. Earlier release shall not affect passing of title or the Buyer's obligation to pay the Purchase Price, as above. (c) The refusal of any license or permit required by law, shall not affect the Buyer's obligation to pay for the lot. (d) On receipt of cleared funds, the buyer may collect lots from the saleroom during the auction and immediately after its completion. There after all purchased lots will be transferred to ALZ's appointed shipper and independent storer, details of which are printed in the auction catalogue or available from ALZ's request. Purchased lots in the possession of the appointed company will be subject to their own Conditions of Business and insurance arrangements. (e) All packing and handling of lots is at the Buyer's risk. ALZ will not be liable for any acts or omissions of third party shippers, storers or packers. (f) We will be helpful to pack, crate and ship the lots secure to you! The buyer must pay all extra costs for handling, crating, packing and shipping! Please note that it could be possible, that their will be extra costs for the customs, Switzerland is not in The EG ! Payment Payments in person can be made in the sale room on the day of the auction. For all Internet bidders, the payment must be received at our bank account or PayPal account within 7 days after the auction is closed. The buyer's premium will be 20 % (all included) of the hammer price. The conditions of sale are binding in the German version. Die Teilnahme an der Auktion erfolgt mit der Anerkennung und vorbehaltloser Annahme vorliegender Auktionsbedingunue­gen: 1. GEBOT - Die Abgabe eines Gebotes bedeutet eine verbindliche Offerte. - Der Bieter bleibt an sein Gebot gebunden, bis dieses entweder ueberboten oder von der Auktionsleitung abgelehnt wird. - Gebote Unbekannter koennen von der Auktionsleitung zurueckgewiesen werden. - Nicht anwesende Personen koennen der Auktionsleitung Steigerungsgebote schriftlich mitteilen. Diese Gebote gelten als maximale Gebote, zuzueglich Aufgeld in bar. Aenderungen eines schriftlichen Gebotes beduerfen der Schriftform; sie muessen spaetestens am Freitag, 07. _Dezember 2012, 18.00 Uhr vorliegen. 2. VERSTEIGERUNGSOBJEKTE - Die Objekte werden im Namen und auf Rechnung der Einlieferer angeboten und verkauft - Das Auktions- und Liquidationszentrum (ALZ) und die Verkaeuferschaft lehnen jede Gewaehrleistung fuer Alter, Herkunft, Zustand und Qualitaet der zur Versteigerung gelangenden Objekte ab. Die Objekte werden in dem Zustand verkauft, in welchem sie sich zum Zeitpunkt des Zuschlages befinden. - Saemtliche Objekte sind an der vorausgehenden Ausstellung zu besichtigen. Es besteht die Moeglichkeit, sich ueber deren Zustand und Wert ins Bild zu setzen und zu informieren. - Die Beschreibung der Objekte erfolgt auf Grund des letzten aktuellen Kenntnisstandes nach bestem Wissen und Gewissen. ALZ haftet nicht fuer offene oder verdeckte Maengel. 3. ZUSCHLAG/EIGENTUM - Das Objekt wird dem Meistbietenden zugeschlagen. Das Objekt wird erst nach vollstaendiger Bezahlung an den Kaeufer ausgeliefert. - Der Zuschlag kann unter Vorbehalt erfolgen: d.h. Liegt ein Gebot wenig unter der vorgegebenen Limite, so kann der Auktionator das Lot fuer den Bieter verbindlich «unter Vorbehalt» zuschlagen. ALZ wird Ruecksprache mit dem Einlieferer nehmen und den Bieter zu einem spaeteren Zeitpunkt ueber sein Gebot informieren. - Bei Differenzen zwischen zwei oder mehreren Bietern kann das Objekt noch einmal ausgeboten werden. - Ist der Zuschlag erfolgt, werden keine Beanstandungen mehr zugelassen. 4. ZUSCHLAGPREIS/KOSTEN - Auf jedes ersteigerte Objekt ist ein Aufgeld von 20% zu entrichten. 5. BEZAHLUNG DER STEIGERUNGSOBJEKTE - Die Bezahlung der ersteigerten Fahrzeuge/Objekte muss bis am Dienstag, 11. Dezember 2012, 18.00 Uhr, erfolgt sein. - Jeder Kaeufer wird vor dem Verlassen des Auktionssaales gebeten, im Auktionsbuero die entsprechenden Formalitaeten in Empfang zu nehmen und eine entsprechende Konto Zahlung zu leisten. 6. AUSLIEFERUNG/ABHOLUNG DER STEIGERUNGSOBJEKTE - Die Auslieferung der ersteigerten Objekte erfolgt erst nach der Auktion und nach vollstaendiger Bezahlung. - Die Objekte sind bis am Freitag, 14. Dezember 2012, 18.00 Uhr, abzuholen. - Die Objekte, die nicht fristgerecht abgeholt werden, werden zu Lasten des Kaeufers ausgelagert. 7. RECHTSFRAGEN/HAFTUNG - ALZ behaelt sich das Recht vor, Aenderungen und Hinweise bezueglich der Objekt-Beschreibung vor und waehrend der Ausstellung oder bis zum Zuschlag hin anzubringen. Sobald der Zuschlag erfolgt ist, koennen keine Maengelaenderungen mehr zugelassen werden. - ALZ, als Verkaufskommissionaerin gemaess Artikel 425 ff OG, handelt fuer Rechnung des Einlieferers. Jede Haftung fuer Maengel ist nach Massgabe von Ziff. 2. wegbedungen. Allfaellige Maengelaenderungen, Wandelungs- oder Minderungsansprueche sind direkt an den Einlieferer als Verkaeuferschaft zu richten. Kein Vertreter bzw. Angestellter der ALZ ist legitimiert, davon abweichende Garantieren abzugeben. - Die Auktionsleitung kann ohne Begruendung ausserhalb der numerischen Reihenfolge Lots anbieten, sowie Katalognummern vereinigen, trennen oder zurueckziehen. - Jede Teilnahme an der Auktion erfolgt auf eigenes Risiko. Bei Beschaedigung ausgestellter Objekte ist der Verursacher haftbar. - Jede Wegschaffung der ersteigerten Objekte, auch durch Dritte, ist mit eigenen Kosten und Risiken verbunden. - Die Rechnung der ersteigerten Objekte ist gemaess Ziffer 5 zu bezahlen. Wird dies versaeumt, kann der Versteigerer wahlweise die Erfuellung des Kaufvertrages unter Verrechnung eines Verzugszinses von 1% monatlich auf den Zuschlagspreis plus Aufgeld und der Kosten fuer das Inkasso verlangen. Er kann aber auch ohne Fristansetzung oder sonstige Mitteilung unter Annullierung des Zuschlages vom Kaufvertrag zuruecktreten und das Objekt freihaendig veraeussern. Der Ersteigerer haftet in diesem Fall fuer alle aus der Nichtzahlung oder Zahlungsverspaetung entstehenden Schaeden, insbesondere fuer einen Mindererloes. Eine eventuell geleistete Anzahlung wird auf den Schaden angerechnet. - Die Versteigerung und saemtliche daraus resultierenden Streitigkeiten unterliegen dem Schweizer Recht und der Beurteilung durch die St. Gallische Gerichtsbarkeit, unter Vorbehalt des Weiterzuges an das Schweizerische Bundesgericht in Lausanne. Dies gilt ungeachtet des Rechtsdomizils der beteiligten Parteien. - Fuer die Beurteilung von Streitigkeiten ist die deutsche Fassung vorliegender Verkaufsbedingungen, rsp. Auktionsbedingungen massgebend. - Der Gerichtsstand ist Degersheim, Kanton St. Gallen. 8. ALLGEMEINES - Die Versteigerungs- und Verkaufsbedingungen werden jeder interessierten Person bekannt gemacht und sind waehrend der Ausstellung und Auktion im Auktionssaal angeschlagen. - Zum Mitbieten und Ersteigern eines Objektes sind Formalitaeten, Name und Adresse des Kaeufers erforderlich. Das Registrieren berechtigt zum Bieten. - Es ist Sache des Kaeufers sich gegen Risiken von Verlust, Diebstahl, Beschaedigung und Zerstoehrung der betreffenden Objekte durch Abschluss einer Versicherung rechtzeitig zu schuetzen. Oberglatt, 8. Dezember 2012
Bid Increments
CHF100,000.00
CHF10,000.00
CHF200,000.00
CHF20,000.00
CHF300,000.00
CHF25,000.00
Discover Items You'll Love

Bid Anywhere, Anytime. Download the LiveAuctioneers App.
Available on the App Store
Android App on Google Play