408: The Spanish Mansion - ca. 1880-1900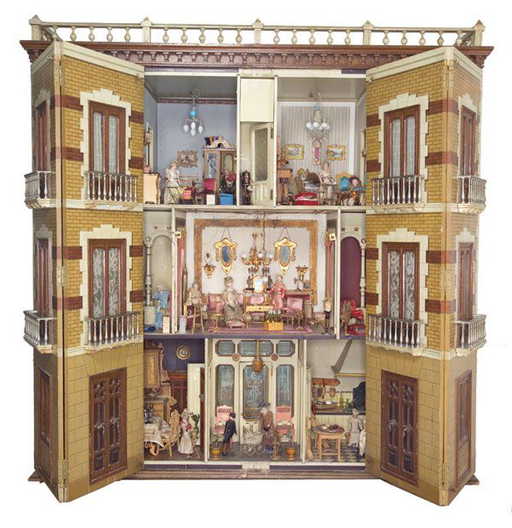 See Sold Price
Don't Miss Your Next Treasure.
Set up a search alert to hear when Wall Mirrors items arrive.
Auction ended on December 10th, 2005 UTC
408: The Spanish Mansion - ca. 1880-1900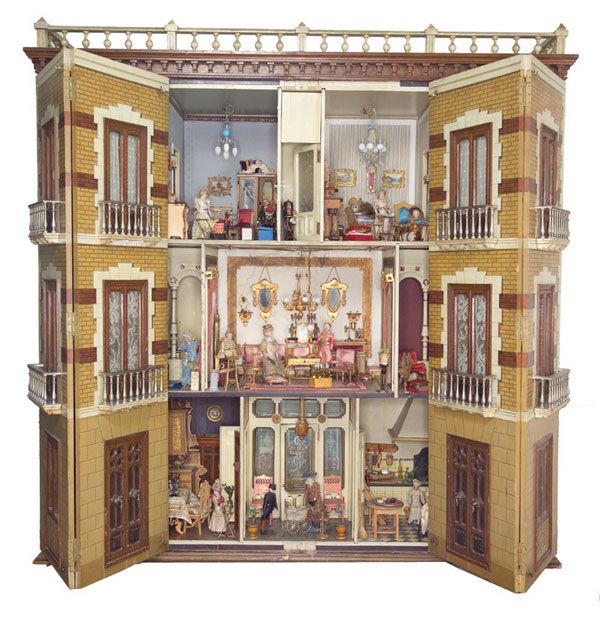 Breathtaking in both size and craftsmanship, the formal exterior of the Mansion has a faux-painted façade of variegated brick and ashlar blocks with white marble quoining. Richly detailed architectural features include a white-painted balustrade with vase-shaped turnings surmounting a faux grained denticulated cornice. There are twelve French doors with individual balconies. The doors are faux-grained and the metalwork on the balconies is silver-plated. Architraves surrounding the French doors are painted with trompe l'oeil effects such as subtle shadowing beneath the quoins. The street level doors are heavily carved and grain-painted with brass door pulls and the ground floor windows have carved brick panels below. The imposing façade opens from the center and the panels fold back onto themselves. Each panel has an unusual and ingenious locking mechanism. The base has been added later. Interior architectural details include hand carved paneled doors throughout, all original wallpapers and borders, original floor papers and some faux-painted floors. The private chapel is distinguished by an unusual columned chancel screen, with applied gilt metal decoration. An identical screen is fixed in the bedroom symmetrically opposite. The formal entry and upstairs bathroom have original glass paneled doors and the dining room features elaborate wood paneling with marbled paper inserts. The nursery has enamel painted walls appropriate to the room's function, and the kitchen includes many interesting built-in features including a massive hood over the open cooking range. Gentleman's study: German oak Renaissance Revival style furniture including desk, settee, and chair. Accessories include a soft metal bird cage, hanging book shelf, lined wastepaper basket, ormolu ink stand, crank telephone, and a wall-hung calendar. Dolls in this room include a bisque-headed gentleman and bisque lady. The room is fitted with a delicate hand-blown glass chandelier. Sewing room: A number of Marklin ormolu furnishings decorate this room, including a bed, table lamp (missing globe), triptych mirror, wall mirror, and a table mirror. Soft metal accessories include a sewing machine, folding sewing basket, wall pocket with silk lining, framed picture, plant stand, and small wall clock with pendulum. Also a blonde wood cabinet with Dresden paper trim and soft metal contents including pitcher and bowl, and candlestick, and a large German wardrobe with painted decoration (one broken mirror), and several pieces of assorted luggage. Dolls include a bisque-headed lady dressed as a maid and a small bisque-headed liveried footman. This room is also fitted with a hand blown milk glass chandelier. Water closet: This small but functional room is outfitted with a built-in toilet with porcelain bowl and removable lid, a rare cast-metal japanned ice water dispenser on stand with a small blown glass cup (chipped). Ladies' sitting room: A feminine retreat furnished with three blonde wood chairs with Dresden paper trim, a soft metal multitiered stand with frosted glass top, and a cast metal figural table lamp (missing 2 glass bulbs). Also, a German oak cabinet with soft metal hardware and a pair of bent wood rockers with woven seats. Additional accessories include a large ormolu vase and pair of candlesticks, a pair of gilt framed lithographed pictures, a gilt wall clock with pendulum, a soft metal plant stand, a soft metal wall pocket with satin lining, a Lotto game in box, and a blown glass chandelier. Dolls include a bisque-headed lady dressed as a maid, and an all-bisque Kestner with swivel neck and painted eyes. Nursery: This room is decorated with a delicately tinted enamel paint finish and furnished with a six-piece blonde furniture set with Dresden paper trim including mirrored cabinet, oval table, two armchairs, and 2 side chairs. Also a soft metal infant's bed with canopy, a blonde wood music cabinet and a cast metal stove. Among the numerous accessories are a soft metal thermometer, a Marklin ormolu commode with milk glass pot, a Marklin barrel back chair, two gilt framed pictures and 19 Erzgebirge toys. Dolls include a small all-bisque baby in a woven basket, an all-bisque child (missing one arm) and two bisque dollhouse dolls in matching sailor suits. The room is illumined by a blown-glass chandelier (one broken globe) and there are also two soft metal sconces. Chapel: A private chapel was a sign of status among affluent Spanish families, and it is not unusual to find miniature chapels in Spanish dolls' houses. This one is handsomely outfitted with a painted wooden altar with recessed panels and applied decorative decals, and a matching kneeling rail, flanked by a pair of prie-dieux behind the elaborate chancel screen. There is also a painted wood confessional. Appropriate accessories include a pair of pewter candlesticks, an ormolu holy water vessel with angel decoration, ormolu covered album, and a German cardboard candy box planter. Dolls include a Simon & Halbig 1160 dollhouse lady (redressed), and bisque-head older gentleman. Fitted with an attractive ormolu and glass beaded chandelier. Salon: The most elegant room in the house is decorated with many fine pieces of ormolu. Even the silk drapery panels are crowned with ormolu lambrequins! Other ormolu furnishings include a fireplace with mirror, a three-tiered corner stand, a mirrored étagère, and a desk with graceful cabriole legs. Additional furnishings include a five-piece gilt-painted wooden parlor suite with pink silk upholstery and a blonde wood piano with gilt paper trim. A wealth of ormolu accessories include a pair of Art Nouveau hanging wall mirrors, an embossed fire screen, hand mirror, liquor carrier (break to handle), a stand with embossed angel, a pair of ormolu Art Nouveau vases, a parrot perch and three framed photographs. Among the desirable ormolu lighting devices are a standing floor lamp with pink ruffled shade, a pair of sconces, and a Marklin six- arm chandelier. Soft metal items include a pair of plant stands, a desk lamp, and a pair of figural candelabra. Also a painted pedestal, German paper candy container planter, blown glass painted umbrella stand with three glass canes, and a modern needlepoint rug. Dollhouse dolls include two bisque-head ladies and a soldier with mustache. Second Floor Bed Chamber: Comfortably furnished with a German half-tester bed, a pair of upholstered chairs, footstool, small upholstered table, and a cabinet with marble top (all with old gold over-paint). Ormolu accessories include a large wall mirror, swivel dressing mirror with sconces, hanging wall pocket, small pendulum clock, plant stand, service bell, flower vase and beaded chandelier. Additional furnishings include a needlepoint rug, a parlor table, six paper on ivory playing cards, a German magazine with holder, figural table sconce with gnome (damage to globe), German kid-covered dog. Dolls include two German bisque-head gentlemen with mustaches. Dining Room: This room is distinguished by a stunning suite of furniture labeled "Hidalgo Barquillo – Madrid". Elaborately carved in the Art Nouveau style, the suite is larger scaled than the other predominantly German furnishings in the house. Fabricated from a blonde wood and decorated with fretwork details, the suite includes a marble-topped sideboard (13"tall) with glass upper doors (missing 2 knobs), a marble-topped plant stand, marble-topped side table, and a marble-topped dining table surrounded by six 6 chairs with hand made seat cushions and decorative doilies. The room is lavishly appointed with many accessories, including a rare ormolu menu holder with printed menu, a soft metal gilt compote with blown colored milk glass bowl, a soft metal knife stand with asphaltum finish, a Schneegass hanging wall clock, and five blown glass long-stemmed goblets. Also six Britannia egg cups and a serving pitcher, a pair of enameled tin plant stands, German cast metal knife stand (missing knives), pewter serving vessel with rooster finial, gilt soft metal flower urn, cast metal compote, cast metal decanter and three goblets with green glass inserts. Unusual oriental porcelain theatrical masks and a pair of gilt plates with bisque bust inserts decorate the walls and a stamped brass chandelier with cloth shade and ruby glass drops completes the décor of this lovely room, along with a bisque-head German housekeeper dollhouse doll with soft metal chatelaine. Entrance Hall: An appropriately formal entrance hall is centered on the ground floor and features a glazed vestibule with original etched glass panels and gilt metal decorative mounts. Decorated with a pair of delightful Spanish hall chairs painted with pink enamel paint and decorated with metal filigree inserts and gilt decoration. Other appropriately chosen accessories include an ormolu mirrored hall stand with faux bamboo molding, an ormolu umbrella stand with four umbrellas and two walking sticks, treenware jardinieres with glass flowers and a cast metal chandelier with molded amber glass shade. Dolls prepared for an outing include a bisque-head liveried chauffeur, the lady of the house with hat, veil, and original handbag and a bisque baby ensconced in a soft metal carriage. Kitchen: Continental styled kitchen displays many interesting original features such as an open tiled range and sink with faux enameled finish, painted tile floor and walls, and an unusual painted trompe l'oeil fireback scene with soldier. Extensively furnished with many useful accessories including a folding ladder chair, round pine table, Spanish worktable with drawer and two side chairs, and a Rock & Graner hanging shelf with matching tankard. Also a charming German porcelain utensil shelf with six original utensils (one handle missing), a wooden utensil rack with utensils, a wall-mounted dish drainer, wooden bellows, soft metal sauté pan and trivet, tin coffee pot, wire egg basket, rug beater, bamboo-handled broom, pie crimper, and a castor set (incomplete, one bottle broken). Smaller items include a set five porcelain cups and saucers, wooden cutting board, basket of fruit, basket of parsnips, basket of asparagus, basket small fruit, picnic basket, cast metal sausage stuffer, 3 plaster deserts, tin tongs, dough trough, and a glass and cast metal hanging oil lamp. The kitchen is supervised by a German bisque-head and another all-bisque chef with glass eyes and jointed neck marked 129. Lot includes early black and white photos showing details of rooms, which came with the house when purchased by Mrs. Sunstein. Provenance: Samuel F. Pryor collection, sold at Sotheby's June 1983 , 54" t, 54" w, 17" d.
Condition
excellent (some cracks to rear walls due to shrinkage, minor touchup to the wall in the gentleman's study, minor wallpaper staining, added base, later 12 volt electrification, very minor exterior repairs including two balustrade caps, two replaced balcony supports and as noted)
Discover Items You'll Love