529: Austin Powers Goldmember Verne Troyer's Sphinx Cat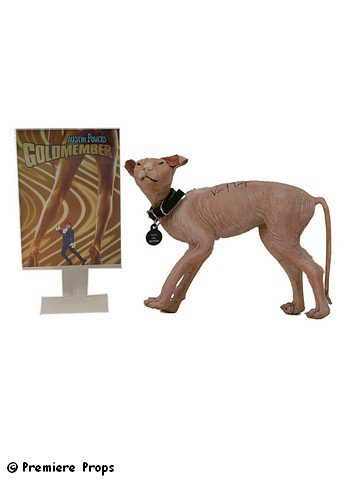 See Sold Price
Don't Miss Your Next Treasure.
Set up a search alert to hear when Home & Garden items arrive.
Auction ended on December 9th, 2012 UTC
529: Austin Powers Goldmember Verne Troyer's Sphinx Cat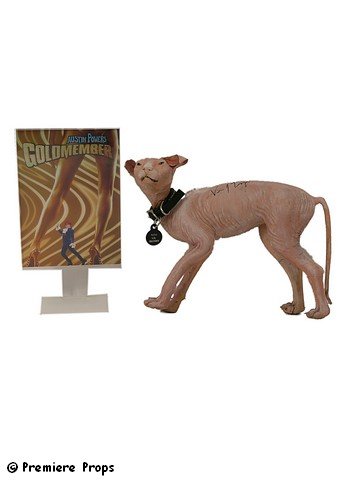 The staggering successful and hysterical "Austin Powers" movies are, of course first and foremost a parody of the "James Bond" movies, especially of the 1960's (which many believe were their finest moments). One of the riches of the "Powers" films, besides Myer's own characterizations, was the reoccurring characters he created for his supporting cast. There's the eye-patched Number Two (Robert Wagner), the German Frau Farbissinet (Mindy Sterling), Scott Evil (Dr. Evil's son, with a one-time fling he had with Frau (Seth Green)), and perhaps the greatest breakout character of all: Mini Me (Verne Troyer), Dr. Evil's miniature clone. Dr. Evil was inspired by the character of Ernst Stavro Blofeld from the "Bond" franchises. Blofeld was Bond's arch enemy (the leader of the evil SPECTRE) in many of the films. He's been played by various great character actors, including Anthony Dawson, Charles Gray, Eric Pohlmann, Telly Savalas and Max von Sydow. However the quintessential Blofeld was played by the legendary character actor Donald Pleasence. His bald head, creepy "mincy" body language and scar became the Blofeld we've all learned to know and love. And that includes Myers who obviously uses Pleasence as his inspiration of Dr. Evil. Virtually all the Blofeld's also had the "prop" of a cat on their lap, which they constantly were stroking (a not so subtle sexual reference). The cat was always a Turkish Angora, a breed known for its luxurious coat. Therefore Mayer's went in the total opposite direction with his cat, named Mr. Bigglesworth, by using the rare freakish looking hairless Sphynx breed! When his own Mini Me was created, he too had to have his own Sphynx "lap cat", which was aptly named Mini Mr. Bigglesworth. The Sphynx breed is a very sensitive and nervous creature, and therefore, for many scenes where Mini Me held it, for rehearsals, a "stunt cat" was used. This is the stunt stand-in cat Sphynx used by Verne Troyer in the third installment of the Austin Powers features, "Goldmember" (2002). It is a carefully crafted cat, with extremely detailed workmanship throughout. It's made of rubber and is carefully airbrushed and painted to give it an eerie "alive" presence. It comes complete with its collar and tag (which reads "MINI MR. BIGGLESWORTH"). The screen used stunt stand-in cat is personally signed by Vern Troyer. It comes with both a Certificate of Authenticity, as well as a personally note signed by Vern Troyer. It also comes with a separate Plexiglas display with an official "Austin Powers Goldmember" lobby card. (Stunt Cat approx 10x8", display approx 10x 5").
Discover Items You'll Love