13K: NATURAL GREEN JADE RING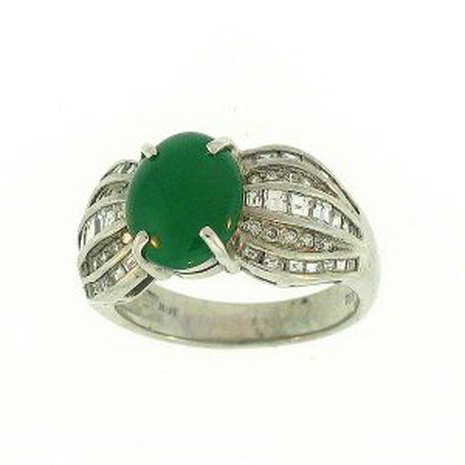 See Sold Price
Don't Miss Your Next Treasure.
Set up a search alert to hear when Jade Necklaces & Pendants items arrive.
Auction ended on December 9th, 2012 UTC
13K: NATURAL GREEN JADE RING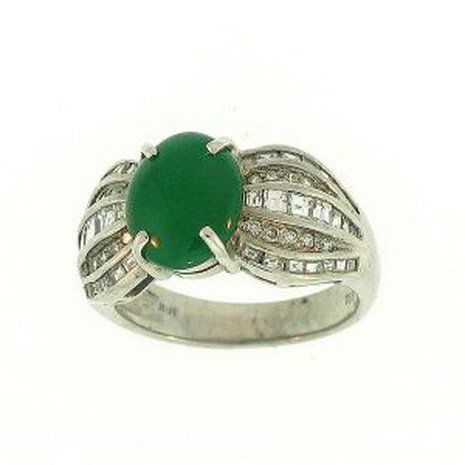 Natural Green Jade Ring - Metal: White Gold Karat: 18K Dia. Wt.: 0.89 Ct Stone Size: ~8X10 - This Is Grade 'A' Jade: Natural, Untreated Jadeite Jade Only Beeswax Is Used To Fill The Stone'S Microscopic Surface Pores -As Has Been Done For Centuries. - How Expensive Is It? Whereas Most Gemstones Today Are Sold And Evaluated In Terms Of Their Carat Weight, Jade Is Sold By The Piece. In Its Finer Qualities, It Can Be Among The Most Expensive Stones In The World Today. This Is In Keeping With How The Ancients Valued Jade. It Is Said That One Emperor Traded A Piece Of Jade For Fifteen Cities. Because Of The Rarity Of Fine Material Today, Those Items That Inherently Create Waste Are Cut Very Infrequently. For Example, Fine Beads, Drops Or Bangles Can Command Astounding Prices And Are Never Plentiful In The Marketplace. Modern Nephrite, By Contrast, Is Of Far Less Value. Whereas A Fine Jadeite Cabochon Can Range From Several Thousand Dollars On Up, The Finest Nephrite Cabochon Rarely Exceeds A Few Hundred Dollars. There Is No Rarity Of Nephrite, And This Is Reflected In The Price. Antique Nephrite Carvings Have Value Based On The Antiquity Of The Piece, Exclusive Of Material Value Alone. It Is Because Of This Vast Price Differential Between Jadeite And Nephrite That We Recommend All Appraisals Clearly Identify The Material Not Merely As Jade, But More Definitively As Nephrite Jade Or Jadeite Jade. Return To Top How Is It Carved? In Ancient Times, A Jade Boulder Was First Cut Into Slabs By Means Of String Embedded With A Mixture Of Pig Fat And Quartz Dust Kept Constantly Wet With Water. This Process Alone Could Take Six Months And More For An Average Size Boulder. Afterwards, A Design Would Be Inked In According To The Dictates Of The Material. The Uppermost Consideration Was Always The Best Use Of The Material. Carving For Carving Sake Was Simply Not Done. Ideally, The Carving Would Be Elicited From Within The Rock Rather Than Created By The Carver. As Color Changes Were Encountered, Patterns Would Change To Accommodate This Within The Design. The Piece Would Then Be Pierced With Hollow Reed Drills, And Then The Carving Accomplished With String And Abrasive. The Key Is The Abrasive. One Does Not Carve Jade As Much As One Erodes It, And Each Carver Had His Preferred Mixture For Cutting And Polishing. All Polishing Was Done By Hand In Many Operations With Successively Finer Grades Of Abrasives. Hand And Foot Powered Arbors Were Also In Common Use At That Time. Again, The Exact Form Of Abrasive Used Was A Trade Secret From Shop To Shop. Polishing Was (And Is) As Important A Step As The Carving Itself. All In All, A Master Carver Could Well Spend Years On A Single Piece Depending On Its Size And Level Of Intricacy. It Is Said That Before The Advent Of Power Cutting Tools, There Were No Poorly Carved Jades. The Process Was Simply Too Laborious And Time Consuming To Allow For Errors. Today, The Process Is Very Similar In Many Respects To The Ancient One. Power Hand-Tools Have Replaced The Reed-And-String Drill, Carborundum Saw-Wheels Do The Work Of Hand Drawn Bow-Saws, And Crushed Garnet Long Ago Gave Way To Corundum And Then To Carborundum In The Nineteenth Century. Modern Methods Have Speeded Up The Processing Of A Piece From Mine-Head To Window Display. The Quality Available, In The Medium To Better Pieces, Is Surprisingly Excellent. Some Pieces Rival The Work The Late Ch'Ing Dynasty At The Height Of The Golden Period. Hong Kong, The Modern Center For Jade Carving In The World, Is Teeming With Third And Fourth Generation Carvers Producing Excellent Work. Mainland China, Once The Most Prominent Carving Center, Is Again Buying Rough Material At The The Burmese Auctions, After A Long Hiatus. It Would Be Fitting For China To Regain Its Prominent Position In This Art.
Buyer's Premium
19% up to

$5,000.00

16% up to

$10,000.00

12% above

$10,000.00
Discover Items You'll Love