257: A fine and rare embroidered 'shorthand' sampler by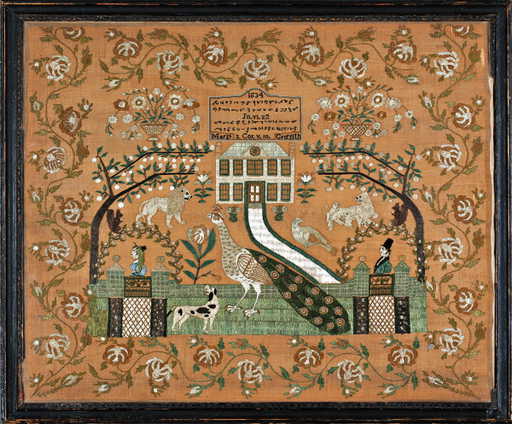 See Sold Price
Don't Miss Your Next Treasure.
Set up a search alert to hear when Embroidered Samplers items arrive.
Auction ended on December 13th, 2005 UTC
257: A fine and rare embroidered 'shorthand' sampler by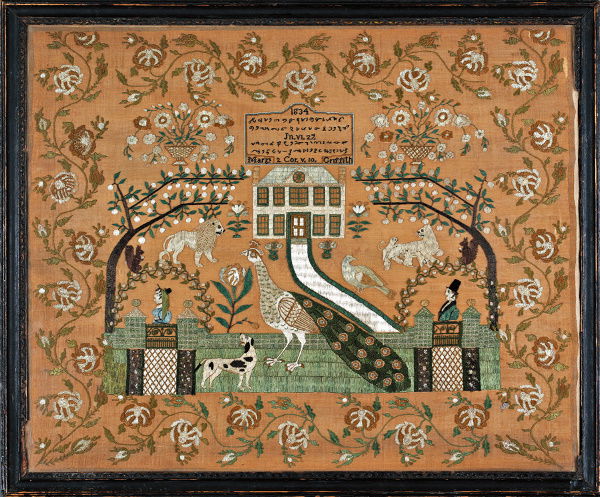 A fine and rare embroidered 'shorthand' sampler by Margaret Griffith, probably Welsh, dated 1834, worked in twisted silks on a beige gauze ground, with central manor house with curving path leading to a lawn with giant peacock and outsized dove, prowling lion, a lioness and her cubs, a top-hatted gentleman stands at the gate and admires an elegant lady in blue gown with small Welsh bonnet?, hair-comb, ringlets or veil, elaborate gates and tiled paths with fruiting arbours each with perching squirrel, within scrolling long and short stitch border of brown and cream roses and deep green foliage, the central tablet embroidered in black silks with two verses from the New Testament, John VI 27 and 2.Corinthians V 10, 49 by 58cm, 19 by 23in. This sampler is unusual for its size and extra-ordinarily ambitious and entertaining design. The brown wool gauze ground is also rare.. The large peacock which would have been an exotic and expensive bird to have owned reflected the status of the owner, but in this sampler its use could also act as a metaphor for the 'meat' referred to in the verse taken from John, as many people believed that peacock meat had magic properties and did not decay. Although the central design of a house with lawns, fence and gate is commonly used in Scottish samplers of this period, the particularly exuberant design of this sampler does not relate to any British school currently identified. The name of the embroideress and the bonnet suggest a Welsh link although Welsh samplers held in national collections tend to use religious texts as their main design and are not so imaginative or whimsical. Shorthand was a useful skill, enabling the practitioners to write both compactly and with speed which could be useful for business (recording deeds), education (recording lectures), law (recording judicial proceedings, religion (revising and annotating texts, recording sermons) and politics (recording orations). The various systems devised were often referred to as stenography (narrow writing), brachygraphy (short writing) and tachygraphy (swift writing). Short-hand was used from the 4th century BC in Greece and adapted by the Romans. Under the Holy Roman Empire, shorthand was declared necromantic and diabolical but its decline was reversed in England during the Reformation period when its use spread for recording preachers sermons. Samuel Pepys wrote his famous diary in shorthand. Shorthand was widely self-taught as well as taught by schools, particularly Jesuit schools. Identifying the specific kind of short-hand can be difficult, as the bible texts themselves vary from one printed version to another, from one date to another and one cannot even be sure that the symbols are representing English - they could just as easily be representing a Welsh text. John vi 27 20th century Do not work for food that spoils, but for food that endures eternal life, which the Son of Man will give you. On him God the Father has places his seal of approval. Bible of 1740 Labour not for the meat which periseth, but for that meat which endureth unto everlasting life, which the Son of Man shall give unto you: for him hath God the Father sealed. Welsh Llafuriwch nid am y bwyd a dderfydd, eithr am y bwyd a bery I fywyd tragywyddol, yr hwn a ddyry Mab y dyn I chwi: canys hwn a seliodd Duw Dad 2 Corinthian v 10 20th century For we must all appear before the judgement seat of Christ, that each one my receive what is due to him for the things done while in the body, whether good or bad Bible of 1740 For we must all appear before the judgement-seat of Christ, that every one may receive the things done in his body, according to that he hath done, whether it be good or bad. Welsh Canys rhaid i ni oll ymddangos ger bron brawdle Christ; fel y derbynio pob un y pethau a wnaethpwyd yn y corph, yn ol yr hyn a wnaeth, pa un bynnagai da ai drwg.
Condition
Good condition, reds have faded to dark browns, but the greens and blues are still good, brown gauze is good condition overall but break at top right hand corner, right side, and almost invisible split to lower rose border.
Discover Items You'll Love