lots of lots
Welcome to the world's largest marketplace for fine art, antiques & collectibles.
321: A Paul Colin design of Josephine Baker (1895-1985)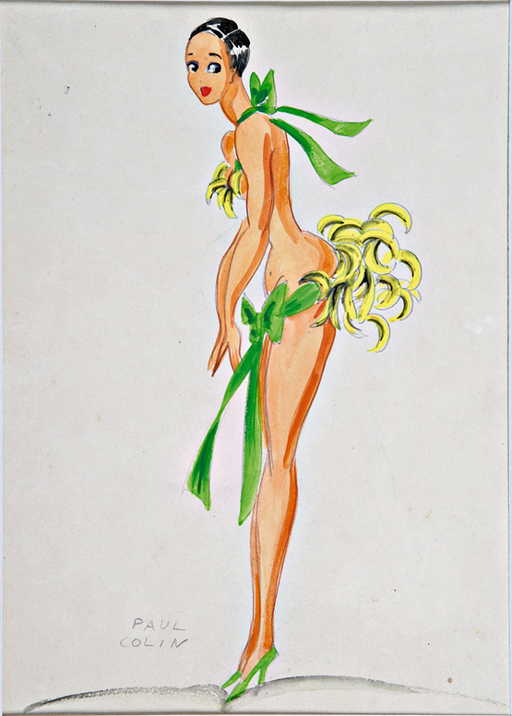 See Sold Price
Don't Miss Your Next Treasure.
Set up a search alert to hear when Kerry Taylor Auctions lists new auctions.
Discover Related Items Available Now
Auction ended on December 13th, 2005 UTC
321: A Paul Colin design of Josephine Baker (1895-1985)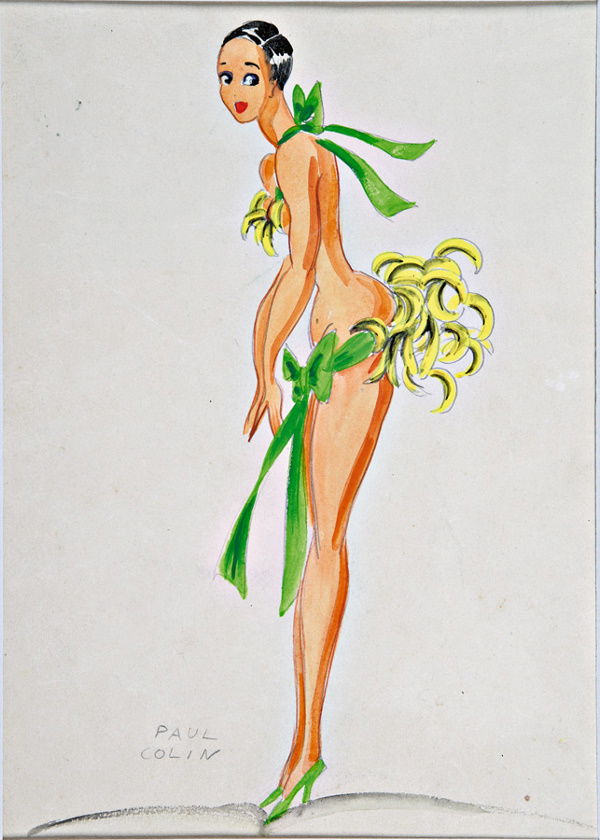 A Paul Colin design of Josephine Baker (1895-1985), signed, watercolour, 32 x 24 1/2cm, 12 1/2 x 9 1/2in Good condition, few stains and few pin marks.
Shipping
Buyer Pays Shipping Costs, we we will obtain competitive quotes or you can instruct your own shipper to collect.
Payment
Payment is due immediately after the sale in Pounds Sterling and may be made by Bankers draft, Cashiers cheque, Personal cheque, Wire transfer, Credit cards, Debit cards, Cash and Travellers cheques. Payments should be made to Kerry Taylor Auctions. Payments must be made by post, credit, debit card or wire transfer Credit Cards: Most major credit card brands are accepted, however a 3% surcharge will be added to cover the charge made to us by our bank. There is a surcharge of 3.1% for American Express payments. For payments over 20,000 the cardholder must be present. There is no charge for using Debit cards. Please note it may be advisable to notify your credit card provider of your intended purchase in advance, to reduce delays caused by us having to seek authority when you come to pay. Payment by Cheque: If payment is to be made by sterling cheque, goods can only be collected or shipped after the cheque has cleared. Cheques often take as long as eight days to clear. We reserve the right to hold goods until a cheque is cleared. Electronic Wire Transfers: Wire transfers can be made to Bank of Scotland, 59 Bath Street Glasgow, G2 2DH account number: 06607706 account name: Kerry Taylor Auctions sort code: 12-24-81 Iban: GB79 BOFS 1224 8106607693 SWIFT: BOFSGBS1BBL If paying by bank transfer the amount received after either the deduction of bank fees or for the conversion to pounds sterling, must not be less than the sterling amount payable on the invoice. ie do not deduct your wiring charges from the amount you owe.
Accepted payment methods
Taxes
Local Taxes Apply. The premium is subject to VAT at the prevailing rate of 17.5%. The majority of lots carry no further VAT. Any lots with further VAT are clearly marked. Where lots are shipped outside the EU, the VAT will be refunded or not charged depending on how it is shippedexported.
Terms
Conditions of Business for Sellers The Conditions of Business for Sellers govern all aspects of the consignment, report, holding and sale of Property by Kerry Taylor Auctions LLP together with Kerry Taylor Auction LLP's. Authenticity Gurantee and the Conditions of Business for Buyers, as printed in sale catalogues and available from Kerry Taylor Auctions LLP upon request. Kerry Taylor Auctions LLP act as agent for Sellers. Conditions of Business for Buyers and/or Sellers may be amended by additional terms printed in the sale catalogue and/or by notices posted up in the saleroom or announced by the auctioneer. DEFINITIONS "Seller" is the owner of the Property, their agent, executors or the person in possession of the Property (as appropriate). "KT" means Kerry Taylor LLP, auctioneers,Unit F26 Parkhall Trading Estate, 30 Martell Road, London SE21 8EN, company number OC307158. "Seller's Commission" is the commission Kerry Taylor Auctions LLP charges Sellers of Property. "Expenses" are Kerry Taylor Auctions LLP's expenses, fees and charges relating to the Property, including legal expenses, insurance charges, illustration fees, administration fees, customs duties, shipping and packing costs, tests, searches and enquiries. "Buyer's Premium" is the commission Kerry Taylor Auctions LLP charges Buyers of Property. "Hammer Price" is the highest bid for the Property accepted by the auctioneer. "Reserve Price" is the minimum Hammer Price at which the Property may be sold, as agreed between the Seller and Kerry Taylor Auctins LLP From time to time, Kerry Taylor Auctions LLP may agree with the Seller to offer a collection of Property for a Global Reserve Price and/or agree an auctioneer's discretion to reduce the Reserve Price by 10% or to offer Property without a Reserve Price. "Net Sale Proceeds" are the proceeds of sale actually received by Kerry Taylor Auctions LLP, less Seller's Commission, Buyer's Premium and Expenses. The Seller's Commission, Hammer Price, Buyer's Premium and all Expenses are subject to VAT, where applicable. 1. SELLER'S WARRANTIES (a) The Seller warrants to KT and the Buyer that:- (i) the Seller is the owner of the Property or is properly authorised to sell it; (ii) the Seller shall transfer possession and good title in the Property to the Buyer, free from any third party claims; (iii) the Seller has provided all relevant information about the ownership, condition, authenticity, attribution, provenance and import/export history of the Property; (iv) there are no copyright or other restrictions on KT's rights to produce and publish images of the Property. (b) The Seller will idemnify KT, its directors, employees, officers and Buyers of the Property against all losses and damages resulting from a breach of any of these warranties or other Conditions of Business. KT may cancel, rescind or postpone sales of Property where it reasonably believes that there has been or may be a breach of these warranties or any other Conditions of Business by the Seller. 2. SALE PREPARATION (a) KT shall have sole discretion as to how Property is described, illustrated and marketed, and the date, venue and conduct of the sale. (b) All oral or written estimates, appraisals and reports are statements of opinion only, may not be relied upon as a prediction of the sale price and may be revised from time to time by KT. (c) KT may, without obligation, consult with third party experts and carry out such other research for the Property as it deems necessary. KT may transfer possession of the Property to such third parties and shall not be responsible for the acts and omissions of such third parties. (d) KT shall have the absolute right to produce and publish images of any Property consigned for sale and will retain copyright in any such images it produces. (e) KT will charge a Buyer's Premium on the sale of the Property at KT's standard rates. KT reserves the right to pay out of its commissions a fee to any third party introducing Sellers or Property to it. (f) Sellers are prohibited from bidding on their own Property. If a Seller offers the Hammer Price for their Property, KT may charge the Seller the Seller's Commission, Buyer's Premium and Expenses relating to that Property. 3. WITHDRAWAL OF PROPERTY (a) If the Seller withdraws any Property from sale after their written agreement to sell it, KT may charge the Seller 50% of the Seller's Commission and Buyer's Premium KT would have received had the Property sold at its mid estimate, plus all Expenses (the "Withdrawal Fee"). (b) KT may withdraw any Property from sale without liability for any of the following reasons:- if (i) it reasonably believes that the authenticity or attribution is questionable; (ii) it reasonably believes that the Seller's Warranties or other Conditions of Business have been breached; (iii) there is a competing ownership claim or lien over the Property; (iv) the Property does not have all licences and permits required by law, including those required under the Convention on the International Trade in Endangered Species (CITES); (v) the condition of the Property has deteriorated since consigment; (vi) the auction has been postoned for any reason. (c) If the Property is withdrawn for any of reasons 3(b)(ii), or (iii) the Seller shall pay the Withdrawal Fee, as per Condition 3(a). If withdrawn for any other reason, the Property shall be returned to the Seller at the Seller's expense. 4. EXCLUSION OF LIABILITY (a) KT shall not be liable for any errors or ommissions in any written or oral information provided to Sellers or for acts or omissions relating to the conduct of the auction or any other matter relating to the sale of Property, whether negligent or otherwise, subject always to Condition 4(c). (b) Without prejudice to Condition 4(a), any claim against KT shall be limited to the Net Sale Proceeds for the relevant Property. KT shall not in any circumstances be liable for any indirect or consequential losses. (c) KT's liability to the Seller in respect of death or personal injury caused by KTs negligent acts or omissions shall not be excluded or limited. 5. LOSS OR DAMAGE TO PROPERTY (a) Unless otherwise agreed in writing, KT will assume the risk of loss or damage to Property received from the Seller until:- (i) risk passes to the Buyer; or (ii) if unsold, 60 days after the sale or when released to the Seller (whichever is earlier); or (iii) 6 months after receipt of the Property by KT, if not consigned for sale. (b) KT shall charge a premium of 1% plus VAT of:- (i) the Hammer Price of the Property, if sold; (ii) the Reserve Price of the Property or as otherwise stated on the Property Receipt, if unsold; or (iii) the mid estimate, if not offered for sale (or KT's reasonable estimate of auction value where there are no pre-sale estimates). (c) If damage or loss occurs whilst the Property is at the risk of KT, the maximum amount of KT's liability shall be as set out in Condition 5 (b) (i)- (iii), as applicable, less Seller's Commission and Expenses. (d) KT will not be liable for any loss or damage caused by:- (i) normal wear and tear, gradual deterioration or inherent vice or defect; (ii) errors in processing; (iii) war or radioactive contamination. 6. POST AUCTION SALES If any Property fails to sell at auction, KT shall be entitled for a period of 35 days after the auction to sell the Property privately for no less than the Reserve Price (unless otherwise agreed with the Seller) and on the terms of these Conditions of Business. 7. PAYMENT OF NET SALE PROCEEDS (a) Subject in all cases to prior receipt of cleared funds by KT and subject to rescission of the sale under Condition 9, 35 days after the sale date or 5 working days after receipt of cleared funds from the Buyer (whichever is later), KT shall send the Seller the Net Sale Proceeds in pounds sterling, less any other amounts owed by the Seller to KT. (b) KT shall not be obliged to check the ability of Buyers to pay for Property and shall have absolute discretion whether to use any of the rights and remedies against defaulting Buyers contained in the Conditions of Business for Buyers. 8. UNSOLD/ UNCOLLECTED PROPERTY (a) KT will advise Sellers whether or not their Property has sold. Unsold Property may either:- (i) be reconsigned for sale; or (ii) collected by the Seller, in which case a Reduced Commission of 50% of the Seller's Commission may be payable calculated as if the Property sold for its Reserve Price (where applicable), plus relevant Expenses. (b) If the Seller does not reconsign or collect the Property within 60 days of the auction as per Condition 8(a) (i) or (ii) above,KT shall be released from any duty of bailment and may in its sole discretion be entitled to:- (i) transfer the Property to independent storage at the Seller's expense; or (ii) re-offer the Property at auction for no less than 50% of the original Reserve Price agreed with the Seller (where applicable), and subject to the Seller's Commission on the re-sale plus all relevant Expenses. (c) If the Seller deposits the Property with KT for more than 1 year and neither collects or consigns it for sale, KT shall be entitled to sell such Property at a KT sale or elsewhere, with estimates and reserves at KT's discretion, after giving the Seller 60 days written notice sent to the Seller's last known address. 9. RESCISSION OF SALES KT may rescind the sale where it reasonably believes that the Property is Counterfeit, as defined by KT's Guarantee of Authenticity, in which case KT shall send the Seller a notice of such rescission. The Seller agrees to return to KT the Net Sale Proceeds received from the sale of such Property together with any additional Expenses incurred by KT. KT will return the Property to the Seller upon receipt of the Net Sale Proceeds and Expenses, unless prevented from doing so for reasons beyond KT's control. 10. DATA PROTECTION (a) KT will use information supplied by Sellers or otherwise obtained lawfully by KT for the provision of auction related services, client administration, marketing and as otherwise required by law. (b) By agreeing to these Conditions of Business, the Seller agrees to the processing of their personal information and to the disclosure of such information to third parties world-wide for the purposes outlined in Condition 10(a). 11. MISCELLANEOUS (a) If any part of these Conditions of Business be held unenforceable, the remaining parts shall remain in full force and effect. (b) These Conditions of Business shall be interpreted in accordance with English Law under the exclusive jurisdiction of the English Courts, in favour of KT.
Discover Items You'll Love

Bid Anywhere, Anytime. Download the LiveAuctioneers App.
Available on the App Store
Android App on Google Play