Bronze, Napoleon, After Simon Louis Boizot
Don't Miss Your Next Treasure.
Set up a search alert to hear when LOUIS J. DIANNI, LLC lists new auctions.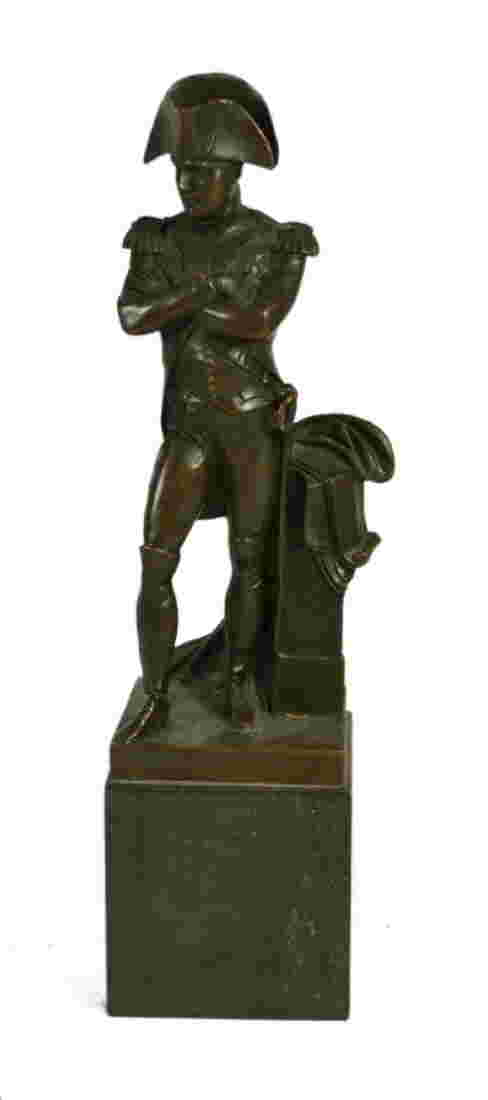 Lot 0113 Details
Description
Bronze, Napoleon, After Simon Louis Boizot
Title & Description: "Napoleon". This is a later casting of Simon Louis Boizot's work which portrays Napoleon Bonaparte standing on a pedestal with his arms folded. He is dressed in a French military uniform and armed with a sword at his hip. To the left of him rests his coat on a stand. The bottom of the stand is inscribed "Boizot a Paris". Bronze shows excellent dark brown patina.
Artist: Simon Louis Boizot
Dates: 1743 - 1809.
Country of Origin: France.
Signature: "Boizot a Paris". Date: Circa 19th century.
Construction: Cast.
Base
Material: Marble
Provenance: The estate of Arthur J. Connolly.
Size: 11.75" H x 3.25" W x 3" D
Weight: 5lb 4.1oz
Condition: Very good.
Artist Biography: The son of painter Antoine Boizot (1704-1782), Simon-Louis Boizot was born in Paris on 9 October 1743. Under his teacher Michel-Ange Slodtz (1705-1764), Boizot won the Academy's first prize in sculpture in 1762 with The Death of Germanicus. Right at that time such noble Roman themes were becoming quite popular. Boizot spent the years 1766-70 at the Académie de France a Rome. Then he successfully attained the stage of agréé (1771) and executed a well known early work, his marble Cupid (1772; Louvre). The sculptor gave his adolescent model the familiar and dynamic Baroque pose, characterized by a sharp diagonal. Zephyr and Flora appeared in the Salon of 1773, and from the same year, a marble bust of the landscape painter Joseph Vernet is known (Louvre). Boizot began some work at the Chateau de Fontainebleau around that time and executed a relief for the grand portal of the Church of Ste. Genevieve (Saint Paul Preaching). Two bronze busts (pendants) are also known, from 1775: Chryseis and Iphigenia, based on Slodtz's models. By the mid 1770s, Boizot was showing an interest in the broader, more simplified Neoclassical style, as were Falconet and others. Boizot's Bather of the Reeds (1774; Victoria and Albert Museum, London) and the striking Gust of Wind (Marquis de Biron Collection) are the best examples of this mode. The first of Boizot's many portraits was The Dauphin, Son of Louis XV, a marble bust formerly in the Louvre. Various busts of Louis XVI and Marie-Antoinette in different media followed. In 1778 Boizot was named full academician with Meleager (a marble in the Louvre) as his reception piece. Later in 1785 Boizot began teaching as adjunct professor at the Academy and he presented his plaster model of Racine; the marble appeared two years later (Louvre). This was one of the statues of Grands hommes (The Great Men of France series), instituted by Louis XVI to encourage patriotism. At the same time a series of medieval and modern French history was established. The subject of Boizot's life-size statue was the greatest tragic playwright of the Age of Louis XIV, author of Iphigenie, Phedre, Andromaque and several other masterpieces of classic theater. After 1786 Boizot executed the stunning bronzes Rape of Proserpine and The Rape of Orithyia (pendants in the Wallace Collection, London). Several groups in terracotta are also known, for instance, the Metropolitan Museum's Pilfering of the Rose (1788) and The Tomb of a Poet (1790-95; Bardac Collection), an example of sensibilite that was fashionable during the proto-Romantic era of Jean-Jacques Rousseau. Many know Boizot as the director of the factory of porcelain works at Sèvres (1773-1800). During the Revolution he sculpted a bust of Necker from memory (Salon of 1789) and a Republican Maintaining Union and Equality, a plaster model, appeared in the Salon of 1793. Therese Picquenard relates how Boizot was an important force in the Commission des Monuments, "which advised on the preservation of the artistic heritage." In addition, he was active in the Commune des Arts. Under Napoleon, Boizot worked on the Vendôme Column. A lost plaster statue of Miltiades is recorded (1806; Senat). Boizot died on 10 March 1809.
Bronze, Napoleon, After Simon Louis Boizot
Estimate $200 - $300
Feb 16, 2013
Shipping, Payment & Auction Policies
Ships from
West Palm Beach, FL, United States