lots of lots
Welcome to the world's largest marketplace for fine art, antiques & collectibles.
Anon Raleigh The All-Steel Bicycle, original poster No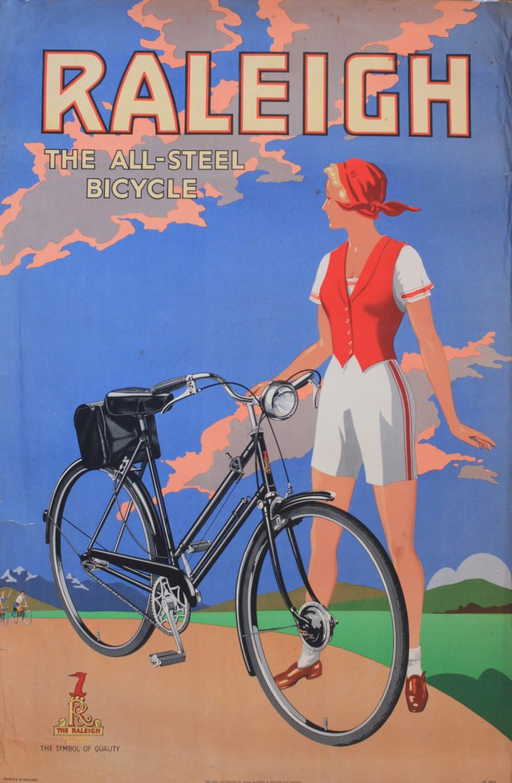 See Sold Price
Don't Miss Your Next Treasure.
Set up a search alert to hear when Posters items arrive.
Discover Related Items Available Now
Auction ended on June 21st, 2013 UTC
Anon Raleigh The All-Steel Bicycle, original poster No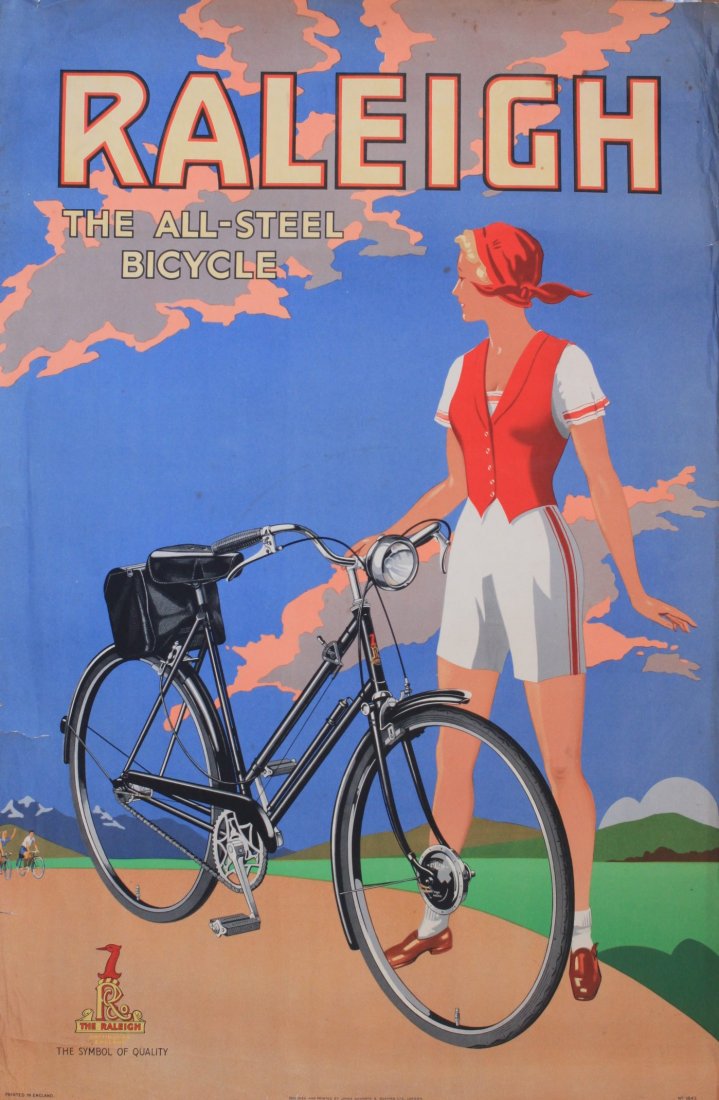 Anon Raleigh The All-Steel Bicycle, original poster No 1842 printed for Raleigh by James Haworth circa 1935 - 76 x 51 cm
Condition
Grade B small tears loss and edge wear would benefit form linen backing
Shipping
PLEASE NOTE THAT ALL POST AND SHIPPING IS ENTIRELY AT THE BUYERS RISK, WE WILL ENDEAVOUR TO PACK LOTS VERY CAREFULLY BUT THAT WILL NOT ALWAYS PREVENT POOR HANDLING AND THEREFORE SOMETIMES DAMAGE OCCURING. We will advise you of the charge when we invoice you, this will include a packing and materials charge of approximately Â10 VAT or less. For inland despatch we will use either Royal Mail Special Delivery for posters over 900mm in length Parcelforce 48 in this instance they will be sent at their standard cover unless you advise us that you would like your purchase covered for loss or damage at a higher level Should you choose to have Onslow's ship your lot(s) directly, please be advised that a) all such packaging, handling and shipping is at the sole risk of the purchaser and that Onslow's shall have no liability for any loss or damage to such items, and b)purchaser shall pay in advance, all packaging expenses, including labour, materials and postage and carrier fees and all insurance charges. Visa or Mastercard numbers must accompany your remittance. Onslow's ships with Royal Mail, Parcelforce and Fedex. Please allow up to four weeks (please note most purchases will be shipped within 3 days of payment being received) for delivery from receipt of payment and instructions. We can advise an estimate for the cost of shipping prior to the auction if you know what you are likely to buy.
Payment
Onslows accept,Mastercard or Visa (3% card charge including VAT), Debit card (no card charge)or bank wire transfer (remitter pays all bank charges) We do not accept Pay Pal or American Express
Accepted payment methods
Taxes
The buyer's premium of 24.60% is inclusive of United Kingdom VAT of 20%. This tax is not recoverable.
Catalogue Index
Lots 1 to 76 Motoring including Shell, Austin, Early 19th Century French Motorcars, 1960s to 1980s Motor Racing, Geo Ham and Roy Nockolds artworks Lots 77 to 124 British Advertising including Guinness, GPO collection, Cinema, 1948 Olympic Games Lots 125 to 137 British Cycling 1930-1950 including Rudge, Raleigh and Humber Lots 138 to 139 Champion Spark Plugs show card and BMC maintenance wall charts for Morris series Lots 140 to 148 Barnett Freedman drawing and Heritage Press proof sheets, 1960s Music and Exhibition posters and McQueen Movie Lobby Card Lots 149 to 202 Foreign including European Travel, NY Worlds Fair, French Advertising Including DYlen, Mich and PAL Lots 203 to 226 World War 1 and 2 including Brangwyn, Bateman, Home Front and Propaganda Lots 227 to 256 The Victor Hicks(1893-1946) A Collection of World War 2 Industrial Propaganda posters Lots 257 to 258 World War 2 Fairy Aircraft Company artwork for advertisements Lots 259 to 281 World War 2 Back Them Up Allies successes propaganda poster collection and Merchant Navy Atlantic Front Comforts service posters Lots 282 to 293, 304 to 314 Airlines including B.O.A.C, TWA, Pan Am, Lots 294 to 303 Shell Guides to Counties and Life On Series Lots 316 to 342 British Travel Association of Great Britain collection of photographic posters of Landmarks and Cities of the British Isles 1938 Lots 343 to 349 Ocean Liners, including QE2, QM 1935, and Titanic Cinema Lots 350 to 438 British Railways including LNER, LMS, GWR, SR, LT, BR, GSR(I)
Terms
CONDITIONS OF SALE ALL BID WHICH SHALL BE TREATED AS OFFERS FOR SALE AND ALL GOODS SUBMITTED FOR SALE SHALL BE SUBJECT TO THE FOLLOWING TERMS AND CONDITIONS 1. In these Conditions Onslow Auctions Limited who act as auctioneers and agents are called "Onslow's" and the representative of Onslow's conducting the auction is called the auctioneer. 2. The highest bidder shall be the buyer at the hammer price and any dispute shall be settled at the auctioneer's absolute discretion. Every bidder shall be deemed to act as principal unless there is in force a written acknowledgment by Onslow's that he acts as agent on behalf of a named principal. 3. The auctioneer shall have the right to refuse any bid at his absolute discretion and to advance the bidding as he may think fit, to divide any lot, to combine any two or more lots to withdraw any lot from the auction and in the case of dispute put up any lot for auction again. 4. Lots on which Value Added Tax is payable by the buyer on the hammer price are indicated in the catalogue with a plus (+) at the standard rate of 20% or such other statutory rate which may be in force at the time of sale. 5. Immediately a lot is sold the buyer shall: (a) Give to Onslow's his name and address and, if so requested, proof of identity, and (b) Pay to Onslow's the total amount due. (c) The buyer shall pay to Onslow's a premium of 22.60% (24.60% if using the Liveauctioneers bidding platform)on the hammer price inclusive of Value Added Tax at the standard applicable rate on the premium. 6. The ownership of the lot purchased shall not pass to the buyer until he has made payment in full to Onslow's of the total amount due. 7. (a) The buyer shall at his own expense take away the lot purchased within two weeks of the sale. (b) The buyer shall be responsible for any removal, storage and insurance charges on any lot not taken away within this time. 8. The buyer will be responsible for the loss or damage to lots purchased from the time of collection or after two weeks following the auction, neither Onslow's nor its employees or agents shall thereafter be responsible for any loss or damage of any kind, whether caused by negligence or otherwise, while any lot is in its custody or under its control. 9. If any lot is not paid for in full and taken away in accordance with Conditions 5 and 7, or if there is any other breach of either of those conditions, Onslow's as agents of the seller shall at its absolute discretion and without prejudice to any other rights it may have, be entitled to exercise one or more of the following rights and remedies: (a) to proceed against the buyer for damages for breach of contract; (b) to rescind the sale of that or any other lots sold to the defaulting buyer at the same time or any other auction; (c) to re-sell the lot or cause it to be re-sold by publication auction or private sale and the defaulting buyer shall pay to Onslow's any deficiency in the total amount due (after deduction of any part payment and addition of resale costs) and any surplus shall belong to the seller; (d) to remove, store and insure the lot at the expense of the defaulting buyer and, in the case of storage either at Onslow's premises or elsewhere; (e) to charge interest at a rate not exceeding 5% per month on the total amount due to the extent it remains unpaid for more than the agreed period after the auction; (f) to retain that or any other lot sold to the same buyer at the time or any other auction and realise it only after payment of the total amount due; (g) to reject or ignore any bids made by or on behalf of the defaulting buyer at any future auctions or obtain a deposit before accepting any bids in future; (h) to apply any proceeds of sale then due or at any time thereafter becoming due to the defaulting buyer towards settlement of the total amount due and to exercise a lien on any property of the defaulting buyer which is in Onslow's possession for any purpose. 10. (a) Goods auctioned are usually of some age. All goods are sold by the Seller thereof with all faults and imperfections and errors of description. Illustrations in catalogues are for identification only. Buyers should satisfy themselves prior to sale as to the condition of each lot and should exercise and rely on their own judgement as to whether the lot accords with its description. Subject to the obligations accepted by Onslow's under this condition, none of the seller, Onslow's, its employees or agents is responsible for errors of description or the genuineness or authenticity of any lot, no warranty whatever is given by Onslow's its employees or agents, or any seller to any buyer in respect of any lot and any express or implied conditions or warranties are hereby excluded. (b) Any lot which proves to be a deliberate forgery may be returned by the buyer to Onslow's in the same condition in which it was at the time of the auction, accompanied by a statement as to the reason for its return, the number of the lot and the date it was purchased. If Onslow's is satisfied that the item is a deliberate forgery and that the buyer has and is able to transfer a good and marketable title to the lot free from any third party claims, the sale will be set aside and any amount paid in respect of the lot will be refunded: provided that the buyer shall have no rights under his condition if: (i) The description in the catalogue at the date of the sale was in accordance with the then generally accepted opinion of experts or fairly indicated that there was a conflict of opinion; or (ii) The only method of establishing at the date of publication of the catalogue that the lot was a deliberate forgery was by means of scientific processes which were unreasonably expensive or unpractical. (c) A buyers claim under this condition shall be limited to any amount paid in respect of the lot and shall not extend to any loss or damage suffered or expense incurred by him. (d) The benefit of this condition shall not be assignable and shall rest solely and exclusively in the buyer who, for the purpose of this condition, shall be and only be the person to whom the original invoice is made out by Onslow's in respect of the lot sold. (e) All claims made hereunder must have been received in writing within one year of the day of the sale failing which Onslow's are released and discharged from any liability whether in whole or in part in respect of such sale or anything arising therefrom. 11. The seller gives Onslow's full and absolute right to photograph and illustrate any lot placed in its hands for sale and to use such photographs and illustrations at any time at its absolute discretion (whether or not in connection with the auction). 12. Any representation or statement by Onslow's, in any catalogue, brochure, or advertisement as to authorship, attribution, genuineness, origin, date, age, provenance, condition or estimated selling price is a statement of opinion only and is not nor are opinions to be relied upon as any representation or statement of fact. Every person interested should exercise and rely on his own judgement as to such matters and neither Onslow's nor its employees or agents or the seller are responsible for the correctness of such opinions. 13. Whilst the interests of prospective buyers are best served by attendance at the auction, Onslow's will if so instructed execute bids on their behalf, neither Onslow's, nor its employees or agents being responsible for any neglect or default in doing so or for failing to do so. 14. Onslow's shall have the right, at its discretion, to refuse admission to its premises or attendance at its auction by any person. 15. Delivery to the auctioneer of any goods for sale or the receipt of or payment for any lot shall without prejudice to the generality of the foregoing be deemed an unconditional acceptance of these Conditions. 16. Acceptance of the proceeds of sale of any lot sold under the terms herein and or the encashment or delivery of a cheque in respect thereof shall notwithstanding any thing herein before contained be taken as acceptance of the terms and conditions there in written in relation to the specific sale concerned. 17 The conditions shall be governed by and construed in accordance with English Law. All transactions to which there conditions apply and all matters connected therewith shall also be governed by English Law.
Discover Items You'll Love

Bid Anywhere, Anytime. Download the LiveAuctioneers App.
Available on the App Store
Android App on Google Play