lots of lots
Welcome to the world's largest marketplace for fine art, antiques & collectibles.
Horn Tinder Box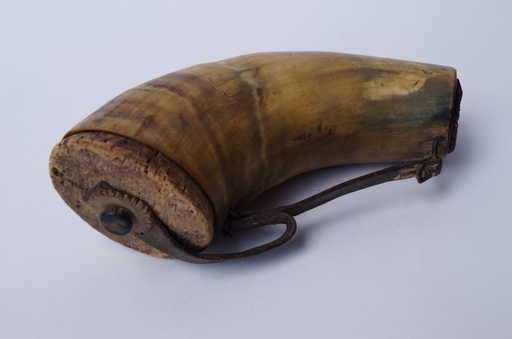 See Sold Price
Don't Miss Your Next Treasure.
Set up a search alert to hear when Collectibles items arrive.
Discover Related Items Available Now
Auction ended on July 20th, 2013 UTC
Cork stopper. Leather strap 11"L
Shipping
Please feel free to call Guernseys in advance should you have any questions regarding your shipping options, or contact UPS directly at HarrisburgauctionTheUPSstore.com or 717-884-8122.
Payment
Contact Guernseys For Payment Details
Accepted payment methods
Terms
Terms & Conditions This catalogue, as amended by any posted notices during the sale, together with the purchaser's registration statement, is Guernsey's and the Consigner's entire agreement with the purchaser relative to the property listed herein. THE FOLLOWING CONDITIONS OF SALE ARE THE ONLY TERMS AND CONDITIONS BY WHICH ALL PROPERTIES ARE OFFERED FOR SALE. The property will be offered by us as the agent for the Consigner unless the catalogue indicates otherwise. By bidding at auction, whether present in person or by agent, by written bid, telephone, internet or by other means, the buyer agrees to be bound by these Terms and Conditions of Sale. 1. ALL PROPERTIES ARE SOLD AS IS, AND NEITHER WE NOR THE CONSIGNER MAKE ANY WARRANTIES OR REPRESENTATIONS WITH RESPECT TO ANY LOT SOLD INCLUDING BUT NOT LIMITED TO THE CORRECTNESS OF THE CATALOGUE OR OTHER DESCRIPTION OF THE ORIGIN, PHYSICAL CONDITION, SIZE, QUALITY, RARITY, ATTRIBUTION, AUTHORSHIP, IMPORTANCE, MEDIUM, PROVENANCE, EXHIBITIONS, LITERATURE OR HISTORICAL RELEVANCE OF THE PROPERTY, AND NO STATEMENT ANYWHERE, WHETHER ORAL OR WRITTEN, SHALL BE DEEMED SUCH A WARRANTY OR REPRESENTATION. ALL SIZES LISTED ARE APPROXIMATE AND LISTED IN INCHES, UNLESS OTHERWISE SPECIFIED. PROSPECTIVE BIDDERS SHOULD INSPECT THE PROPERTY BEFORE BIDDING TO DETERMINE ITS CONDITION, SIZE, AND WHETHER OR NOT IT HAS BEEN REPAIRED OR RESTORED. WE AND THE CONSIGNOR DISCLAIM ANY AND ALL WARRANTIES, EXPRESSED OR IMPLIED, INCLUDING BUT NOT LIMITED TO THE IMPLIED WARRANTY OF MERCHANTABILITY OR FITNESS FOR ANY PARTICULAR PURPOSE. NO WARRANTIES ARE MADE THAT ANY OF THE MERCHANDISE COMPLIES WITH ANY APPLICABLE GOVERNMENTAL RULES, REGULATIONS OR ORDINANCES OF ANY KIND OR NATURE WHATSOEVER. NEITHER GUERNSEY'S AS AGENT NOR THE CONSIGNER IS RESPONSIBLE FOR ANY FAULTS OR DEFECTS IN ANY LOT OR THE CORRECTNESS OF ANY STATEMENT AS TO ANY ORIGIN, AUTHORSHIP, DATE, AGE, ATTRIBUTION, GENUINENESS, PROVENANCE OR CONDITION OF ANY LOT. Any description of the items contained in this Auction is for the sole purpose of identifying the items for those Bidders who do not have the opportunity to view the lots prior to bidding, and no description of items has been made part of the basis of the bargain or has created any express warranty that the goods would conform to any description made by Auctioneer. No statement by anyone or in the catalogue, in any advertisement, or which is made at the sale, in the bill of sale or invoice, or elsewhere, shall be deemed such a warranty or representation or an assumption of liability. IN THE EVENT OF ANY CONFLICT BETWEEN A DESCRIPTION AND THESE TERMS AND CONDITIONS, THE TERMS OF CONDITIONS SHALL CONTROL. NO DESCRIPTION IS INTENDED TO, OR SHALL, NEGATE OR LIMIT THE DISCLAIMERS SET FORTH HEREIN. WITHOUT IN ANY WAY WAIVING THE FOREGOING, ANY COMPLAINT REGARDING AUTHENTICITY, GENUINENESS, ATTRIBUTION OR PROVENANCE SHALL BE MADE WITHIN TWENTY-FIVE (25) DAYS OF THE DAY OF SALE OR SUCH COMPLAINT SHALL BE WAIVED. ALL BIDDERS ACKNOWLEDGE THEIR RIGHT TO HAVE MADE OR REQUESTED FULL INSPECTION OF ANY AND ALL PROPERTIES PRIOR TO SALE AND AGREE TO BE CHARGED WITH ALL MATTERS SUCH INSPECTION MAY HAVE DISCLOSED OR INDICATED. INSPECTION ON THE DAY OF SALE WILL BE PERMITTED ONLY UPON PREARRANGEMENT WITH THE US. IN THE EVENT GUERNSEY'S, IN ITS SOLE DISCRETION, CONCLUDES THAT A LOT IS INCOMPLETE AT THE TIME OF RETRIEVAL BY THE SUCCESSFUL BIDDER, THE SOLE REMEDY OF THE SUCCESSFUL BIDDER SHALL BE TO ACCEPT THE LOT AS IS, WITH NO CREDIT OR REDUCTION IN PRICE, OR TO CANCEL THE SALE AND RECEIVE A REFUND OF THE AMOUNT PAID FOR SAID LOT. UNDER THESE CIRCUMSTANCES, THE REFUND WILL BE LIMITED TO THE AMOUNT PAID FOR SAID LOT. 2. A buyer's premium will be added to the purchase of all lots in the sale, and is payable by the purchaser as part of the total purchase price. The buyer's premium for bidders participating in the auction in person or in absentia, either on the telephone or by submitting written bids in advance, and paying by cash, wire transfer, certified or bank check, debit card or a check that is guaranteed by an Irrevocable Bank Letter of Guarantee received by Guernsey's in advance (see Participating in the Auction / Pre-Establishing Credit below), will be 22%. The buyer's premium for all internet bidders, as well as for all bidders paying with an unguaranteed personal or business check, or with Visa or MasterCard, will be 25%. 3. We reserve the right to withdraw any property before the sale. 4. Unless otherwise announced by the auctioneer, all bids are per lot as numbered in the catalogue. 5. All bids placed, and all payments made must be in U.S. dollars drawn on a U.S. Bank. 6. Payments are due promptly at the conclusion of the auction, and in the case of absentee and internet bidders, within 10 days of receipt of invoice. 7. We reserve the right to reject any bid. The highest bidder, acknowledged by the auctioneer, will be the purchaser. In the event of a dispute between bidders, or in the event of doubt on our part as to the validity of any bid, the auctioneer will have the final discretion whether to determine the successful bidder or to re-offer and resell the article in dispute. If any dispute arises after the sale, our sale records are conclusive. Although in our discretion, we will execute other order bids or accept telephone bids as a convenience to clients who are not present at auctions, we are not responsible for any errors or omissions in connection therewith. 8. If the auctioneer decides that any opening bid is below the value of the article offered, he or she may reject the same and withdraw the article from sale, and if having acknowledged on opening bid, he or she decides that any advance thereafter is insufficient, he or she may reject the advance. 9. ALL LOTS IN THIS AUCTION ARE BEING SOLD WITHOUT MINIMUM RESERVE. 10. On the fall of the auctioneer's hammer, title to the offered lot will pass to the highest bidder acknowledged by the auctioneer, subject to fulfillment by such bidder, of all the conditions set forth herein, and such bidder thereupon a) assumes full risk and responsibility thereof, but not limited to, insurance, fire, theft, removal and storage or damage from any and all causes, and b) will pay the full purchase price thereof or such part as we may require. In addition to other remedies available to us by law, we reserve the right to impose a late charge of 1 1/2% per month of the total purchase price if payment is not made in accordance with the conditions set forth herein. REGARDING ANY PURCHASER WHO IS REPRESENTED BY A BIDDER: BIDDERS ARE PERSONALLY AND INDIVIDUALLY RESPONSIBLE FOR ANY OBLIGATIONS OF THE PURCHASER SET FORTH IN THE TERMS AND CONDITIONS OF SALE. If any applicable conditions herein are not complied with by the purchaser, in addition to other remedies available to us and the Consigner by law, including, without limitation, the right to hold the purchaser liable for the total purchase price, we at our option may either, a) cancel the sale, retaining as liquidated damages all payments made by the purchaser, or b) resell the property at public auction without reserve, and the purchaser will be liable for any deficiency costs including handling charges, the expenses of both sales, our commissions on both sales at our regular rates, reasonable attorney's fees, incidental damages, and all other charges due hereunder. In the event that such a buyer pays a portion of the purchase price for any or all lots purchased, Guernsey's shall apply the payment received to such lot or lots that Guernsey's, in its sole discretion deems appropriate. In the case of default, purchaser shall be liable for legal fees and expenses. In addition, a defaulting purchaser will be deemed to have granted us a security interest in, and we may retain as collateral security for such purchaser's obligations to us, any property in our possession owned by such purchaser. We shall have the rights afforded a secured party under the New York Uniform Commercial Code with respect to such property and we may apply against such obligations all monies held or received by us for the account of, due from us to, such purchaser. At our option, payment will not be deemed to have been made in full until we have collected funds represented by checks, or, in the case of bank or cashier's checks, we have confirmed their authenticity. Upon collection of funds, purchaser shall receive a bill of sale for the concerned items of merchandise. 11. NO LOCAL OR PENNSYLVANIA SALES TAX WILL BE CHARGED ON ANY PURCHASES MADE IN THIS AUCTION. Unless exempted by law, the buyer may be required to pay any applicable compensating use tax of another state on the total purchase. Deliveries outside the state may be subject to the compensating use tax of another state. Where duty or collection is imposed on Guernsey's by law, it will require payment of these taxes. 12. All sales of Firearms will be in accordance with Federal and State guidelines. All post-1898 firearms and all pre-1898 that can chamber a bullet are subject to applicable ordinances and laws and must be purchased in compliance with Federal and State law. Knowledge of and compliance with applicable ordinances and laws are the responsibility of the buyer. Buyers of firearms who hold a current Class I FFL license or a current Curio & Relic License, and present these licenses to Guernsey's, will be able to pay for and remove their purchases from the auction site. For buyers not holding either of these licenses, following receipt of payment, their purchases will be delivered by Guernsey's to a licensed firearms dealer based in Harrisburg, that can facilitate the handling of firearms and assist buyers in satisfying requirements relating to registration and licensing. Any fee or handling charges for these services will be payable directly to the firearms dealer, and are the sole responsibility of the buyer. All shipments of firearms purchased in this auction must comply with Federal and State guidelines, and shipments are limited to delivery addresses within the United States. 13. These Terms and Conditions of Sale as well as the purchaser's and our respective rights and obligations thereunder shall be governed by and construed and enforced in accordance with the laws of the State of New York. By bidding at an auction, whether present in person or by agent, order bid, telephone or by other means, the purchaser shall be deemed to have consented to the exclusive jurisdiction of the State of New York, with exclusive venue in the County of New York. 14. We are not responsible for the act or omissions of carriers or packers of purchased lots, whether or not recommended by us. Packing and handling of purchased lots by us is at the entire risk of the purchaser. In no event will our liability to a purchaser exceed the purchase price actually paid. 15. Estimates do not represent any opinion or guarantee of actual value or ultimate sale price. Actual prices realized for items can fall below or above this range. They should not be relied upon as a prediction or guarantee of the actual selling price. They are prepared well in advance of the sale and are subject to revision. 16. Should any disputes arise pertaining to purchases at this auction or any other matters relating to the auction, such disputes shall be brought in the courts of the State of New York. Venue shall be within the County of New York. 17. Any claim regarding a purchase must be made by the successful bidder to Guernsey's, in writing, certified mail, return receipt requested, within 25 days of the final day of the live auction. Thereafter, all claims shall be time-barred. It is Guernsey's general policy, and Guernsey's has the right to have the purchaser obtain, at the purchaser's expense, the opinion of two recognized experts in the field, mutually agreeable to Guernsey's and the purchaser. 18. The copyrights in and to the items depicted in this catalogue, and the rights of publicity to the names, images and likenesses of persons or items depicted in this catalogue, are exclusively owned by the Consignor of the property or third parties. A BUYER OF AN ITEM OFFERED FOR SALE DOES NOT ACQUIRE ANY COPYRIGHT, COMMERCIAL RIGHT, OR SIMILAR RIGHT WHATSOEVER TO THE ITEMS OR THE IMAGES OR LIKENESSES CONTAINED THEREIN AND THE BUYER MAY NOT REPRODUCE ANY ITEM PURCHASED WITHOUT THE EXPRESS WRITTEN PERMISSION OF THE COPYRIGHT HOLDER. No copies or photographs, catalogue descriptions or other written material in this catalogue may be reproduced in any manner without the express written permission of the copyright holder. Participating In the Auction Bidding & Pre-establishing Credit In an effort to facilitate your rapid removal of items immediately following the auction, you can pre-establish credit with Guernsey's. Having done so, you need only write a check for the amount of your purchase (assuming it is within the range of your credit line) and you can remove your purchases. The easiest way to accomplish establishing credit is to provide an Irrevocable Letter of Credit or a Bank Letter of Guarantee from your bank stating that they will guarantee your check up to an indicated amount. Such letters normally have a time limit and therefore, for this auction, a 14 business day limit from the day of the auction would be appropriate. The bank letter should include the bank officer's name and telephone number and should state that the letter is for Guernsey's Harrisburg Auction on July 15 – 21, 2013. The letter should be addressed to Barbara Mintz, Vice President of Guernsey's, and indicate the limit to which the checks can be written. Bidders pre-establishing credit in this manner will also enjoy the benefit of the reduced buyer's premium of 22%. You Can Bid at this Auction without Pre-Establishing Credit Without pre-establishing credit, those attending the auction may pay and remove purchases if paying with cash, bank check, or certified check. Purchases totaling up to $25,000 may also be removed if payment is made by credit card or debit card (MasterCard or Visa only), and by check approved by Telecheck, provided that 2 forms of identification (one of which must be a current driver's license) are presented. If your purchases exceed $25,000, your purchases will be held until your payment in full in cleared funds is received by Guernsey's. Please allow up to 10 business days for personal checks over $25,000 or checks not approved by Telecheck to clear. Credit card payments are accepted under the express condition that any property purchased by credit or debit card shall not be refundable, returnable, or exchangeable, and that no credit to buyer's credit or debit card account will be issued under any circumstances. Absentee Bidding Although all are welcome to attend the auction in person, it is clear that some may wish to participate as Absentee Bidders. To facilitate absentee bidding, one may bid by filling out the Absentee Bid Form (on the previous page) and mail or fax the form to Guernsey's prior to the auction. One can also bid by telephone during the actual auction by contacting Guernsey's well in advance of the auction dates to arrange for this method of bidding. Shipping, handling and insurance for all absentee bid items are the responsibility of the winning bidder. Bidding increments are at the discretion of the auctioneer. In the case of tie bids the first bid received will be given priority. Absentee bidder invoices will be sent promptly by email or fax, and must be paid in full within 10 days of receipt. Invoices to Internet bidders will be sent promptly by email and must be paid in full within 10 days of receipt. Absentee Bid Form Instructions 1. Fill out the Absentee Bid Form included in the catalogue packet or download a copy from our website. 2. Indicate if you wish to Bid By Phone or Bid By Mail. If you wish to Bid By Phone, be sure to provide the phone number where you can be reached during the auction. Phone bids will be executed by Guernsey's telephoning the bidder on the indicated lots as they are sold at the live auction. Please return the form early to reserve a phone, as a limited number of lines are available per lot on a first come basis. 3. All Top Bid Amounts must be indicated in U.S. dollars. If you wish to Bid By Mail, you must indicate a Top Bid Amount. If you wish to Bid By Phone we encourage you to indicate a Top Bid Amount. Although we will make every reasonable effort to telephone you at the appropriate time during the auction, our experience indicates that there is always the possibility that for a variety of technical (and human) reasons we may not be able to reach you at that time. In the event that were to occur, to avoid disappointment, WE STRONGLY SUGGEST THAT YOU INDICATE YOUR TOP BID IN THE SPACE PROVIDED AFTER CHECKING THE BOX AUTHORIZING GUERNSEY'S TO EXECUTE YOUR BIDS UP TO THE LEVEL INDICATED. 4. Please print clearly and list all lots in numerical order. Use multiple forms, if needed. 5. Sign and date the form. 6. Please include your email address, clearly written, since invoices to successful bidders will be sent via email. Internet Bidding Those who are unable to attend the auction but would like to participate can view the full catalogue online, and leave advance absentee bids, as well as bid live as the sale is taking place at www.Liveauctioneers.com. For further information, please visit Guernsey's website or Liveauctioneers.com. Links from the Guernsey's website will be available approximately one month before the event. All lots in this catalogue and in the addendum to this catalogue can be bid on through Liveauctioneers.com prior to - and during - the live auction, provided that the bidder has completed Liveauctioneers' application process and been approved for bidding. Removal/Shipment of Purchases PURCHASERS ARE RESPONSIBLE FOR ALL SHIPPING AND PACKING COSTS. All pick-ups must be made immediately following the auction, unless other arrangements are made with Guernsey's. Inasmuch as Guernsey's does not permanently reside in Harrisburg, it is essential that all items are either 1) paid for immediately after the conclusion of the auction (items can be paid for and removed during the event) and immediately removed or 2) paid for immediately, making arrangements for the removal of the items by the shipper on the premises or your designated shipper and alerting Guernsey's of your intent. To facilitate removal and/or shipping, representatives of a UPS Store will be on site should you wish to avail yourself of their services. Guernsey's takes no part in any transactions between you and this firm; their presence at the auction is merely a convenience for interested buyers. Purchasers are responsible for all shipping costs. Should you wish to learn more about your shipping options, please contact UPS at Harrisburgauction@TheUPSstore.com or 717-884-8122 prior to the auction. Removal of Purchases Acquired Through Absentee, Phone & Internet Bidding If you are a successful absentee, phone or internet bidder, your purchases will be removed by the UPS Store representatives on site at the auction (unless you have made other arrangements with Guernsey's at least three days prior to the sale). They will be held by that firm until you have made payment to Guernsey's, at which time we will provide a release to the UPS shipper. You may use this firm to transport your purchases to you or use another shipper of your choosing (in which case storage charges may apply). Please feel free to call Guernsey's in advance should you have any questions regarding your shipping options, or contact UPS directly at Harrisburgauction@TheUPSstore.com or 717-884-8122. Successful bidders are urged to pick up or arrange shipping in a timely manner (within 10 days of the conclusion of the auction on July 21), in order to avoid being charged storage fees. Starting July 31, a storage fee of $5 per lot per day will be imposed on all lots that have not been picked up or for which shipping has not yet been arranged. If you are a successful Internet or Absentee Bidder…. 1. You will receive an invoice following the auction (Internet bidders by email, Absentee bidders by email or fax). If you believe you are a successful bidder and don't receive an invoice, please contact Guernsey's (212-794-2280; sjaffe@guernseys.com) 2. Payment is due promptly and within 10 days of receipt of invoice. 3. Purchases paid for by wire transfer, bank or cashier's check will be available for release immediately. 4. Purchases totaling less than $10,000 may be paid for by credit or debit card (MasterCard or Visa only) and will be available for release immediately. 5. Purchases paid for by personal or business check will be held until the check has cleared (please allow 10 business days from receipt of payment). 6. After purchases are available for release you will be contacted by Guernsey's and we will put you in contact with that shipper to make your own pick-up or shipping arrangements. Purchasers are responsible for all shipping costs.
Discover Items You'll Love

Bid Anywhere, Anytime. Download the LiveAuctioneers App.
Available on the App Store
Android App on Google Play