lots of lots
Welcome to the world's largest marketplace for fine art, antiques & collectibles.
EPNS (I.F.S.) MADE IN SHEFFIELD ENGLAND PLATED TEA SET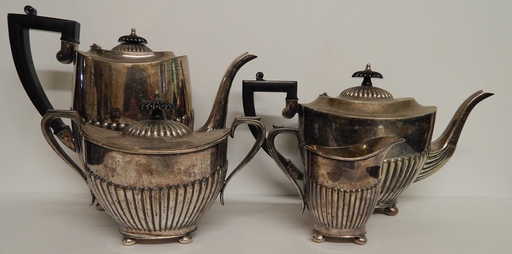 See Sold Price
Don't Miss Your Next Treasure.
Set up a search alert to hear when GARAGE SALE DEPOT AUCTIONS lists new auctions.
Discover Related Items Available Now
Auction ended on August 11th, 2013 UTC
EPNS (I.F.S.) MADE IN SHEFFIELD ENGLAND PLATED TEA SET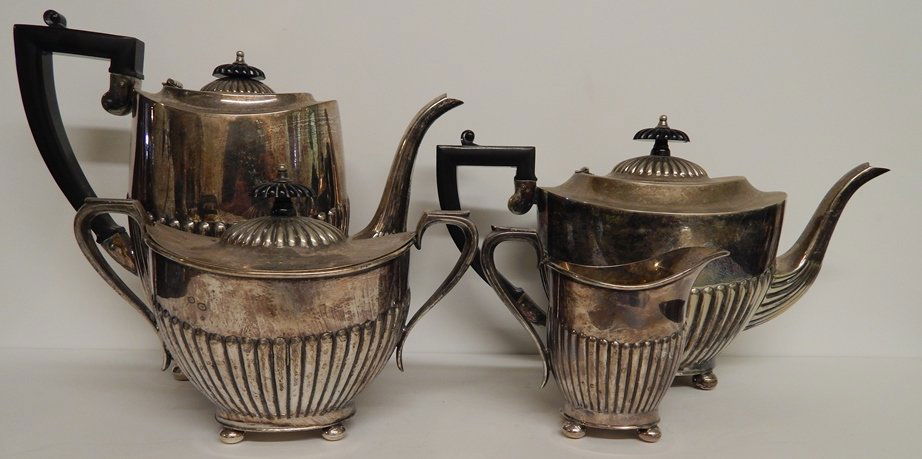 TEAPOT-22 X 27 CM TEA POT2- 30 X 16 CM SUGAR-19 X 13 CM CREAMER-13 X 10 CM
Shipping
WE DO NOT SHIP AND ARE NOT ABLE TO GIVE SHIPPING QUOTES. PLEASE CONTACT ANY SHIPPER THAT IS CLOSE TO OUR PREMISES TO ARRANGE SHIPMENT. LOCAL PICK UPS ARE AVAILABLE BUT YOU MUST CALL AND SET UP AN APPOINTMENT. PLEASE DO NOT COME TO PICK UP ITEMS UNTIL YOU HAVE MADE AN APPOINTMENT OR TALKED TO OUR STAFF AND MADE ARRANGEMENTS. ANY ITEMS NOT PICKED UP OR SHIPPED WITHIN 10 DAYS THERE WILL BE A 10.00 USD PER DAY STORAGE CHARGE.ANY ITEMS LEFT AFTER 30 DAYS WILL BE FORFITED TO ANTIQUES2MODERN AUCTIONS AND YOU WILL LOSE YOUR PAYMENT. PLEASE USE ANY SHIPPER YOU WOULD LIKE, FOR YOUR CONVIENCE WE LISTED OUR SUGGESTED SHIPPER: Eagle Pack Ship UPSDHLFedexUSPS Contact: Ryan Robertson 3677 23rd Ave S Suite B 107 Lake Worth, FL 33461 M - F 9:00 am - 6:00 pm Sat. 9 am - 3 pm, Sun. closed Tel: 561-932-0700 Fax: 561-932-0701 ryaneagleshippingcenter.com www.eagleshippingcenter.com However, please be aware that items not picked up or shipped within one week following an auction are subject to forfeiture.
Payment
PAYMENT IS DUE WITHIN 5 DAYS FROM THE END OF THE AUCTION. WE ACCEPT PAYPAL WHICH CAN BE FOUND ON THE INVOICES THAT ARE SENT THROUGH EMAIL. CASH,VISA,MASTERCARD,MONEY ORDER,WIRE TRANSFER, PERSONNEL CHECK ARE ACCEPTED AS WELL. IF YOU CHOOSE NOT TO USE PAYPAL, YOU CAN CALL IN YOUR PAYMENT AT (561)493-2900. ANY INVOICES THAT TOTAL 500.00 USD OR MORE, MAY REQUIRE YOU TO FILL OUT A CREDIT CARD AUTHORIZATION FORM LOCATED ON OUR WEBSITE. ALL PAYMENTS BY PERSONNEL OR BUSINESS CHECKS WILL HAVE TO CLEAR THROUGH OUR BANK BEFORE ANY ITEM ARE RELEASED. ANY FLORIDA RESIDENTS WITHOUT A TAX EXEMPTION FORM WILL BE CHARGED 6% SALES TAX. ANY DELINQUENT PAYMENTS WILL RESULT IN A DISPUTE FILLED WITH LIVE AUCTIONEERS. PLEASE CONTACT US FOR ANY QUESTIONS.
Accepted payment methods
Taxes
6% TO FLORIDA RESIDENTS WITH OUT TAX EXEMPTION.
THANK YOU
ANTIQUES2MODERN WOULD LIKE TO THANK YOU FOR TAKING THE TIME OUT TO CHECK OUT ARE AUCTION I HOPE YOU CAN FIND THE TREASURES YOU HAVE BEEN LOOKING FOR THANK YOU SO MUCH FOR YOUR BUSINESS AND HAPPY BIDDING
FAILURE TO HAVE ITEMS SHIPPEDPICKED UP
please be aware that items not picked up or shipped within one week following an auction are subject to forfeiture. BY REGISTERING AND BIDDING YOU AGREE TO ALL TERMS.
Terms
Terms & Conditions All property offered and sold through Family Tree Treasure,INC, ("Auctioneer", or "Broker", or the "Company") shall be offered and sold on the terms and conditions set forth in these Conditions of Sale. By participating in any sale, you acknowledge that you are bound by these terms and conditions. Family Tree Treasures has made every effort to catalogue and describe accurately property to be sold. The Company, however, assumes no risk, liability or responsibility for the identification or authenticity or authorship, or weight, count, or measure of any property identified in its catalogue or lists of sale. This shall include, among others, the identity of the creator, the period, culture, source of origin, as the case may be, with which the creation of any property is identified in any publication. ALL PROPERTY IS SOLD "AS IS". THE CONSIGNOR MAKES NO WARRANTIES OR REPRESENTATIONS OF ANY KIND WITH RESPECT TO ANY PROPERTY OFFERED FOR SALE, SINCE THE AUCTIONEER IS ACTING SOLELY AS AN AUCTION BROKER, AND, UNLESS OTHERWISE STATED, DOES NOT OWN THE PROPERTY OFFERED FOR SALE. THEREFORE, THE AUCTIONEER MAKES NO WARRANTY OF TITLE, WARRANTY OF MERCHANTABILITY OR FITNESS FOR A PARTICULAR PURPOSE, OR ANY OTHER WARRANTY OR REPRESENTATION OF ANY KIND OR NATURE WITH RESPECT TO THE PROPERTY. ALL DEALERS MUST PRESENT A FLORIDA RESALE CERTIFICATE PRIOR TO ACCEPTANCE OF A BIDDERS CARD FOR TAX EXEMPTION, OR A 6% FLORIDA SALES TAX WILL BE APPLIED. THERE ARE NO EXCEPTIONS. In no event shall it be responsible for the correctness, nor deemed to have made any representation or warranty of description, genuineness, attribution, provenance or condition of the property and no statement by anyone or in the catalogue, in any advertisement, or which is made at the sale, in the bill of sale or invoice, or elsewhere, shall be deemed such a warranty or representation or an assumption of liability. Without in any way waiving the foregoing, any complaint regarding authenticity, genuineness, attribution or provenance shall be made within twenty-five (25) days of the day of sale or such complaint shall be waived. All bidders acknowledge their right to have made or requested full inspection of any and all properties prior to sale and agree to be charged with all matters such inspection may have disclosed or indicated. Inspection on the day of sale will be permitted only upon prearrangement with the COMPANY. Family Tree Treasures,INC reserves the right to withdraw any property at any time before the fall of the hammer in its sole and exclusive discretion. The highest bidder acknowledged by the auctioneer shall be the purchaser. In the event of any dispute between bidders, the auctioneer shall have the sole and final discretion either to determine the successful bidder or to re-offer and resell the article in dispute. If any dispute arises after sale, the Company's sale record shall be conclusive in all respects. If the auctioneer determines that any opening or later bid or any advance of bidding is not commensurate with the value of the article offered, the auctioneer may reject the same and withdraw the article from sale. Upon the fall of the hammer, title to any offered lot or article will immediately pass to the highest bidder as determined in the exclusive discretion of the auctioneer. Such bidder thereupon assumes full risk and responsibility for the property sold, agrees to sign any requested confirmation of purchase, and agrees to pay the full purchase price therefore or such part upon such terms as the Company may require. All property shall be paid for and removed by the purchaser at his/her expense within seven (7) days of sale and, if not so removed, may be sold by the Company, or sent by the Company to a public warehouse, at the sole risk and charge of the purchaser(s), and the Company may prohibit the purchaser from participating, directly or indirectly, as a bidder or purchaser in any future sale or sales. The Company will not be responsible for any loss, damage, theft, or otherwise responsible for any goods left in the Company's possession after seven (7) days. If the foregoing conditions or any applicable provisions of law are not complied with, in addition to other remedies available to the Company and the Consignor (including without limitation the right to hold the purchaser(s) liable for the bid price) the Company, at its option, may either cancel the sale, retaining as liquidated damages all payments made by the purchaser(s), or resell the property. In such event, the purchaser(s) shall remain liable for any deficiency in the original purchase price and will also be responsible for all costs, including warehousing, the expense of the ultimate sale, and the Company's commission at its regular rates together with all related and incidental charges, including legal fees. Payment is a precondition to removal. Payment shall be by cash, certified check or similar bank draft, or any other method approved by the Company. Checks will not be deemed to constitute payment until cleared. The Company will charge interest of one and one-half percent (1 1/2%) per month on any balance remaining thirty (30) days after the day of sale. Any exceptions must be made upon the Company's written approval of credit prior to sale. Unless the sale is advertised and announced as "without reserve", each lot is offered subject to a reserve and the Company may implement such reserves by bidding through its representatives on behalf of the Consignors. In certain instances, the Consignor may pay less than the standard commission rate where the Company or its representative is a successful bidder on behalf of the Consignor. Where the Consignor is indebted to the Company, the Company may have an interest in the offered lots and the proceeds there from other than the broker's Commissions, and all sales are subject to any such interest. No "buy" bids shall be accepted at any time for any purpose. Any pre-sale bids must be left in writing with the Company prior to commencement of offer of the first lot of any sale. The Company's copy of any such bid shall conclusively be deemed to be the sole evidence of same, and the Company shall not be held responsible for any failure to execute any pre-sale bid.
Discover Items You'll Love

Bid Anywhere, Anytime. Download the LiveAuctioneers App.
Available on the App Store
Android App on Google Play