lots of lots
Welcome to the world's largest marketplace for fine art, antiques & collectibles.
428B: PORCELAIN DOLL, by Seymour Mann, numbered 383, m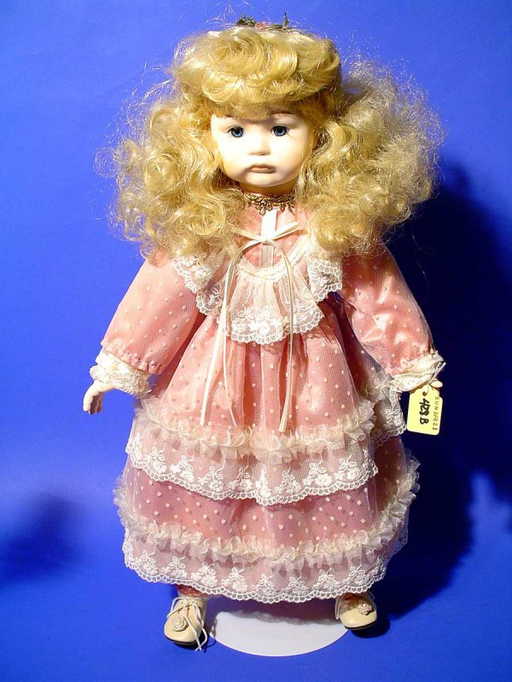 See Sold Price
Don't Miss Your Next Treasure.
Set up a search alert to hear when Hart Galleries lists new auctions.
Discover Related Items Available Now
Auction ended on April 23rd, 2006 UTC
428B: PORCELAIN DOLL, by Seymour Mann, numbered 383, m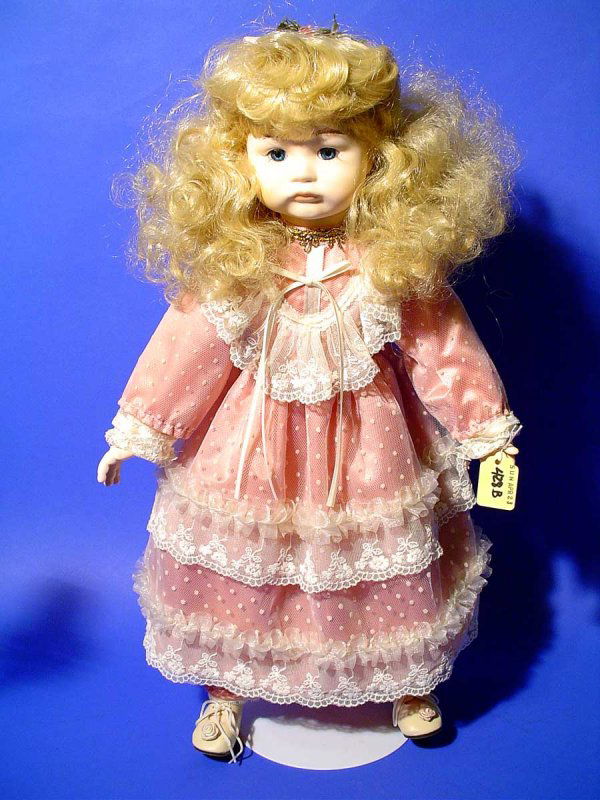 PORCELAIN DOLL, by Seymour Mann, numbered 383, mcmlxxxv, having a porcelain head, arms and legs with a cloth body, with glass eyes, and with stand; 19 inch height (Est. 35-65)
Buyer's Premium
20% up to

$199,999.00

15% above

$199,999.00
Shipping
Any and all costs of disassembly, removal and shipping shall be paid by the Buyer including all packaging expenses, labor, materials, postage or carrier fees and all insurance charges. Sorry, we cannot do in-house shipping at this time; we use and can recommend either: The UPS Store store3229theupsstore.com -or- Pack Send packsendflash.net. Contact these shippers if you have a question regarding the shipping cost of an item. Hart Galleries will be in no way responsible for the acts or omissions of independent contractors, packers, or carriers of purchased merchandise and will bear no liability for any loss or damage to such items.
Payment
Sorry, we cannot take PayPal, but we will accept all major credit cards or your check.
Accepted payment methods
Taxes
State of Texas residents must pay local Sales Tax of 8.25%
About Hart Galleries
A Trusted Name Serving the Southwest for Three Generations - Notice our 100% Positive Feedback and bid with confidence Hart Galleries is the largest fine and decorative arts facility in the Southwest. For over a half century, Hart Galleries has served the needs of both the beginning and advanced collector. These sixty-six years parallel three generations of Hart family experience in buying and selling fine quality antique and pre-owned furnishings, paintings and decorative arts. Today, Hart Galleries leads the Southwest in auction sales, proving not only that smaller, family-owned regional auction houses command an important place in the auction world, but also that the Southwest offers a sound and appropriate market for quality objects of art and design. Hart Galleries serves the needs of both seller and buyer through a modern and convenient, fifty-two thousand square foot, state-of-the-art auction and retail facility conveniently located just five minutes west of Houston's landmark Galleria shopping area. Hart Galleries is pleased to offer its trademark personal service to both retail and auction clients.
Hart Galleries FAQ
To request additional detail photographs or Condition Reports for this item, click Ask Seller a Question at the top-right of this page, or email us at: generalhartgalleries.com. Click View All Lots at the top to see all of our 900 other items for sale on eBay and EbayLiveAuctions this weekend If you place a bid and later receive an eBay notice that the lot has changed the odds are 99% that one (or more) of these things has occurred: We have uploaded additional images of this lot; We have provided or updated a Condition Report for the lot andor updated our Description of this item; We have manually moved this lot into a more appropriate eBay category group than EbayLiveAuctions originally automatically assigned the lot into andor we have edited the Lot Description Header to best fit within eBay's 49-character limit. Concerning eBayLiveAuction Bids: Your Absentee eBay Bids are remotely stored by eBayLiveAuctions until the exact time this Lot is opened for bidding on our Auction House Floor. Hart Galleries does not eceive and CANNOT see your auction bid from eBay until this exact time. Accordingly, problems such as normal Internet Lag or problems with either eBayLiveAuctions server or our host eBay PC, while uncommon, can prevent your bid from being received by us in a timely manner before the Lot has been hammered closed by the auctioneer, upon which all sales are considered final. Contact us NLT the Friday before auction time if you would prefer to leave an Absentee Telephone Bid instead for your desired item.
Terms
CONDITIONS OF SALE CONDITION REPORTS ARE ONLY AN OPINION OF CONDITION BY HART GALLERIES. INC. ALL SALES ARE FINAL AND ALL LOTS ARE SOLD AS IS; ABSOLUTELY NO SALES WILL BE CANCELLED DUE TO CONDITION ISSUES WHETHER OR NOT THEY ARE EXPRESSED IN A CONDITION REPORT. IF YOU HAVE ANY QUESTIONS REGARDING THIS POLICY, PLEASE CONTACT US AND WE WILI BE HAPPY TO DISCUSS ANY QUESTIONS OR CONCERNS. The following Conditions of Sale are Hart Galleries, Inc.'s (Hart's) and the Consignor(s) entire Agreement with the Purchaser relative to all property listed in this catalogue. The Conditions of Sale are subject to amendment by Hart's by the posting of notice(s), or by announcement at the time of sale. The property is offered by Hart's as agent for the Consignor, unless otherwise indicated. By participating in any catalogue sale, you agree that you are bound by these terms and conditions. 1. Consignor warrants good title to the purchaser. Hart's, as agent for the consignor, makes no independent warranty of title. Except as provided herein, all property is sold "AS IS" and Hart's makes no warranties or representations of the correctness of the catalogue or other description of the physical condition, size, quantity, rarity, importance, provenance, exhibition, literature or historical relevance of the property, and no statement anywhere, oral or written, shall be deemed such a warranty or representation. Prospective bidders should inspect the property before bidding to determine its condition, size and whether or not it has been repaired or restored. The absence of any reference to the condition of a lot does not imply that the lot is in perfect condition or completely free from wear and tear, imperfections or the effects of aging. If a prospective bidder has not examined the property to his satisfaction before the sale, or had his own agent (as distinguished from a Hart's employee) do so for him, Hart's recommends that he not bid on the property. Every lot is sold "as-is" and "where-is", and without recourse; all sales are final. Hart's exercises great care to catalogue every lot correctly and will attempt to point out any defects at the time of sale, but will not be responsible or liable for the correctness of the catalogue or other description of the lot. Paintings are ascribed to given artists only upon exercise of Hart's best judgment or that of an outside expert; no unqualified statement as to authorship is made. Hart's suggests that the prospective bidder seek the advice of his own expert before bidding on any particular lot. Hart's makes no representation or warranty as to whether the purchaser acquires any copyrights, including, but not limited to, any reproduction rights in the property. 2. Hart's attempts to catalogue and value the lots fairly and accurately. However, neither Hart's, nor its employees or agents, guarantee the genuineness, authenticity, condition or description of any catalogued lot. Prospective bidders should inspect the property before bidding to determine its condition and whether or not it has been restored, repaired or altered. 3. All bids are per lot as numbered in the catalogue and no lot shall be divided for sale, unless otherwise announced by the auctioneer at the time of sale. 4. Catalogue descriptions of each lot generally include an estimated range of prices, within which Hart's estimates the lot may sell. These estimates are made before the sale and are sometimes revised before the sale. Pre-sale estimates do not include the buyer's premium or applicable state/local taxes and other expenses. 5. Some of the lots in this sale are offered subject to a reserve. The reserve is a confidential minimum price agreed upon by the Consignor and Hart's, below which the lot will not be sold. In most cases, the reserve will be set below the estimated range, but in no case will it exceed the lower estimate listed. A representative of Hart's will execute such reserves by bidding for the Consignor. After a lot has been auctioned, but has failed to sell because it has not reached the reserve, Hart's, at its discretion, may reveal the reserve to prospective post-sale purchasers. Consignors shall not be permitted to bid on their own items. 6. Hart's reserves the right to withdraw any property before the sale with no liability whatsoever for such withdrawal. If the auctioneer decides that any opening bid is not commensurate with the article offered, he may reject same and withdraw the article from the sale, and if, having acknowledged an opening bid, he decides that any advance thereafter is insufficient, the auctioneer may, in his sole discretion, reject the advance. 7. The successful bidder is the highest bidder acknowledged by the auctioneer. In the event of any dispute between bidders, or in the event of doubt on Hart's part as to the validity of any bid, the auctioneer will have the final discretion, either to determine the successful bidder, or to re-offer and resell the article in dispute. If any dispute arises after the sale, Hart's sale record will be conclusive. Although Hart's will execute absentee or order bids, or accept telephone bids as a convenience to clients who are not present at auctions, Hart's is not responsible for any errors or omissions in connection therewith. 8. Except as noted in paragraph 8A below for any property purchased on eBay Live Auctions, a Buyer's Premium in an amount equal to 20% of the successful high bid up to and including $200,000.00, and 15% of the successful high bid above $200,000.00, will be added to the hammer price for all lots purchased at Hart's. 8A. The Buyer's Premium on property purchased on eBay Live Auctions will be in an amount equal to 20% of the final bid price up to and including $200,000, plus 15% of the final bid over $200,000. 9. On the fall of the auctioneer's hammer, title to an offered lot will pass to the highest bidder acknowledged by the auctioneer, subject to the fulfillment by such bidder of all conditions set forth herein, and such bidder thereupon (a) assumes full risk and responsibility therefore, and (b) will pay the full purchase price thereof, or such part as Hart's may require, within 24 hours after the session in which the item was purchased. An Internet bidder, who is the successful bidder of a lot will be notified by Hart's immediately after the auction session in which the lot was offered. The notification will inform such Internet purchaser the total amount due Hart's, including buyer's premium and state/local taxes, if applicable. Payment in full must be received by Hart's within seven (7) calendar days from date of auction purchase, either by personal check, cashier's check, wire transfer, or credit card. An Internet purchaser must respond within 24 hours to Hart's notification of his successful auction purchase by advising Hart's of his payment method and shipping instructions. Hart Galleries recommends and normally utilizes 3rd party shippers. Hart's will endeavor to accommodate purchaser's shipping instructions, but Hart's will not be liable for damage or loss, when packing/shipping is handled by an outside agent. At Hart's option, payment will not be deemed to have been in full until Hart's bank has collected funds represented by check, or in the case of bank or cashier's check, Hart's bank has confirmed their authenticity. In addition to other remedies available to it by law, Hart's reserves the right to impose a late charge of 1 1/2% per month of the total purchase price if payment is not made in accordance with the conditions set forth herein. All property must be removed from the premises by a local purchaser at his expense not later than 5:00 p.m. of the fifth business day following the sale and, if it is not so removed, a handling charge of $25.00 per item per day until its removal will be payable to Hart's by the local purchaser with a minimum of 5% of the purchase price for any property not so removed within ten (10) business days after the sale. Hart's shall have no liability for any damage to property left on its premises for more than ten (10) days after the date of sale. 10. A purchaser may utilize one or more of the following methods of payment: cash, traveler's checks, cashiers or certified checks; personal checks will be accepted if credit has been established. Hart's reserves the right to hold items purchased by check until the check has cleared. To insure that delivery is not delayed, new bidders should supply Hart's with bank or suitable credit references before the sale. Hart's will charge a fee of $35.00 for any dishonored check. Purchasers may also choose to pay by credit card. Hart's accepts Visa, MasterCard, Discover and American Express. 11. Unless exempted by law, any Texas resident purchaser, including those purchasing by Internet will be required to pay the combined Texas State sales tax and/or any local tax on the total purchase price. Any exempt Texas business or resident purchaser must provide a blanket exemption certificate with permit number and signature to comply with tax exempt sale requirements. The combined rate of State of Texas and local sales tax is 8.25%. Any out-of-state Internet purchaser will be exempt from sales tax. 12. In no event will the liability of Hart's to any purchaser with respect to any item exceed the purchase price actually paid by each purchaser for such item. 13. These Conditions of Sale, as well as the purchaser's and our respective rights and obligations hereunder, shall be governed by and construed and enforced in accordance with the laws of the State of Texas. By bidding at any auction, whether present in person or by agent, order, bid, Internet, or other means, the purchaser shall be deemed to have consented to the jurisdiction of the state courts of, and the federal courts sitting in, the State of Texas, County of Harris. 14. Hart's auctioneer(s) are licensed and regulated by the Department of Licensing and Regulation. Licensure with the Department does not imply approval or endorsement by the State of Texas. If you have an unresolved complaint, it should be directed to: Texas Department of Licensing and Regulation, P.O. Box 12157, Austin, Texas 78711, 512-463-2906. 15. All Winning Bidders will be automatically added the Hart Galleries Online Mailing Lists 16. Bidding on any item indicates your acceptance of these terms and all other terms announced at the time of sale, whether bidding in person, through a representative, by phone, by Internet, or other absentee bid.
Discover Items You'll Love

Bid Anywhere, Anytime. Download the LiveAuctioneers App.
Available on the App Store
Android App on Google Play