lots of lots
Welcome to the world's largest marketplace for fine art, antiques & collectibles.
3037: 1 REIMO Bausatz Krokodil, Spur 0 FineScale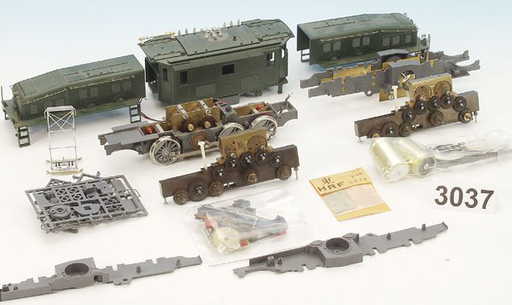 See Sold Price
Don't Miss Your Next Treasure.
Set up a search alert to hear when Auktionshaus Selzer lists new auctions.
Discover Related Items Available Now
Auction ended on May 13th, 2006 UTC
3037: 1 REIMO Bausatz Krokodil, Spur 0 FineScale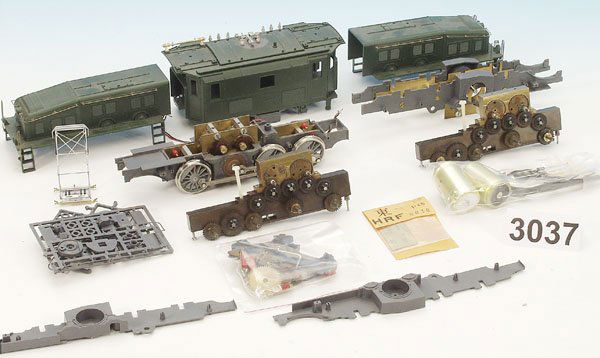 teilweise fertiggestellt mit 2 Metall-Fahrwerken, Gehäuse Kunststoff, Federpantographen.
Shipping
Buyer Pays Shipping Cost. The shipping costs will be showing in the final invoice.
Payment
Zahlung per Überweisung an Konto 455 080 002 bei Naspa Rüdesheim BLZ 510 500 15 I-Ban DE 72 510 500 150 455 080 002 Swift Code NASS DE 55 no Credit Cards no PayPal
Accepted payment methods
Taxes
German VAT of 16 % of the amount of the buyer's premium will added to the total price of all lots.
Note:
Sorry, we are very busy in the auction week and we can not answer any questions about translations, shipping costs etc.
Terms
Versteigerungs - Bedingungen Die Versteigerung erfolgt nach deutschem Recht, sie erfolgt freiwillig für Namen und Rechnung der Auftraggeber. Der Ausruf erfolgt in der Reihenfolge der Katalognummerierung. Der Versteigerer ist berechtigt, Katalogpositionen vorzuziehen, hintanzustellen, auszulassen, zusammenzufassen oder in anderer Reihenfolge zu versteigern, oder auch zurückzuziehen. Die Abgabe eines Gebotes, schriftlich oder mündlich, oder per Internet beinhaltet die Anerkennung folgender Versteigerungsbedingungen: 1.) Die Beschreibungen im Katalog erfolgen mit Sorgfalt und Umsicht. Trotzdem übernehmen der Versteigerer und sein Auftraggeber keine Haftung. Die Katalogbeschreibungen sind keine zugesicherten Eigenschaften im Sinne des §§ 459 ff BGB. Irrtümer, Druck- und sonst. Fehler bleiben vorbehalten. Die Funktion der Artikel ist grundsätzlich nicht geprüft. Die Kaufgegenstände werden verkauft wie angeboten und besichtigt. Eine Gewährleistung für Sach- und Rechtsmängel wird ausdrücklich ausgeschlossen. 2.) Gebote sind mündlich schriftlich oder über Live Auctioneers.com in Euro abzugeben. Fax-Gebote müssen bis Donnerstag, 12 Uhr eingegangen sein. Schriftliche Vorgebote werden nur bis zu dem im Saal gebotenen Betrag ausgenutzt. Gehen mehrere Vorgebote ein, so erfolgt der Ausruf im Saal auf das zweithöchste Vorgebot. Z. B. Taxierung; E 500.--, Vorbieter 1 bietet E 1.500.--, Vorbieter 2 bietet E 700.--; Ausruf erfolgt mit E 770.-- auf das zweithöchste Vorgebot.Die Taxierungen liegen in der Regel bei 70 bis 100 % des Marktwertes. Vorgebote, die mehr als 10 % unter der Taxierung liegen, werden nicht berücksichtigt. 3.) Der Zuschlag ist bindend; er verpflichtet zur sofortigen Bezahlung des Zuschlagpreises plus Aufgeld in Euro. Mit Erteilung des Zuschlages geht der Besitz und die Gefahr unmittelbar auf den Käufer über. 4.) Der Kaufpreis setzt sich zusammen aus dem Zuschlagpreis sowie einem Aufgeld von 19,8 % incl. der gesetzlichen MWST von zur Zeit 16 %; diese ist nur im Aufgeld enthalten. Für Gebote über LIVEAUCTIONEERS.com beträgt das Aufgeld 21 % plus MWST. Auf nicht bei der Auktion mitgenommene Artikel wird eine Versicherungsgebühr von 1,2 % erhoben. 5.) Bei Abnahmeverweigerung oder Zahlungsverzug haftet der Ersteher für alle daraus entstehenden Schäden. Der Versteigerer kann Erfüllung des Kaufvertrages oder Schadenersatz wegen Nichterfüllung verlangen. Der Ersteigerer verliert alle Rechte aus dem Zuschlag. Der Gegenstand wird auf Kosten des Erstehers noch einmal versteigert; er haftet für einen möglichen Verlust, auf einen Mehrpreis hat er keinen Anspruch, zu einem erneuten Gebot wird er nicht zugelassen. 6.) Der Versteigerer ist berechtigt, Kaufgelder, evtl. Rückstände oder Nebenleistungen in eigenem Namen einzuziehen oder einzuklagen. 7.) Unmittelbare Objekte des Dritten Reiches werden zur Auktion nicht angenommen. Sollten Eisenbahnen, Flugzeuge, Gebäude, Fahrzeuge usw. mit Insignien des Dritten Reiches versehen sein, so sind diese als Zeitzeugen sowie Lehr-und Anschauungsmaterial zur deutschen Geschichte zu verstehen und werden nur unter dieser Prämisse verkauft. 8.) Der Versteigerer kann die nicht versteigerten Gegenstände während oder nach der Auktion zu vorliegenden Bedingungen, freihändig verkaufen. Mit Abgabe eines mündlichen, schriftlichen oder Internetgebotes werden diese Versteigerungsbedingungen ausdrücklich und ausnahmslos anerkannt. 9.) Es wird darauf hingewiesen, daß die angebotenen Elektroartikel nicht den heutigen Sicherheitsvorschriften nach VDE entsprechen. Sie werden nur zu sammlerischen Zwecken und unter Ausschluß jeglicher Haftung angeboten und verkauft. 10.) Erfüllungsort und Gerichtsstand für beide Teile ist der Geschäftssitz des Versteigerers, 65385 Rüdesheim am Rhein. CONDITIONS OF AUCTION The auction is to be conducted according to German law voluntarily on the name and at the receipt of the seller. The calling will be successively following the catalogue numbers. The auctioneer has the right to draw forward, postpone, put together, change the order or drop catalogue positions. A written or oral bid, also via INTERNET, implies the acknowledgement of the following conditions of auction: 1. The descritons in the catalogue are made with care and precision. Despite that, the auctioneer as well as the seller cannot be held responsible. The catalogue descriptions are not guaranteed properties as defined by §§ 459 ff. BGB. Errors, misprints and other mistakes are possible. As a rule, the function of items is not checked. Items are sold as offered and viewed. A warrantee for actual or legal deficiencies is clearly excluded. 2. Bids can be made orally, in writing or via LIVEAUCTIONEERS.com in Euros. FAX bids must have been received no later than Thursday, 12:00 hrs. Written prebids will only be exploited up to the amount offered on the auction floor. In case of several prebids the call in the hall will be based on the second-highest prebid. For example: Estimate: € 500,00; prebidder 1 offers € 1.500,00; prebidder 2 offers € 700,00; the call will be € 770,00 on the second-highest bid. Estimates normally represent from 70 % to 100 % of the market value. Prebids that are less than 90 % of the estimate will not be considered. 3. The hammer is binding. It obliges the purchaser to prompt payment of the hammer price plus commission in Euros. Along with the hammer the ownership and responsibility are directly passed to the purchaser. 4. The buying price represents the hammer price plus the commission of 19.8 % (including German VAT of 16 % at the moment). For purchases via LIVE AUCTIONEERS.com the commission is 21 % plus VAT. For items that are not collected during the auction there is an insurance charge of 1.2 %. 5. In case of refusal to collect or tardy payment the purchaser is responsible for all losses arising thereof. The auctioneer has the right to demand payment or compensation for loss because of non-compliance. The purchaser will then lose all rights to the item. The item will be auctioned off again at the expense of the purchaser who will be held responsible for any possible loss. He will have no right to a rise in price and will not be allowed to bid on the item again. 6. The auctioneer has the right to require or to sue for purchase amounts, possible deficiencies or extras in his name. 7. Original objects of the Third Reich will not be accepted for auctioning. Should trains, planes, buildings, vehicles etc. be decorated with insignia of the Third Reich these are considered as witnesses of the time period for the purpose of teaching and observation. They are sold only under this condition. 8. As concerns items that have not been auctioned the auctioneer is free to sell them during or after the auction unrestrictedly under the conditions mentioned above. Making a bid, oral or in wrinting or via INTERNET automatically includes acknowledging these conditions of auction expressly and unrestrictedly. 9. The auctioneer points out that electrical items for sale may not necessarily comply with modern safety requirements issued by VDE. They are exclusively offered and sold for collecting purposes without any liability. 10. Domicile and Seat of Jurisdiction for both parties is the business address of the auctioneer, i.e. 65385 Rüdesheim / Rhein, Germany.
Discover Items You'll Love

Bid Anywhere, Anytime. Download the LiveAuctioneers App.
Available on the App Store
Android App on Google Play