3553: Armand Guillaumin Oil on Canvas French Impression
Don't Miss Your Next Treasure.
Set up a search alert to hear when Canvas Paintings items arrive.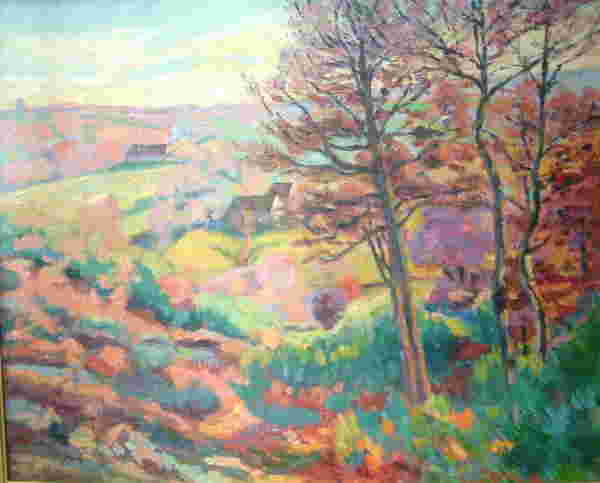 Lot 3553 Details
Description
Armand Guillaumin (1841-1927) Oil on Canvas 23.5' x 29' Framed size 31.5' x 37'. The Title of the piece is " Landscape with Trees in Autumn" circa 1905.-- Perfect Condition For more information contact the gallery Gramercy 32 Fine Arts , Ms. Brigitte Saint-Ouen Director---Armand GUILLAUMIN , Impresssionnist painter with intense colors, is famous for his landscapes of Paris, Creuse and Esterel areas. Born in Paris in a working-class family recently emigrated from Moulins in Bourbonnais, where he spent as a child his vacations, he started to work at the age of 15 in his uncle's store in 1857, while attending evening drawing lessons. In 1860 he was engaged as employee on the Paris-Orleans railway line, while he continued drawing during his free time, before attending the Academy Charles Suisse where he met Cézanne and Pissarro, with whom remained friends for life. After spending two years without working, since he could not live from his painting, he worked from 1868 on, as a night working employee in the Highways Department, in order to be able to paint during day time. At the beginning of the 1870s, he worked with Pissarro in Pontoise, a village of farmers hardly affected by industrialization where Pissarro had settled, sharing with him his love for landscapes. They visited Paul Gachet in Auvers, a doctor practising medicine in Paris in a working district, who was socialist, free-thinker, and a regular visitor of the Café Guerbois. Just as Pissarro . Cézanne settled in Pontoise in 1872 to better follow the instructions of his mentor, Pissarro, then in Auvers in 1873 where Dr. Gachet placed a housing at his disposal. Cézanne made a portrait of Guillaumin entitled "Guillaumin at the Hanged man" at that time. Throughout his work with Pissarro, Guillaumin was to develop his art of landscape painting, with perspectives opened by winding paths, while also sometimes introducing in his setting industry themes reminiscent of a certain romanticism. Guillaumin formed part of the first group exhibition of the Impressionists in 1874 and was to exhibit his works to most of the ensuing shows, as well as to the Salon des Refusés. Towards the end of the 1880s he became a friend of Van Gogh, and some of his paintings were sold by Théo Van Gogh.In the 1890s, his painting was to become more subjective, and he started using very expressive colors, soon anticipating the Fauves.In 1886 he married his cousin Marie-Joséphine Charreton, a school teacher who supported him financially. In 1891 he gained at the National Lottery, which consequently enabled him to concentrate on his painting and to move regularly between Agay, Crozant and Saint-Palais-sur-Mer, as well as travelling to Holland in 1903-04.Guillaumin whose life was long since he died in 1927 at the age of 86 was the last survivor of the Impressionists group, of whom he was one of the most faithful and fair member.ExhibitedGalerie Rapaël Gerard, 'Exposition centenaire de A. Guillaumin' 24 May - 7 June, 1941, no.43Galerie Jean de Ruaz, 'Exposition Guillaumin', May 1951.Literature about this paintingThis work will be included in Volume II of the Catalogue Raisonné currently being prepared by Dominique Fabiani and Phillipe Cazeau.This work is accompanied by a certificate of authentication by Dominique Fabiani and Philippe Cazeau dated 20th December 2001.This pastel relates to painting no.313 in the catalogue raisonné (Serret & Fabiani, 1971)Guillaumin met Camille Pissarro and Paul Cezanne at the Academie Suisse in 1861. He became one of the most committed members of the Impressionist group, and was part of the first revolutionary exhibit Salon de la Refusé of 1863 and the first Impressionist exhibit in 1874 together with Monet, Morisot, Renoir, Degas and Sisley. With Pissarro and Cezanne, he painted landscapes in plein air, and concentrated on the effects of light in nature at different times of day. It was in the country that he found the subjects for his painting and was especially fond of Yonne and the villagCreuse in the region of Crozant (near Limoges), which he discovered in 1887. He subsequently spent much of his time there befriending amongst others Van Gogh, who was painting in nearby Auvers. In 1893 he rented a house in Crozant (Creuze) and travelled in Brittany, Normandy and DauphineThis stunning pastel's subject is a rock face situated in the valley of Sedelle, in Creuse, in Crozant. Guillaumin painted this valley at several times of the year capturing it in different lights in the true tradition of the plein air research of the Impressionists.He continued to explore ways of conveying colours as unmixed and as bright as possible. The famous critic Felix Feneon referred to him at the time as a "furious colourist". The fiery colours of Le rocher de la fileuse, Creuse set him apart from the other Impressionists who utilised lighter hues.This pastel shows the sheer delight he took in expressing the beauty of the natural world accompanied by his desire to juxtapose pure and contrasting colours, such as vibrant pinks, fiery reds and blues and mauves against the greens of the landscape.
3553: Armand Guillaumin Oil on Canvas French Impression
Estimate $85,000 - $115,000
Jun 01, 2006
Shipping, Payment & Auction Policies