IRA ALLEN's Military Commission As Major General
Don't Miss Your Next Treasure.
Set up a search alert to hear when Early American History Auctions lists new auctions.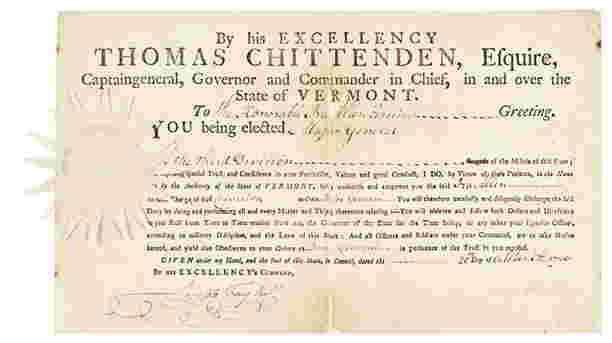 Lot 0004 Details
Description
Autographs
Ira Allen's Official State of Vermont Military Commission Appointed As "Major General" 3rd Division Vt State Militia
(IRA ALLEN) (1751-1814). One of the Founders of Vermont, and Leaders of the "Green Mountain Boys." The brother of Ethan Allen.

THOMAS CHITTENDEN (1730-1797). Founding figure of Vermont, and served as the First Governor of the State of Vermont (1790–1797).
October 25, 1790-Dated Federal Period, Partially-Printed Document Signed, "Thos. Chittenden" as Governor, State of Vermont, Official Military Commission Appointment for Ira Allen, Fine. This is an original Military Commission where Vermont Governor Thomas Chittenden appoints Ira Allen, as Major General of the Third Division of the Militia of Vermont (Green Mountain Boys). This remarkable Document measures 12.5" x 7.25", the reverse has some strips of archival fiber reinforcement repairs to the split vertical centerfold and other folds. The signature "Thos. Chittenden" is clearly readable yet somewhat light at the lower right. Boldly printed in black upon laid period paper, the engrossed manuscript portions are bold brown and easily readable. The Embossed Official Vermont State Seal remains fully intact at the left side central margin. This historic Document reads, in full:

"By his EXECELLENCY --- THOMAS CHITTENDEN, Esquire, --- Captaingeneral, Governor and Commander in Chief, in and over the State of Vermont. -- To the Honorable Ira Allen Esquire... Greeting. --- You being elected Major General -- of the Third Division of the Militia of this State; and reposing special Trust and Confidence in your Patriotism, Valour and good Conduct, I DO, by Virtue of these Presents, in the Name and by the Authority of the State of Vermont, fully authorize and empower you the said Ira Allen to take Charge of said Division as their Major General. You will therefore carefully and diligently discharge the said Duty by doing and performing all and every Matter and Thing thereunto relating: You will observe and follow such Orders and Directions as you shall from Time to Time received from me, the Governor of this State: And all Officers and Soldiers under your Command, are to take Notice hereof, and yield due Obedience to your Orders as Major General in pursuance of the Trust in you reposed. --- GIVEN under my Hand, and the Seal of this State, in Council, dated the 25th Day of October, 1790. --- By His excellency's Command, -- (Signed) Joseph Fay Secy. --- (Signed) Thos. Chittenden".

Docket notation upon the blank reverse reads: "Major Genl Allen -- 1790". The star shaped embossed paper Seal firmly affixed at left depicts the Great Seal of Vermont, which was designed by none other than Ira Allen. That Official State Seal is still used today. Upon the Seal, located beneath the name "Vermont" is the State Motto, "Freedom & Unity". A remarkable Document Signed by Two highly important, historic Founders of VERMONT.
In 1771, Ira Allen left his native Connecticut for the New Hampshire Grants as a surveyor for the Onion River Land Company, which he and his brothers had established for buying lands in the area. He soon became involved in the settler's dispute with New York over conflicting land claims, and was an early member of the Green Mountain Boys militia along with brother Ethan Allen and others. In French, "green mountain" is "vert mont" pornounced "ver mont".

He was a member of the Vermont Legislature, in 1776-1777, and was a leading figure in the declaration of the Vermont Republic in 1777. The Green Mountain Boys were organized to resist and evict those who supported New York's claims. During the American Revolution, the Green Mountain Boys militia fought against the British, capturing Fort Ticonderoga in 1775. In 1777, Ira Allen was one of the delegates to the convention held in Windsor Vermont declaring Vermont not only seperated from New York, but as an independent state.

He helped draft a Vermont Constitution, the first Constitution anywhere to outlaw Slavery and grant universal male suffrage. These laws governed Vermont until it was admitted to the Union as the 14th State on March 4, 1791, five months after that document was signed.

IRA ALLEN's Military Commission As Major General
Estimate $6,000 - $8,000
Dec 07, 2013
Shipping, Payment & Auction Policies
Ships from
Rancho Santa Fe, CA, United States