365946: Vintage Original Snow White Childs Watch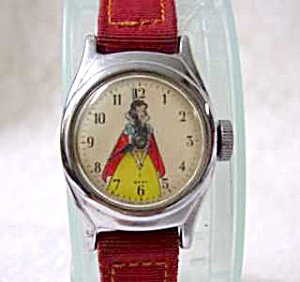 See Sold Price
Don't Miss Your Next Treasure.
Set up a search alert to hear when Wristwatches items arrive.
Auction ended on September 7th, 2006 UTC
365946: Vintage Original Snow White Childs Watch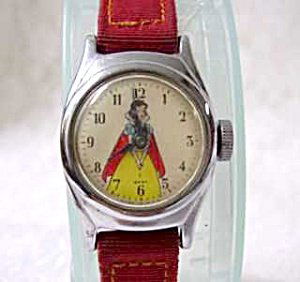 Vintage original snow white young girls wrist watch, circa 1939. Watch has Walt Disney trademark and initials W D P, nothing on the back except intials B. J. D. and below that, on the bottom, U S A. Original strap in red gross grain fabric. Watch is not running, and appears to be wound to tight. It is in what I would consider excellent condition other wise, very little soil to the strap, face is in great condition. Just a grand old piece of history. Measures nearly 7 in.'s long.
Dealer:
Glamour n Glitz Vintage Costume Jewelry and Collectibles.
Location:
Mainesburg, PAPaymentMethods:
We accept Checks and Money Orders
WarrantyWe're certain you'll be happy with your merchandise. We take extra care to fully describe our items, including any flaws. If you have
any
questions about the item(s) you are ordering, please use our question form to ask us about the item before placing your order.
If that rare occasion arises where you feel you must return an item, please contact us for return instructions within three (3) days (by phone or email) of receipt of your item(s). Upon our receipt and inspection of the returned item(s), we will issue a refund for your item(s) if returned in the same condition as it was when it was sent to you excluding any shipping/insurance costs for which you were responsible. Buyer is responsible for return shipping/insurance costs, which will not be reimbursed for any reason. Returned merchandise must be received by us within seven (7) days of the date from which you contact us regarding the return.
ProcessAt the end of the auction, you'll receive an email with a link to the form where you can enter your shipping destination, payment information and select your preferred method of shipping. Please note that TIAS represents hundreds of dealers so if you win more than one item, you may have more than one dealer to pay.NonPayingUpon receipt of notification of a successful bid a, title to the offered lot or article will pass to the highest acknowledged bidder, who thereupon (a) immediately assumes full risk and responsibility therefore, (b) upon receipt of the sale acknowledgement email, will sign a confirmation of the purchase therefore, setting forth his name and address, and (c) will immediately pay the full purchase price therefore. Failure to do so within 3 days may result in termination of your bidding privileges at TIAS.com Inc. Live Auctions, a negative posting to your eBay account and further legal action.ShippingPolicyMost items will be shipped by USPS-ParcelPostIns. We may elect to ship by some other carrier and will notify you if that is the case. International orders are welcome and must be paid through PayPal international or international money orders. Countries that do not accept U.S.P.S. insurance on international orders will be the responsibility of the customer if orders are lost for some reason beyond our control. We will always show proof of shipping in this matter.
TaxesApplicable taxes shall include sales, use, excise, and other taxes or levies as subject to payment in . Only valid resale certificates are accepted as proof of exemption from certain taxes for U.S. dealers.Conditions
The property described in this catalogue, as amended by any posted notices or oral announcements during the sale, will be sold by TIAS.com, Inc. (TIAS) as agent for various owners (the Dealers). These CONDITIONS OF SALE, and the LIMITED WARRANTY and ADVICE TO PROSPECTIVE BIDDERS set forth elsewhere in the catalogue are the complete and only terms and conditions on which all property is offered for sale. By bidding at auction (whether present in person or by agent, by written or telephone bid, or by any other means) the buyer agrees to be bound by these Conditions of Sale.
1. THE AUTHENTICITY OF PROPERTY LISTED IN THIS CATALOGUE IS WARRANTED TO THE EXTENT STATED IN THE "LIMITED WARRANTY" EXCEPT AS PROVIDED THEREIN. ALL PROPERTY IS SOLD "AS IS" AND NEITHER TIAS NOR THE DEALER MAKES ANY WARRANTIES OR REPRESENTATIONS OF ANY KIND OR NATURE WITH RESPECT TO THE PROPERTY OR ITS VALUE, AND IN NO EVENT SHALL THEY BE RESPONSIBLE FOR CORRECTNESS OF DESCRIPTION, GENUINENESS, ATTRIBUTION, PROVENANCE, AUTHENTICITY, AUTHORSHIP, COMPLETENESS, CONDITION OF THE PROPERTY OR ESTIMATE OF VALUE. NO STATEMENT (ORAL OR WRITTEN) IN THE CATALOGUE, AT THE SALE, OR ELSEWHERE SHALL BE DEEMED SUCH A WARRANTY OR REPRESENTATION, OR ANY ASSUMPTION OF RESPONSIBILITY.
2. All bids are to be per lot as numbered in the catalogue.
3. NEITHER TIAS NOR THE DEALER MAKES ANY REPRESENTATION THAT THE PURCHASER OF MANUSCRIPT MATERIAL, PHOTOGRAPHS, PRINTS, OR WORKS OF ART WILL ACQUIRE ANY COPYRIGHT OR REPRODUCTION RIGHTS THERETO.
4. TIAS reserves the absolute right (a) to withdraw any property at any time before its actual final sale, including during the bidding, and (b) to refuse any bid from any bidder. The auctioneer is the sole judge as to the amount to be advanced by each succeeding bid.
5. Any right of the purchaser under this agreement or under the law shall not be assignable and shall be enforceable only by the original purchaser and not by any subsequent owner or any person who shall subsequently acquire any interest. No purchaser shall be entitled to any remedy, relief or damages beyond return of the property, rescission of the sale and refund of the purchase price; and without limitation, no purchaser shall be entitled to damages of any kind.
6. The highest bidder acknowledged by the auctioneer shall be the purchaser. In the event of any dispute between bidders, the auctioneer shall have the absolute discretion either to determine the successful bidder or to re-offer and resell the lot in dispute. If any dispute arises after the sale, TIAS' sales records shall be conclusive as to the purchaser, amount of highest bid, and in all other respects.
7. The purchase price paid by a purchaser shall be the sum of the final bid and a buyer's premium of 17.5% of the final bid on each lot ("the Buyer's Premium"), plus all applicable sales tax.
8. Except as noted in this paragraph, all lots in this sale are offered for the account of a third party, without any interest (direct or indirect) of the auctioneer or TIAS. Under no circumstances will the Dealer receive any rebate commission. Under no circumstances may the Dealer bid upon or buy back his property.
9. Except as may be otherwise expressly provided herein, any and all claims of a purchaser shall be deemed to be waived and without validity unless delivered in writing by registered mail return receipt requested to TIAS within thirty (30) days of the date of sale.
10. The rights and obligations of the parties shall be governed by the laws of the State of Texas. All bidders and the purchaser submit to the personal jurisdiction of the Texas State courts and their rules and procedures in the event of any dispute.
11. No waiver or alteration of any of these Conditions of Sale, the Advice to Prospective Bidders, the Limited Warranty, the estimates, or any other matter in this catalogue or any other matter whatever (whether made by the auctioneer, or Dealer, or any representative of TIAS) shall be effective unless it is in writing and signed by a representative of TIAS.
Buyer's Premium
17% up to

$500.00

17% above

$500.00
Discover Items You'll Love