lots of lots
Welcome to the world's largest marketplace for fine art, antiques & collectibles.
Entertainer Ottoman- Innovative Seating Solutions
See Sold Price
Don't Miss Your Next Treasure.
Set up a search alert to hear when Ottomans & Poufs items arrive.
Auction ended on February 15th, 2014 UTC
Entertainer Ottoman- Innovative Seating Solutions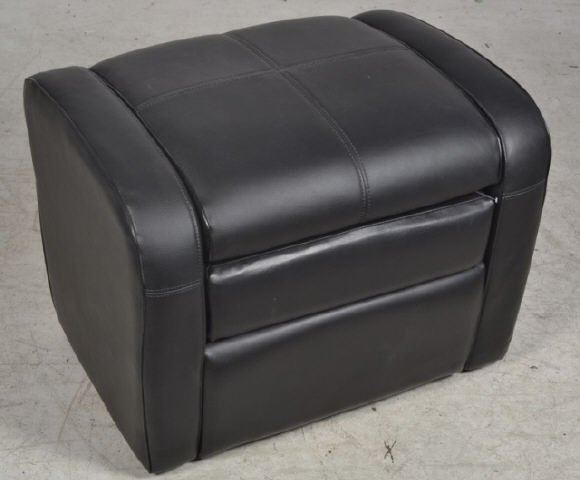 Entertainmer Ottoman- Innovative Seating Solutions, measuring approx. 27.5" x 22" x 21". Ottoman features fold-up seat and storage.
Shipping
Buyer Pays Shipping Cost
Payment
Contact For Payment Details
Accepted payment methods
Terms
Placing a bid at auction constitutes buyer's acceptance of and agreement to these Conditions of Sale. 1. WAIVER OF WARRANTY: All lots are sold "AS IS". No statement regarding condition, kind, value, or quality of a lot, whether made orally at the auction or at any other time, or in writing in this catalogue or elsewhere, shall be construed to be an express or implied warranty, representation, or assumption of liability. Any such warranty is WAIVED. ALL SALES ARE FINAL AND NO SALE RESCISSONS WILL BE MADE ON THE BASIS OF CONDITION, NO EXCEPTIONS. Regarding works of art, Neal Auction Company does not make any express or implied warranty as to authorship. No statement in the catalogue or elsewhere, orally or in writing, shall be construed as an express or implied warranty, representation or limitation of liability as to authorship. Any such warranty is WAIVED. Buyer agrees and acknowledges that: (a) buyer is not relying on Neal Auction Company's skill or judgment in selecting to purchase any lot; (b) no oral or written statements in the catalogue of Neal Auction Company or elsewhere regarding condition, attribution, kind, quality, value or authorship are the cause of or reason behind buyer's purchase of any lot; (c) buyer would have incurred the purchase of any lot regardless of any oral or written statements about condition, attribution, kind, quality, value, or authorship made in the catalogue or elsewhere; (d) Neal Auction Company did not know and could not have known that condition, attribution, kind, quality, expressed value, or authorship is the cause or reason why buyer decides to purchase any lot; (e) buyer's purchase of any lot is not intended to gratify a nonpecuniary interest; and (f) Neal Auction Company did not know, nor should it have known, that any oral or written statement about a lot in the catalogue or elsewhere would cause a nonpecuniary loss to buyer. Notwithstanding the foregoing WAIVER OF WARRANTY, agreements and acknowledgments, Neal Auction Company may in its sole discretion, but shall not be obligated to, consider any reasonable request for rescission of a sale on the basis of authenticity of authorship of a work of art under the following terms and conditions only, all of which must be met: A. EJ'S Auction & Consignment shall not grant rescission regarding lots identified by Neal Auction Company by the terms "attributed to," "school of," "manner of," "after," or "signature of." B. Neal Auction Company shall not grant rescission regarding any lot unless the buyer notifies Neal Auction Company in writing within a reasonable time from the date of the auction, and returns the lot to Neal Auction Company in the same condition that the lot was in at the time of sale. C. Neal Auction Company shall not grant rescission regarding any lot unless the buyer presents to Neal Auction Company a written document signed by a recognized art expert acceptable to Neal Auction Company that the lot question is a forgery. D. EJ'S Auction & Consignment shall not grant rescission to any person (including but not limited to the original buyer's heirs, legatees, assigns, transferee's, or subsequent purchasers) other than the original buyer, and any rights of the original buyer are not transferable or assignable. E. EJ'S Auction & consignment shall not grant rescission when: (i) there is a conflict of expert opinion as to the authorship; (ii) expert opinion supported authorship at the time of sale, although expert opinion may have changed after the date of sale; and (iii) scientific processes that were unavailable, expensive or impractical at the time of sale have revealed since the time of sale that the author or period Neal Auction Company believed to be accurate at the time of sale was inaccurate. F. In any dispute between EJ'S Auction & consignment and buyer regarding authorship of a work of art, it is stipulated that rescission of the sale and refund of the price paid shall be the buyer's sole recourse or remedy, if any is available, and EJ'S Auction & consignment shall not be responsible or obligated for any damages (including compensatory, general, incidental, exemplary or special damages), non-pecuniary losses, costs, expenses, injury, mental anguish, lost profits, attorney's fees, or any other monetary or injunctive relief. 2. The auctioneer shall have absolute discretion in determining the successful bidder. At the fall of the auctioneer's hammer, title to the offered lot will pass to the bidder acknowledged by the auctioneer. The bidder thereupon assumes full risk and responsibility and will pay full purchase price for the said lot. 3. The auctioneer may decide that any original bid is not commensurate with the value of the article offered, or that any advance thereafter is not of sufficient amount, he may reject the same. 4. The auctioneer reserves the right to withdraw any item at any time before the sale of the item. 5. No merchandise will be released before the end of the auction. 6. If the buyer fails to comply with any of the conditions of sale, EJ'S Auction & consignment reserves the right to hold such defaulting buyer liable for the purchase price; to cancel the sale, retaining as liquidated damages any payment made by the buyer; resell the property without reserve at public auction or privately on seven days' notice to the buyer or, take such other actions available by law as deemed necessary or appropriate. If EJ'S Auction & consignment resells the property, the original defaulting buyer shall be liable for the payment of any deficiency in the purchase price and all costs and expenses, including warehousing, the expenses of both sales, reasonable attorneys' fees, commissions, incidental damages and all other charges due hereunder. PAYMENT 1 The successful bidder agrees to pay a buyer's premium in the amount of 18% of the hammer price on each lot. No cash discount. WE DO NOT ACCEPT PAYPAL. 2. Unless buyer is out of state, the purchaser will be required to pay Arizona and local taxes, and, if applicable, any federal luxury or other tax, on the total purchase price. 3. Documentation of tax exemption must be provided upon registration. Taxes will not be removed without proper documentation. 4. Payment in full must be made by the successful bidder within 24 hours of the auction date. Winning bids will be automatically charged to the credit card on file used to register in the auction. Interest charges will apply to invoices not paid after this period expires. We reserve the right to require payment in full of the sales price at the moment of the successful bid. 5. VISA, MasterCard and Discover are accepted for invoices up to $25,000 per customer. If a buyers credit card is declined when charged a $25.00 dollar fee will be added to the total price of invoice and will be due immediately. If payment is not made within 48 hours of declined credit card charge bidder will be marked as non paying, reported to Live Auctioneers and banned from any future bidding at any and all EJ'S Auction & Consignment facilities and or affiliates. TERMS Any customer not accredited by EJ'S Auction & Consignment. must present a letter of reference from their bank or other suitable source acceptable to EJ'S Auction & Consignment. EJ'S Auction & Consignment. requests that the merchandise be held on premises until the check clears or money can be wired into EJ'S Auction & Consignment account. SHIPPING We will assist buyers in making shipping arrangements by furnishing information on packers and shippers. Handling of purchased lots by us is at the risk of the purchaser. Final shipping arrangements and agreements are strictly between the buyer and the shipper. EJ'S Auction & Consignment DOES NOT SHIP ANY ITEMS SOLD AT AUCTION. NO EXCEPTIONS. EJ'S Auction & Consignment DOES NOT PACK ITEMS PURCHASED AT AUCTION.THIRD PARTY SHIPPING ONLY AT THE EXPENSE OF BUYER. STORAGE We will be glad to store certain items purchased at auction until transportation is arranged. Unless other arrangements are made and confirmed in writing, all items must be removed within five days of the auction. On the first business day following that time period, merchandise remaining in the facility will be charged at $10.00 per day storage fee per item. The buyer will be responsible for handling and storage costs. Handling costs will be a minimum of $25.00. Items not removed from facility within 14 calendar days will become property of EJ'S Auction & Consignment and sold in next available auction. These proceeds will be credited to EJ'S Auction & Consignment. Condition Reports It is the responsibility of the prospective buyer to inquire as to the condition of a specific lot PRIOR to bidding. All completed condition reports are posted with the lots as an additional image; CONDITION WILL NOT BE INCLUDED IN THE DESCRIPTION OF THE LOT. If there is not a condition report posted as an additional image please email requests to jimmy@ejsauction.com, emails must include all contact information. Requests are answered in the order they are received. Condition reports WILL NOT be given over the phone under any circumstances. Requests placed on auction day will not be answered and we reserve the right to close the Condition Report desk at ANY time. DO NOT BID IF YOU HAVE NOT RECEIVED A CONDITION REPORT. All potential buyers should be sure they have read and agree to the Conditions of Sale. The deadline for new Condition Report requests is Friday by 12:00pm, following that time requests may not be able to be completed in time for the auction. NO RETURNS ARE ACCEPTED ON THE BASIS OF CONDITION. IF YOU ARE INTERESTED IN OBTAINING A SHIPPING QUOTE FOR A PIECE OF ARTWORK PLEASE NOTE THAT ALL DIMENSIONS LISTED IN OUR ART DESCRIPTIONS ARE OF THE ART ONLY AND DO NOT INCLUDE THE FRAME. WE ARE HAPPY TO PROVIDE DIMENSIONS WITH THE FRAME UPON REQUEST. Registration All contact information is required for consideration of bidding approval; Name, Address Telephone number, email address and credit card information. Bidders who supply this information will be reviewed for approval. Bidders with open disputes or a dispute history will not be approved for online bidding. Clerical / Internet Errors EJ'S Auction & Consignment undertakes the execution of online bidding as a convenience for clients and is not responsible for any inadvertent failure to execute bids, or for any error in the execution of bids. IN THE EVENT OF A TIE BID, THE LIVE AUCTION FLOOR ALWAYS TAKES PRECEDENCE OF INTERNET, TELEPHONE AND ABSENTEE BIDS. Regardless of the circumstances, if you click BID and subsequently BUY an item, you have purchased it. We will not cancel the sale of an item due to an accidental click. The online auction CANNOT duplicate exactly the live auction on the gallery floor, increments may vary. We are not responsible for a loss of internet connection and technical complications beyond our control.
Discover Items You'll Love

Bid Anywhere, Anytime. Download the LiveAuctioneers App.
Available on the App Store
Android App on Google Play