Milo Manara - Gulliveriana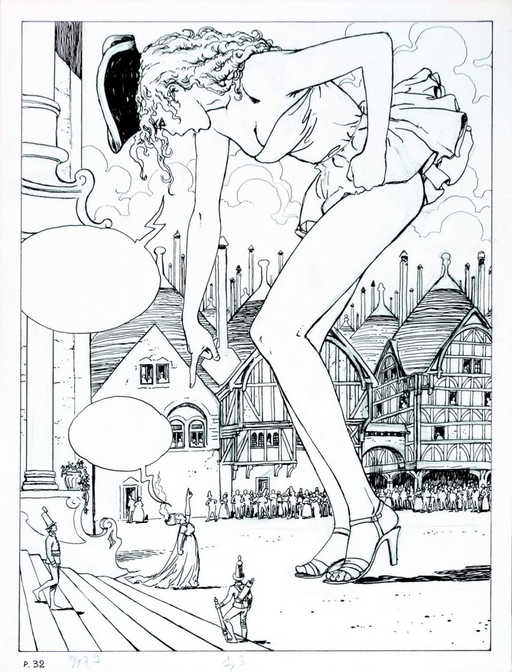 See Sold Price
Don't Miss Your Next Treasure.
Set up a search alert to hear when Little Nemo Auction House lists new auctions.
Auction ended on June 6th, 2014 UTC
Milo Manara - Gulliveriana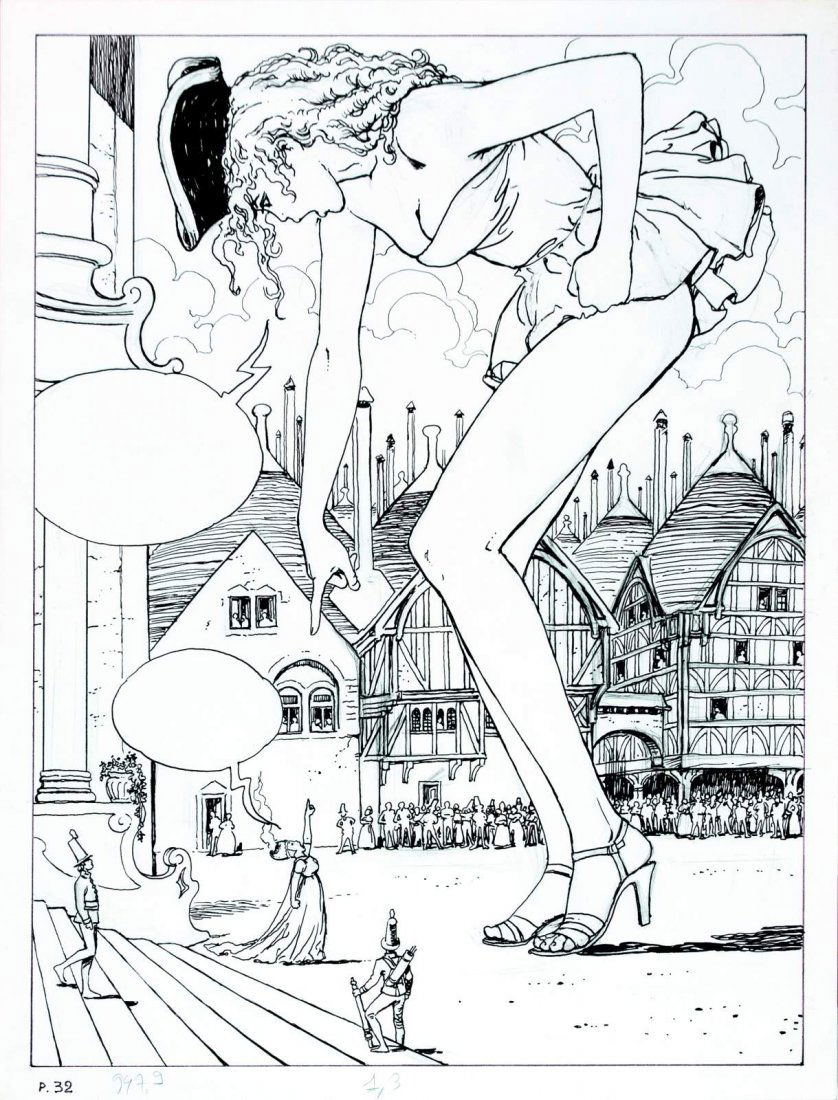 ENG
Milo Manara - Gulliveriana
32nd art for Gulliveriana, 1995 story for the magazine "Gulliver", since then republished in many French editions. Pencil and ink on drawing cardboard. Cm 36x48. Excellent conditions.

FR
32ème planche originale pour Gulliveriana, l'histoire réalisée en 1995 pour le magazine "Gulliver" et republiée dans plusieurs éditions (parmi lesquelles celle de Les Humanoïdes Associées, 1996). Crayon et encre de Chine sur carton. Excellent état, encadrée.

IT
Milo Manara - Gulliveriana
Trentaduesima tavola originale per Gulliveriana, storia realizzata nel 1995 per la rivista "Gulliver" e quindi ripubblicata in varie edizioni (anche in Francia per i tipi de Les Humanoïdes Associés, nel 1996). Matita e china su cartoncino da disegno cm 36x48. Eccellente stato, in cornice.
Manara debutta alla fine degli anni '60 su "Genius". Negli anni '70, insieme a Silverio Pisu, Manara dà vita a Lo Scimmiotto ed Alessio, il borghese rivoluzionario, che segnano il suo debutto nel fumetto d'autore. Nel 1978 crea HP e Giuseppe Bergman, dove HP è un chiaro riferimento al suo maestro e mentore Hugo Pratt, trasformato in uno dei protagonisti del racconto. Alla fine degli anni '70 realizza Tutto ricominciò con un'estate indiana, su testi di Hugo Pratt. Su sceneggiatura di Castelli, Manara realizza, per la collana "Un uomo, un'avventura", L'uomo delle nevi. Subito dopo crea Miele, forse il suo personaggio femminile più famoso, protagonista dei volumi Il profumo dell'invisibile e di sei storie brevi intitolate Candid Camera. Nel 1987 inizia la collaborazione con Federico Fellini. Il grande maestro riminese, al quale Manara aveva dedicato la storia breve Senza Titolo, lo aveva molto influenzato, soprattutto con 8 1/2. In seguito al loro incontro, Fellini gli chiede di illustrare una sceneggiatura che pubblica sul "Corriere della Sera". Da qui Manara, con il consenso del regista, trasforma il testo di Fellini in uno straordinario fumetto: Viaggio a Tulum, pubblicato su "Corto Maltese". Il rapporto tra i due si consolida: Fellini rimette mano a uno dei suoi progetti più personali e insieme danno vita a Il viaggio di G. Mastorna detto Fernet, pubblicato da Il grifo. Manara realizza inoltre i manifesti dei film di Fellini Intervista e La voce della luna. È dei primi anni '90 la seconda collaborazione con Pratt: El Gaucho. Negli stessi anni Manara realizza le versioni a fumetti di tre classici della letteratura: Gulliveriana (pochi anni dopo I viaggi di Bianca di Crepax), Kamasutra e L'asino d'oro. Il decennio si chiude con il ritorno di Giuseppe Bergman: A riveder le stelle – Le avventure metropolitane di Giuseppe Bergman, una riflessione sull'arte all'inizio del nuovo millennio, attraverso il ricordo di tre grandi amici scomparsi (Andrea Pazienza, Federico Fellini e Hugo Pratt). Manara collabora quindi con DC Comics e Marvel; dall'inizio degli anni Duemila, Manara lavora al progetto Il pittore e la modella, un viaggio nella storia dell'arte pittorica a partire dal rapporto pittore-modella. Su testi di Alejandro Jodorowsky disegna poi il fumetto I Borgia. Lavora attualmente alla vita di Caravaggio.
Discover Items You'll Love