lots of lots
Welcome to the world's largest marketplace for fine art, antiques & collectibles.
751: The Village People Indian Outfit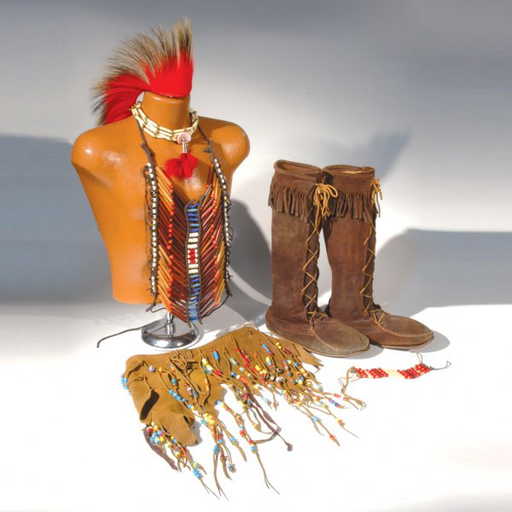 See Sold Price
Don't Miss Your Next Treasure.
Set up a search alert to hear when Necklaces & Pendants items arrive.
Auction ended on December 6th, 2006 UTC
751: The Village People Indian Outfit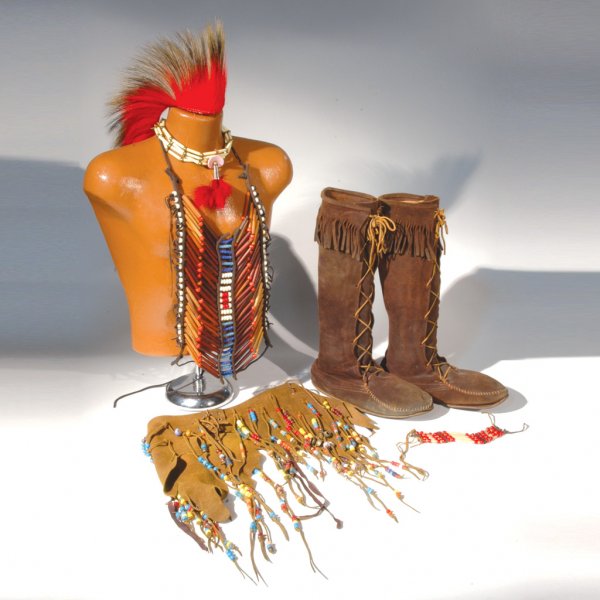 This stage outfit was worn by one of the ensemble of characters who comprised the disco supergroup The Village People. The Indian outfit includes:
Custom-made brown suede loincloth with suede fringe interspersed with extensive red, blue, white, orange, and brown beads and small brass-like bells.
Beaded breast-plate with brown suede ties
High, custom-made brown-suede boots in a moccasin style with fringe, and rubber soles
Bracelet with red, ivory-like and brass-like beads and brown suede ties
Choker necklace with beads and brown suede ties, and a pink shell center medallion that holds a red feather
Red and brown horse-hair like headdress
Terms
This catalogue, as amended by any posted notices during the sale, together with the purchaser's registration statement, is Guernsey's and the Consigner's entire agreement with the purchaser relative to the property listed herein. The following conditions of sale are the only terms and conditions by which all properties are offered for sale. The property will be offered by us as the agent for the Consigner unless the catalogue indicates otherwise. By bidding at auction, whether present in person or by agent, by written bid, telephone, internet or by other means, the buyer agrees to be bound by these Conditions of Sale. 1. All properties are sold as is, and neither we nor the Consigner make any warranties or representations with respect to any lot sold including but not limited to the correctness of the catalogue or other description of the origin, physical condition, size, quality, rarity, attribution, authorship, importance, medium, provenance, exhibitions, literature or historical relevance of the property, and no statement anywhere, whether oral or written, shall be deemed such a warranty or representation. All sizes listed are approximate and listed in inches, unless otherwise specified. Prospective bidders should inspect the property before bidding to determine its condition, size, and whether or not it has been repaired or restored. WE AND THE CONSIGNOR DISCLAIM ANY AND ALL WARRANTIES, EXPRESSED OR IMPLIED, INCLUDING BUT NOT LIMITED TO THE IMPLIED WARRANTY OF MERCHANTABILITY OR FITNESS FOR ANY PARTICULAR PURPOSE. NO WARRANTIES ARE MADE THAT ANY OF THE MERCHANDISE COMPLIES WITH ANY APPLICABLE GOVERNMENTAL RULES, REGULATIONS OR ORDINANCES OF ANY KIND OR NATURE WHATSOEVER. Neither Guernsey's as agent nor the Consigner is responsible for any faults or defects in any lot or the correctness of any statement as to the authorship of any origin, authorship, date, age, attribution, genuineness, provenance or condition of any lot. 2. A buyer's premium of 20% on any amount bid will be added to the purchase of all lots in the sale. This premium is payable by the purchaser as part of the total purchase price. Guernsey's also receives a commission directly from the Consigner. 3. We reserve the right to withdraw any property before the sale. 4. Unless otherwise announced by the auctioneer, all bids are per lot as numbered in the catalogue. 5. All bids placed, and all payments made must be in U.S. dollars drawn on a U.S. Bank. 6. Payments are due promptly at the conclusion of the auction, and in the case of absentee bidders, within 10 days of receipt of invoice. 7. We reserve the right to reject any bid. The highest bidder, acknowledged by the auctioneer, will be the purchaser. In the event of a dispute between bidders, or in the event of doubt on our part as to the validity of any bid, the auctioneer will have the final discretion whether to determine the successful bidder or to reoffer and resell the article in dispute. If any dispute arises after the sale, our sale records are conclusive. Although in our discretion, we will execute other order bids or accept telephone bids as a convenience to clients who are not present at auctions, we are not responsible for any errors or omissions in connection therewith. 8. If the auctioneer decides that any opening bid is below the value of the article offered, he or she may reject the same and withdraw the article from sale, and if having acknowledged on opening bid, he or she decides that any advance thereafter is insufficient, he or she may reject the advance. 9. On the fall of the auctioneer's hammer, title to the offered lot will pass to the highest bidder acknowledged by the auctioneer, subject to fulfillment by such bidder, of all the conditions set forth herein, and such bidder thereupon a) assumes full risk and responsibility thereof, but not limited to, insurance, fire, theft, removal and storage or damage from any and all causes, and b) will pay the full purchase price thereof or such part as we may require. In addition to other remedies available to us by law, we reserve the right to impose a late charge of 1 1/2% per month of the total purchase price if payment is not made in accordance with the conditions set forth herein. REGARDING ANY PURCHASER WHO IS REPRESENTED BY A BIDDER: BIDDERS ARE PERSONALLY AND INDIVIDUALLY RESPONSIBLE FOR ANY OBLIGATIONS OF THE PURCHASER SET FORTH IN THE TERMS AND CONDITIONS OF SALE. If any applicable conditions herein are not complied with by the purchaser, in addition to other remedies available to us and the Consigner by law, including, without limitation, the right to hold the purchaser liable for the total purchase price, we at our option may either, a) cancel the sale, retaining as liquidated damages all payments made by the purchaser, or b) resell the property at public auction without reserve, and the purchaser will be liable for any deficiency costs including handling charges, the expenses of both sales, our commissions on both sales at our regular rates, reasonable attorney's fees, incidental damages, and all other charges due hereunder. In the event that such a buyer pays a portion of the purchase price for any or all lots purchased, Guernsey's shall apply the payment received to such lot or lots that Guernsey's, in its sole discretion deems appropriate. In the case of default, purchaser shall be liable for legal fees and expenses. In addition, a defaulting purchaser will be deemed to have granted us a security interest in, and we may retain as collateral security for such purchaser's obligations to us, any property in our possession owned by such purchaser. We shall have the rights afforded a secured party under the New York Uniform Commercial Code with respect to such property and we may apply against such obligations all monies held or received by us for the account of, due from us to, such purchaser. At our option, payment will not be deemed to have been made in full until we have collected funds represented by checks, or, in the case of bank or cashier's checks, we have confirmed their authenticity. Upon collection of funds, purchaser shall receive a bill of sale for the concerned items of merchandise. 10. Unless exempted by law, the purchaser will be required to pay New York state and local sales tax or any applicable compensating use tax of another state on the total purchase price. Deliveries outside the state may be subject to the compensating use tax of another state. Where duty or collection is imposed on Guernsey's by law, it will require payment of these taxes. 11. These Terms and Conditions of Sale as well as the purchaser's and our respective rights and obligations thereunder shall be governed by and construed and enforced in accordance with the laws of the State of New York. By bidding at an auction, whether present in person or by agent, order bid, telephone or by other means, the purchaser shall be deemed to have consented to the exclusive jurisdiction of the State of New York, with exclusive venue in the County of New York. 12. We are not responsible for the act or omissions of carriers or packers of purchased lots, whether or not recommended by us. Packing and handling of purchased lots by us is at the entire risk of the purchaser. In no event will our liability to a purchaser exceed the purchase price actually paid. 13. Estimates do not represent any opinion or guarantee of actual value or ultimate sale price. Actual prices realized for items can fall below or above this range. They should not be relied upon as a prediction or guarantee of the actual selling price. They are prepared well in advance of the sale and are subject to revision. 14. Should any disputes arise pertaining to purchases at this auction or any other matters relating to the auction, such disputes shall be brought in the courts of the State of New York. Venue shall be within the County of New York. 15. Any claim regarding a purchase must be made by the successful bidder to Guernsey's, in writing, certified mail, return receipt requested, within 90 days of the final day of the live auction. Thereafter, all claims shall be time-barred. 16. The copyrights in and to the items depicted in this catalogue, and the rights of publicity to the names, images and likenesses of persons or items depicted in this catalogue, are exclusively owned by the Consignor of the property or third parties. A BUYER OF AN ITEM OFFERED FOR SALE DOES NOT ACQUIRE ANY COPYRIGHT, COMMERCIAL RIGHT, OR SIMILAR RIGHT WHATSOEVER TO THE ITEMS OR THE IMAGES OR LIKENESSES CONTAINED THEREIN AND THE BUYER MAY NOT REPRODUCE ANY ITEM PURCHASED WITHOUT THE EXPRESS WRITTEN PERMISSION OF THE COPYRIGHT HOLDER. No copies or photographs, catalogue descriptions or other written material in this catalogue may be reproduced in any manner without the express written permission of the copyright holder. REMOVAL of PURCHASES All items must be removed from Jazz at Lincoln Center and the Time Warner Center immediately following the auction. Inasmuch as Guernsey's does not permanently occupy the auction site it is essential that all items be either 1) paid for immediately after the conclusion of the auction (items can be paid for and removed at any time during the event) and immediately removed, or 2) paid for immediately, making arrangements for the removal of the items by the shipper on the premises or your designated shipper and alerting Guernsey's of your intent. To facilitate removal and/or shipping, a moving and storage company will be on site should you wish to avail yourself of their services. Guernsey's takes no part in any transactions between you and this firm; their presence at the auction is merely a convenience for interested buyers. In some cases, there may be savings of sales tax by the use of a recognized, licensed transport company. Should you wish to learn more about your shipping options, please contact Guernsey's prior to the auction. As an accommodation to successful bidders, wherever possible smaller items that are not picked up at the conclusion of the auction and which do not require special handling or packing will be removed from the auction site and transferred to Guernsey's warehouse, from where they can be packed and shipped at the buyer's expense. In such cases a small handling charge will apply: 1% of the total purchase up to $20,000; 1/2% of a total purchase of $20,000 to $100,000; 1/4% of a total purchase exceeding $100,000. The minimum handling fee will be $30. Additionally, buyers will be responsible for the cost of shipping and any professional packing that may be necessary. Certain items are beyond Guernsey's capability to remove and pack for shipping. Large, fragile, or very heavy items will require professional handling and specialized packing, as will large framed items. Such items will be released to a shipper for removal and handling. Buyers will be free to work with that shipper regarding delivery, but in any case will be responsible for packing and handling fees associated with their removal from the auction site. If you are a successful absentee, phone or internet bidder, your purchases will be removed, depending on physical size and nature (see above 2 paragraphs regarding shipping arrangements and handling fee) either by Guernsey's or the moving and storage company on site at the auction, unless you have made other arrangements with Guernsey's at least three days prior to the sale. They will be held until you have made payment to Guernsey's, at which time Guernsey's will ship them at your expense or (if applicable) we will provide a release to the shipper. You may use this firm to transport your purchases to you or use another shipper of your choosing (in which case handling charges may apply). Please feel free to call Guernsey's in advance should you have any questions regarding your shipping options.
Discover Items You'll Love

Bid Anywhere, Anytime. Download the LiveAuctioneers App.
Available on the App Store
Android App on Google Play