lots of lots
Welcome to the world's largest marketplace for fine art, antiques & collectibles.
Dali, Salvador One Second Before Awakening Signed Litho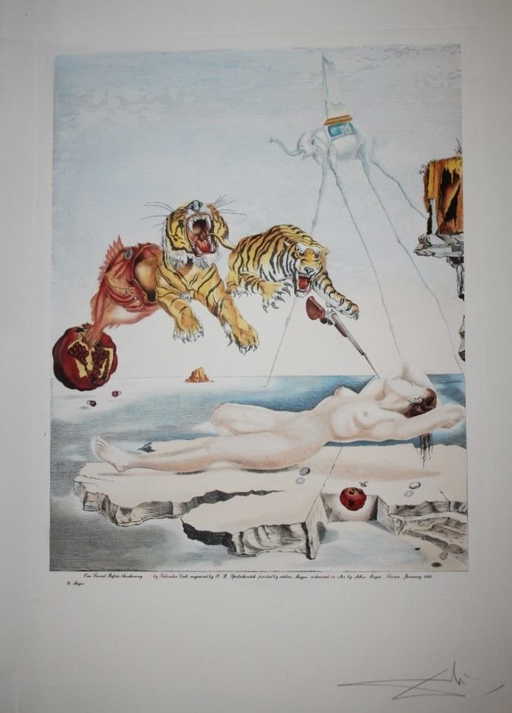 See Sold Price
Don't Miss Your Next Treasure.
Set up a search alert to hear when Prints & Multiples items arrive.
Auction ended on July 26th, 2014 UTC
Dali, Salvador One Second Before Awakening Signed Litho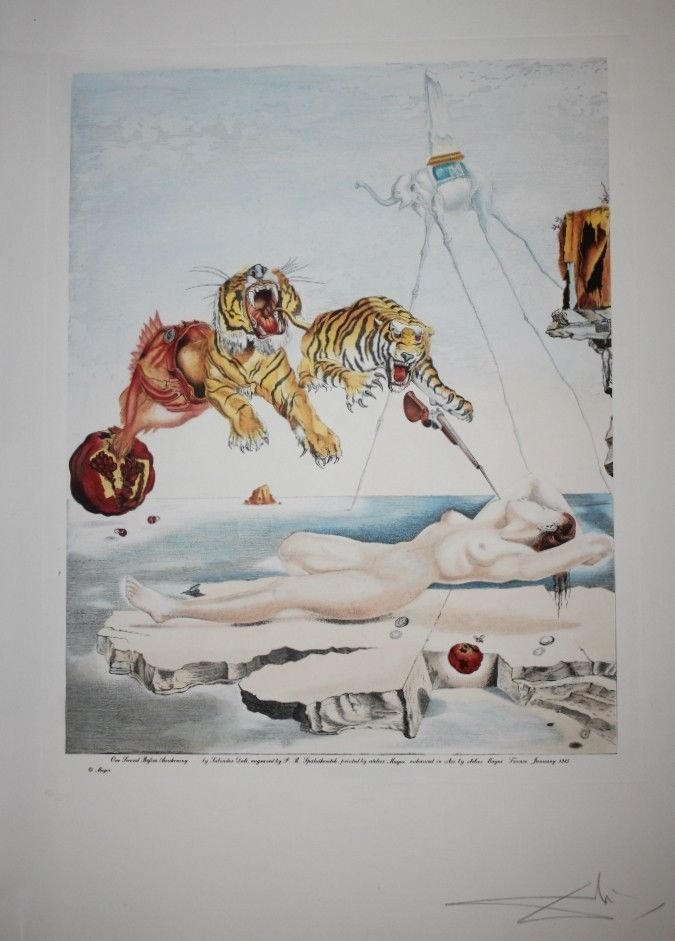 Titled: "One Second Before Awakening" Also Known as: "Dream Caused By the Flight of a Bee Around A Pomegranate one second before Awakening"After Salvador DaliAmazing Work of ArtRemarkably Beautiful Hand Colored LithographBeautiful Color Lithograph of original painting on Arches paperby Modern Master Salvador DaliSimilar LIVE AUCTIONEERS artwork Sold for $850 from a recent auction held on Sept 03, 2011 By Don Presley Auctions2202 South Main stSanta Ana, CA 92707Estimate: $800-$1,000Measures approximately 22x30inches overall.ConditionGood Condition Subtle Creases At top of paper. This will not be noticed when you frame and mat the artwork.Image is Excellent.Pencil Signed & 95/275. Since we do not have a Certificate of Authenticity. We do not guarantee authenticity because we are not art experts. This work is offered as in the manner of or after the artist. This is an as-is auction. This Lithograph is more than 32 years old is in excellent condition.As with any Art Purchase no matter where you buy or who you buy from, we suggest you do all of your due diligence and homework read as much as you can about Salvador Dali. But in the end we are not offering this Lithograph for artistic value or investment value we are strictly offering it for decorative value. Please send any questions you have I will try to answer them as completely and accurately as possible given the limited information that I actually have about Salvador Dali
Shipping
Buyer Pays Shipping Cost
Payment
Contact For Payment Details
Accepted payment methods
Terms
Terms & Conditions: HAMPTONS ART AUCTIONS AND APPRAISALS LLC TERMS AND CONDITIONS: By bidding at our auction, whether in person, by phone, absentee bid, or via the internet thru LiveAuctioneers. You agree to be bound by the following terms and conditions without recourse. As used in the following terms and conditions, "HAA," "We," and "Us" refers to "HAMPTONS ART AUCTION" 1. Winning Bidders who cannot pick up item's in person much arrange shipping. We are able to assist with shipping by dropping items off to our preferred vendor list of shipping stores. We can provide a list of local shipping and packaging companies available to you for shipping quotations. 2. All sales are subject to a New York state sales tax of 8.125% unless the purchaser provides the auction house with a valid resale certificate exempting him from payment of the tax, or if the purchaser is from outside of New York and has the purchase shipped to a location outside of the state. 3. The items offered for sale by Hamptons Art Auction are offered as agent for consignors. The contract for sale of the items is made therefore between the consignor of the property and the buyer. In cases where we own the property, the contract for sale is made between us and the buyer. 4. It is imperative that the buyer should personally examine each lot on which they will be bidding in order to determine condition, size, and restoration or repair. All items are sold as-is and where-is. Hamptons Art Auction. disclaims any express or implied warranties or guarantees as to the authenticity,age or date, condition, merchantability, fitness for a particular purpose, correctness of the catalog or supplemental material, or other description of the physical condition, size, quality, rarity, importance, medium, provenance, exhibitions, literature or historical relevance of any property. No statement made anywhere, by us, our employees, officers, or agents, whether written or verbal, shall be deemed such a warranty or assumption of liability. Estimates of the selling price should not be relied on as a statement that this is the price at which the item will sell or its value for any other purposes. Photographic images of items being offered, whether provided in print or online, as well as references in the catalog entry or condition report to damage or restoration are for guidance only and are provided as a convenience to prospective bidders. The absence of any reference in a condition report or photograph does not imply that an item is free from defect or restoration, nor does a reference to particular defects imply the absence of any others. Neither HAA nor its consignors are responsible in any way for errors and omissions in the catalog, condition reports, or any other supplemental material. All sales are considered final with the following exception: HAA will agree to a refund of the purchase price if within twenty-eight (28) days of auction plus 27 additional days expiring at 12:00 AM or the 29th day following. The first day will be the actual date of the auction. The purchaser must obtain and sends to HAA a written letter from a mutually recognized expert or authority on the artist stating unequivocally that the work is a forgery or not by the represented artist. It is understood that purchase date is the date of the auction. The choice of expert or authority must be mutually agreeable to HAA and the purchaser. This exception will only apply to a work signed by the artist and not to an attribution, manner of, school of, follower of a particular artist or country or continent. The letter must be signed, and on letterhead of the recognized expert or authority. Any exceptions to this rule must be specifically approved by HAA. We do not recognize the opinion of any auction house or it's employees as an expert opinion. 5. When making a bid the prospective buyer must complete and sign a registration form before bidding. HAA reserves the right to require bank or other financial references for participation in the auction or bidding on a specific lot. HAA has the right at our complete discretion to refuse any individual bidder's participation in any auction. When making a bid, a bidder is accepting personal liability to pay the purchase price, including the buyer's premium and all applicable taxes, plus all other applicable charges, unless it has been explicitly agreed in writing with HAMPTONS ART AUCTION before the commencement of the sale that the bidder is acting as agent on behalf of an identified third party acceptable to us, and the we will only look to the principal for payment. It is agreed that in allowing the bidder to participate, he waives any recourse for rejection of payment except as stipulated in Paragraph 4, including any credit card dispute including American Express, Visa, Mastercard, Paypal or Discover. 6. We reserve the right to withdraw any property before or during the sale and shall have no liability whatsoever for such withdrawal. 7. Unless otherwise announced by the auctioneer, all bids are per lot as numbered in the catalog. 8. HAMPTONS ART AUCTION and its auctioneer have the right at our absolute and sole discretion to refuse any bid, to advance the bidding in such a manner as we may decide, to withdraw or divide any lot, to combine any two or more lots and, in the case of error or dispute, and whether during or after the sale, to determine the successful bidder, to continue the bidding, to cancel the sale or to reoffer and resell the item in dispute. We reserve the right to reject any bid. Subject to our discretion, the highest bidder accepted by the auctioneer will be the buyer and the striking of his hammer marks the acceptance of the highest bid and conclusion of a contract for sale between the seller and buyer. 9. Some lots in the sale are subject to a reserve, which is the confidential minimum price below which such lot will not be sold. Reserves are agreed upon with consignors or, the absence thereof, in the absolute discretion of HAA. We may implement reserves by opening the bidding on behalf of the consignor and may bid up to the amount of the reserve, by placing successive or consecutive bids for a lot, or bids in response to other bidders. In instances where we have an interest in the lot other than our commission, we may bid up to the reserve to protect such interest. In certain instances, the consignor may pay us less than the standard commission rate where a lot is "bought-in" to protect its reserve. If the auctioneer decides that any opening bid is below the reserve of the article offered, he may reject the same and withdraw the article. 10. All merchandise purchased must be paid for within 24-48 hours and removed within seven days of the sale. We shall be entitled to retain items sold until all amounts due to us have been received in full in good cleared funds or until the buyer has satisfied such other terms as we, in our sole discretion, shall require. If payment in full in good, cleared funds is not received within seven calendar days following the auction, we shall be entitled in our absolute discretion to exercise one or more of the following rights or remedies (in addition to asserting any other right or remedies available to us by law): (a) hold the defaulting buyer liable for the total amount due and to begin legal proceedings for its recovery together with interest, legal fees, and costs to the fullest extent permitted under applicable law (b) cancel the sale (c) to resell the property publicly or privately on such terms as we find appropriate (d) resell the property at public auction without reserve (e) to charge interest at such rate as we shall reasonably decide (f) to pay the seller an amount up to the net proceeds payable in respect of the amount bid by the defaulting purchaser (g) to set off any amounts which we may owe the buyer in other transactions, the outstanding amount remaining unpaid by the buyer (h) where several amounts are owed by the buyer to us, in respect of different transactions, to apply any amount paid to discharge any amount owed in respect of any particular transaction, whether or not the buyer so directs (i) to reject at any future auction any bids made by or on behalf of the buyer or to obtain a deposit from the buyer before accepting any bids (j) to exercise all the rights and remedies of a person holding security over any property in our possession owned by the buyer, whether by way of pledge, security interest or in any other way, to the fullest extent permitted by the law of the place where such property is located. The buyer will be deemed to have granted such security to us and we may retain such property as collateral security for such buyer's obligations to us (k) to take such other action as we deem necessary or appropriate. In the case of (c) or (d) above, the original purchaser will be liable for any deficiency between the total amount originally due to us and the price obtained upon resale as well as for all costs, expenses, damages, legal fees, and commissions and premiums of whatever kind associated with both sales or otherwise arising from the default. If we pay any amount to the seller under (f) above, the buyer acknowledges that we shall have all the rights of the seller, however arising, to pursue the buyer for such amount. At our option, payment will not be deemed to have been made in full until we have collected funds represented by checks, or in the case of bank or cashier's checks, we have confirmed their authenticity in cleared funds. 11. HAA reserves the right to charge a monthly fee of five percent (5%) per month of the amount of the purchase price for any lot not removed after seven days. If property is not picked up within sixty days, we reserve the right to send the purchased property to a third-party warehouse for the account, and expense of the bidder, and only release the items after payment in full has been made of removal, storage, handling, insurance and any other costs incurred, together with payment of all other amounts due to us. 12. HAA is under no obligation, but may agree, to package and ship an item at the request of the purchaser not HAA. The purchaser agrees that packaging, shipping and handling is the absolute risk of the purchaser. The purchaser will pay all costs including, but not limited to, the handling and insurance associated with shipping. HAA will be held harmless from any claim and any rights of subrogation from an insurance carrier are waived against HAA. We are not responsible for the acts or omissions of third parties whom we might retain for the purposes of handling, packing and shipping. Similarly, where we may suggest handlers, packers or carriers, we do not accept responsibility for their acts or omissions. 13. Immediately following the sale, the buyer must provide us with his or her name and permanent address and, if so requested, details of the bank from which payment will be made. The buyer must pay the full amount due (comprising the hammer price, buyer's premium and any applicable taxes) not later than the seventh calendar day following the sale. This applies even if the buyer wishes to export the lot and an export license is, or may be, required. The buyer will not acquire title to the lot until all amounts due to us from the buyer have been received by us in good cleared funds, even in circumstances where we have released the lot to the buyer. We are under no obligation to assist in applying for an export license, but if the buyer requests us to apply for an export license on his or her behalf, we shall be entitled to make a charge for this service. We shall not be obliged to rescind a sale nor to refund any interest or other expenses incurred by the buyer where payment is made by the buyer in circumstances where an export license is required. 14. We will use reasonable efforts to carry out written bids delivered to us prior to the sale for the convenience of clients who are not present at the auction in person, by an agent or by telephone. If we receive written bids on a particular lot for identical amounts, and at the auction these are the highest bids on the lot, it will be sold to the person whose written bid was received and accepted first. Execution of written bids is a free service undertaken subject to other commitments at the time of the sale and we do not accept liability for failing to execute a written bid or for errors and omissions in connection with it. With regards to telephone bids, if a prospective buyer makes arrangements with us prior to the sale we will use reasonable efforts to contact them to enable them to participate in the bidding by telephone but we do not accept liability for failure to do so or for errors and omissions in connection with telephone bidding. We are also not liable for any failure or execution to take bids submitted to us via third party internet sites such as LiveAuctioneers, nor are we liable for any technical difficulties involved in receiving those bids. 15. In no event will our liability to a purchaser exceed the purchase price actually paid. 16. We reserve the right to retain, publicize, and publish any photographs and descriptions of property we offer both prior to the auction and after wards. We reserve the right to publicize and provide the results of any sale, including images, on our own website as well as to any third party we choose, including online auction-result databases. 17. If any part of these terms and conditions of sale is found by any court to be invalid, illegal or unenforceable, that part shall be discounted and the rest of the conditions shall continue to be valid to the fullest extent permitted by law. The rights and obligations of the parties with respect to these conditions of sale, the conduct of the auction and any matters connected with the foregoing shall be governed and interpreted by the laws of the jurisdiction in which the auction is held. By bidding at auction, whether present in person or by agent, by written bid, telephone or other means, the buyer shall be deemed to have submitted, for our benefit, to the exclusive jurisdiction of the courts of the state, county, province and if applicable federal courts sitting in such state. 18. HAA reserves the right to waive or modify the conditions and terms of sale by written agreement.
Discover Items You'll Love

Bid Anywhere, Anytime. Download the LiveAuctioneers App.
Available on the App Store
Android App on Google Play