5 Sacred Mountains Pass, Chinese square bronze mirror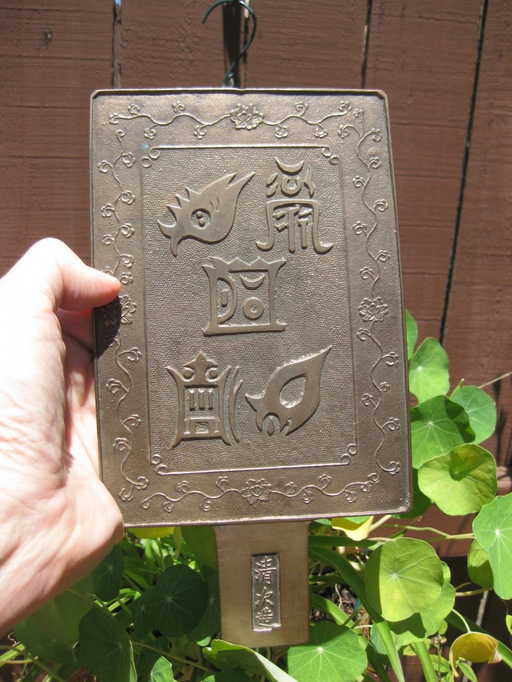 See Sold Price
Don't Miss Your Next Treasure.
Set up a search alert to hear when Bronze Sculptures items arrive.
Auction ended on October 12th, 2014 UTC
5 Sacred Mountains Pass, Chinese square bronze mirror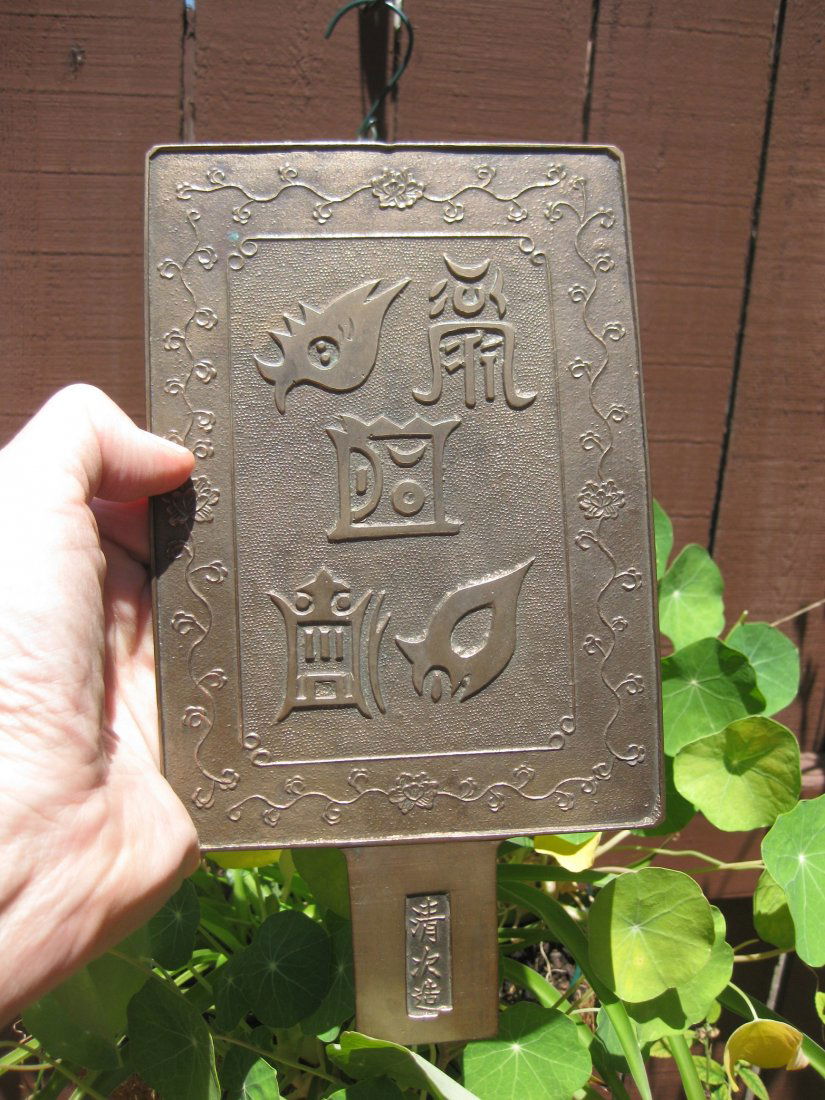 Authentic Chinese square bronze mirror, 5 Sacred Mountains Pass, Qing dynasty(?); This is a Chinese Qing dynasty (?) bronze mirror; Bronze mirror with pictographic writings at the back; Weight: 1 lb. 9 oz. = 730 g; Size: 5 x 7 in. = 13 x 18.5 cm; Total length with a handle: 12 in. = 30 cm; Rim: 3 mm thick, rectangular; Mirror surface: flat, polished, could be used as a mirror; Material: bronze; Condition: Nice patina all over, excellent condition References: These characters existed in the history for more than 2000 years old. The lines or strokes of each of the character resemble the altitude view or map of the peaks of the five mountains in China. Geographically, used as a map to travel around these 5 mountains. Religiously, it was used as a pass by the immortals or believers to travel safely within mountains / forests without being harmed by evils, spirits, monsters, animals and etc. This link will point you to the five mountains that I mentioned: http://www.maps-of-china.net/a_sacredm.html The Eastern Mountain-Taishan Mountain Towering in the central part of Shandong Province, Mt.Taishan, with its elevation of 1545 metres above sea level, is the first of China's five sacred mountains and one of the national major famous scenic areas. In1987,MtTaishan was listed in the World Natural and Cultural Heritages by UNESCO. In history, emperors and many scholars stepped on the mountain to view its magnifi cent scenery,having left quite a many famous poems and inscriptions. The main scenic spots are Wangmu ( Heavenly Mother ) Pool, Doumu Palace, Jingshi ( Sutra Rock ) Valley, Heilong (Black Dragon) Pool, Shanzi (Fanshaped) cliff, Changshou (Longevity)Bridge. Daimiao Temple, situated in Tai'an City at the southern foot of the mountain, was first built in the Han Dynasty, and large-scale additions were made during the Tang and Song Dynasties. It is a key cultural heritage under state protection. The Western Mountain-Huashan Mountain Standing in Huayin County , 120 km east of Xi'an City , the mountain is noted for its sheer cliffs and tower ing peaks.It is one of the five great mountains in China and the sacred mountain to Taoists . It is known as the Western Sacred Mountain . Mt. Huashan has five famous peaks , namely, East Peak West Peak , South Peak , North Peak and Central Peak , of which South Peak soaring 2200 metres above sea level , is the highest. The peaks are connected by a series of sharp ridges , generally only wide enough to accommodate one person at a time Along the touring route , tourists can visit many amazing ancient buildings perched on the knife-sharp edges . The Northern Mountain-Hengshan Mountain Situated in the central part of Hunan Province, Mt.Hengshan is known as the Southern Sacred Mountain, one of the five great mountains in China, and has been praised as lithe first for its beauty among the five famous mountains". It boasts beautiful natural sceneries, with peaks rising one upon another. Among the 72 towering peaks, Zhurong Peak is the highest, rising to 1290 metres above sea level. Mt. Hengshan has ancient cultural origins. According to historical records, there were nine emperors of the past dynasties visiting Mt. Hengshan and many scholars also made their tours of the mountain having left many inscriptions and poems. The main scenic spots include Grand Nanyue Temple, Zhusheng Temple, Huangting Taoist Temple, Nantai Temple, Sutra Hall and Yehou Academy,the earliest academy well preserved. The Central Mountain-Songshan Mountain Located in the northwest of Dengfeng County and reputed as the Central Sacred Mountain among China's five sacred mountains, Mt. Songshan Stretches more than 60 km across from east to west. It consists of two mountains-Taishi and Shaoshi,with 36 Deaks alto ether.
Condition
Mirror surface: flat, polished, could be used as a real mirror;
Discover Items You'll Love