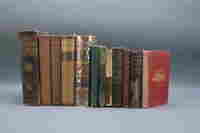 12 Vols incl: THE RAMBLER IN NORTH AMERICA. Vol I.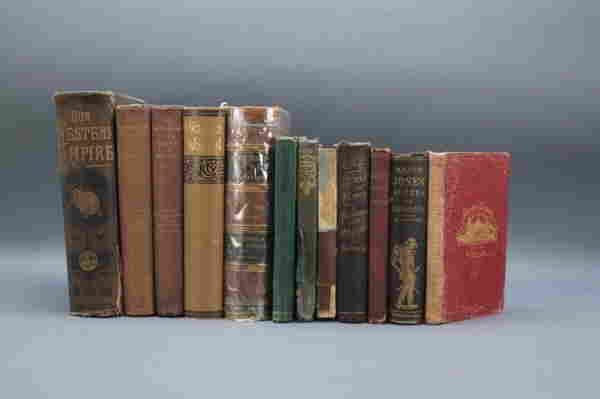 Item Details
Description
[West/South]. 11 Titles (12 Vols). 12mo/8vo. Contemp hardcover bdgs. Sold with all faults. ++ Charles Joseph Latrobe. THE RAMBLER IN NORTH AMERICA, MDCCCXXXII-MDCCCXXXIII. Vol I (of 2). NY: Harper & Brothers, 1835. Spine mostly lacking, covers insecure, foxing, several loose gatherings. 1st American edition (the first edition overall being a London edition). Howes L-124. Sabin 39222. "The author accompanied Washington Irving in his tour on the prairies, and a large part of each volume is occupied with personal observations of Indian Life." –Field 894. Wagner-Camp 57:2. Graff 2413. ++ L. P. Brockett. OUR WESTERN EMPIRE: Or the New West Beyond the Mississippi… Phila/ Brantford, Ontario: Bradley, Garretson & Co./ William Garretoson & Co., 1882. Split to lower portion of front joint, front hinge cracked, corners of covers and spine ends frayed. ++ Theodore Roosevelt. THE WINNING OF THE WEST. 2 Vols. NY: G. P. Putnam's Sons, 1889. Externally scuffed, corners of covers thumbed. Good. ++ Howard Louis Conard. "UNCLE DICK" WOOTTON: The Pioneer Frontiersman of the Rocky Mountain Region…Columbus, OH: Long's College Book Co., 1950. One of 500. Very good. ++ THE WORKS OF HUBERT HOWE BANCROFT. VOLUME XXXV. CALIFORNIA INTER POCULA. San Francisco: History Company, 1888. Worn. ++ SKETCHES AND ECCENTRICITIES OF COL. DAVID CROCKETT, Of West Tennessee. NY: J. & J. Harper, 1833. "New Edition," in 1 volume. Spine loose, joints split, dampstained, spotted. Upper portion of title has pencilling. Sabin 17573. ++ GEORGIA SCENES, CHARACTERS, INCIDENTS, &c., In the First Half of the Republic. By A Native Georgian. NY: Harper & Brothers, (©1840). Chip to cloth at base of spine, lighter fraying at spine crown, good. ++ 2 Vols in 1 (original bdg): MAJOR JONES' SCENES IN GEORGIA… (Title as it appears on first title page and on spine. This is immediately followed by a 2nd title page consistent with the heading of the first text page: MAJOR JONES' CHRONICLES OF PINEVILLE… Appended with: T. A. Burke (Ed.). POLLY PEABLOSSOM'S WEDDING; AND OTHER TALES. Phila: T. B. Peterson and Brothers. Major Jones: (©1843). Polly Peablossom's: (©1851). ++ Joseph G. Baldwin. THE FLUSH TIMES OF ALABAMA AND MISSISSIPPI. A Series of Sketches. NY: D. Appleton & Co., 1854, Tenth Thousand. Fair. ++ E. Y. Clarke. ILLUSTRATED HISTORY OF ATLANTA. Atlanta: Jas. P. Harrison & Co., 1877. Ex-library, frayed at spine ends and corners of covers, scuffed. ++ Edward A. Johnson. A SCHOOL HISTORY OF THE NEGRO RACE IN AMERICA From 1619 to 1890, With a Short Introduction as to The Origin of the Race… Raleigh: Edwards & Broughton, 1891. The Preface begins "To the many thousand colored teachers in our country this book Is dedicated. During my experience of eleven years as a teacher…"
12 Vols incl: THE RAMBLER IN NORTH AMERICA. Vol I.
Shipping, Payment & Auction Policies
Ships from Falls Church, VA, United States
www.liveauctioneers.com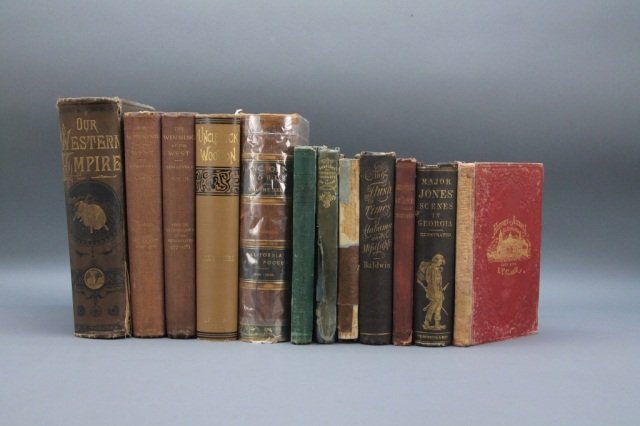 0459: 12 Vols incl: THE RAMBLER IN NORTH AMERICA. Vol I.
Est.

$80

-

$120
•
Starting Price

$40
Waverly Rare Books Catalog Auction # 262
Sep 11, 2014 5:30 PM EDT
Buyer's Premium 21%
Lot 0459 Details
Description
[West/South]. 11 Titles (12 Vols). 12mo/8vo. Contemp hardcover bdgs. Sold with all faults. ++ Charles Joseph Latrobe. THE RAMBLER IN NORTH AMERICA, MDCCCXXXII-MDCCCXXXIII. Vol I (of 2). NY: Harper & Brothers, 1835. Spine mostly lacking, covers insecure, foxing, several loose gatherings. 1st American edition (the first edition overall being a London edition). Howes L-124. Sabin 39222. "The author accompanied Washington Irving in his tour on the prairies, and a large part of each volume is occupied with personal observations of Indian Life." –Field 894. Wagner-Camp 57:2. Graff 2413. ++ L. P. Brockett. OUR WESTERN EMPIRE: Or the New West Beyond the Mississippi… Phila/ Brantford, Ontario: Bradley, Garretson & Co./ William Garretoson & Co., 1882. Split to lower portion of front joint, front hinge cracked, corners of covers and spine ends frayed. ++ Theodore Roosevelt. THE WINNING OF THE WEST. 2 Vols. NY: G. P. Putnam's Sons, 1889. Externally scuffed, corners of covers thumbed. Good. ++ Howard Louis Conard. "UNCLE DICK" WOOTTON: The Pioneer Frontiersman of the Rocky Mountain Region…Columbus, OH: Long's College Book Co., 1950. One of 500. Very good. ++ THE WORKS OF HUBERT HOWE BANCROFT. VOLUME XXXV. CALIFORNIA INTER POCULA. San Francisco: History Company, 1888. Worn. ++ SKETCHES AND ECCENTRICITIES OF COL. DAVID CROCKETT, Of West Tennessee. NY: J. & J. Harper, 1833. "New Edition," in 1 volume. Spine loose, joints split, dampstained, spotted. Upper portion of title has pencilling. Sabin 17573. ++ GEORGIA SCENES, CHARACTERS, INCIDENTS, &c., In the First Half of the Republic. By A Native Georgian. NY: Harper & Brothers, (©1840). Chip to cloth at base of spine, lighter fraying at spine crown, good. ++ 2 Vols in 1 (original bdg): MAJOR JONES' SCENES IN GEORGIA… (Title as it appears on first title page and on spine. This is immediately followed by a 2nd title page consistent with the heading of the first text page: MAJOR JONES' CHRONICLES OF PINEVILLE… Appended with: T. A. Burke (Ed.). POLLY PEABLOSSOM'S WEDDING; AND OTHER TALES. Phila: T. B. Peterson and Brothers. Major Jones: (©1843). Polly Peablossom's: (©1851). ++ Joseph G. Baldwin. THE FLUSH TIMES OF ALABAMA AND MISSISSIPPI. A Series of Sketches. NY: D. Appleton & Co., 1854, Tenth Thousand. Fair. ++ E. Y. Clarke. ILLUSTRATED HISTORY OF ATLANTA. Atlanta: Jas. P. Harrison & Co., 1877. Ex-library, frayed at spine ends and corners of covers, scuffed. ++ Edward A. Johnson. A SCHOOL HISTORY OF THE NEGRO RACE IN AMERICA From 1619 to 1890, With a Short Introduction as to The Origin of the Race… Raleigh: Edwards & Broughton, 1891. The Preface begins "To the many thousand colored teachers in our country this book Is dedicated. During my experience of eleven years as a teacher…"
Contacts
Quinn's Auction Galleries
703.532.5632
LiveAuctioneers Support
info@liveauctioneers.com