lots of lots
Welcome to the world's largest marketplace for fine art, antiques & collectibles.
Vintage 1950s-1960s College Football Bowl Game Pinbacks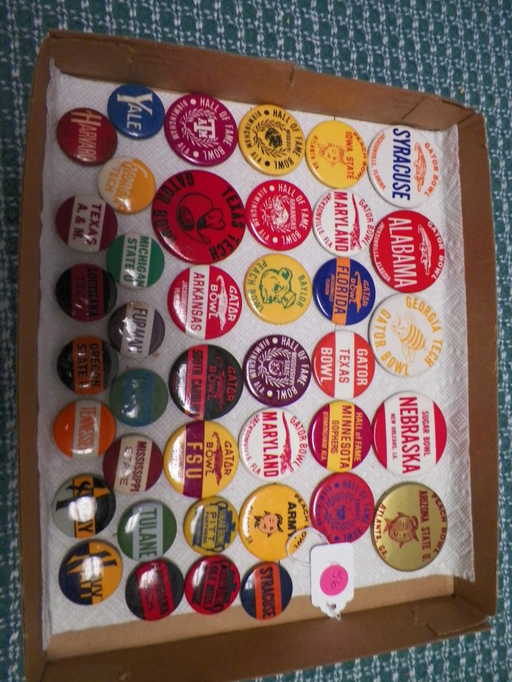 See Sold Price
Don't Miss Your Next Treasure.
Set up a search alert to hear when Collectibles items arrive.
Discover Related Items Available Now
Auction ended on September 30th, 2014 UTC
Vintage 1950s-1960s College Football Bowl Game Pinbacks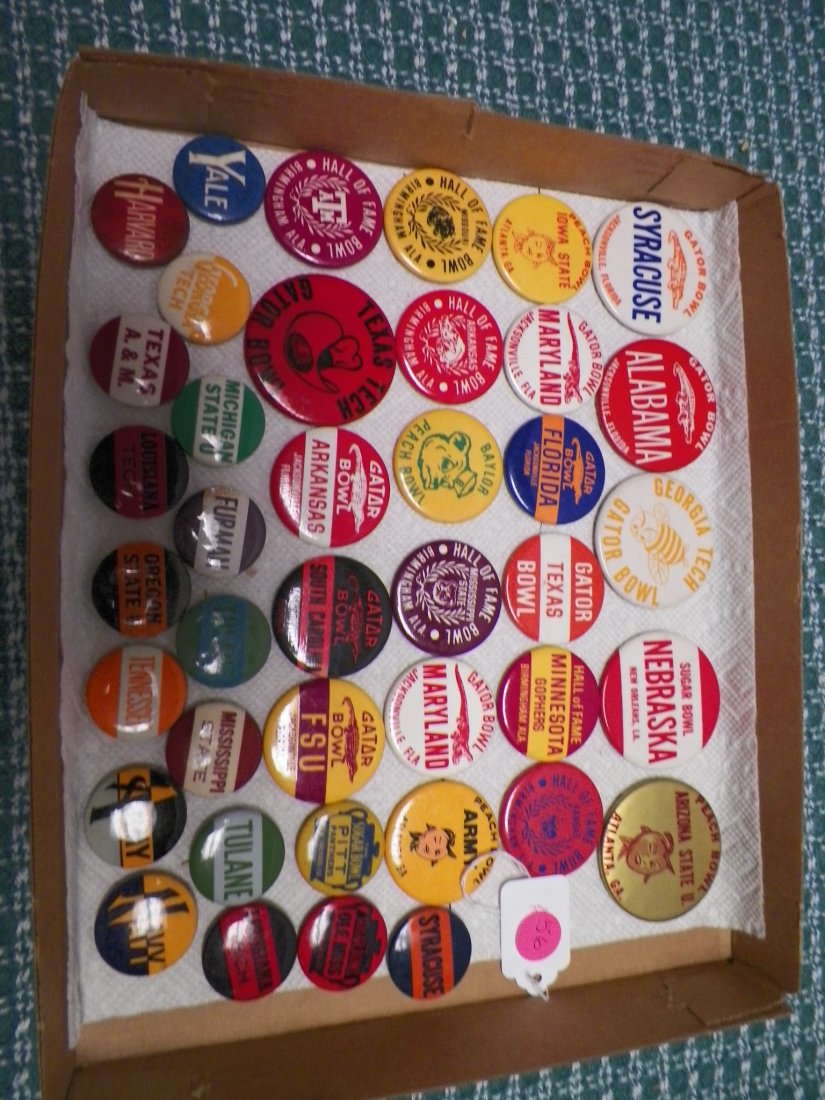 Bowl Games-Syracuse,Georgia Tech,Alabama,Neb,AZ State,Iowa St,MD,Fla,TX,Minn,KS,MO,Ark,Baylor,Miss St,Army,TX A&M,TX Tech,SC,Fla St,Pitt,Ole Miss; Non-Bowl-1920s Yale/Harvard,1950-60s Georgia Tech,TX A&M,LA Tech,MI St,Fordum,OR,Tenn,Tulane,Miss St, Syr,Army,Navy
Shipping
Buyer Pays Shipping Cost everything ships via UPS store Please contact Allison at the UPS Store at (570) 523-2611 or by email at store5918theupsstore.com for any shipping inquiries regarding any potential shipping costs prior to the auction or post-auction inquiries. Please note: if you are successful on items from our auctions, it could take up to three weeks until your items are received due to the volume of items that sell online. Rockey Auctions, Inc. reserves the right to hold merchandise until personal checks clear. Items must be scheduled for removal from our auction facility within seven (7) days or be charged a monthly fee of 1.5% of the purchase price. Please direct all your shipping questions to the above mentioned names, as we do not ship in-house and are not able to answer these questions.
Payment
Contact For Payment Details
Accepted payment methods
Terms
Terms and Conditions for Rockey Auctions, Inc. Online/In house Auctions and User Agreement Rockey Auctions, Inc. has made every effort to catalog and correctly describe the property to be sold, however, all lots are sold 'AS IS' and should be examined prior to bidding. Flaws and imperfections caused in the making are not noted. Expect normal wear and oxidation on antique metal-wares and crazing and normal glaze loss on pottery and ceramics. The auctioneers reserve the right to make verbal corrections and provide additional information from the auction block at the time of sale. In all matters, the records of the Auction will be final. All sales are final. All potential purchasers must register for a buyer's number and provide satisfactory identification. A Fifteen percent (15%) Buyer's Premium is added to each item sold to all in-house buyers at the Auction, with a three percent (3%) discount for in-house bidders only with check or cash. An additional three percent (3%) will apply to all online bidders, for a total of 18% Buyer's Premium, is added to each item sold to all Live AUCTIONEER buyers. A six percent (6%) Pennsylvania Sales Tax will be charged, except to persons with a current Dealer's Sales Tax Exemption Number on file with the Auction OR if purchases are being shipped out of state. Upon the fall of the hammer or said sold, the title and responsibility for each item or lot passes on to the purchaser. In the case of a disputed bid, the auctioneer, at his discretion, will determine the successful bidder or re-offer and re-sell the article in dispute. BIDDING INCREMENTS: The auctioneers will be using set bid increments. If you have placed absentee bids that do not follow the set increments, your bid will be executed at the set lower increment. ABSENTEE BIDDING will be accepted with a 25% deposit by money order or certified check. This deposit is required for in-house bidding only, and does not apply to Live AUCTIONEER bidders. Any such deposits will be refunded if the bid is not successful. In the event of duplicate in-house absentee bids, the first bid received will take precedence. In-house absentee bids will not be executed on items which are found to be other than described in the catalog. The auctioneer may reject any bid which he considers to be nominal and not commensurate with the value of the article offered. It is entirely possible to buy items by absentee bid for less than your top bid price as they are handled competitively. All bids are handled in competition with audience on an alternate basis. Due to uncertainties of bidding, a lot may sell to the floor bidder for the same amount as an absentee bid. To prevent this from happening, the absentee bidder can give Rockey Auctions, Inc. the right to bid the next higher bid by placing a (+) sign after the bid price. Rockey Auctions, Inc. will not be responsible for any omissions when processing your absentee bids. All sales are final and must be paid in full immediately. Items must be inspected before leaving absentee bids. LIVE AUCTIONEER BIDDING: In order to be approved to bid online through Live AUCTIONZIP, you must complete the form found on our website. Once the form is completed and sent, we will then approve you to bid at auction. Please be sure that the form is completed in full for each auction you wish to attend, and it is not our responsibility to contact you if the form is not complete. We are not aware of the Live bids in advance, but only during the time of the auction as they are forwarded to our computer. Rockey Auctions, Inc. will not be responsible for any omissions, errors or slow communications on absentee bids from Live AUCTIONEER. In the event of a tie bid with a floor bidder and an online bidder, the floor bidder will take precedence. The auctioneer's decision in this matter is final. PAYMENT: Payment must be made prior to removal from the auction house. In house bidders must settle their accounts on the day of sale. Absentee, Telephone and Live AUCTIONEER Bidders must make payment within seven (7) business days. Failure to do so may result in forfeiture of items. IN HOUSE PAYMENTS: There is a 15% in-house buyer?s premium if paying by debit card, MasterCard or Visa or Discover. If paying by cash or check, a 3% discount will be applied to all in-house bidders. In house buyers include absentee bidders, who are bidding with our company directly. No out of state checks will be accepted by the auction, unless there was given prior approval by Rockey Auctions, Inc. LIVE AUCTIONEER PAYMENTS: All invoices will be emailed to the buyers on the first business day following the auction. This invoice will include total purchase price and shipping costs per the UPS Store. MasterCard and Visa and Discover will be accepted for payment of purchases. The buyer's premium remains at 15% and the cash or check discount does not apply to online buyers. Items must be scheduled for removal from our auction facility within seven (7) days or be charged a monthly fee of 1.5% of the purchase price. If the items are not paid within the seven day time-line, Rockey Auctions, Inc. has your permission to charge the credit card number found on the completed Live AUCTIONEERS approval bid form. SHIPPING: Rockey Auctions, Inc. does not pack or ship any items in house. All items are sent through the UPS Store, a third party shipping company. All international customers are responsible for their own taxes and tariffs based upon the actual selling price. The declared value cannot be of lesser value than purchase price. Please contact Allison at the UPS Store at (570) 523-2611 or by email at store5918@theupsstore.com for any shipping inquiries regarding any potential shipping costs prior to the auction or post-auction inquiries. Please note: if you are successful on items from our auctions, it could take up to three weeks until your items are received due to the volume of items that sell online. Rockey Auctions, Inc. reserves the right to hold merchandise until personal checks clear. Items must be scheduled for removal from our auction facility within seven (7) days or be charged a monthly fee of 1.5% of the purchase price. Please direct all your shipping questions to the above mentioned names, as we do not ship in-house and are not able to answer these questions. YOUR BIDDING ACKNOWLEDGES YOUR ACCEPTANCE OF THESE CONDITIONS OF SALE. Bidders and Auctioneer agree that the terms and conditions set forth below shall govern this online/in house auction. All registration information provided by Bidders to Auctioneer shall be current, complete, and accurate. Bidders must be 18 years of age or older. Bidders agree to not use any device, software or routine to interfere or attempt to interfere with the proper functioning of this online auction sale. Bidders acknowledge that this online/in house auction is conducted electronically and that the Auctioneer and other parties to the online/in house auction will therefore of necessity rely on hardware and software that may malfunction without warning. To proceed with bidder registration, Bidder must first agree to the following Terms and Condition / User Agreement: I Agree / I Disagree Eligibility: Our services are available only to individuals who can enter into legally binding contracts under applicable law. Without limiting the foregoing, our services are not available to minors. If you are a minor, you may use our services only in conjunction with your parent or legal guardian. If you do not qualify, please do not use our services. Your account and user ID may not be transferred or sold to another party. If you are registering as a business entity, you represent that you have the authority to bind such entity to this agreement. Implied Warranty/Disclaimer: Information that is used or shared by Auctioneer in connection with this online/in house auction that has been provided by Auctioneer?s client, the Owner/Seller, is believed to be true and correct. Auctioneer, its owners, agents and other representatives are not responsible for any misleading information that is provided in connection with this online auction/in house sale. Auctioneer is not responsible for any claims related to lots. Your Information: You are solely responsible for providing accurate information that will be used to identify you to this online/in house auction system, to deliver notices to you and to allow the Auctioneer to contact you. If your contact information changes, you are responsible for updating it. The Auctioneer will not be responsible for lost, delayed or misdirected notices in the event you do not update your information in a timely manner. Your personal identifying information will be protected as per Rockey Auctions, Inc. which is incorporated by reference into this agreement. Auctioneer may refuse to provide services to anyone at any time at its sole discretion. You will be suspended or permanently banned from this site if you provide false information when registering, such as false name or false contact information. You will also be permanently banned from this site if you are the successful bidder in an online/in house auction and do not honor your auction bid. Our use of email addresses is strictly for contacting bidders and owners/sellers; any use of this private information by anyone else or for any other reason is strictly prohibited. Description of Information: The Auctioneer believes the descriptions of lots appearing in this online/in house auction sale and in advertising prior to this online auction sale to be correct. Nevertheless, neither those descriptions nor any oral statements made by owner/seller or auctioneer concerning any lot shall be construed as a warranty either express or implied. LOTS ARE SOLD AS IS ? WHERE IS and WITH ALL FAULTS. Bidder acknowledges that all lots were available for inspection prior to the online /in house auction sale and, by these terms, auctioneer and owner/seller strongly encourage bidder to carefully inspect each lot in which bidder has any interest. Bidder relied solely on personal inspection and not on information listed on this site or otherwise provided by auctioneer or owner/seller. If bidder failed to inspect any lot, this failure to inspect, or otherwise be fully informed as to the nature, quality, condition, quantity and size of the lot, will not constitute grounds for any claim, adjustment, refund, termination of the contract for sale, or refusal to close the sale. These written terms constitute the final expression of the parties? agreement and are a complete and exclusive statement of the terms of the contract for sale, or refusal to close the sale. The IMPLIED WARRANTIES OF MERCHANTABILITY AND FITNESS FOR A PARTICULAR PURPOSE, AND ALL OTHER WARRANTIES, EITHER EXPRESSED OR IMPLIED, ARE SPECIFICALLY EXCLUDED from this contract for sale and this transaction and shall NOT apply to the merchandise that is the subject of this sale and this transaction. The auctioneer is not responsible for the actions the owner/seller and buyers take before, during and after the online/in house auction sale, typographical errors, misprints, loss of merchandise/money, damage or failure of equipment, due to visits to this site. Use of this site is at bidder?s own risk, and all content is presented ?As Is?. Specific terms regarding auction location, lot descriptions, payment terms, shipping and delivery, insurance and other important information is located on the first page of this site. Bidding: Bidding is done in increments and will vary by lot according to the current price. You are encouraged to bid the maximum amount you are willing to pay for the lot (Maximum Bidding). Be aware that you may be outbid minutes before the close of the online auction and may not have the opportunity to enter another bid. You will not automatically receive notification if another bidder outbids your maximum bid. You will therefore need to monitor the auction activity to stay fully informed. In the event of a tie, the earlier bid will be considered the winning bid. When bidding ends, all sales shall be considered final. There are no exchanges or refunds absent express statement to the contrary expressed herein. A bid by any person shall be deemed conclusive proof that such person is familiar with the Terms and Conditions of Use and Auction Rules and that the bidder agrees to be bound by them. Every transmission over the Internet travels a different route and can be delayed by a variety of factors, including the bidder?s own computer. The time lapse between submission of a bid and its registration can vary by several seconds. Bids are queued by auctioneer?s host computer in the order received. Bid positions are awarded on a first come first served basis. Bids are time stamped by the host computer with the time received. To be accepted, bids must be received by the host computer prior to closeout. In the event of malfunction by auctioneer?s host computer, the online/in house auction will be stopped. If the malfunction has not affected the sale prior to the malfunction, the lots will be considered sold. Auction of any remaining lots will be completed upon correction of the malfunction. Bidding on the remaining lots will be open, with no bid positions awarded upon resumption of the auction. Any malfunction by the bidder?s computer or Internet service provider is not the auctioneer?s responsibility. Placing a bid is a binding contract between you and the owner/seller, and the bid cannot be retracted. Once a bidder places a bid and the bid is the high/winning bid, the bidder will be obligated to buy the lot at the said price indicated. Placing a bid on this online auction site and winning, then not paying for the lot is illegal in most states and prosecution can result. The owner/seller of property sold through this online/in house auction site reserves the right to reject any and all bids. As a bidder, you are responsible for any bids placed by you or a designated representative under your bidding number and password. The security of your bidder information is your sole responsibility and the bidder will be responsible for any and all bids placed under the assigned number. If, at any time, you feel that your bidder number and password have been compromised due to lack of security on your part, you must notify auctioneer immediately. Bidders agree that when using the Maximum Bid feature on our online auction web site they will use it according to the terms and conditions applicable to that feature. Please note that when using the Maximum Bid feature, if you are the current high bidder and you want to change your maximum bid, you will be required to place a new bid in the increment designated for that lot in order to raise your maximum bid, which may cause you to raise your last high bid by one bid increment. You, as a bidder, understand and agree to how the Maximum Bid feature works if you choose to use it. Bid Retractions: There are no bid retractions. ALL BIDS ARE NON-CANCELLABLE ONCE SUBMITTED. Once a bid is made and confirmed, it cannot be retracted. When a bid is made you manifest your intent and ability to buy the lot at the bid price. A false or fraudulent bid may result in legal action. Any winning bidder who refuses to purchase the lot may be banned from all future online/in house auctions. Despite efforts to avoid the withdrawal of lots from the online/in house auction sale after they are listed, it may sometimes be necessary to withdraw lots. Therefore, the owner/seller reserves the right to do so at any time before or during the online/in house auction sale. Reserve Price: An auction lot may have a reserve price. The reserve price is the lowest price at which the lot will be sold. The reserve price is never disclosed to bidders, but a note may be displayed in the lot information screen specifying a reserve price. When the reserve price has been met the screen may read ?Reserve Price Met?. The lot will then be sold to the highest bidder at the conclusion of the online/in house auction sale. When an article is sold with reserve, the auctioneer may bid on the owner/seller?s behalf in an amount not to exceed the reserve price. If the reserve price is not met, the lot will not be sold during that online/in house auction. The owner/seller reserves the right to accept or reject any or all bids unless otherwise stated. Limit of Liability: In no event shall the auctioneer be liable for lost profits or any special, incidental, or consequential damages whatsoever arising out of or in connection with any sale or transaction. Auctioneer reserves the right to reject or void bids, whether winning or not, that auctioneer deems not to have been made in good faith, or that are restricted, prohibited, or taxed due to local laws. Auctioneer is the one and only judge regarding the determination of winning bidders, and the single deciding authority if disputes should arise, and accepts no liability for any errors or omissions. Auctioneer reserves the right to reopen bidding on any disputed bids or ties. Auctioneer reserves the right to postpone or cancel a sale without notice, if it is determined in auctioneer?s discretion that such action is appropriate for whatever reason in auctioneer?s sole discretion. Auctioneer will neither have liability nor obligation to the intended bidders as a result of any withdrawal, cancellation, or postponement of any sale. Title and Delivery: Title passes to the high bidder at the end of the allotted bidding time for each lot. All risk of death, damage, or injury to each lot becomes the buyer?s risk upon the end of the allotted bidding time. Each buyer, following his or her purchase, will receive an Acknowledgement of Purchase via email outlining the details of the transaction including payment, settlement and final terms. Registration Papers: Registration papers shall be delivered from the owner/seller to the buyer within approximately 45 days of the buyer?s check clearing the bank or acceptance of final payment. The owner/seller is responsible for the transfer of registration papers. The auctioneer assumes no responsibility for registration transfers. Transportation: The buyer, at buyer?s own expense, shall transport the merchandise from the owner/seller. Specific arrangements will be indicated on each individual auction and expenses will be handled between buyer and owner/seller. If you have questions regarding transportation, contact the owner/seller before placing bids. Payment: Payment for purchases must be made payable to Rockey Auctions, Inc., unless otherwise noted in the specific online/in house auction?s terms and conditions. Buyer must acknowledge and agree not to retract the purchase offer. Buyer shall be responsible for making arrangements for delivery of merchandise. All bids are in US dollars. All settlements will be paid in US dollars. Authorized Agents: Persons acting as agents must so indicate. Default of Purchase: If any person shall purchase a lot and fail to pay for it in the manner described above, the owner/seller shall have, in addition to all other legal rights, the right to resell the lot; or, at owner/seller?s option, bring an action for specific performance, in which event the defaulting buyer agrees to pay all costs of such suit, together with all reasonable attorney?s fees and expenses. In the event of a resale, the defaulting buyer agrees to pay all costs of resale, plus any deficiency between the original purchase price and the total price upon resale. If buyer brings a lawsuit against auctioneer and does not prevail, buyer will reimburse auctioneer for all reasonable legal fees and expenses incurred in connection with said suit. Indemnification: Bidders and owner/seller agree to indemnify and hold this online/in house auction site its owner, and its parents, subsidiaries, affiliates, officers and employees, harmless from any claim or demand, including reasonable attorney?s fees, made by any third party due to or arising out of bidder?s and owner/seller?s use of the online/In house auction service, the violation of these terms of service, the infringement of the service using bidder?s computer, or of any intellectual property or other right of any person or entity. Legal Compliance: You shall comply with all applicable domestic and international laws, statutes, ordinances and regulations regarding your use of our online/in house auction service and your bidding on, listing, purchase, solicitation of offers to purchase and sell lots. No Agency: You and owner/seller and Rockey Auctions, Inc. are independent contractors, and no agency, partnership, joint venture, employee-employer, or franchiser-franchisee relationship is intended or created by this Agreement. Arbitration: Any legal controversy or legal claim arising out of or relating to this agreement, or our online/in house auction services, excluding legal action taken by Rockey Auctions, Inc. to collect our fees and/or recover damages for, or obtain an injunction relating to, Rockey Auctions, Inc. online/in house site operations, intellectual property and our online/in house auction services, shall be settled by binding arbitration in accordance with the commercial arbitration rules of the American Arbitration Association. Any such controversy or claim shall be arbitrated on an individual basis, and shall not be consolidated in any arbitration with any claim or controversy of any other party. The arbitration shall be conducted in Lewisburg, Pennsylvania, and judgment on the arbitration award may be entered by any court having jurisdiction thereof. Either you or Rockey Auction?s, Inc. may seek interim or preliminary injunctive relief from a court of competent jurisdiction in Lewisburg, PA, necessary to protect the rights of property of you or Rockey Auctions, Inc. pending the completion of arbitration. Should either party file an action contrary to this provision, the other party may recover reasonable attorney?s fees and costs. General: This Agreement shall be governed in all respects by the laws of the State of PA, as such laws are applied to agreements entered into and to be performed entirely within PA between PA residents. Bidders expressly consent to jurisdiction over any dispute(s) that may arise hereunder or related hereto in the State of PA and venue in Lewisburg, PA. We do not guarantee continuous or uninterrupted, or secure access to our online auction services and operation of our online auction site may be interfered with by numerous factors outside of our control. If any provision or portion of a provision of this agreement is held to be invalid or unenforceable for any reason, such provision or portion of a provision shall be struck and the remaining provisions shall be enforced. You agree that this Agreement and all incorporated agreements may be automatically assigned by Rockey Auctions, Inc. in our sole discretion, to a third party, in the event of a merger or acquisition. Headings are for reference purposes only and in no way define, limit, construe, or describe the scope or extend of such section. Our failure to act with respect to a breach by you or others does not waive our right to act with respect to subsequent or similar breaches. Rockey Auctions, Inc. online/in house auction provides a venue and mechanism to bring buyers and owners/sellers together over the Internet. Since we do not participate in the physical transaction between buyers and owners/sellers, we do not have any control or assume any responsibility for the quality, safety or legality of the lots advertised, the truth or accuracy of the listings, the right or ability of the owners/sellers to sell lots or the right or ability of buyers to buy lots. Additionally we do not have control over whether buyers or owner/sellers actually complete the transaction. Because user authentication on the Internet is difficult, we cannot confirm the identity of bidders and we take no responsibility for the validity of each bidder and/or bid. By using the Service, you acknowledge that Rockey Auctions, Inc. cannot possibly authenticate bidders validity, and in the event of a dispute between bidders, you release Rockey Auctions, Inc., our partners, employees and agents from claims, demands and damages (actual and consequential) of every kind and nature, known and unknown, suspected and unsuspected, disclosed and undisclosed, arising out of or in any way connected with such disputes. Rockey Auctions, Inc. may amend these terms and conditions at any time by posting the amended terms on our Web site. The amended terms shall automatically be effective 10 days after they are initially posted on our Web site. These terms and conditions were last revised on April 1, 2012. Disclosures: The services hereunder are offered by Rockey Auctions, Inc. at 517 Saint Mary Street, Lewisburg, PA 17837. Privacy Policy: You must submit personal information at the time of registration to bid on this auction site. We will never give or sell your information to any outside company. The information you provide us with will only be used by us, the auction company and the owner/seller that you purchase items from, to maintain records for the auction sales and to aid us in providing service to you. This online auction site contains links to other sites. We are not responsible for the privacy practices or the content of other Web sites. Your Consent: By using our Web site, you are consenting to the collection and use of this information by this auction company. We use email mailing lists to notify our customers about online and live auctions. If your email or other registration information changes, please notify us immediately. If you are receiving a particular mailing and wish to discontinue receiving future mailings, simply forward the received email to us and we will promptly remove your name from our list.
Discover Items You'll Love

Bid Anywhere, Anytime. Download the LiveAuctioneers App.
Available on the App Store
Android App on Google Play