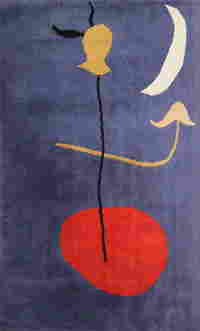 After Joan Miro, "Danseuse Espagnole"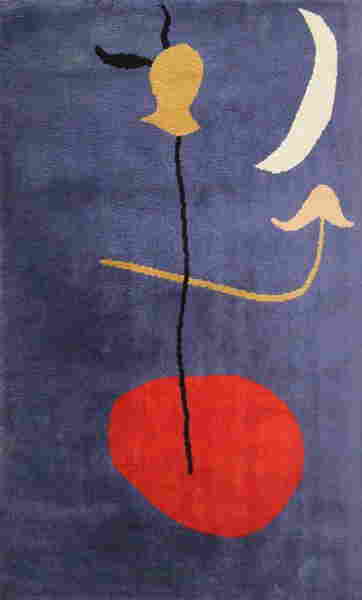 Item Details
Description
Private New York Collection

*After Joan Miró (Spanish, 1893-1983)
Danseuse Espagnole, c. 1960
handwoven wool pile tapestry
Stitched "J. Miro" and "5/10" on the reverse
77 x 60 inches

$1,000 – 2,000

After a design commissioned from the artist by the prominent tapestry dealer Marie Cuttoli. Cuttoli commissioned cartoons from leading French modernists to sell at her Paris outlet Maison Myrbor. In addition to Miró she commissioned designs from Fernand Leger, Pablo Picasso, and Georges Braque.

PROVENANCE
Collection of Robert and Andrea Bollt, New York;
Property from the Estate of Andrea Bollt, Stair Auctioneers and Appraisers, 7 December 2013, lot 294:
Private New York Collection

LITERATURE
Day, Susan, Art Deco and Modernist Carpets, (New York: Chronicle Books, 2002), cat. no. 184. Another example illustrated.
Contemporary French Tapestries, (New York, Charles E. Slatkin Galleries, Inc., 1965), 13. Another example illustrated.

Andrea Bollt
February 19, 1933 – October 24, 2010

Andrea was ravishing and irrepressible. She was practical too, preferring walking to taking a taxi, and with her husband, Robert, would buy a work by Franz Kline or Philip Guston rather than an expensive dress. She and her husband cultivated friendships with contemporary artists in the 1950s and 60s in New York. With great foresight and a sense of adventure, the couple bought iconic works from Alexander Calder, Yves Klein, Franz Kline, Larry Rivers, Joan Miro, Philip Guston, Josef Albers and Jacques Lipchitz. Robert and Andrea became close friends with many of the artists. She owned over 10 works that Robert and she purchased from Franz Kline. They purchased the drawings Kline (lot 11) as Andrea recalled during my many visits, from the artist in the late 1950's.

Andrea gave lively dinner parties at their chic apartment on the upper east side. I recall many evenings when we enjoyed Franz Kline's favorite dish "Kline meatloaf." She would enthrall guests with dramatic and intoxicating stories about the paintings, drawings and the major Calder mobiles which filled the apartment.

I recall several evenings when Andrea, with great flair, unrolled the three tapestries designed after Leger (lots 12-13) and Miró (Lot 14) from a cabinet filled with sculptures by Miró, standing mobiles by Calder and African art. She had purchased them in 1960 on an art-buying trip with Robert to Europe.

In 1961, she and Robert attended a party thrown by Yves Klein and watched him create one of the famous Ant paintings. She acquired the painting at that time. It sold at auction at Sotheby's in November, 2012 for $4,338,500. She and Robert had an unerring eye for quality and could evaluate the importance of a work of art with great foresight.

Art was her passion, the daily currency of her life, her social milieu, and now, the legacy she leaves behind. In 2012 the Estate of Mrs. Andrea Bollt donated eight important works of modern art from her collection to the Metropolitan Museum of Art, including paintings by Willem de Kooning, a seminal 1939 mobile, "Black Cloud" by Alexander Calder and also an 80 7/8 by 150 inch canvas painted in 1961. Robert and she acquired the painting, as Andrea recalled, one evening after an impromptu call from Kline to drop by for a drink at his place on the upper west side of Manhattan. The timing was such that Kline was looking to raise some cash. According to Andrea, they drove home with the painting strapped to the roof of their car. This monumental work is the undoubtedly one of the most important examples of abstract expressionism in the museum's collection and perhaps in the artist's oeuvre"

-Leigh Keno, November 2012
Buyer's Premium
27% up to

$100,000.00

22% up to

$2,000,000.00

14% above

$2,000,000.00
After Joan Miro, "Danseuse Espagnole"
Shipping, Payment & Auction Policies
Ships from New York, NY, United States
www.liveauctioneers.com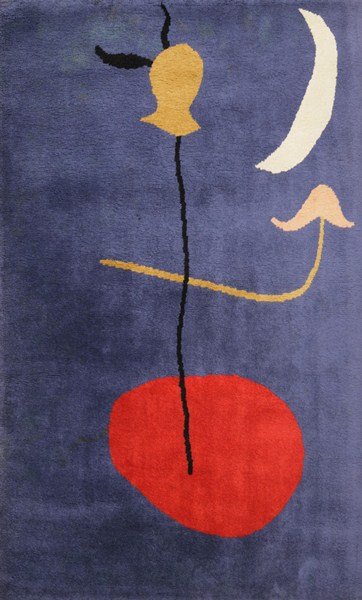 0014: After Joan Miro, "Danseuse Espagnole"
Est.

$1,000

-

$2,000
•
Starting Price

$500
Modern & Contemporary Fine Art & Design
Oct 01, 2014 12:00 PM EDT
Buyer's Premium 27%
Lot 0014 Details
Description
Private New York Collection

*After Joan Miró (Spanish, 1893-1983)
Danseuse Espagnole, c. 1960
handwoven wool pile tapestry
Stitched "J. Miro" and "5/10" on the reverse
77 x 60 inches

$1,000 – 2,000

After a design commissioned from the artist by the prominent tapestry dealer Marie Cuttoli. Cuttoli commissioned cartoons from leading French modernists to sell at her Paris outlet Maison Myrbor. In addition to Miró she commissioned designs from Fernand Leger, Pablo Picasso, and Georges Braque.

PROVENANCE
Collection of Robert and Andrea Bollt, New York;
Property from the Estate of Andrea Bollt, Stair Auctioneers and Appraisers, 7 December 2013, lot 294:
Private New York Collection

LITERATURE
Day, Susan, Art Deco and Modernist Carpets, (New York: Chronicle Books, 2002), cat. no. 184. Another example illustrated.
Contemporary French Tapestries, (New York, Charles E. Slatkin Galleries, Inc., 1965), 13. Another example illustrated.

Andrea Bollt
February 19, 1933 – October 24, 2010

Andrea was ravishing and irrepressible. She was practical too, preferring walking to taking a taxi, and with her husband, Robert, would buy a work by Franz Kline or Philip Guston rather than an expensive dress. She and her husband cultivated friendships with contemporary artists in the 1950s and 60s in New York. With great foresight and a sense of adventure, the couple bought iconic works from Alexander Calder, Yves Klein, Franz Kline, Larry Rivers, Joan Miro, Philip Guston, Josef Albers and Jacques Lipchitz. Robert and Andrea became close friends with many of the artists. She owned over 10 works that Robert and she purchased from Franz Kline. They purchased the drawings Kline (lot 11) as Andrea recalled during my many visits, from the artist in the late 1950's.

Andrea gave lively dinner parties at their chic apartment on the upper east side. I recall many evenings when we enjoyed Franz Kline's favorite dish "Kline meatloaf." She would enthrall guests with dramatic and intoxicating stories about the paintings, drawings and the major Calder mobiles which filled the apartment.

I recall several evenings when Andrea, with great flair, unrolled the three tapestries designed after Leger (lots 12-13) and Miró (Lot 14) from a cabinet filled with sculptures by Miró, standing mobiles by Calder and African art. She had purchased them in 1960 on an art-buying trip with Robert to Europe.

In 1961, she and Robert attended a party thrown by Yves Klein and watched him create one of the famous Ant paintings. She acquired the painting at that time. It sold at auction at Sotheby's in November, 2012 for $4,338,500. She and Robert had an unerring eye for quality and could evaluate the importance of a work of art with great foresight.

Art was her passion, the daily currency of her life, her social milieu, and now, the legacy she leaves behind. In 2012 the Estate of Mrs. Andrea Bollt donated eight important works of modern art from her collection to the Metropolitan Museum of Art, including paintings by Willem de Kooning, a seminal 1939 mobile, "Black Cloud" by Alexander Calder and also an 80 7/8 by 150 inch canvas painted in 1961. Robert and she acquired the painting, as Andrea recalled, one evening after an impromptu call from Kline to drop by for a drink at his place on the upper west side of Manhattan. The timing was such that Kline was looking to raise some cash. According to Andrea, they drove home with the painting strapped to the roof of their car. This monumental work is the undoubtedly one of the most important examples of abstract expressionism in the museum's collection and perhaps in the artist's oeuvre"

-Leigh Keno, November 2012
Contacts
Keno Auctions
212.734.2381
LiveAuctioneers Support
info@liveauctioneers.com