lots of lots
Welcome to the world's largest marketplace for fine art, antiques & collectibles.
Antique Busy Bee Toy Sewing Machine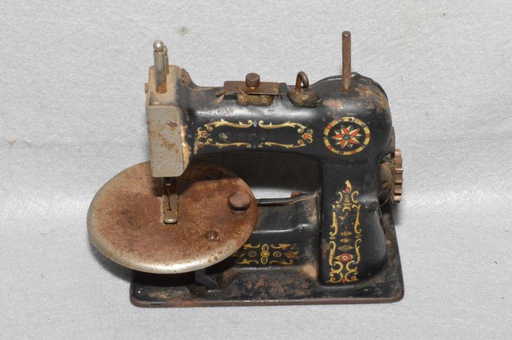 See Sold Price
Don't Miss Your Next Treasure.
Set up a search alert to hear when Collectibles items arrive.
Discover Related Items Available Now
Auction ended on October 4th, 2014 UTC
Antique Busy Bee Toy Sewing Machine

Shipping
If the Shipping Handling charges for your purchase are 50.00 or less, your card will be automatically charged WITHOUT FURTHER NOTICE. Items shipped in US Postal Service Flat Rate Priority boxes, whenever possible. SHIPPING COSTS MAY EXCEED THE PURCHASE PRICE. NO REFUNDS will be made. Items that include the notation BUYER TO PICK UP OR ARRANGE SHIPPING or PICK UP ONLY, WILL NOT SHIP, in the catalog description must be picked up on site by the purchaser or the purchasers agent within the designated checkout time. The auctioneer will not ship or deliver them to a third party for shipping. Buyer is responsible for all costs associated with pickup and shipping. Please bring your own packing materials and moving equipment. Buyers are responsible for bringing their own crew to load-out large items. WITH PRIOR NOTICE, Macon Brothers Auctioneers MAY AGREE to assist Buyers with shipping. There is a Handling Charge of 30manhour for this service
Payment
Payment in full Auction Day in U. S. Funds by Visa, MasterCard, Discover Card. 16% Buyers Premium. Wire Transfers for Purchases over 7,500.00 accepted with an additional 25.00 Fee. HANDLING FEE: Each successful Internet bidder will be charged a fifteen-dollar (15.00) non-refundable handling fee per auction, whether it be one lot or 1000 lots. Visa, MasterCard, or Discover card on file will be charged immediately upon reconciliation. 16% Buyers Premium. Removal of purchases upon compliance with payment terms. TITLED VEHICLES: A 50.00 Documentary Service Fee will be charged on the purchase of all titled vehicles.
Accepted payment methods
PREVIEW CHECKOUT INFORMATION
PREVIEW: Saturday, October 4, 2014 at 8:00am CHECKOUT: Saturday, October 4th (Auction Day) until 1 hour after end of live auction Sunday, October 5th 9:00am - 11:00am
Terms
Online Buyer's Premium: 18% added to total hammer/purchase price. Live (Onsite) Buyer's Premium: 13% added to total hammer/purchase price - DISCOUNTED to 10% for Cash or Approved Check on Auction Day. COMPLETE TERMS & CONDITIONS, ONLINE AUCTIONS: Please read the terms carefully and review the terms thoroughly prior to bidding as they constitute a legally binding contract between you and Macon Brothers Auctioneers. If you have not read or do not understand the terms below, please do not bid. Bidder hereby agrees to all Terms & Conditions set forth below. 1. CATALOG: All items in this Auction are selling AS-IS, WHERE-IS without recourse with NO warranties and NO guarantees, implied or otherwise by neither Macon Brothers Auctioneers or the Seller. Online bidders unable to preview items(s) are advised to obtain all information necessary PRIOR TO BIDDING to make an informed decision as to all conditions that may affect their decision to bid or amount to bid. No refunds will be made after high bid is accepted. Bidders enter into a binding contract and acknowledge all Terms & Conditions of the Auction. Macon Brothers Auctioneers makes a concerted effort to include all information in the description of items. In no event will Macon Brothers Auctioneers or its Sellers be held responsible for any errors or omissions in item descriptions. NO REFUNDS will be made. ALL SALES ARE FINAL. NO RETURNS OR CHARGEBACKS ALLOWED. 2. BIDDER INSPECTION & RESPONSIBILITY: Bidders who bid online and do not attend the preview and inspect the items in person, acknowledge that the item may appear different when viewed online only. Bidder agrees that everything is sold as is, where is, without any express or implied warranties and that they may not return any item(s) they purchase. All Sales Are Final. 3. BIDDER REGISTRATION: All Online Bidders must register through Live Auctioneers.com with their name, address, phone number, and email address so that Macon Brothers Auctioneers may be able to communicate with Bidder on transactions, as needed. Macon Brothers does not sell this information. 4. PAYMENT: You will receive an invoice after the auction ends with confirmation of your purchases. Sales Tax on full purchase price (including Buyer's Premium) will be charged as applicable. Payments are processed through PAYTRACE. NO CHARGE-BACKS ALLOWED. 5. CHECK OUT & REMOVAL: See posted removal date and times listed. No removal without prior payment. Items not removed by final posted date(s) will accrue a $50 per day charge per lot thereafter. Any item(s) not picked up per the Check Out/Removal terms above shall, at the Auctioneer's sole discretion, be considered abandoned and will be resold or disposed of by the Auctioneer. No refund of such abandoned items will be made. Equipment purchases must be picked up at the auction site by the purchaser or hauler authorized by purchaser to do so. Loading is the responsibility of the purchaser/hauler. Macon Brothers Auctioneers or its designated representative will be at the Auction site for removal. Photo ID is required at removal site. Purchaser is solely responsible for complete removal (i.e. crew, packing materials, etc.) and assumes all risk of loss, damage to or destruction of the purchased item(s). 6. ADDITIONS AND/OR WITHDRAWLS FROM SALE: The auctioneer reserves the right to withdraw from sale any of the items listed or to sell at this auction items not listed, and also reserves the right to group one or more lots into one or more selling lots or to subdivide into two or more selling lots. Whenever the best interest of the seller will be served, the auctioneer reserves the right to sell all of the items listed, in bulk. 7. DISPUTE BETWEEN BIDDERS: If any dispute arises between two or more bidders, the auctioneer may decide the same or may immediately put the lot up for sale again, and resell to the highest bidder. The decision of the auctioneer shall be final and absolute. 8. SALE BY ESTIMATED COUNT, MEASURE OR WEIGHT: Where items are to be sold by estimated count, measure or weight, the purchaser will be billed for and required to pay for the estimated count, measure or weight. If, when delivered, any shortage exists, the purchaser will receive a refund at the rate of purchase. If there is excess, the purchaser is required to take and pay for this excess at the rate of purchase. 9. RESERVE: The auctioneer reserves the right to reject any and all bids. On lots upon which there is a reserve, the auctioneer shall have the right to bid on behalf of the seller. 10. CONDITION OF ITEMS SOLD: The auctioneer shall not be responsible for the correct description, authenticity, genuineness of, or defect in any lot, and makes no warranty in connection therewith. No allowance will be made or sale set aside on account of any incorrectness, error in cataloging, or any imperfection not noted. No deduction will be allowed on damaged articles as all goods being exposed for public exhibition are sold "as is" and without recourse. All expressed or implied warranties are waived. 11. TIME OF PAYMENT: All bills must be paid in full before leaving the premises on the day of the sale. No title shall change hands until payment in full has been received and all checks offered in payment have been honored. 12. MANNER OF PAYMENT: All bills must be paid to representatives of the auctioneer at the auction unless otherwise announced. The full purchase price on all lots sold to the same buyer must be paid within the time fixed and before removal of any of the items. 13. COMPLIANCE WITH SALES TERMS: In default of payment of bills in full within the time herein specified, the auctioneer in addition to all other remedies allowed by law, may retain all monies received as deposit or otherwise, as liquidated damages. Lots not paid for and removed within the time specified herein may be resold at public or private sale without further notice, and deficiency, together with all expenses and charges of resale, will be charged to the defaulting purchaser. 14: REMOVAL Upon the award of bid, title (subject to auctioneer's possessory lien) and all risk of loss, damage to or destruction of the purchased item, passes to the purchaser and auctioneer shall have no liability whatsoever for any damage to or destruction of any such lots. PURCHASER SHALL MAKE HIS OWN ARRANGEMENTS FOR INSURANCE PROTECTION FOR ALL ITEMS PURCHASED. 15. NON-DELIVERY RESPONSIBILITY: Auctioneer shall not, in any event, be liable for non-delivery or for any other matter or thing, to any purchaser of any lot, other than for the return to the purchaser of the deposit or sum paid on said lot, should the purchaser be entitled to it. 16: CLAIMS: No claims will be allowed after goods are removed from premises. 17. PERSONAL AND PROPERTY RISK: Persons attending during exhibition, sale or removal of goods assume all risks of damages of or loss to person and property and specifically release the auctioneer from liability therefore. Neither the auctioneer nor his principal shall be liable by reason of any defect in or condition of the premises on which the sale is held. 18. RECORDS: The record of sale kept by the auctioneer and bookkeeper will be taken as final in the event of any dispute. 19. AGENCY: The auctioneer is acting as agent only and is not responsible for acts of its principals. 20. LEGAL ACTIONS: Any debt collection or dispute proceedings will be litigated or arbitrated in Walla Walla County, Washington. In the event legal action is necessary to enforce any terms of this agreement, the prevailing party shall be entitled to reasonable attorney's fees and expenses. 21. SELLER AUTHORIZATION: Seller authorized auctioneer or his clerk to execute sufficient memorandum of sale. 22. TITLED VEHICLES: A $75.00 Negotiable Documentary Service Fee will be charged on all titled vehicles. 23. ADDITIONAL TERMS & CONDITIONS: Any additional terms or conditions of sale added by auctioneer shall be announced prior to the commending of bidding at the auction or on a particular item.
Discover Items You'll Love

Bid Anywhere, Anytime. Download the LiveAuctioneers App.
Available on the App Store
Android App on Google Play