Jefferson Davis, Correspondence with the CSA President
Don't Miss Your Next Treasure.
Set up a search alert to hear when Cowan's Auctions lists new auctions.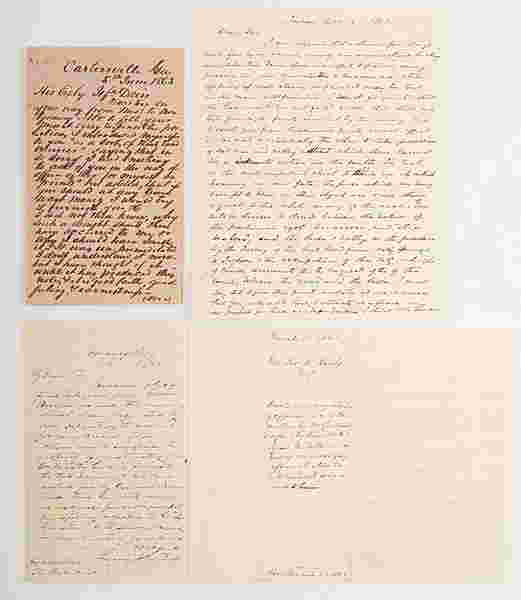 Lot 0116 Details
Description
Jefferson Davis, Correspondence with the CSA President

11 items.

This war-date archive of correspondence received by Confederate President Jefferson Davis dates from January 1862 to March 1865. Most of these ten letters are from Confederate Congressmen or Senators, and some have notations in Davis' hand.

From Mississippi Senator James Phelan comes a letter dated Tupelo, July 12, 1862, urging Davis to establish partisan companies throughout the western Confederacy. In part: Capt. Wm. Morgan of Fayette Co, Tenn desires to raise a partisan company to operate in that state... The outrages of the enemy have fired the people within their lines with the deadliest animosity. The mass of the enemy furnishes no protection. Hundreds, I know, of all ages, will join such bands, if enlisted as soldiers so as to be treated as prisoners -- but the threats and actual executions by the enemy enforce silence & submission as citizens. (Accompanied by an engraving of Phelan.)

Also from Mississippi is a December 3, 1862, letter from Wiley Pope Harris, member of the Provisional Confederate Congress and a signer of the Confederate Constitution, urging Davis to strip less important locations of troops in order to defend the state capital of Jackson, noting that if Jackson falls, the Union will gain control of the right bank of the Mississippi and split the Confederacy in half, a situation ...you will not be able to contain its influence over our prospects for Peace and Independence.

James Whitfield, a personal friend of Davis, relates in a letter dated August 10, 1863, the great dissatisfaction running through the state with General Pemberton after he surrendered Vicksburg. Whitfield remarks on rumors that Pemberton will resume command of the troops he surrendered at Vicksburg when they are paroled, noting Nothing could be more suicidal and tend more to prevent the prompt return to the Army of those troops who were surrendered at Vicksburg after the expiration of their furloughs than the idea that they were again to be placed under the command of General Pemberton.

Two days later, Davis received a letter from near Jackson, Miss, from Ethelbert Barksdale, younger brother of famous CSA general William Barksdale, and a two-term Representative to the Confederate Congress: It is the universal wish of the army and of all the true friends of our cause in this State, that Gen. Pemberton be relieved from duty in this Department. Always regarded with suspicion, his ill success has made him an object of odium so intense that whatever capacity of usefulness he once may have had is utterly destroyed.

On June 5, 1863, President Davis received an unsolicited letter from Georgia industrialist John W. Lewis. Noting that the President's property had all been destroyed by the Yankees, and doubting that his salary was sufficient to cover living in Richmond, Lewis reaffirms a verbal commitment to loan Davis $1000 to $5000 interest-free for up to five years, to help him out. This letter was docketed by Davis's private secretary, Benton N. Harrison, as well as being annotated by Davis himself to be placed in his private files.

A letter dated January 18, 1864 House of Reps from Congressman Lucius J Gartrell, concerns the ever-recalcitrant Governor of Georgia, Joseph E. Brown, who was constantly denying Davis's requests for goods and men for the Confederate Army: Enclosed please find telegrams from Governor Brown this morning… Allow me to suggest the propriety of instructing Qr Master Genl to furnish the two engines and 40 cars ask for by Governor Brown and thus he will have no excuse for not promptly transporting supplies to Gen. Johnston.

Gartrell led the 7th Georgia Infantry at First Manassas, where the regiment charged and captured Rickett's Battery before Henry House Hill.

Other letters include a long, eloquent letter from Confederate Congressman James Farrow of South Carolina, asking for CSA troops to be stationed near the passes in the Blue Ridge Mountains to prevent Federal raids into the western Carolinas; a note from Congressman Augustus H. Garland of Arkansas, and a note from Missouri Senator John B. Clark forwarding telegrams from Governor Jackson, who had fled with General Sterling Price into Arkansas.
Buyer's Premium
23% up to $200,000
15% above $200,000
Jefferson Davis, Correspondence with the CSA President
Estimate $1,500 - $2,500
Nov 21, 2014
Shipping, Payment & Auction Policies
Ships from
Cincinnati, OH, United States